Biden tells leaders U.S. will meet climate goals, while his agenda falters at home
By Jeff Mason and Valerie Volcovici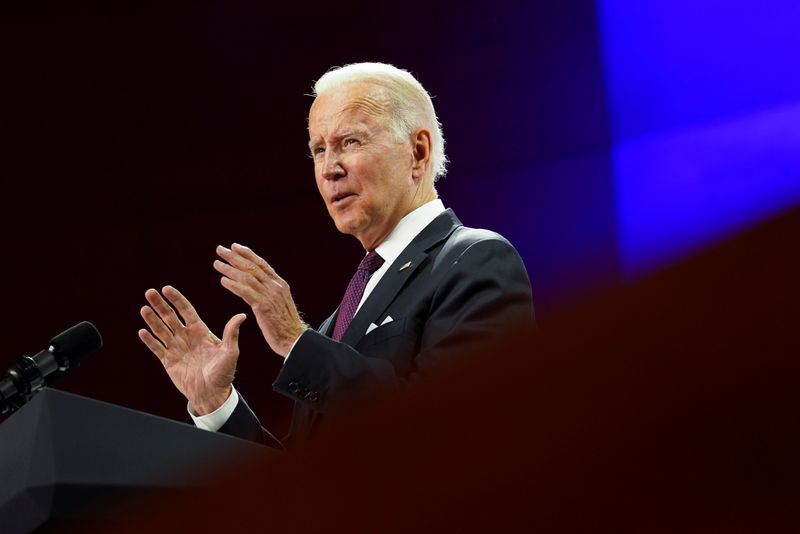 © Reuters. FILE PHOTO: U.S President Joe Biden speaks during a press conference during the G20 leaders' summit in Rome, Italy October 31, 2021. REUTERS/Kevin Lamarque
By Jeff Mason and Valerie Volcovici
GLASGOW/WASHINGTON (Reuters) -President Joe Biden on Monday sought to assure world leaders the United States would fulfill its promise to slash greenhouse gas emissions in half by the end of the decade, but a setback at home heightened uncertainty about his ability to follow through.
Biden joined leaders from over 100 countries in Glasgow for the start of the COP26 climate conference https://www.reuters.com/business/cop, which kicked off on the heels of the G20 summit in Rome that concluded with a statement that urged "meaningful and effective" action on climate change but left huge work for negotiators to ensure an ambitious outcome.
Biden, who succeeded former president Donald Trump in January, pledged earlier this year that the United States would cut its greenhouse gas emissions 50-52% by 2030 compared with 2005 levels. The White House has expressed confidence it can achieve that, even as a bill that would help further those goals languishes in Congress, with a key senator on Monday withholding his support, for now.
Biden wanted to show to the world that Washington could be trusted to fight global warming despite changes in policies between Republican and Democratic administrations that have undermined its pledges in the past.
"We'll demonstrate to the world the United States is not only back at the table but hopefully leading by the power of our example," he said. "I know it hasn't been the case, and that's why my administration is working overtime to show that our climate commitment is action, not words."
Trump withdrew the United States from the Paris climate accord, dealing a blow to international efforts on the subject while he was in office. Biden rejoined when he became president.
"I guess I shouldn't apologize, but I do apologize for the fact the United States, in the last administration, pulled out of the Paris accords," Biden said at a separate COP26 event.
As Biden was meeting with world leaders in Scotland, moderate Democratic Senator Joe Manchin announced he would not yet support a $1.75 trillion legislative framework that is central to achieving the president's emissions reduction goals.
National Climate Adviser Gina McCarthy said ahead of Biden's arrival in Glasgow that the bill would unleash $555 billion in climate spending, the largest investment to combat global warming in U.S. history, and allow the country to reduce emissions well over a gigaton or a billion metric tons by 2030.
Biden announced a long-term strategy laying out how the United States would achieve a longer-term goal of net-zero emissions by 2050.
In his COP26 speech, Biden said the world needed to help developing nations in the climate fight.
"Right now we're still falling short," he said.
Biden plans to work with the U.S. Congress to launch a $3 billion program in 2024 aimed at helping developing countries adapt to and manage the impacts of climate change through locally led measures.
In a conference call with reporters, McCarthy also addressed concerns around a Supreme Court announcement late on Friday that it would review the Environmental Protection Agency's authority to regulate greenhouse gas emissions, potentially undermining U.S. climate goals.
"We're confident that the Supreme Court will confirm what those have before them, which is EPA has not just the right but the authority and responsibility to keep our families and communities safe from pollution," McCarthy said.
Exxon oil and gas company increases global trading operations amid high commodity prices
Exxonmobil oil and gas company USA is actively increasing trading operations around the world amid continuing high prices for its products. The company has recently stepped up efforts to increase derivatives trading in the commodities market. Bloomberg reported, according to its sources.
Also, the Exxon oil and gas company is reviewing the system of compensation for traders, including the size of bonuses, said one of the interlocutors of the agency.
Exxon has already hired at least three traders and analysts in the past two months, the sources added. In recent weeks, the company has opened several positions in gas, cargo and other product trading at offices in London and Houston.
"We are not going to speculate about current or future business plans. The company continues to invest in the trading division," its spokesperson said in a commentary for Bloomberg.
Exxon took some steps in 2018 to organize an oil trading group. But with the onset of the coronavirus pandemic, which caused energy demand to plummet, the company curtailed activities in that area and cut funding.
However, this year, against the background of the world's major economies emerging from the pandemic crisis and geopolitical tensions, volatility prevailed in the oil market, which brings traders large profits. In March, after the start of the Russian-Ukrainian conflict, oil prices jumped above $130 a barrel, but since then they have already fallen by more than 20%.
Industrial production in the Eurozone rose 0.7% m/m in June, exceeding forecasts
Industrial production in the Eurozone grew stronger than expected in June, according to official data released by Eurostat on Friday. This indicates a recovery in activity in the bloc's manufacturing sector.
Production in the old continent rose 0.7% for the month, compared with an expected increase of 0.2% and 2.1% a month earlier. On a year-on-year basis, production in June rose 2.4% against an expected 0.8% increase and a 1.6% increase in May.
Despite the current situation in the global economy, this is quite a positive growth trend for the European economy. At the same time, no one is making accurate predictions for the future.
Industrial production in the Euro-area: implications for the currency
The common European currency remains on the sidelines of positive data on production. At the time of writing, the EUR/USD is trading down -0.16% intraday at 1.0300.
About Eurozone Production
The Eurostat Manufacturing output data published by Eurostat. It shows the volume of manufactured goods in factories and processing plants. A rise in the indicator strengthens EUR; a decline weakens it.
Earlier we reported that a ceiling on the price of a barrel of oil in Russia could be agreed at the global level.


Are copper prices going up or down? Experts expect copper prices to fall due to slow global economic growth
Are copper prices going up or down? Speculative investors in the copper market expect a slowdown in global economic growth, which argues in favor of lower prices for this base metal, despite their recent recovery. Copper is considered an indicator of the state of the global economy.
According to recent data, the number of short positions of investment managers in copper on the LME and the COMEX exceeds the number of long positions.
Prices by the pound
Three-month copper futures on the LME were trading at around $8,160 a ton at the time of writing, up 18% from the 20-month low reached on July 15.
Meanwhile, copper prices have fallen 25% since hitting a record high of $10,845 a ton in March amid a slowdown in economic growth in China, the metal's biggest consumer. Also, prices are under pressure from an active increase in interest rates, which could lead to a global recession.
Many speculative investors are using options on copper at the LME, betting on lower prices. Investors are taking positions on December LME copper put options with strike prices of $7,000, $6,000 and $5,000, according to LME data released Wednesday.
Some of the strike prices coincide with the marginal cost of producing copper. Investors often use them to understand how much prices might fall in a negative scenario.
The direct costs of producing copper at the 10 percent of mines with the highest costs are $5,085 per ton. Morgan Stanley noted. Including capital costs – necessary to maintain current levels of production – to sell a ton of copper goes to $6,000-6,400 per ton, the bank added.
If the copper price stays below marginal production costs for a long time, some mining companies may shut down.
Earlier we reported that Russia has been named the winner in the oil standoff.