Column-China's energy woes showing up in divergent commodity imports: Russell
By Clyde Russell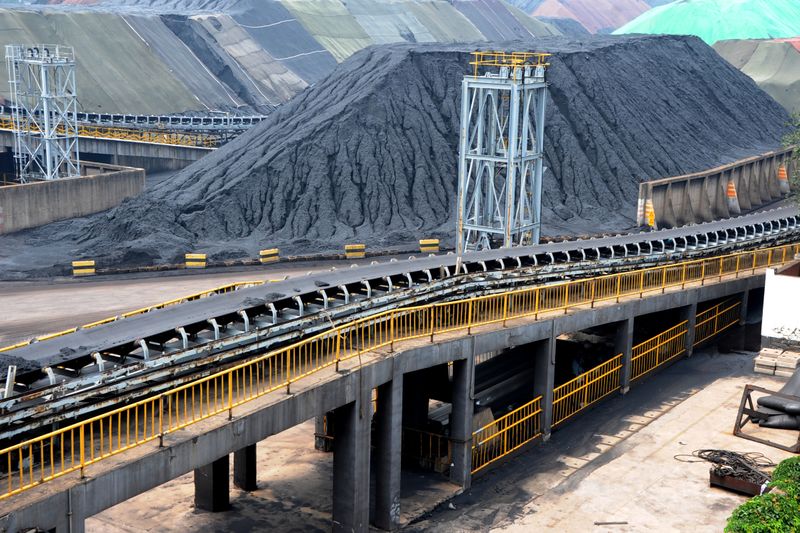 © Reuters. Piles of imported coal are seen at a coal terminal of a port in Lianyungang, Jiangsu province, China July 26, 2018. Picture taken July 26, 2018. REUTERS/Stringer/Files
By Clyde Russell
LAUNCESTON, Australia (Reuters) – (The opinions expressed here are those of the author, a columnist for Reuters.)
China's imports of major commodities in September showed an increasing divergence between energy and metals, with coal and soaring while and iron ore struggle.
The imports data are starting to mirror the overall dynamic apparent in the world's second-biggest economy, where shortages of power generation and heating fuels have started to crimp the ability to make energy-intensive products such as refined metals.
The notable exception to the strength in energy imports is , with September arrivals remaining soft amid high prices and a lack of available import quotas for the independent refining sector.
Coal imports were the headline-grabber in the September data, with arrivals of all grades coming in at 32.88 million tonnes, the most since December's 39.08 million, the second-strongest month in the past 20 and a leap of 76% from the same month in 2020.
China has been ramping up coal imports in recent months as domestic output has struggled to meet rising demand for electricity, leading to shortages and power rationing in some provinces.
Much of China's coal woes are self-inflicted, with mine closures for safety inspections contributing to lower-than-potential domestic output, and an unofficial ban on buying from Australia for political reasons hurting imports.
The overall impact has been to drive both Chinese domestic prices and Asian spot seaborne coal to record highs.
Domestic thermal coal futures on the Zhengzhou exchange thermal coal futures touched a record of 1,640 yuan ($254.44) per tonne on Wednesday, having surged almost three-fold year-to-date.
Australian Newcastle coal futures traded on ICE (NYSE:) ended at $243.35 a tonne on Wednesday, just below the all-time high of $244.50 on Oct. 11 and up 202% from the end of last year.
China's September imports of natural gas, both from pipelines and as liquefied natural gas (LNG), totalled 10.62 million tonnes, a nine-month high and 22.6% above the volume for the same month in 2020.
Natural gas imports have jumped 22.2% in the first nine months of the year as China continues to switch industrial boilers and residential heating over the cleaner-burning fuel from more polluting coal.
In turn, Asian spot LNG prices have surged along with Chinese demand, as utilities in countries including Japan and South Korea try to ensure that they aren't caught short of supplies, as they were during a colder-than-usual winter over 2020-21.
The weekly spot LNG price climbed to a record high of $37 per million British thermal units (mmBtu) in the week to Oct. 8, having gained 560% since its 2021 low of $5.60 per mmBtu in late February.
It's worth noting that relatively small volumes of LNG actually trade at the spot price, as the majority of the super-chilled fuel is sold under long-term, crude-linked contracts and when spot prices surge, only the most desperate buyers will still be in the market.
SOFT CRUDE, METALS
China's demand for crude oil hasn't joined the surge for coal and natural gas, staying muted in September with imports of 9.99 million barrels per day (bpd), down from August's 10.49 million bpd and the 11.8 million bpd from last September.
For the first nine months of the year, crude oil imports have dropped 6.8% from the same period in 2020 to about 10.36 million bpd.
China is the world's largest crude importer and the slowing of purchases reflects several factors, including the decision to use up stockpiles of cheap oil bought during 2020's price collapse, ongoing coronavirus pandemic travel restrictions, the lack of available import quotas and official disquiet over the strong gain in prices prompted by output curbs by the OPEC+ group of exporters.
China has also started selling crude from its strategic reserves in an attempt to moderate prices by limiting import demand, a strategy yet to have much influence on a global market more focused on bullish factors outside of the main importing region of Asia, where demand remains stagnant.
China's energy shortage is also starting to show up in imports of metals, with steel-making ingredient iron ore dropping to 95.61 million tonnes in September, down 1.9% from the prior month and 11.9% from the same month in 2020.
Restrictions on steel output from both pollution control and energy conservation perspectives are dampening demand for iron ore, a trend likely to persist over the upcoming winter.
Imports of unwrought copper did eke out a 3% gain in September from the prior month, rising to 406,000 tonnes, but this was down a massive 43.8% on the 722,000 from last September, and was the second-weakest month since August 2019.
High global prices and muted manufacturing growth have tempered demand for copper, and with energy restrictions likely to continue in coming months, demand for the industrial metal may remain soft.
Turkmenistan officials due in Afghanistan as Taliban back TAPI gas pipeline
KABUL (Reuters) – Officials from Turkmenistan will visit Kabul this week to discuss continuing work on the TAPI pipeline linking the energy-rich Central Asian country through Afghanistan to Pakistan and India, the Taliban government said on Wednesday.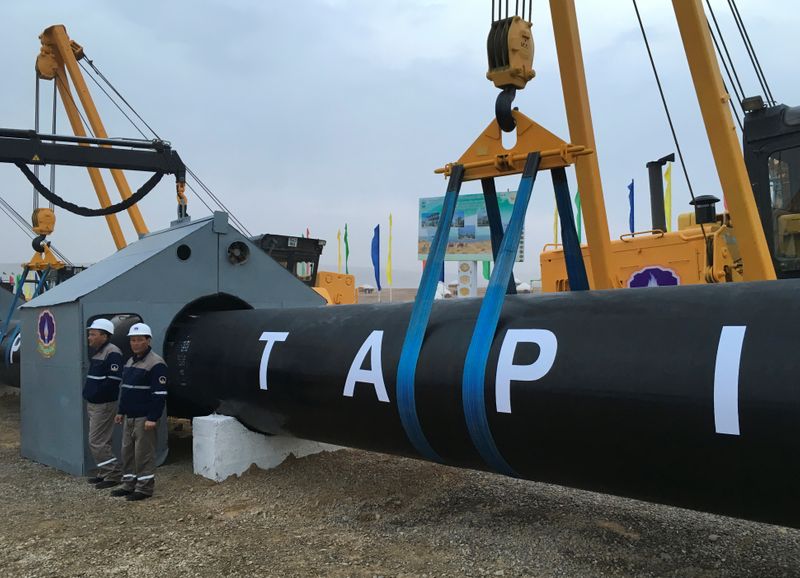 © Reuters. FILE PHOTO: Workers stand near a gas pipe during the launching ceremony of construction work of the TAPI project on the Afghan section of a natural gas pipeline that will link Turkmenistan through Afghanistan to Pakistan and India, near the town of Serhet
KABUL (Reuters) – Officials from Turkmenistan will visit Kabul this week to discuss continuing work on the TAPI pipeline linking the energy-rich Central Asian country through Afghanistan to Pakistan and India, the Taliban government said on Wednesday.
The pipeline is expected to carry 33 billion cubic meters (bcm) of each year along a route stretching 1,800 km (1,125 miles) from Galkynysh, the world's second-biggest gas field, to the Indian city of Fazilka near the Pakistan border.
"We have been working hard for some time and we are ready to take pride in starting work on the TAPI project," Mohammad Issa Akhund, the acting minister of mines and petroleum in the new Taliban government, said in a statement.
The Afghan stretch of the pipeline will run from the northwestern border with Turkmenistan, south through the western city of Herat to Kandahar near the border with Pakistan.
Akhund met the ambassador of Turkmenistan ahead of a two-day visit by a delegation from the country that will start from Saturday, the statement said.
The project was launched in Afghanistan in 2018, when the Taliban was fighting the Western-backed government in Kabul, but it pledged its cooperation for a project it hailed as a key future element of the economic infrastructure.
Afghanistan, which suffers chronic energy shortages, is expected to take 5% of the gas itself, with the rest divided equally between Pakistan and India. In addition, Kabul should earn hundreds of millions of dollars in transit fees.
Disclaimer:
Fusion Media
would like to remind you that the data contained in this website is not necessarily real-time nor accurate. All CFDs (stocks, indexes, futures) and Forex prices are not provided by exchanges but rather by market makers, and so prices may not be accurate and may differ from the actual market price, meaning prices are indicative and not appropriate for trading purposes. Therefore Fusion Media doesn`t bear any responsibility for any trading losses you might incur as a result of using this data.
Fusion Media or anyone involved with Fusion Media will not accept any liability for loss or damage as a result of reliance on the information including data, quotes, charts and buy/sell signals contained within this website. Please be fully informed regarding the risks and costs associated with trading the financial markets, it is one of the riskiest investment forms possible.
China traders hunt for coal price directions as Beijing reins in data providers
By Muyu Xu and Chen Aizhu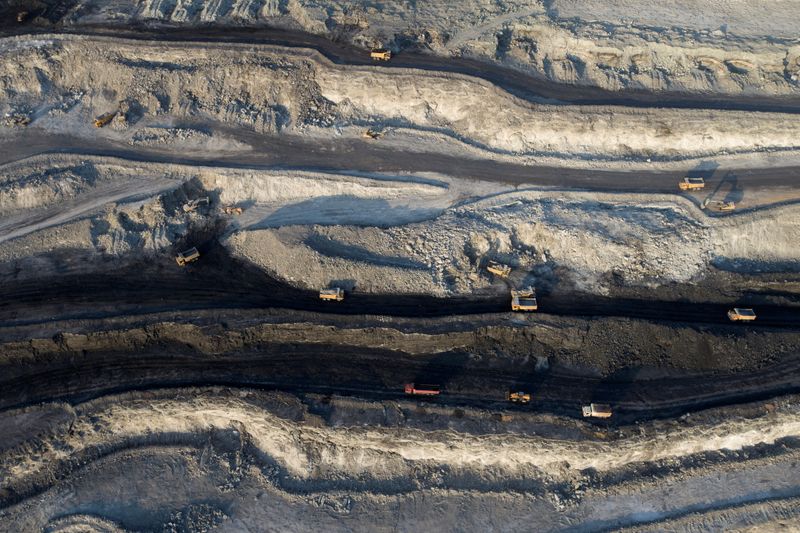 © Reuters. FILE PHOTO: An aerial view shows machinery working in an open-pit coal mine in Ejin Horo Banner, Ordos, Inner Mongolia Autonomous Region, China, October 19, 2021. Picture taken with a drone. China Daily via REUTERS
By Muyu Xu and Chen Aizhu
BEIJING/SINGAPORE (Reuters) – Chinese coal traders say they are scrambling for price information on spot transactions, relying on personal communications as Beijing steps up scrutiny amid efforts to tame prices.
The country's top economic planner, the National Development & Reform Commission said this week it would investigate coal and energy index providers over spreading "fabricated" price information. The agency is also studying a new mechanism to guide coal prices within a reasonable range over the long term.
The heightened scrutiny adds strains to the Chinese coal trading community, which is already struggling to keep up with rapid market and regulatory changes in the world's top coal consumer. The pricing confusion also compounds the country's worst power crunch in years, which is hampering industry while Beijing tries to lead a recovery from the pandemic.
Beijing has since September unleashed a raft of measures – from ordering mines to immediately boost production to liberalising thermal power pricing.
"We stopped reading domestic indexes for a while as they are confusing. We now just call up other traders to get the daily prices," said a Guangxi-based coal trader, who like others interviewed for this story declined to be named because of the sensitivity of the matter.
China began tightening rules for commodity index providers in June to tame red-hot prices of products ranging from to iron ore. The recent move on coal intelligence providers was spurred by stubbornly high prices of the key electricity-generating fuel.
Benchmark Zhenzhou thermal coal futures last traded down 10% at 1,144 yuan around 0700GMT on Wednesday, in a sixth straight day of declines following Beijing's cooling measures. But the price has still more than doubled this year.
(For graphic on China spot and futures coal prices – https://fingfx.thomsonreuters.com/gfx/ce/myvmngrgapr/Pasted%20image%201635302435018.png)
Data such as coal consumption at major power plants and stock levels at key ports was once available on providers' websites or shared widely on social media.
That information has for months been either hidden behind paywalls or no longer published, traders said.
Instead, traders and analysts have had to rely on personal communications, or use international prices for a gauge.
"We're now using free-on-board Indonesia prices plus shipping cost and others to calculate delivered prices at power plants, to have a rough clue," said a Beijing-based power analyst.
Some providers continue to update spot coal transaction data using numbers barely changed from months ago.
"Some pricing indexes still put out daily assessments, but with prices that are way off real transactions," said a Beijing-based coal trader. "There is almost no reliable prices indexes we can quote now."
The China Coal Transportation and Distribution Association, which represents coal sellers and shippers, and is a data provider, on Wednesday posted online its reference prices of spot Bohai Rim thermal coal of 5,500 kcal at 946 yuan a tonne, unchanged since mid-August.
The website of consultancy Fenwei Digital Information Technology as of Wednesday also showed some coal prices unmoved at about 1,000 yuan a tonne since at least July.
By comparison, deals were made last week at the main spot trading zone Bohai Rim at over 2,000 yuan and the southern port of Guangdong at over 2,500 yuan, traders told Reuters.
A representative with the China Coal Transport and Distribution Association said it continues to update prices and declined to comment further. Fenwei declined to comment.
NDRC did not immediately respond to requests for comment.
Chinese data providers have been laying low since June, when Beijing issued new rules telling them to provide more transparency and consistency in their price setting.
The government in September banned Yulin Coal Trading Centre Corp, an influential firm in the major coal mining region of Shaanxi province, from publishing price assessments and market news.
"We stopped publishing domestic coal prices for several months. It's hugely sensitive," said a manager with a commodities price assessment agency in Beijing.
($1 = 0.1566 renminbi)
Japan PM's nuclear push faces resistance ahead of election
By Sakura Murakami
2/2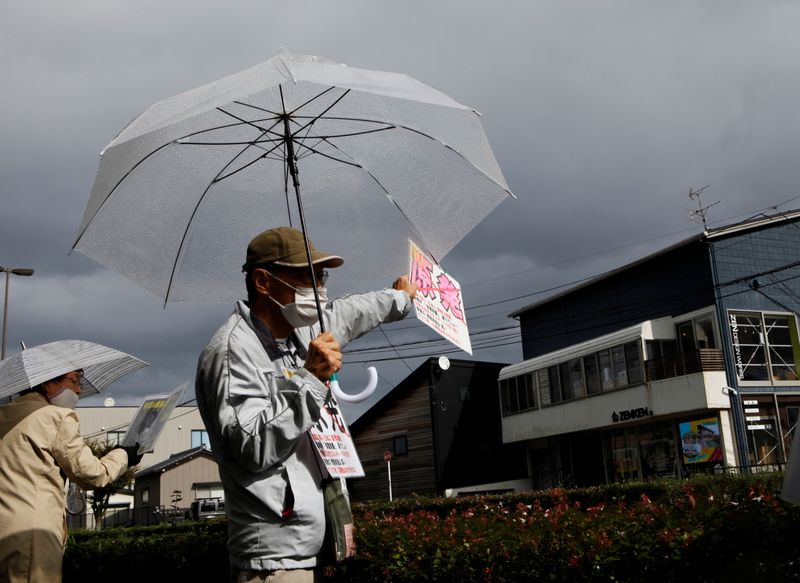 © Reuters. FILE PHOTO: An anti-nuclear activist demonstrates in front of the Tokyo Electric Power Company Holdings office in Niigata, Niigata Prefecture, Japan, October 21, 2021. REUTERS/Sakura Murakami
2/2
By Sakura Murakami
KASHIWAZAKI, Japan (Reuters) – Prime Minister Fumio Kishida's push to restart Japanese nuclear power plants idled after the Fukushima disaster faces stiff opposition ahead of a general election on Sunday, where his future as leader hangs in the balance if the vote is tight.
A decade after triple meltdowns at Fukushima forced mass evacuations and a shut-down of the nuclear industry, Japan has restarted only a third of its 33 operable reactors.
Debate over whether to fire more of them back up is highly charged, with 40% of the population opposing the move.
It matters most in rural cities hosting the idled plants which had once relied on them for economic activity, such as Kashiwazaki, 265 km (165 miles) northwest of Tokyo – home to the world's largest atomic power complex.
"The reason why we feel so strongly about this is because we feel the danger of the nuclear power plant – it hangs over our heads every day," said Mie Kuwabara, a resident of a town close to Kashiwazaki and anti-nuclear activist.
Voters mostly care about economic recovery from the pandemic. But energy policy came into sharp focus last month, when Kishida beat a popular anti-nuclear candidate in the race for the Liberal Democratic Party (LDP) chief.
The architect of Kishida's victory, party veteran Akira Amari, assumed a key party post and immediately pushed for restarts of 30 reactors while also promoting new, smaller reactors to replace ageing ones.
Amari says Japan must revert to nuclear power to meet its 2050 carbon neutrality pledge, avoid rapidly rising prices of imported coal and gas and to cut its reliance on other countries for energy needs.
Amari faces a tight race in his home district, where he is struggling to attract support from anti-nuclear junior coalition partner, Komeito.
Opposition to his plan is strong in Kashiwazaki too.
"This prefecture as a whole, even within the LDP, is united behind the idea that the nuclear power plant can't be restarted," said Mineo Ono, who runs the LDP's local chapter where anti-nuclear proponent Taro Kono polled higher than Kishida in the leadership race vote.
Ono cited local distrust caused by what he called multiple mishaps by the plant's operator, Tokyo Electric Power Holdings (Tepco).
The nuclear regulator upended plans for a restart of the Kashiwazaki-Kariwa plant, which can power 24 million households, in April, after identifying operational issues including faulty intruder detection alarms and the misuse of ID cards.
Nation-wide, restarts have been delayed by technical issues, lawsuits and regulatory reviews.
Tepco in an emailed statement apologised and said it would work to regain the trust of locals. It added that while nuclear energy is instrumental in achieving carbon neutrality, the time is not right to discuss restarts.
That poses a problem for the LDP, which polls show is on the brink of losing its simple majority, an outcome that would still let it cling to power thanks to the coalition with Komeito, but that may lead to a push inside the party to oust Kishida.
The government said in its latest energy policy on Friday it would double 2020 levels of renewable energy to 38%, but has maintained nuclear power will provide some 22% of the country's energy by 2030, up from 6% in the 2018 financial year.
'DIVIDING FACTOR'
Kashiwazaki, a town of 80,000, sits on the coast of the Sea of Japan. In the evening, buses unload workers maintaining the complex around the main train station.
"We host the world's biggest nuclear plant, but that energy goes mostly to Tokyo and its surrounding regions. Locals feel deeply about that," LDP's Ono said. There is a 'divide' between the sentiment of the locals and people in Tokyo, he said.
A restart is critical for Tepco, which needs money to fund the clean-up at its Fukushima plant. Restarting Kashiwazaki-Kariwa would save an estimated $790 million per year in fuel costs, it says.
But even the local chamber of commerce, instrumental in wooing the plant which started operations in 1985, says it is tired of what it sees as Tepco's repeated failures.
"It's almost unbearable, seeing how shoddy they are," said chamber of commerce chief Masao Saikawa.
To allay these fears, Kenichi Hosoda, the LDP candidate in the district who serves as the vice minister at the Ministry of Industry overseeing energy policy, has toned down his pro-nuclear message.
"Now is not the time to discuss the issue," he told Reuters after a recent rally held near the plant.
In response to a question on why discussions on the nuclear plant have been toned down before the vote, local LDP leader Ono spoke of "a large group of swing voters who the candidates have to capture."
"When it comes down to it, the issue of nuclear energy will be the dividing factor. It's a fact that the nuclear element has an influence," said Ono.