Global climate talks open to ever more daunting challenge
By Mark John and Katy Daigle
2/2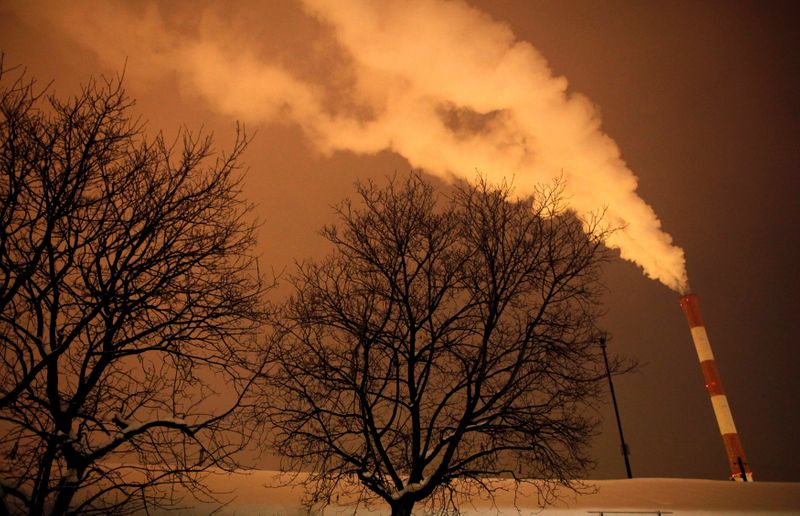 © Reuters. FILE PHOTO: Steam and other emissions rise from a power station in Belgrade February 7, 2012. REUTERS/Marko Djurica/File Photo
2/2
By Mark John and Katy Daigle
GLASGOW (Reuters) – World leaders began arriving on Monday at a U.N. conference critical to averting the most disastrous effects of climate change, their challenge made even more daunting by the failure of major industrial nations to agree ambitious new commitments.
The COP26 conference in the Scottish city of Glasgow opens a day after the G20 economies failed to commit to a 2050 target to halt net carbon emissions – a deadline widely cited as necessary to prevent the most extreme global warming.
Instead, their talks in Rome only recognised "the key relevance" of halting net emissions "by or around mid-century", set no timetable for phasing out coal at home and watered down promises to cut emissions of methane, a greenhouse gas many times more powerful than carbon dioxide.
Swedish activist Greta Thunberg asked her millions of supporters to sign an open letter accusing leaders of betrayal.
"As citizens across the planet, we urge you to face up to the climate emergency," she tweeted. "Not next year. Not next month. Now."
Many of those leaders take to the stage in Glasgow on Monday to defend their climate change records and in some cases make new pledges at the start of two weeks of negotiations that conference host Britain is billing as make-or-break.
"Humanity has long since run down the clock on climate change. It's one minute to midnight and we need to act now," British Prime Minister Boris Johnson will tell the opening ceremony, according to advance excerpts of his speech.
"If we don't get serious about climate change today, it will be too late for our children to do so tomorrow."
But discord among some of the world's biggest emitters about how to cut back on coal, oil and gas, and help poorer countries to adapt to global warming, will not make the task any easier.
U.S. President Joe Biden singled out China and Russia, neither of which is sending its leader to Glasgow, for not bringing proposals to the table.
"Russia and … China basically didn't show up in terms of any commitments to deal with climate change," Biden, who faces domestic resistance to his climate ambitions, told reporters at the G20.
ABSENTEES
Chinese President Xi Jinping, whose country is by far the biggest emitter of greenhouse gases, will address the conference on Monday in a written statement, according to an official schedule.
Turkish President Tayyip Erdogan will also stay away from Glasgow. Two Turkish officials said Britain had failed to meet Ankara's demands on security arrangements and protocol.
Delayed by a year because of the COVID-19 pandemic, COP26 aims to keep alive a target of capping global warming at 1.5 degrees Celsius (2.7 Fahrenheit) above pre-industrial levels – a level scientists say would avoid its most destructive consequences.
To do that, the conference needs to secure more ambitious pledges to reduce emissions, lock in billions in climate-related financing for developing countries, and finish the rules for implementing the 2015 Paris Agreement, signed by nearly 200 countries.
Existing pledges to cut emissions would allow the planet's average surface temperature to rise 2.7C this century, which the United Nations says would supercharge the destruction that climate change is already causing by intensifying storms, exposing more people to deadly heat and floods, raising sea levels and destroying natural habitats.
"Africa is responsible for only 3% of global emissions, but Africans are suffering the most violent consequences of the climate crisis," Ugandan activist Evelyn Acham told the Italian newspaper La Stampa.
"They are not responsible for the crisis, but they are still paying the price of colonialism, which exploited Africa's wealth for centuries," she said. "We have to share responsibilities fairly."
Two days of speeches by world leaders starting Monday will be followed by technical negotiations. Any deal may not be struck until close to or even after the event's Nov. 12 finish date.
Nasdaq 100 index rises for third straight week 
The Nasdaq chart today, which reflects the value of stocks of U.S. technology companies, rose 20% from its June low. Over the past trading week, the Nasdaq showed an increase of 3.2%. Analysts believe that this rally is happening on very shaky ground. 
Some even claim that investors are "stupid". Much of the growth came on the back of falling oil prices. The drop in Brent to nearly $90 was a signal of declining demand in the economy. 
Shrinking consumption should translate into slower inflation, allowing the Fed to tighten its policy at a slower pace. However, the cooling of oil prices on Friday was offset by strong labor market data. Unemployment in the U.S. fell to 3.5%. Still, the best Nasdaq stocks showed gains. 
Fed officials often refer to a robust labor market in their rhetoric as an indication of a rate hike. Last week's macroeconomic indicators suggest that the regulator remains free to act. Forecasts do not look rosy either. 
Average earnings estimates for the S&P 500 for 2023 are down 2.7% since the end of the first-quarter earnings season. The reason: lower expectations for growth in securities. Analysts' estimates set the stage for a longer market recovery cycle. Inflation and the "era of expensive money" continue to hold back production.
4 Dividend Stocks Offering Double-Digit Yields: An Easy Way To Earn Passive Income
Carbon emissions and climate change are well known, so many global companies are concerned about this factor. Today it is more of a reputation issue. Amazon said that its carbon footprint increased by 18% last year. The reason is the strong expansion of e-commerce in the pandemic era. Amazon promises to reach zero emissions by 2040. 
Today, the company is working to introduce electric cars, which can reduce carbon emissions in the air. There are also several ambitious projects that aim to remove carbon from the atmosphere. But at the same time, such ambitious projects can significantly affect Amazon's operations. 
Such an investment would force the company to cut costs for business expansion. The world's largest online retailer emitted 71.54 million metric tons of carbon dioxide equivalent last year. 
The company first released emissions data in 2019. In 3 years, that figure has increased by 40%. However, Amazon's carbon intensity of operations-the ratio of emissions to gross sales-reduced by 1.9%. This points to more efficient logistics and warehousing operations. 
In its recent report, Amazon points out that the company has to face significant challenges on the road to minimal carbon emissions. There are a number of advanced technologies and developments that make it possible to achieve the desired result. The only problem is that integrating them into a functioning system can be too expensive, even for a giant like Amazon.
Situation in Taiwan leads to detours and delays in global transport
China's military exercises near Taiwan have pushed the situation in the region to the limit. Therefore, some ships carrying liquefied natural gas are rerouting or reducing speed. China's announcement of its military exercises is causing disruptions in global supply chains, leading to detours and delays in energy deliveries. 
Gas suppliers are rerouting or reducing the speed of some liquefied natural gas ships bound for North Asia. Shipments to Taiwan and Japan will be affected this weekend, Bloomberg reported. 
Shipping companies are assessing their options after China's reaction to the visit of the highest-ranking U.S. official to the island in 25 years. The action threatens to disrupt one of the world's busiest waterways. 
Risks of escalation in one of the planet's key shipping lanes are skyrocketing because of the sharp escalation of the Taiwan crisis. Taiwan has issued an official warning that ships should seek alternative routes to safely enter and leave key ports. At least until China's military exercises are over. 
At the same time, ship owners report that the current situation does not prevent tankers from moving through the Taiwan Strait. Consulting agencies also report that the problems for shipping are minor.