Oil at 6-week low as China readies crude oil reserve release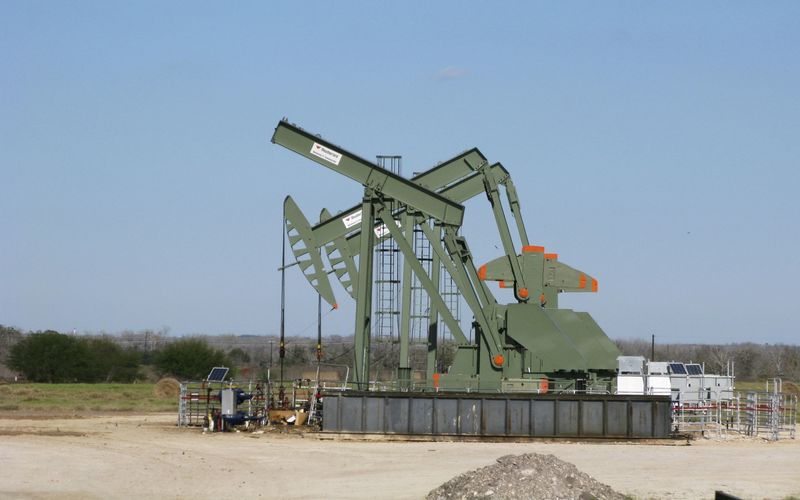 © Reuters. FILE PHOTO: A pump jack stands idle in Dewitt County, Texas January 13, 2016. REUTERS/Anna Driver
By Aaron Sheldrick
TOKYO (Reuters) – Oil prices slid to near six-week lows on Thursday as China said it was moving to release reserves following a Reuters report that the United States was asking big crude consumers to consider a coordinated release of stocks to lower prices.
The bid by the U.S. administration to shock markets, asking China to join coordinated action for the first time, comes as inflationary pressures, partly driven by surging energy prices, start to produce a political backlash, as the world fitfully recovers from the worst health crisis in a century.
was down 41 cents, or 0.5%, to $79.87 a barrel by 0712 GMT, after earlier dropping to $79.60, the lowest since Oct. 7.
was down 70 cents, or 0.9%, at $77.66 a barrel, having fallen earlier to $77.40, also the lowest since early last month.
Prices hit seven-year highs in October as the market focused on the swift rebound in demand that has come with lockdowns being lifted against a slow increase in supply from the Organization of the Petroleum Exporting Countries (OPEC) and its allies, called OPEC+.
"Should the U.S. administration order an SPR (Strategic Petroleum Reserve) release, that could send a strong political sign," Citigroup (NYSE:) analysts said in a note.
"But … domestic refineries are unlikely to get an extra benefit, as light-end yields appear to have been already maxed out," they added, referring to margins for producing gasoline and other motor fuels.
U.S. producers have also been reluctant to overspend on drilling after they were punished by investors for gorging on debt to pay for new exploration.
The International Energy Agency and OPEC have said in recent weeks that more supply will be available in the next several months. OPEC+ is maintaining an agreement to boost output by 400,000 bpd every month so as not to flood the market with supply.
"Releasing strategic stockpiles is only likely to lower oil prices temporarily," said Vivek Dhar, commodity analyst at Commonwealth Bank of Australia (OTC:). "There's a good likelihood that markets have already priced in such an event."
The United States and allies have coordinated strategic petroleum reserve releases before, for example in 2011 during a war in OPEC member Libya.
But the current proposal represents an unprecedented challenge to OPEC, the cartel that has influenced oil prices for more than five decades, because it involves China, the world's biggest importer of crude.
China's state reserve bureau said it was working on a release of crude oil reserves although it declined to comment on the U.S. request.
A Japanese industry ministry official said the United States has requested Tokyo's cooperation in dealing with higher oil prices, but he could not confirm whether the request included coordinated releases of stockpiles. By law, Japan cannot use reserve releases to lower prices, the official said.
A South Korean official confirmed the United States had asked Seoul to release some oil reserves.
"We are thoroughly reviewing the U.S. request, however, we do not release oil reserve because of rising oil prices. We could release oil reserve in case of supply imbalance, but not to respond to rising oil prices," the official said.
In its weekly stockpile report, the United States Department of Energy said late on Wednesday that crude inventories fell unexpectedly last week as refineries, enjoying profitable processing rates, ramped up output before the winter heating season. [EIA/S]
The U.S. has decided to produce crude oil in Venezuela
The U.S. wants to give the U.S. Chevron Corp., one of the largest oil companies in the country, a license to produce crude oil in Venezuela, according to The Wall Street Journal.
There will be new American oil executives in Venezuela. This is a signal of easing sanctions against the country, the newspaper said. Chevron has decided to regain partial control over oil production in Venezuela's fields, in which the company paid a share due to joint ventures with Petroleos de Venezuela SA.
Talk of new investment is not yetunderway, because the debts to Chevron are not repaid. This may take several years, the sources say.
In July, Diosdado Cabello, leader of the parliamentary faction and vice president of the ruling United Socialist Party of Venezuela (PSUV), accused the U.S. of attacks on the country's oil facilities. Venezuela has been under U.S. oil sanctions since 2019. In June of this year, the State Department allowed Italian Eni and Spanish Repsol to supply oil from Venezuela to Europe.
Earlier we reported that more than 50% of Germans said they refused to buy new clothes and electronics.
Bloomberg: UAE to boost oil production beyond plan by 2025
UAE to boost oil production. One of Russia's main competitors for oil exports plans to reach five million barrels per day by 2025. The Middle Eastern country was initially expected to reach this level only by 2030, Bloomberg reported, citing sources.
"Energy concern Abu Dhabi National Oil Co. (Adnoc), which produces almost all of the UAE's oil, wants to be able to produce 5 million barrels a day by 2025. The company planned to reach such a level only by 2030," – says the material.
But a crude oil production boost will be difficult without additional financing for expenses for the project. Adnoc explained the acceleration of production increase by the policy of the leading countries of the world on accelerated energy transition to renewable energy sources (RES).
"As we embrace the energy transition and focus our business on the future, we will continue to explore potential opportunities that can further add value, free up capital and improve profitability," the Arab oil company said.
To realize the goal, Adnoc has asked international companies that are partners in its oil fields to increase long-term crude production by 10% or more, sources said. In the case of positive results of the negotiations, the UAE will be able to significantly increase the volume of oil production by 2025, concludes Bloomberg.
On September 19, the Times of India, citing sources in the Indian Ministry of Commerce, reported that the Asian country has saved since February 2022, $439.7 million on imports from Russia of oil at a discount. A total of about 62.5 million barrels of Russian crude were purchased by Indian state and private companies over the last six months. Moreover, volumes of imports have increased many times over as compared to 2021.
Earlier, we reported that Nigeria stopped benefiting from the sale of Nigerian oil due to the lack of dollars.
FT: Nigeria stopped benefiting from Nigeria crude oil sales due to lack of dollars
Nigeria's crude oil sales used to grow steadily. But now the country, which is considered one of the world's largest oil exporters, is facing a crisis. The country is short of dollars, and the factor of "massive theft" has only exacerbated the problems of the African state, reports the Financial Times.
"Since the beginning of the year, Nigeria's foreign exchange reserves have fallen by 5%, to $38 billion. Restrictions on the purchase of dollars and the resulting deficit has led to the emergence of a black currency market. $1 is worth 420 naira at the official exchange rate and 700 naira on the black market," the paper said.
Because of increasing corruption in the country, Nigeria, the world's tenth largest oil exporter, can no longer increase production of crude oil. Nigerian crude oil buyers are not happy with this fact. The African state exports a little more than half of the established OPEC quota – 1.1 million barrels per day, instead of the required 1.8 million.
Despite all the difficulties going on in Nigeria's economy, Timipre Silva, the African country's Minister of State for Petroleum, announced plans to increase liquefied natural gas (LNG) exports to Europe by the coming winter. According to him, to realize this goal, it is necessary to improve safety in Nigeria's fields and infrastructure.
Earlier we reported that coffee stocks in Brazil in six months will approach a record low level.