Oil prices slide as China readies release of crude from strategic reserves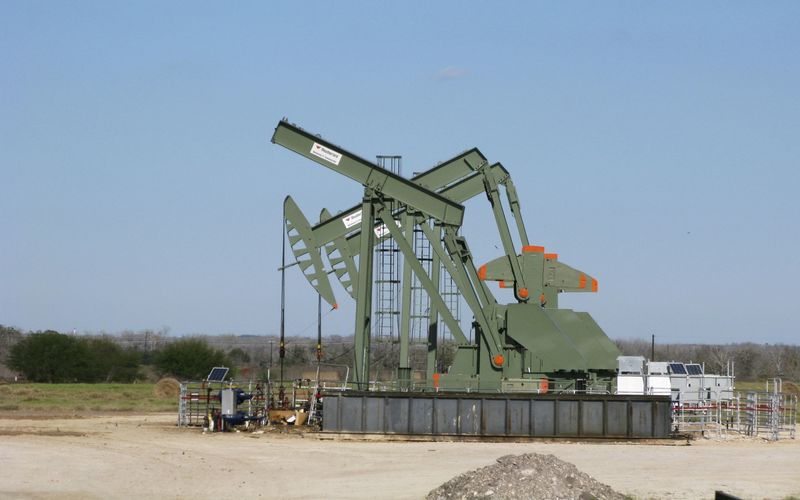 © Reuters. FILE PHOTO: A pump jack stands idle in Dewitt County, Texas January 13, 2016. REUTERS/Anna Driver
By Aaron Sheldrick
TOKYO (Reuters) – Oil prices fell on Thursday, adding to an overnight plunge as China said it was moving to release reserves following a Reuters report that the United States was asking big crude consumers to consider a coordinated release of stocks to lower prices.
The bid by the U.S. administration to shock markets comes as inflationary pressures, partly driven by surging energy prices, starts to produce political backlash, as the world fitfully recovers from the worst health crisis in a century.
was down 84 cents, or 1.1%, at $77.52 a barrel by 0348 GMT, having fallen 3% overnight. fell 44 cents, or 0.6%, to $79.84 a barrel after falling 2.6% to the lowest close since early October on Wednesday.
Prices hit seven-year highs last month as the market focused on the swift rise in demand that has come with lockdowns being lifted and economies recovering against a slow increase in supply from the Organization of the Petroleum Exporting Countries (OPEC) and its allies, called OPEC+.
"Should the U.S. administration order an SPR (Strategic Petroleum Reserve) release, that could send a strong political sign," Citigroup (NYSE:) analysts said in a note.
"But … domestic refineries are unlikely to get an extra benefit, as light-end yields appear to have been already maxed out," they added, referring to margins for producing gasoline and other motor fuels.
U.S. producers have also been reluctant to overspend on drilling after they were punished by investors for gorging on debt to pay for new drills.
The International Energy Agency and OPEC have said in recent weeks that more supply will be available in the next several months. OPEC+ is maintaining an agreement to boost output by 400,000 bpd every month so as not to flood the market with supply.
"Releasing strategic stockpiles is only likely to lower oil prices temporarily," said Vivek Dhar, commodity analyst at Commonweath Bank of Australia. "There's a good likelihood that markets have already priced in such an event."
The United States and allies have coordinated strategic petroleum reserve releases before, for example in 2011 during a war in OPEC member Libya.
But the current proposal represents an unprecedented challenge to OPEC, the cartel that has influenced oil prices for more than five decades, because it involves China, the world's biggest importer of crude.
China's state reserve bureau said it was working on a release of crude oil reserves although it declined to comment on the U.S. request.
A Japanese industry ministry official said the United States has requested Tokyo's cooperation in dealing with higher oil prices, but he could not confirm whether the request included coordinated releases of stockpiles. By law, Japan cannot use reserve releases to lower prices, the official said.
A South Korean official confirmed the United States had asked Seoul to release some oil reserves.
"We are thoroughly reviewing the U.S. request, however, we do not release oil reserve because of rising oil prices. We could release oil reserve in case of supply imbalance, but not to respond to rising oil prices," the official said.
Caracas and Chevron will soon sign a series of contracts on crude oil production in Venezuela
Caracas and Chevron will sign a series of contracts after Washington allowed the company to start crude oil production in Venezuela, local oil minister Tarek El Aissami said Tuesday.
According to the EFE news agency, the minister was informed of a "productive working meeting" with Chevron Venezuela head Javier La Rosa. "In the coming hours we will sign contracts to spur the development of joint ventures and oil production," the minister said. What exactly will be in those contracts has not yet been disclosed.
The U.S. Treasury Department said earlier in November that it had allowed Chevron Corp (NYSE:CVX). To resume resource extraction activities in Venezuela on a limited scale. If it is possible to influence the world oil market in this way, the situation on the stock market, including Boeing stock price predictions, will also improve.
Note that the cost of oil production in Venezuela compared with world prices is very low. According to the document, the company is allowed to extract, transport and supply to the United States oil or oil products produced by joint ventures (JV) Chevron (the license does not allow delivery to any other countries), as well as to carry out any related maintenance and repair on the joint venture assets. Also, Chevron was granted the right to purchase and import into Venezuela goods or resources related to the above activities, including diluents, condensates, oil or natural gas products.
We previously reported that oil prices are rising on the supply and demand outlook.
Why is oil getting more expensive? Price rises on supply and demand outlook
Global oil prices moved higher Thursday afternoon, trading data showed. Why is oil getting more expensive? Investors continue to assess the prospects for the balance of supply and demand in the market, including the OPEC+ deal.
Why have oil prices gone up so much? The price of January futures on Brent grew 0.83% to $87.69 per barrel, while February futures on WTI grew 0.87% to $81.25. Oil was getting cheaper by 0.5% in the morning.
Why have oil prices gone up so much?
Investors continue to watch the outlook for oil supply and demand. Thus, investors are waiting for the OPEC+ meeting, which is scheduled for Sunday, December 4. Traders assess whether the parameters of the oil agreement will be changed. Because the situation remains tense, even the stock market is falling. The trend can even be seen in Walt Disney stock price predictions.
Traders also fear a possible recession amid global central bank policy to raise rates due to high inflation as well as China's measures to combat the coronavirus. The economic outlook could affect oil demand.
"The OPEC+ decision remains uncertain, but an extension of current production cuts is likely. The group will need to better understand China's real measures on COVID before doing anything else with production levels," Vanir Global Markets Pte. managing director James Whistler told Bloomberg. James Whistler.
Earlier, we reported that Bloomberg learned about the EU's discussion of a $60 price ceiling on Russian oil.
G7 countries back the price cap on Russian oil. Bloomberg found out about the discussion in the EU of the $60 price cap on Russian oil
EU member states are discussing a $60 price cap on Russian oil, Bloomberg reported, citing knowledgeable sources. G7 countries back the price cap on Russian oil.
The EU had planned to announce a price cap on Russian oil on November 23, but negotiations within the bloc were delayed. In four days, on December 5, the embargo on fuel imports to the European Union by sea will come into force. but the decision has not yet been taken and coordinated with the G7 countries, which are not members of the EU. Within the European Union, Poland, Lithuania and Estonia require lowering the bar much lower, and Greece, Cyprus and Malta, which have a very developed shipping industry, on the contrary, insist on softer conditions. Explained Bloomberg. 
It is still unclear whether both groups are willing to go to the limit of $60 a barrel, but most – agree, subject to other requirements, say agency sources. Negotiations are ongoing. The decision requires the approval of all EU members and the agreement of the decision with the G7. According to one of Bloomberg's sources, $60 a barrel falls within a suitable range for the G7.
What does the price cap on Russian oil mean?
What does the price cap on Russian oil mean? $60 a barrel is even a bit more than what Russian oil costs on the market now, Bloomberg said. The purpose of the cap is to limit Russia's income from selling oil while keeping it on the world's market. And EU sanctions, if the ceiling price is not set, will prohibit maritime transport of Russian oil to third countries and insurance of these shipments. 
For the scheme to work, the ceiling must be attractive enough for Russia to continue trading; otherwise Moscow could threaten to reduce production, and this would lead to a spike in global oil prices. Bloomberg explained.
The day before the EU embargo goes into effect, OPEC+, in which Russia also sits, will meet. On November 29, sources told Bloomberg that the format of the meeting was suddenly changed to an online meeting instead of a face-to-face meeting. The sources at Bloomberg did not explain what this was about. But we note that the tension in the market is already affecting even Google stock price predictions. 
At the last meeting on October 5, which was the first face-to-face meeting since the beginning of the pandemic, OPEC+ went for the sharpest production reduction since 2020 – by 2 million barrels per day. 10 traders out of 17 surveyed by Bloomberg expected that new production cuts could follow at the new meeting as well.
Earlier we reported that oil prices are falling amid protests in China.