Panicked shoppers clear out grocery stores in flood-hit British Columbia
3/3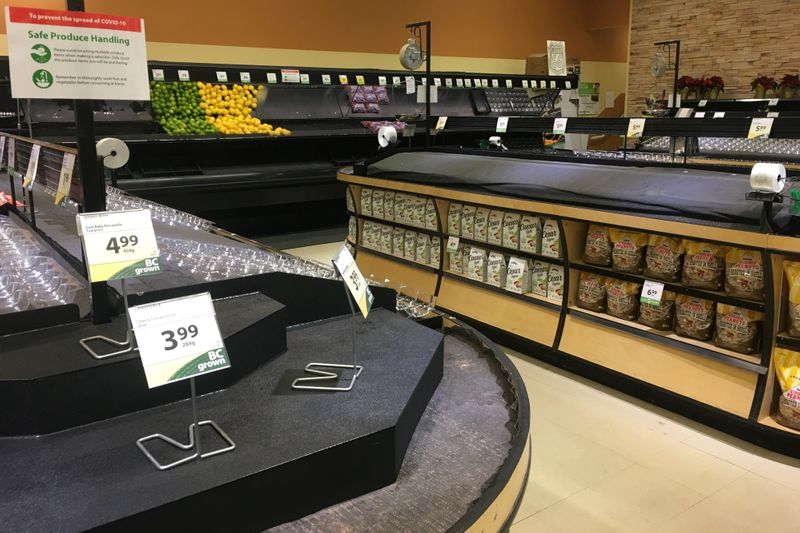 © Reuters. Produce shelves lie empty at the Save-On-Foods grocery store in Revelstoke, British Columbia, Canada November 18, 2021. Rob Murphy/Handout via REUTERS
2/3
By Nia Williams and Rod Nickel
(Reuters) – Shoppers in Canada's flood-hit province of British Columbia have emptied grocery shelves following catastrophic flooding, although the shortages are as much down to panic buying as disrupted supply chains, industry associations said on Thursday.
Even as flood waters start to recede, some parts of the province are expected to face to temporary shortages of dairy supplies, with retailers and officials calling for calm.
Canada's westernmost province declared a state of emergency on Wednesday after a phenomenon known as an "atmospheric river" brought a month's worth of rain in two days. The rainfall washed out roads and railways, cutting off Vancouver and the lower mainland region from the rest of the country, and blocking access to some towns entirely.
Pictures on social media showed empty shelves and refrigerators in grocery stores, reminiscent of the early days of the COVID-19 pandemic, as shoppers scrambled to stock up. Photos of one store's produce section showed nothing left but lemons, limes and cranberries.
Save-On-Foods, western Canada's largest grocery retailer, and part of the Jim Pattison Group, appealed to customers to avoid hoarding.
"We understand that this is a very stressful and challenging time for many of our communities," the company said on Twitter (NYSE:). "Please – buy only what your family needs at this time."
Some three-quarters of B.C.'s milk production was stranded for several days, amounting to a few million litres that farmers had to dump, said Holger Schwichtenberg, chair of the BC Dairy Association.
Collections are now resuming, but the region will see a temporary milk shortage before it can access supplies from other regions or provinces, he added.
Some of the worst-affected areas are in the Fraser Valley east of Vancouver, where 63 dairy farms were ordered to evacuate. The city of Abbotsford in the Fraser Valley supplies half of the dairy, eggs and poultry consumed in British Columbia, with many farms situated on the fertile soils of the low-lying Sumas Prairie, a former lake that was drained a century ago to make way for agriculture.
The mayor of Abbotsford estimated damage to his city alone could be up to C$1 billion ($793 million).
While some towns like Hope, 120 kilometres (75 miles) east of Vancouver, are facing food shortages because they were cut off by highway washouts and mudslides, others are seeing shelves picked clean by panic buying.
"In parts of the province, particularly the interior, there has been significant and not well-understood consumer panic," said Greg Wilson, director of B.C. government relations for the Retail Council of Canada.
"There are highways open between B.C. and Alberta and there is capacity in Alberta to supply the interior of B.C."
Wilson said Vancouver and the lower mainland can access more food supplies from Washington state to the south, and the rerouting of supply chains was already underway.
($1 = 1.2607 Canadian dollars)
The U.S. has decided to produce crude oil in Venezuela
The U.S. wants to give the U.S. Chevron Corp., one of the largest oil companies in the country, a license to produce crude oil in Venezuela, according to The Wall Street Journal.
There will be new American oil executives in Venezuela. This is a signal of easing sanctions against the country, the newspaper said. Chevron has decided to regain partial control over oil production in Venezuela's fields, in which the company paid a share due to joint ventures with Petroleos de Venezuela SA.
Talk of new investment is not yetunderway, because the debts to Chevron are not repaid. This may take several years, the sources say.
In July, Diosdado Cabello, leader of the parliamentary faction and vice president of the ruling United Socialist Party of Venezuela (PSUV), accused the U.S. of attacks on the country's oil facilities. Venezuela has been under U.S. oil sanctions since 2019. In June of this year, the State Department allowed Italian Eni and Spanish Repsol to supply oil from Venezuela to Europe.
Earlier we reported that more than 50% of Germans said they refused to buy new clothes and electronics.
Bloomberg: UAE to boost oil production beyond plan by 2025
UAE to boost oil production. One of Russia's main competitors for oil exports plans to reach five million barrels per day by 2025. The Middle Eastern country was initially expected to reach this level only by 2030, Bloomberg reported, citing sources.
"Energy concern Abu Dhabi National Oil Co. (Adnoc), which produces almost all of the UAE's oil, wants to be able to produce 5 million barrels a day by 2025. The company planned to reach such a level only by 2030," – says the material.
But a crude oil production boost will be difficult without additional financing for expenses for the project. Adnoc explained the acceleration of production increase by the policy of the leading countries of the world on accelerated energy transition to renewable energy sources (RES).
"As we embrace the energy transition and focus our business on the future, we will continue to explore potential opportunities that can further add value, free up capital and improve profitability," the Arab oil company said.
To realize the goal, Adnoc has asked international companies that are partners in its oil fields to increase long-term crude production by 10% or more, sources said. In the case of positive results of the negotiations, the UAE will be able to significantly increase the volume of oil production by 2025, concludes Bloomberg.
On September 19, the Times of India, citing sources in the Indian Ministry of Commerce, reported that the Asian country has saved since February 2022, $439.7 million on imports from Russia of oil at a discount. A total of about 62.5 million barrels of Russian crude were purchased by Indian state and private companies over the last six months. Moreover, volumes of imports have increased many times over as compared to 2021.
Earlier, we reported that Nigeria stopped benefiting from the sale of Nigerian oil due to the lack of dollars.
FT: Nigeria stopped benefiting from Nigeria crude oil sales due to lack of dollars
Nigeria's crude oil sales used to grow steadily. But now the country, which is considered one of the world's largest oil exporters, is facing a crisis. The country is short of dollars, and the factor of "massive theft" has only exacerbated the problems of the African state, reports the Financial Times.
"Since the beginning of the year, Nigeria's foreign exchange reserves have fallen by 5%, to $38 billion. Restrictions on the purchase of dollars and the resulting deficit has led to the emergence of a black currency market. $1 is worth 420 naira at the official exchange rate and 700 naira on the black market," the paper said.
Because of increasing corruption in the country, Nigeria, the world's tenth largest oil exporter, can no longer increase production of crude oil. Nigerian crude oil buyers are not happy with this fact. The African state exports a little more than half of the established OPEC quota – 1.1 million barrels per day, instead of the required 1.8 million.
Despite all the difficulties going on in Nigeria's economy, Timipre Silva, the African country's Minister of State for Petroleum, announced plans to increase liquefied natural gas (LNG) exports to Europe by the coming winter. According to him, to realize this goal, it is necessary to improve safety in Nigeria's fields and infrastructure.
Earlier we reported that coffee stocks in Brazil in six months will approach a record low level.