U.S., China, others take aim at OPEC with potential reserves release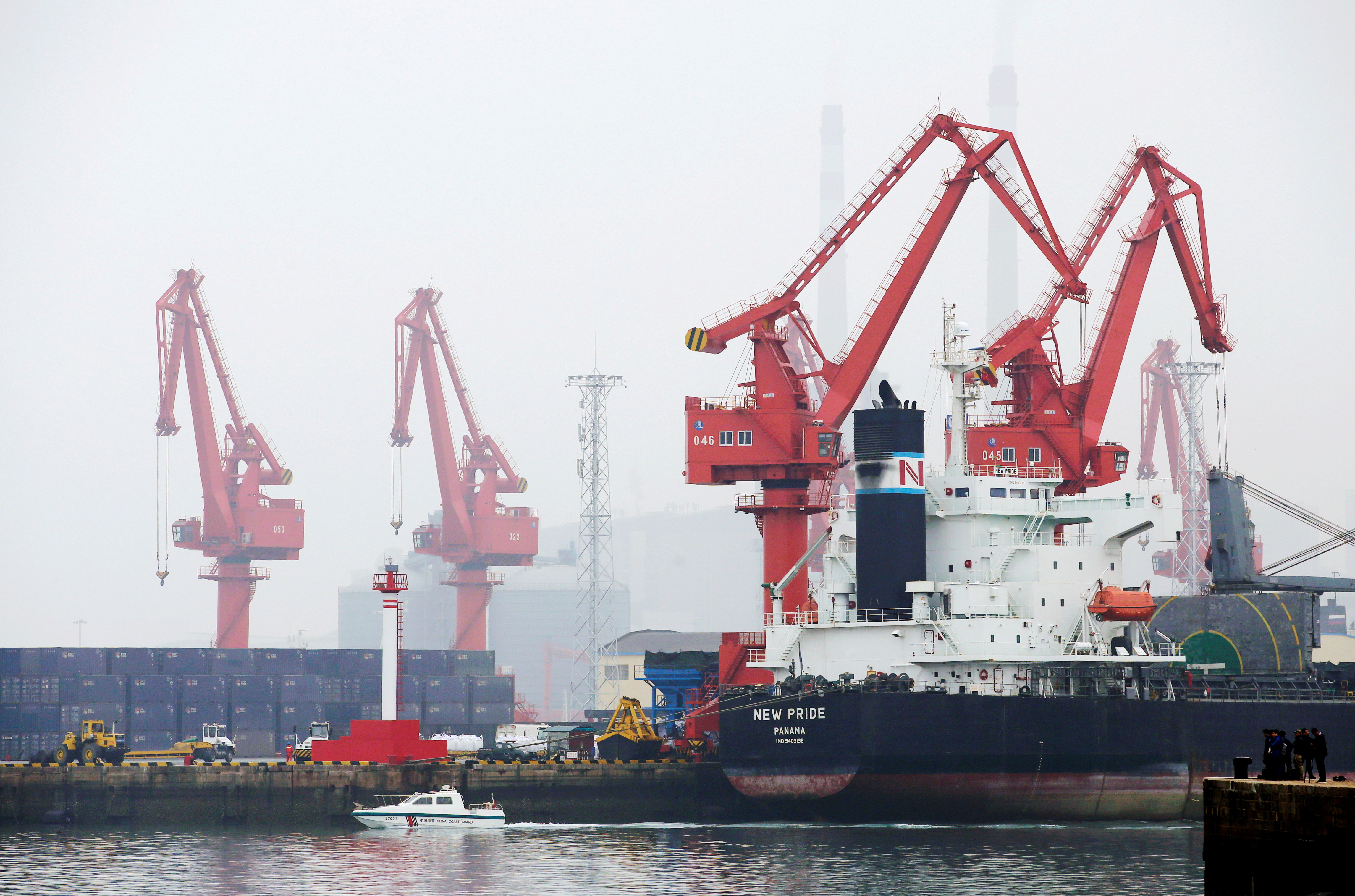 © Reuters. FILE PHOTO: A crude oil tanker is seen at Qingdao Port, Shandong province, China, April 21, 2019. REUTERS/Jason Lee/File Photo
By Timothy Gardner and Chen Aizhu
SINGAPORE/WASHINGTON (Reuters) – Governments from some of the world's biggest economies said on Thursday they were looking into releasing oil from their strategic reserves, following a rare request from the United States for a coordinated move to cool global energy prices and ahead of a meeting of major oil producing countries.
The Biden administration has asked big oil buyers such as India and Japan – as well as China for the first time – to consider releasing stocks of crude, several people familiar with the requests told Reuters on Wednesday. Oil prices fell on the news.
As the world economy rebounds from the pandemic, Washington is frustrated that producers in OPEC+, the Organization of the Petroleum Exporting Countries and allies such as Russia, have rebuffed U.S. requests to speed up oil supplies.
With gasoline prices and other costs rising, U.S. President Joe Biden also faces political pressure ahead of midterm elections next year. A Reuters poll in October showed 67% of U.S. adults agreed that inflation is a very big concern.
OPEC+ plans to meet on Dec. 2. The group has taken a slower approach to boosting output, viewing the economic recovery as too fragile to justify more supply.
Oil prices sank about 4% to a six-week low after Reuters reports about the U.S. request and China's decision to release some crude, before recovering some ground later on Thursday. Oil prices have retreated from recent highs in anticipation that world supply will rise. [O/R]
"The market is going to continue to be nervous, because it is on guard for a release," said Phil Flynn, senior analyst at Price Futures Group in Chicago.
China's state reserve bureau told Reuters it was working on a release of crude oil reserves, but declined to comment on the U.S. request.
The United States has the largest strategic reserve at more than 600 million barrels. The U.S. SPR was set up in the 1970s after the Arab Oil Embargo to ensure the nation had adequate supply to weather an emergency. In the last several years, the shale boom has pushed U.S. output to rival that of Saudi Arabia and Russia.
A CHALLENGE TO OPEC
By involving China for the first time, this proposal is an unprecedented challenge to OPEC, the cartel that has influenced oil prices for over five decades. China is the world's No. 2 oil consumer and largest importer.
There was no immediate official reaction from OPEC+ members. The group has been raising output by 400,000 barrels per day per month, gradually unwinding record production cuts made in 2020 when the pandemic sank fuel demand.
This week, Secretary General Mohammad Barkindo said OPEC expects an oil supply surplus to begin building next month. In September, exports from Saudi Arabia rose to 6.52 million barrels per day, highest since January.
One OPEC source who asked not to be named said it would be surprising to see consuming countries release stocks to lower prices rather than to meet a supply shortage.
However, several large world energy consumers have been pressing OPEC to boost supply. China elected to release reserves in September to try to stabilize prices. India has expressed frustration for months, and sharply cut purchases from Saudi Arabia in the spring due to rising costs.
"This is not a case of supplies not being available," Hardeep Singh Puri, India's oil minister, told a conference in Dubai on Wednesday. "There are 5 million barrels a day of supplies available which have not been released for whatever reason."
Graphic: U.S. & futures slip after U.S. govt requests that some big oil buyers sell reserves https://fingfx.thomsonreuters.com/gfx/ce/mopanloklva/USvsBrentNov182021.png
CHINA IN, IEA OUT
The United States and its allies have coordinated strategic petroleum reserve releases before, such as in 2011 when supplies were hit by a war in OPEC member Libya. Coordination has been handled through the Paris-based energy watchdog the International Energy Agency, whose membership includes the United States, Japan and numerous European nations.
The United States, however, did not ask the European Union for its participation, according to a source familiar with discussions, saying Europe's primary problem has been related to higher prices.
The IEA, on its web site, said such releases are not meant for price intervention. Both Japan and South Korea were contacted by the United States, and both said they do not release reserves simply to deal with rising prices.
If China is doing its release in coordination with other nations, it would be the first such time, said Sengyick Tee, analyst at Beijing-based consultancy SIA Energy.
Graphic: oil in Strategic Petroleum Reserves https://fingfx.thomsonreuters.com/gfx/ce/klpykdleepg/USCrudeSPRNov2021.png
U.S. increased forecasts for crude oil and natural gas production in the country in 2022
Crude oil and natural gas production will be raised. The U.S. Energy Department raised its 2022 domestic crude oil production (excluding other liquid hydrocarbons) forecast from 11.83 million to 11.87 million barrels per day, the Energy Information Administration (EIA) said in its monthly forecast. The forecast is 0.62 million bpd higher than the 2021 result.
The agency also slightly increased its 2023 production forecast by 30,000 bpd, to 12.34 million bpd. It is close to the annual average. This figure is close to the average annual record for oil production in the United States, set in 2019, – 12.3 million bpd.
Also, the Department of Energy slightly raised its 2022 and 2023 U.S. gas production forecasts. Gas production will be 98.13 Bcf/d in 2022 and 100.38 Bcf/d in 2023 (nearly 1.2 trillion cubic feet of gas per year).
The previous forecast had assumed production of 98.07 and 99.69 Bcf/d, respectively. In 2021, the country produced 94.6 Bcf/d of gas.
While the EIA still expects gas production in the Permian Basin to be constrained in early 2023, it anticipates that these constraints will be removed sooner than previously projected, although risks remain.
The Department of Energy expects natural gas prices to rise from their November level of $5.5 per MMBtu to over $6 per MMBtu in Q1 2023 because of both higher winter demand for natural gas and increased LNG exports. This will impact crude oil and gas prices.
U.S. LNG exports are expected to be 10.6 Bcf/d in 2022, up from 10.85 Bcf/d a month ago, and rising to 12.25 Bcf/d in 2023 (nearly 145 Bcf/d); the previous forecast of 12.33 Bcf/d.
Earlier we reported that the Expert revealed the reason for the sharp fall in oil prices.
The expert revealed the reason for the crude oil price chart dump
World oil prices have fallen to the level of early January, as expectations of a sharp decline in oil supplies from Russia after the start of the embargo and more aggressive actions by OPEC+ to maintain prices have not materialized. This is the reason for the crude oil price chart dump.
Live crude oil price in dollars – what's going on?
On Wednesday, Brent crude oil prices fell below $78 a barrel for the first time since January 3. February futures are trading at $79.6 a barrel.
Prices were probably driven by expectations of a sharp drop in oil supplies from Russia due to the embargo, and more aggressive action by OPEC+ to maintain prices; i.e., production cuts. Neither of these things happened; OPEC+ decided on Sunday not to change its production quota and, judging by media reports, Russian companies prepared for the embargo, including tanker fleet acquisitions.
Meanwhile, the Financial Times newspaper reported on Monday, citing oil traders, intermediaries and vessel-tracking services, that a traffic jam of oil tankers has formed off the Turkish coast since the start of restrictions on oil prices from Russia due to Ankara's requirements to provide insurance data. According to the expert, a delay in the passage of ships could have led to an increase in oil prices on expectations of a shortage, but this has not happened yet.
According to marinetraffic, a ship-tracking portal, there are about 30 tankers, mostly Turkish, off the Turkish coast near the strait. Five tankers out of this number are Russian. Russia is concerned about the situation off the coast of Turkey, where Russian oil tankers have piled up; this problem is now being discussed through transport and insurance companies. but it may also be taken up at a political level.
Western oil sanctions came into effect on December 5: The European Union stopped accepting Russian oil transported by, and so also the "Big Seven" countries. Australia and the EU, imposed a price cap on such oil at $60 per barrel. Deputy Prime Minister Alexander Novak said Sunday that Russia is considering possible mechanisms to ban the application of the price ceiling for Russian oil supplies.
Earlier, we reported that oil prices fell before the release of statistics on inventories in the U.S.
Crude oil prices today declined before the release of U.S. inventory statistics
World oil prices on Wednesday afternoon moved to some decrease, according to trading data. Markets are waiting for weekly statistics on commercial oil reserves in the U.S.
Brent crude oil prices were down 0.67% to $78.82 per barrel, while WTI January futures decreased 0.67% to $73.75. Oil prices were weak in the morning.
Later Wednesday, the U.S. Department of Energy will report data on the country's commercial oil inventories for the week through December 2. Analysts believe the figure fell by 3.3 million barrels. On Wednesday night, the American Petroleum Institute (API) said it estimates a 6.4 million-barrel decline in inventories.
Crude oil prices today continue to be affected by uncertainty regarding the prospects of oil supplies. From December 5, the oil sanctions of the West came into effect: the European Union stopped accepting Russian oil transported by sea; also the G7 countries. Australia and the EU imposed a price cap on such oil at $60 per barrel.
The Russian authorities are developing three possible responses. The first one is a complete ban on sales to the countries that supported the restriction, including through intermediary countries or even their chain; the second one is a ban on exports under contracts that include a price ceiling condition; and the third one introduces an indicative price – the maximum discount of Russian Urals oil to the benchmark Brent grade, and a ban on selling at a higher discount.
Earlier we reported on the Big Tanker Jam in the Bosphorus due to the price cap on Russian oil.