U.S. discussing joint reserves release with China, taking aim at OPEC+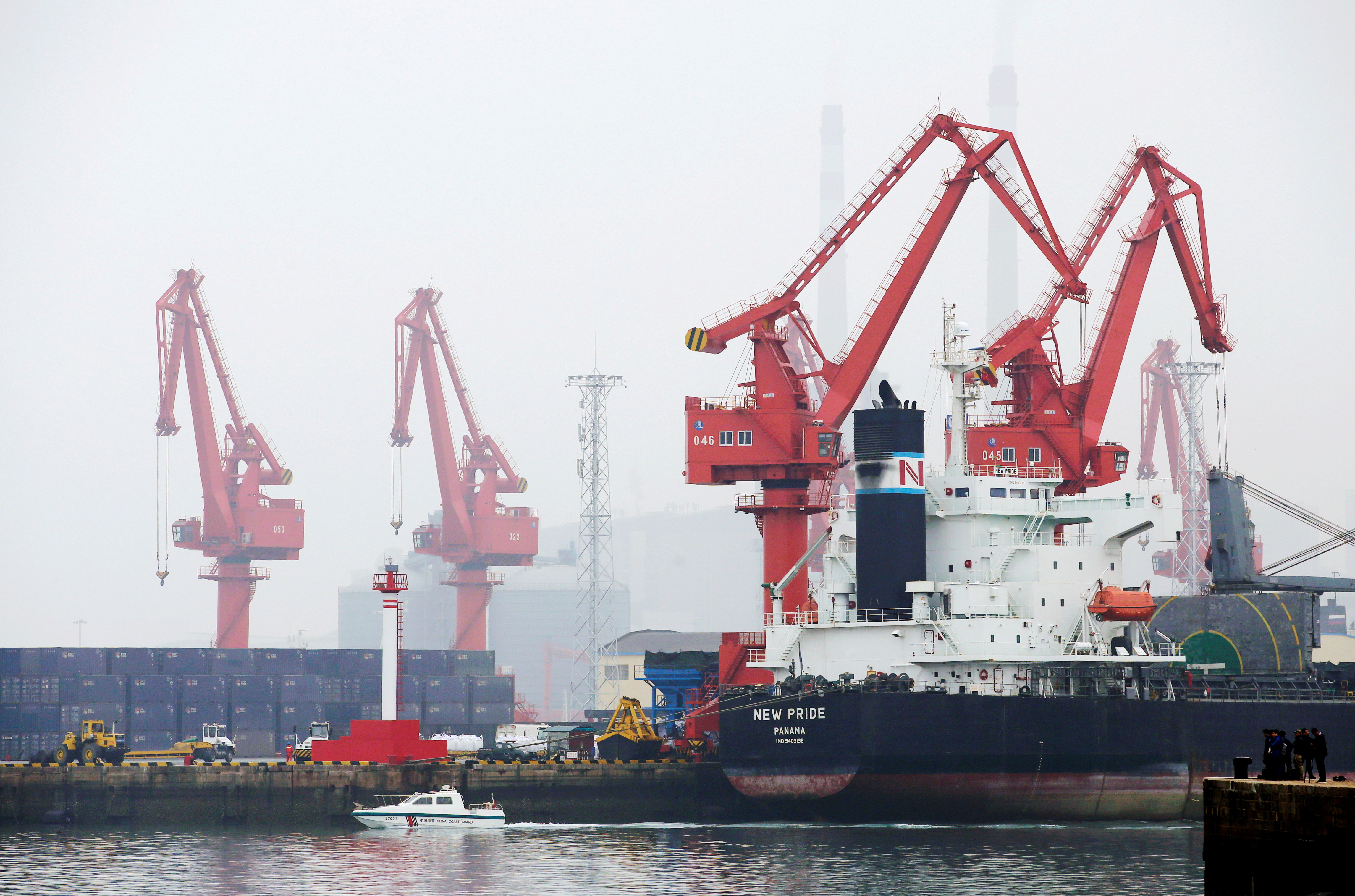 © Reuters. FILE PHOTO: A crude oil tanker is seen at Qingdao Port, Shandong province, China, April 21, 2019. REUTERS/Jason Lee/File Photo
By Timothy Gardner and Muyu Xu
WASHINGTON/BEIJING (Reuters) – Governments from some of the world's biggest economies said they were looking into releasing oil from their strategic reserves, after a rare U.S. request for a coordinated move to cool global energy prices ahead of a meeting of major oil-producing nations.
The Biden administration has asked https://www.reuters.com/business/energy/exclusive-us-asks-big-countries-coordinate-releases-oil-reserves-sources-2021-11-17 a wide range of countries, including China for the first time, to consider releasing stocks of crude, the White House said on Thursday.
Other major consumers India, Japan and South Korea were also involved in discussions, several people familiar with the requests told Reuters on Wednesday.
As the world economy rebounds from the pandemic, Washington and other nations have been frustrated that producers in OPEC+, the Organization of the Petroleum Exporting Countries and allies such as Russia, have rebuffed U.S. requests to speed up additional oil supplies.
OPEC nations, for their part, have said that world economies remain too fragile to warrant increasing supplies quickly.
To that end, the market slumped on Friday after Austria announced that it would reimpose a full nationwide lockdown due to soaring coronavirus cases, and Germany, Europe's largest economy, may soon follow suit.
International benchmark Brent was down 2.7% on Friday to $79.11 a barrel, the lowest since early October. The market has been weakening for several weeks as investors have started to anticipate an increase in supply worldwide. [O/R]
With gasoline prices and other costs rising, Democratic U.S. President Joe Biden also faces political pressure ahead of midterm congressional elections next year. A Reuters poll in October showed 67% of U.S. adults agreed that inflation is a very big concern.
Members of Biden's national security team had discussed the need to meet fuel demand, White House spokesperson Jen Psaki said on Thursday. "That is an ongoing conversation and one we are having with a number of partners," she added.
OPEC+ plans to meet on Dec. 2. The group has been raising output by 400,000 barrels per day (bpd) per month, gradually unwinding record production cuts made in 2020 when the pandemic dissipated fuel demand.
This week, Secretary General Mohammad Barkindo said OPEC expects an oil supply surplus to begin building next month.
Other countries have been pressing OPEC for some time, including China and India.
"This is not a case of supplies not being available," Hardeep Singh Puri, India's oil minister, told a conference in Dubai on Wednesday. "There are 5 million barrels a day of supplies available which have not been released for whatever reason."
While OPEC+ has been raising oil output by 400,000 bpd per month since July, the producer group still has about 3.8 million bpd in supply cuts that it has not yet returned to the market. Several of the group's members have been unable to meet production targets due to years of under-investment.
"Half of (OPEC+'s) members can't meet their quotas given their own under-investment," Goldman Sachs (NYSE:) analysts said in a Friday note.
OPEC+ in April 2020 cut output by more than 10 million barrels a day in response to the swift spread of the coronavirus pandemic.
Graphic: U.S. & futures slip after U.S. govt requests that some big oil buyers sell reserves – https://fingfx.thomsonreuters.com/gfx/ce/mopanloklva/USvsBrentNov182021.png
A CHALLENGE TO OPEC
CHINESE, U.S. EFFORTS
China's state reserve bureau https://www.reuters.com/business/energy/exclusive-china-reserve-bureau-working-crude-oil-release-2021-11-18 told Reuters it was working on a release of crude oil reserves, but declined to comment on the U.S. request.
It would also mark the first time that China, the world's No. 2 oil consumer and largest importer, would be involved in a coordinated release with the United States.
China held its first ever public auction https://www.reuters.com/business/energy/petrochina-hengli-win-four-cargoes-first-china-oil-reserve-sale-2021-09-24 of oil reserves in September.
Consultancy Energy Aspects said in a note to clients that Beijing is expected to release another 10 million to 15 million barrels of crude from its reserves in eastern Zhoushan in its next auction round.
"Any oil released from the Chinese SPR needs to be refilled within 90 days," Energy Aspects said.
"The market should focus on where these countries will find crude to refill these tanks given just how low stocks are."
The United States has the largest strategic reserve at more than 600 million barrels. The U.S. SPR https://www.reuters.com/business/energy/what-is-spr-emergency-oil-stash-biden-may-tap-2021-11-18 was set up in the 1970s after the Arab Oil Embargo to ensure the nation had adequate supply to weather an emergency.
In the last several years, the shale boom has pushed U.S. output to rival that of Saudi Arabia and Russia. That has enabled the United States to become less dependent on energy imports from other nations, particularly members of OPEC.
The United States and its allies have coordinated strategic petroleum reserve releases before, such as in 2011 when supplies were hit by a war in OPEC member Libya.
Graphic: oil in Strategic Petroleum Reserves – https://fingfx.thomsonreuters.com/gfx/ce/klpykdleepg/USCrudeSPRNov2021.png
Bypassing sanctions by the EU is included in the list of criminal offenses in the EU
Bypassing European sanctions is included in the list of criminal offenses in the EUThe EU Council decided on Monday to include violations of EU sanctions in the list of criminal "offenses in the EU".
"The EU has adopted an unprecedented European sanctions list targeting Russia's economy (…). Their implementation requires joint efforts to achieve results, and today's decision is an important tool to ensure that any attempts to circumvent these measures will be stopped," said Czech Justice Minister Pavel Blazek, who holds the EU Council Presidency, as quoted in a communiqué published in Brussels.
Member states currently have different definitions of what is a violation of restrictive measures and what penalties should be imposed in the event of a violation, the document noted. "This could lead to varying degrees of sanctions and the risk of circumvention of these measures, potentially allowing sanctioned individuals to continue accessing their assets and supporting regimes against which EU measures are in effect," the EU Council communiqué said.
It explains that listing violations of restrictive measures as "crimes in the EU" is the first of two steps aimed at making sure that sanctions are applied equally across the EU and deterring attempts to circumvent or violate EU measures.
This draft directive, Brussels reminds us, must then be discussed and adopted by the European Parliament and the EU Council.
Earlier we reported that the U.S. had decided to extract crude oil in Venezuela.
The U.S. has decided to produce crude oil in Venezuela
The U.S. wants to give the U.S. Chevron Corp., one of the largest oil companies in the country, a license to produce crude oil in Venezuela, according to The Wall Street Journal.
There will be new American oil executives in Venezuela. This is a signal of easing sanctions against the country, the newspaper said. Chevron has decided to regain partial control over oil production in Venezuela's fields, in which the company paid a share due to joint ventures with Petroleos de Venezuela SA.
Talk of new investment is not yetunderway, because the debts to Chevron are not repaid. This may take several years, the sources say.
In July, Diosdado Cabello, leader of the parliamentary faction and vice president of the ruling United Socialist Party of Venezuela (PSUV), accused the U.S. of attacks on the country's oil facilities. Venezuela has been under U.S. oil sanctions since 2019. In June of this year, the State Department allowed Italian Eni and Spanish Repsol to supply oil from Venezuela to Europe.
Earlier we reported that more than 50% of Germans said they refused to buy new clothes and electronics.
Bloomberg: UAE to boost oil production beyond plan by 2025
UAE to boost oil production. One of Russia's main competitors for oil exports plans to reach five million barrels per day by 2025. The Middle Eastern country was initially expected to reach this level only by 2030, Bloomberg reported, citing sources.
"Energy concern Abu Dhabi National Oil Co. (Adnoc), which produces almost all of the UAE's oil, wants to be able to produce 5 million barrels a day by 2025. The company planned to reach such a level only by 2030," – says the material.
But a crude oil production boost will be difficult without additional financing for expenses for the project. Adnoc explained the acceleration of production increase by the policy of the leading countries of the world on accelerated energy transition to renewable energy sources (RES).
"As we embrace the energy transition and focus our business on the future, we will continue to explore potential opportunities that can further add value, free up capital and improve profitability," the Arab oil company said.
To realize the goal, Adnoc has asked international companies that are partners in its oil fields to increase long-term crude production by 10% or more, sources said. In the case of positive results of the negotiations, the UAE will be able to significantly increase the volume of oil production by 2025, concludes Bloomberg.
On September 19, the Times of India, citing sources in the Indian Ministry of Commerce, reported that the Asian country has saved since February 2022, $439.7 million on imports from Russia of oil at a discount. A total of about 62.5 million barrels of Russian crude were purchased by Indian state and private companies over the last six months. Moreover, volumes of imports have increased many times over as compared to 2021.
Earlier, we reported that Nigeria stopped benefiting from the sale of Nigerian oil due to the lack of dollars.