U.S. unveils crackdown on methane from oil and gas industry
By Valerie Volcovici and Nichola Groom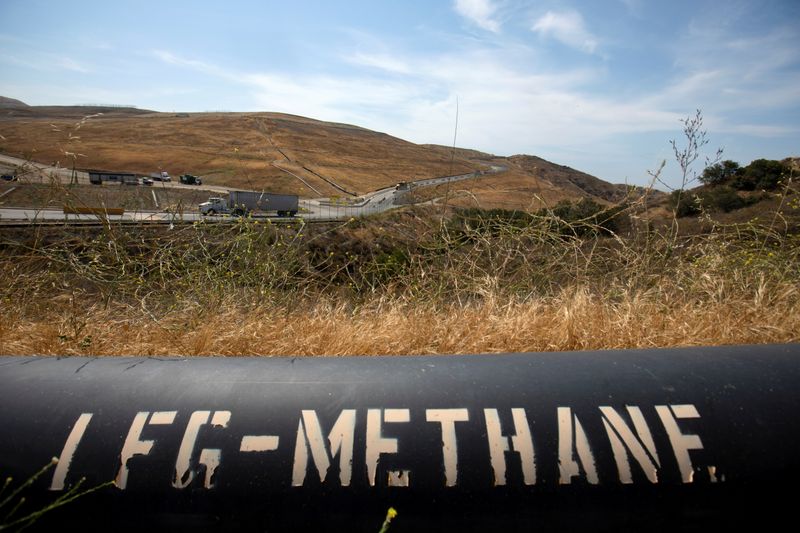 © Reuters. FILE PHOTO: A pipeline that moves methane gas from the Frank R. Bowerman landfill to an onsite power plant is shown in Irvine, California, California, U.S., June 15, 2021.Picture taken June 15, 2021. REUTERS/Mike Blake/File Photo
By Valerie Volcovici and Nichola Groom
(Reuters) -The Biden administration on Tuesday unveiled a plan to slash emissions of the greenhouse gas methane from oil and gas operations as part of its broader strategy to crack down on climate change, drawing cautious support from both environmental groups and drillers.
The announcement coincided with the United Nations climate conference in Glasgow, Scotland, where the United States, the world's second-largest greenhouse gas emitter, is seeking to reclaim leadership on the world stage by demonstrating tangible steps to curb emissions at home.
President Joe Biden has set a target to slash greenhouse gas emissions by more than 50% by 2030 but is struggling to pass major climate legislation through a deeply divided Congress, making policies by federal agencies more crucial.
His administration and the European Union are also seeking to lead a new international pact to reduce methane by 30% by 2030, drawing participation https://www.reuters.com/business/environment/nearly-90-countries-join-pact-slash-planet-warming-methane-emissions-2021-11-02 from some 90 countries.
At the center of the U.S. plan to tackle methane domestically is an Environmental Protection Agency proposal that will for the first time require oil and gas operators to aggressively find and repair methane leaks. Oil and gas operations account for a third of methane emissions.
"The timing of this is critical. As we speak, world leaders are gathering right now in Glasgow and they are looking to the United States for true leadership," U.S. EPA Administrator Michael Regan told Reuters in an interview. "This proposal is absolutely bold, aggressive and comprehensive."
Specifically, the proposal will require companies to monitor 300,000 of their biggest well sites every three months, would ban the venting of methane produced as a byproduct of into the atmosphere, and require upgrades to equipment such as storage tanks, compressors, and pneumatic pumps.
The EPA rules would most likely take effect in 2023 and would be aimed at slashing methane from oil and gas operations by 74% from 2005 levels by 2035, an amount equivalent to the emissions created by all U.S. passenger cars and planes in 2019, according to the summary.
The American Petroleum Institute, which represents the U.S. oil and gas industry, said it was reviewing the proposals.
"We support the direct regulation of methane from new and existing sources and are committed to building on the progress we have achieved in reducing methane emissions," it said in a statement.
Major producer BP (NYSE:) Plc, which has been seeking to burnish its green credentials and is investing heavily in clean energy, said it applauded the EPA proposals.
Washington-based environmental group Earthworks also called the proposals a positive step, but added that it would "continue to advocate for the strongest possible standards" as the EPA seeks feedback on the plan.
QUARTERLY MONITORING
Methane is the second-biggest cause of climate change after carbon dioxide. Its high heat-trapping potential and relatively short lifespan in the atmosphere means cutting its emissions can have an outsized impact on the trajectory of the world's climate.
The EPA's well monitoring proposal applies to sites emitting an estimated three tons of methane per year or more, a threshold the agency said would capture sites responsible for 86% of leaks. Smaller sites will require less scrutiny.
Oil and gas industry groups had pressed the EPA to exclude smaller wells from the regulations, citing the sheer number of such wells and the costs of the monitoring and repairs.
Environmental advocates, meanwhile, had pushed for all well sites to be covered, and were also seeking limits on flaring: the practice of burning off methane that comes out of the ground as a byproduct during crude oil drilling.
The administration's methane strategy will also include a new proposal by the Pipeline and Hazardous Materials Safety Administration requiring companies to monitor and repair leaks on about 400,000 miles (643,740 km) of previously unregulated gathering lines.
The administration's plan also proposes new voluntary measures from the Agriculture and Interior departments to tackle methane emissions from other major sources, including landfills, agriculture and abandoned wells and coal mines.
The EPA said it will release a supplemental proposal next year to flesh out the rules and possibly expand them to include additional methane sources, including abandoned oil and gas wells, flares and tank truck loading.
Copper price chart fluctuates at previous closing levels
Copper prices chart are fluctuating slightly near the level of the previous close as investors estimate a lot of factors, trading data shows.
September futures on copper on the Comex exchange are getting cheaper by a symbolic 0.01%, to $ 3.5515 a pound.
On the London Metal Exchange (LME) in previous trading, the cost of a ton of copper with delivery in three months increased by 1.85% to $7,870.5; aluminum — by 0.54%, to $2,416. Zinc — by 1.1%, to $3,488.5.
Quotes in the morning do not show any pronounced dynamics for a lot of reasons. For example, the price of copper is affected by the tense situation between the U.S. and China, the largest consumer of this type of industrial metal.
Also, the price dynamics are influenced by macro statistics — exports from China in July jumped by 18% year-on-year, while the forecast growth was only 15%, which, in turn, cut some concerns about the demand for metals in its largest market.
At the same time, investors continue to fear a recessionary economy. Expectations of a further increase in the discount rate by the U.S. Federal Reserve System after the release of data from the labor market in the country have increased fears.
Natural gas price in Europe per 1,000 m3 hits $2,100 on the exchange
Natural gas price Europe per 1,000m3: September gas futures contracts (benchmark TTF) were trading at $2,100 per 1,000m3 on Monday, gaining some 1.6% against Friday's settlement price in the first hour of trading, London's ICE exchange data showed.
So far, the current price minimum is $2,056.7 (-0.5% compared to Friday's settlement price of $2,066.5). The maximum is $2,100 per 1,000m3 (+1.6%).
Last year the European market faced a gas collapse. Experts attributed the collapse to limited supply from major suppliers, low occupancy rates of underground gas storage facilities in Europe, and high demand for liquefied natural gas in Asia.
Right now, Europe continues to be under pressure due to continued supply strains from Russia. Russian gas exports have fallen since the outbreak of the war in Ukraine: shipments via Nord Stream and the Ukrainian gas transportation system have dropped significantly, and the Yamal-Europe pipeline has stopped altogether.
The average monthly settlement price of the nearest gas futures on the ICE increased sharply, by almost 50%, from $1,180 per 1,000m3 in June to about $1,805 in July, while in the middle of summer last year it did not exceed $500. In the last days of July gas quotations reached $2,400 per 1,000m3 for the first time in four months. Such steadily high prices have not been seen in the entire history of European gas hubs since 1996.
Price of gold falls on expectations of further US Federal Reserve rate hike
Price of gold falls: the price of the precious metal on Monday morning slightly decreased on the prospects of further interest rate hikes by the U.S. Federal Reserve, according to trading data.
The December gold futures price on the New York Comex Exchange is down $2.75, or 0.15%, to $1,788.7 a troy ounce. September silver futures went up 0.24% to $19.89 an ounce.
The precious metals market showed a negative trend on Monday morning, fueled by expectations of further interest rate hikes by the U.S. Federal Reserve after the release of the country's labor market data.
Thus, the unemployment rate in July fell to 3.5% from the June level of 3.6%, while the number of the employed in non-farm industries increased by 528,000. Analysts had expected the figure to remain at June's level. The increase in nonfarm payrolls was forecast at 250,000.
"Support from geopolitical tensions "was countered by the resilience of the U.S. dollar after the release of a credible U.S. jobs report and hawkish comments from Fed officials," Ravindra Rao, vice president of commodities at Kotak Securities, told Bloomberg news agency.