Under Buffett's wing, U.S. fuel retailer Pilot leaps into oil trading, eyes refining
By Gary McWilliams and Marianna Parraga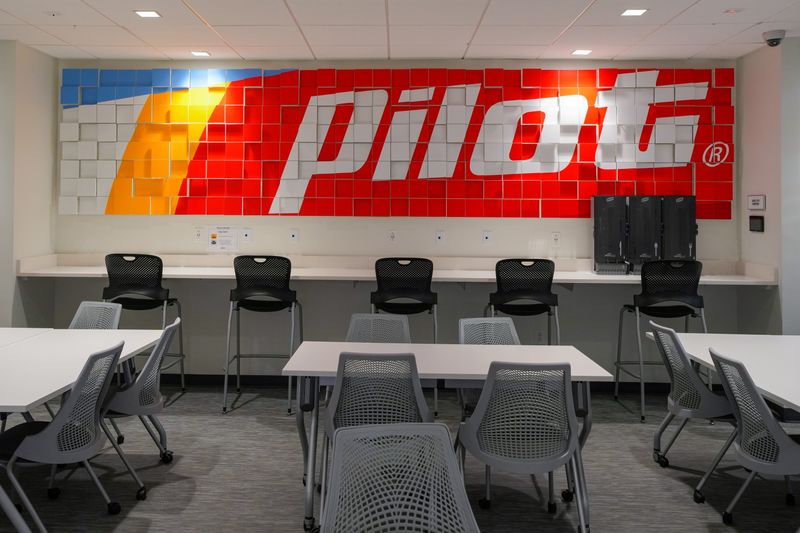 © Reuters. FILE PHOTO: A view inside the Pilot Co. company's headquarters in Knoxville, Tennessee, U.S., October 8, 2021. REUTERS/Harrison McClary
By Gary McWilliams and Marianna Parraga
(Reuters) – One of the largest U.S. diesel retailers is assembling a fuels trading, processing and distribution powerhouse that could turn a truck stop operator part-owned by billionaire Warren Buffett into the Walmart (NYSE:) of petroleum.
Known best for its Pilot Flying J service stations, Pilot Company has hired veteran energy traders and expanded into Latin America's fuels markets. Under Buffett's wing, the company is quickly broadening into buying, processing, distributing and marketing fuels.
Shameek Konar, a former Castleton Commodities executive who this year became Pilot's chief executive, said in an interview the moves into oil trading, international markets and processing complement its North American retail operations.
"What is happening in markets, ags (agricultural) markets is very important," said Konar. "The best way to understand the spreads is by being in those markets," he said referring to trading bets on feedstocks and fuels.
Pilot's strategy reflects a shrinking business for conventional motor fuels in North America that has led retailers to look for growth in related markets, said strategy consultants.
The expansion began after Buffett's Berkshire Hathaway (NYSE:) took an about 39% stake in the business and agreed to increase its ownership in Pilot to 80% in 2023. Following the Pilot deal, Berkshire separately invested in Japanese commodities trading houses.
Greg Abel, the head of Berkshire Energy, declined to comment on how energy trading fits into Berkshire's investments.
A MOVE INTO MEXICO
Pilot's trading has gone international with deals in Mexico and other Latin American countries. It aims to begin diesel and gasoline distribution in Mexico, said a person familiar with the matter.
Its trading arm represents the largest U.S. energy commodities startup since Freepoint Commodities opened in 2011, said a consultant, who declined to be identified due to work with related energy firms.
The Tennessee-based company's oil and petroleum trading is small, with about 100 employees, a fraction of the staff at better-known Freepoint Commodities, Mercuria and Vitol.
This year, it has expanded the business by adding financial trading and Mexican diesel supply experts from Noble Group, Vitol and Exxon Mobil (NYSE:), said people familiar with the company.
Pilot is buying 750,000 barrels of diesel and gasoline per day for its U.S. operations and the expansion into Latin America "gives us a good outlet for our product," said Konar.
The push into Latin America also comes as other traders are mired in scandals there.
BIODIESEL PUSH
Pilot is evaluating stakes in biodiesel processing operations after becoming one of the largest U.S. biodiesel sellers, Konar said.
He did not rule out a purchase of an oil refinery, but that is "not top of mind at the moment," he said.
Fuel retailers have ventured into fuel production as oil refiners bulk up retail arms, said Tony Portera, a managing director at business consulting firm BCG. Parkland Fuel Corp acquired a Chevron (NYSE:) refinery while oil processors Irving Corp and Royal Dutch Shell (LON:) have purchased retail outlets.
"The pie will get small, but the players that are left in this industry will take larger pieces of that pie," said Brian Gray, head of Accenture (NYSE:)'s global fuel and convenience retail consulting.
Bypassing sanctions by the EU is included in the list of criminal offenses in the EU
Bypassing European sanctions is included in the list of criminal offenses in the EUThe EU Council decided on Monday to include violations of EU sanctions in the list of criminal "offenses in the EU".
"The EU has adopted an unprecedented European sanctions list targeting Russia's economy (…). Their implementation requires joint efforts to achieve results, and today's decision is an important tool to ensure that any attempts to circumvent these measures will be stopped," said Czech Justice Minister Pavel Blazek, who holds the EU Council Presidency, as quoted in a communiqué published in Brussels.
Member states currently have different definitions of what is a violation of restrictive measures and what penalties should be imposed in the event of a violation, the document noted. "This could lead to varying degrees of sanctions and the risk of circumvention of these measures, potentially allowing sanctioned individuals to continue accessing their assets and supporting regimes against which EU measures are in effect," the EU Council communiqué said.
It explains that listing violations of restrictive measures as "crimes in the EU" is the first of two steps aimed at making sure that sanctions are applied equally across the EU and deterring attempts to circumvent or violate EU measures.
This draft directive, Brussels reminds us, must then be discussed and adopted by the European Parliament and the EU Council.
Earlier we reported that the U.S. had decided to extract crude oil in Venezuela.
The U.S. has decided to produce crude oil in Venezuela
The U.S. wants to give the U.S. Chevron Corp., one of the largest oil companies in the country, a license to produce crude oil in Venezuela, according to The Wall Street Journal.
There will be new American oil executives in Venezuela. This is a signal of easing sanctions against the country, the newspaper said. Chevron has decided to regain partial control over oil production in Venezuela's fields, in which the company paid a share due to joint ventures with Petroleos de Venezuela SA.
Talk of new investment is not yetunderway, because the debts to Chevron are not repaid. This may take several years, the sources say.
In July, Diosdado Cabello, leader of the parliamentary faction and vice president of the ruling United Socialist Party of Venezuela (PSUV), accused the U.S. of attacks on the country's oil facilities. Venezuela has been under U.S. oil sanctions since 2019. In June of this year, the State Department allowed Italian Eni and Spanish Repsol to supply oil from Venezuela to Europe.
Earlier we reported that more than 50% of Germans said they refused to buy new clothes and electronics.
Bloomberg: UAE to boost oil production beyond plan by 2025
UAE to boost oil production. One of Russia's main competitors for oil exports plans to reach five million barrels per day by 2025. The Middle Eastern country was initially expected to reach this level only by 2030, Bloomberg reported, citing sources.
"Energy concern Abu Dhabi National Oil Co. (Adnoc), which produces almost all of the UAE's oil, wants to be able to produce 5 million barrels a day by 2025. The company planned to reach such a level only by 2030," – says the material.
But a crude oil production boost will be difficult without additional financing for expenses for the project. Adnoc explained the acceleration of production increase by the policy of the leading countries of the world on accelerated energy transition to renewable energy sources (RES).
"As we embrace the energy transition and focus our business on the future, we will continue to explore potential opportunities that can further add value, free up capital and improve profitability," the Arab oil company said.
To realize the goal, Adnoc has asked international companies that are partners in its oil fields to increase long-term crude production by 10% or more, sources said. In the case of positive results of the negotiations, the UAE will be able to significantly increase the volume of oil production by 2025, concludes Bloomberg.
On September 19, the Times of India, citing sources in the Indian Ministry of Commerce, reported that the Asian country has saved since February 2022, $439.7 million on imports from Russia of oil at a discount. A total of about 62.5 million barrels of Russian crude were purchased by Indian state and private companies over the last six months. Moreover, volumes of imports have increased many times over as compared to 2021.
Earlier, we reported that Nigeria stopped benefiting from the sale of Nigerian oil due to the lack of dollars.