Under Buffett's wing, U.S. fuel retailer Pilot leaps into oil trading, eyes refining
By Gary McWilliams and Marianna Parraga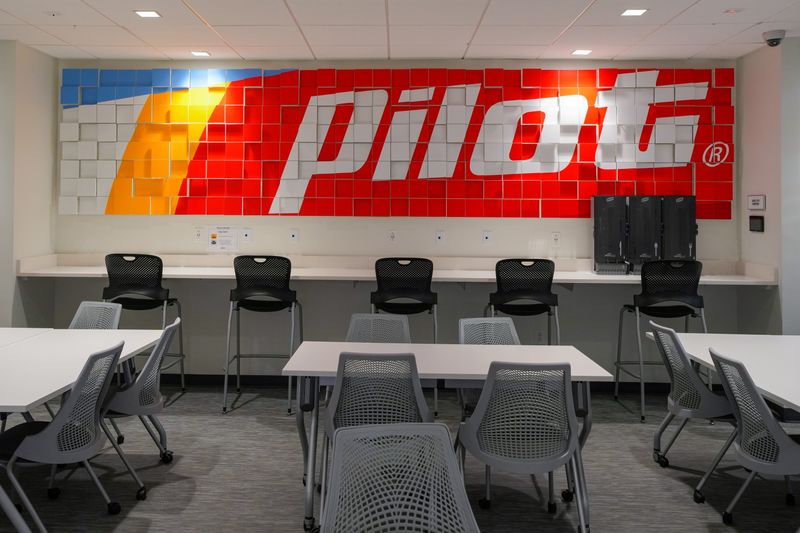 © Reuters. FILE PHOTO: A view inside the Pilot Co. company's headquarters in Knoxville, Tennessee, U.S., October 8, 2021. REUTERS/Harrison McClary
By Gary McWilliams and Marianna Parraga
(Reuters) – One of the largest U.S. diesel retailers is assembling a fuels trading, processing and distribution powerhouse that could turn a truck stop operator part-owned by billionaire Warren Buffett into the Walmart (NYSE:) of petroleum.
Known best for its Pilot Flying J service stations, Pilot Company has hired veteran energy traders and expanded into Latin America's fuels markets. Under Buffett's wing, the company is quickly broadening into buying, processing, distributing and marketing fuels.
Shameek Konar, a former Castleton Commodities executive who this year became Pilot's chief executive, said in an interview the moves into oil trading, international markets and processing complement its North American retail operations.
"What is happening in markets, ags (agricultural) markets is very important," said Konar. "The best way to understand the spreads is by being in those markets," he said referring to trading bets on feedstocks and fuels.
Pilot's strategy reflects a shrinking business for conventional motor fuels in North America that has led retailers to look for growth in related markets, said strategy consultants.
The expansion began after Buffett's Berkshire Hathaway (NYSE:) took an about 39% stake in the business and agreed to increase its ownership in Pilot to 80% in 2023. Following the Pilot deal, Berkshire separately invested in Japanese commodities trading houses.
Greg Abel, the head of Berkshire Energy, declined to comment on how energy trading fits into Berkshire's investments.
A MOVE INTO MEXICO
Pilot's trading has gone international with deals in Mexico and other Latin American countries. It aims to begin diesel and gasoline distribution in Mexico, said a person familiar with the matter.
Its trading arm represents the largest U.S. energy commodities startup since Freepoint Commodities opened in 2011, said a consultant, who declined to be identified due to work with related energy firms.
The Tennessee-based company's oil and petroleum trading is small, with about 100 employees, a fraction of the staff at better-known Freepoint Commodities, Mercuria and Vitol.
This year, it has expanded the business by adding financial trading and Mexican diesel supply experts from Noble Group, Vitol and Exxon Mobil (NYSE:), said people familiar with the company.
Pilot is buying 750,000 barrels of diesel and gasoline per day for its U.S. operations and the expansion into Latin America "gives us a good outlet for our product," said Konar.
The push into Latin America also comes as other traders are mired in scandals there.
BIODIESEL PUSH
Pilot is evaluating stakes in biodiesel processing operations after becoming one of the largest U.S. biodiesel sellers, Konar said.
He did not rule out a purchase of an oil refinery, but that is "not top of mind at the moment," he said.
Fuel retailers have ventured into fuel production as oil refiners bulk up retail arms, said Tony Portera, a managing director at business consulting firm BCG. Parkland Fuel Corp acquired a Chevron (NYSE:) refinery while oil processors Irving Corp and Royal Dutch Shell (LON:) have purchased retail outlets.
"The pie will get small, but the players that are left in this industry will take larger pieces of that pie," said Brian Gray, head of Accenture (NYSE:)'s global fuel and convenience retail consulting.
Copper price chart fluctuates at previous closing levels
Copper prices chart are fluctuating slightly near the level of the previous close as investors estimate a lot of factors, trading data shows.
September futures on copper on the Comex exchange are getting cheaper by a symbolic 0.01%, to $ 3.5515 a pound.
On the London Metal Exchange (LME) in previous trading, the cost of a ton of copper with delivery in three months increased by 1.85% to $7,870.5; aluminum — by 0.54%, to $2,416. Zinc — by 1.1%, to $3,488.5.
Quotes in the morning do not show any pronounced dynamics for a lot of reasons. For example, the price of copper is affected by the tense situation between the U.S. and China, the largest consumer of this type of industrial metal.
Also, the price dynamics are influenced by macro statistics — exports from China in July jumped by 18% year-on-year, while the forecast growth was only 15%, which, in turn, cut some concerns about the demand for metals in its largest market.
At the same time, investors continue to fear a recessionary economy. Expectations of a further increase in the discount rate by the U.S. Federal Reserve System after the release of data from the labor market in the country have increased fears.
Natural gas price in Europe per 1,000 m3 hits $2,100 on the exchange
Natural gas price Europe per 1,000m3: September gas futures contracts (benchmark TTF) were trading at $2,100 per 1,000m3 on Monday, gaining some 1.6% against Friday's settlement price in the first hour of trading, London's ICE exchange data showed.
So far, the current price minimum is $2,056.7 (-0.5% compared to Friday's settlement price of $2,066.5). The maximum is $2,100 per 1,000m3 (+1.6%).
Last year the European market faced a gas collapse. Experts attributed the collapse to limited supply from major suppliers, low occupancy rates of underground gas storage facilities in Europe, and high demand for liquefied natural gas in Asia.
Right now, Europe continues to be under pressure due to continued supply strains from Russia. Russian gas exports have fallen since the outbreak of the war in Ukraine: shipments via Nord Stream and the Ukrainian gas transportation system have dropped significantly, and the Yamal-Europe pipeline has stopped altogether.
The average monthly settlement price of the nearest gas futures on the ICE increased sharply, by almost 50%, from $1,180 per 1,000m3 in June to about $1,805 in July, while in the middle of summer last year it did not exceed $500. In the last days of July gas quotations reached $2,400 per 1,000m3 for the first time in four months. Such steadily high prices have not been seen in the entire history of European gas hubs since 1996.
Price of gold falls on expectations of further US Federal Reserve rate hike
Price of gold falls: the price of the precious metal on Monday morning slightly decreased on the prospects of further interest rate hikes by the U.S. Federal Reserve, according to trading data.
The December gold futures price on the New York Comex Exchange is down $2.75, or 0.15%, to $1,788.7 a troy ounce. September silver futures went up 0.24% to $19.89 an ounce.
The precious metals market showed a negative trend on Monday morning, fueled by expectations of further interest rate hikes by the U.S. Federal Reserve after the release of the country's labor market data.
Thus, the unemployment rate in July fell to 3.5% from the June level of 3.6%, while the number of the employed in non-farm industries increased by 528,000. Analysts had expected the figure to remain at June's level. The increase in nonfarm payrolls was forecast at 250,000.
"Support from geopolitical tensions "was countered by the resilience of the U.S. dollar after the release of a credible U.S. jobs report and hawkish comments from Fed officials," Ravindra Rao, vice president of commodities at Kotak Securities, told Bloomberg news agency.