Bethlehem celebrates muted Christmas with few pilgrims to bring cheer
5/5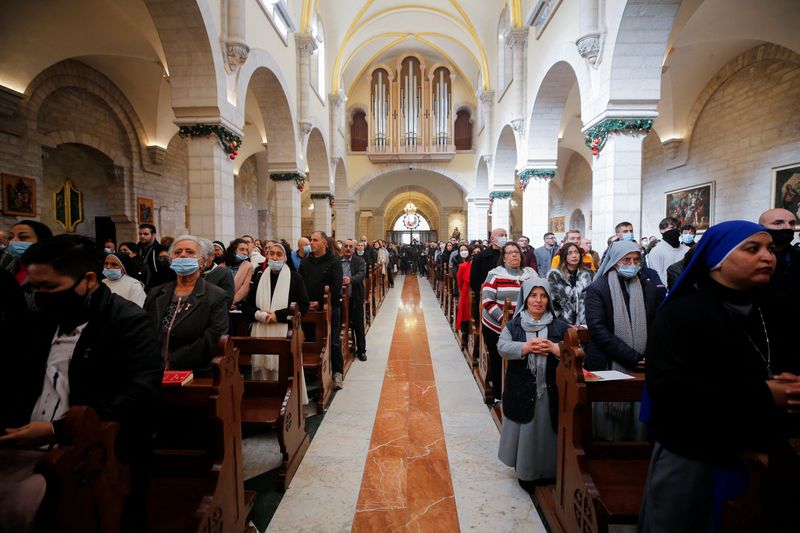 © Reuters. Worshipers attend Christmas morning mass at Saint Catherine's Church, in the Church of the Nativity, in Bethlehem in the Israeli-occupied West Bank, December 25, 2021. REUTERS/Mussa Qawasma
2/5
By Stephen Farrell
BETHLEHEM (Reuters) – The bells of Bethlehem rang out under grey skies on Christmas morning across streets whose closed pastel or green shutters were like an Advent calendar that nobody had turned up to open.
Shopkeepers and hotel owners in the Palestinian city reported far lower business than the years before coronavirus closures halted the arrival of wealthy foreign tourists, devastating the economy of the traditional birthplace of Jesus.
In Manger Square, hundreds of Christians – mostly those who live, work or study in Israel and the occupied West Bank – gathered near the tree and crib to sing carols and bring some cheer to the scene outside the Church of the Nativity.
But Joseph Giacaman, whose family has sold souvenirs around the square for a century, said business was around 2% of pre-pandemic years. "We were closed until three weeks ago. I have sold maybe two or three olive wood cribs. In normal years, we'd sell three or four each day throughout the year," he said.
The back streets were virtually empty.
Star Street had been renovated in recent years in the aim of drawing crowds, but here as elsewhere the Omicron variant dashed those hopes in November when Israel began closing its borders.
'OPEN HEARTS TO HOPE'
Earlier in December, Bethlehem mayor Anton Salman had sought to bolster morale by walking along the cobbled street at night, shaking hands of those selling mulled wine and olive wood carvings. But the market's opening could not continue its momentum with no foreign coach parties to sell to.
Across town, Bethlehem's grandest hotel, the Jacir Palace, lay closed and padlocked.
And in the nearby Nativity Hotel, receptionist Victor Zeidan said he was doing a 12-hour shift at lower pay to get a rare day's work checking in Palestinian Christian and Filipino care workers who briefly boosted occupancy.
"I haven't even celebrated this year, I didn't get much work before so now I am taking the chance," he said.
Jerise Qumsieh, of the Palestinian Ministry of Tourism and Antiquities, told Reuters that this year was better than last because there were at least some domestic visitors compared with the tighter restrictions of 2020, but that foreign tourism was "zero".
Nevertheless, in the early hours of Saturday the Latin Patriarch of Jerusalem, Pierbattista Pizzaballa, urged a reduced midnight mass congregation to search for hope.
"In this time of health emergency and prolonged political emergency, many different voices are heard in families: some undermine confidence, take away hope, extinguish love; others, however, are more encouraging," he said.
"We need to seek and find the voice that leads us to Jesus and to salvation, that opens hearts to hope."
Disclaimer:
Fusion Media
would like to remind you that the data contained in this website is not necessarily real-time nor accurate. All CFDs (stocks, indexes, futures) and Forex prices are not provided by exchanges but rather by market makers, and so prices may not be accurate and may differ from the actual market price, meaning prices are indicative and not appropriate for trading purposes. Therefore Fusion Media doesn`t bear any responsibility for any trading losses you might incur as a result of using this data.
Fusion Media or anyone involved with Fusion Media will not accept any liability for loss or damage as a result of reliance on the information including data, quotes, charts and buy/sell signals contained within this website. Please be fully informed regarding the risks and costs associated with trading the financial markets, it is one of the riskiest investment forms possible.
Democrats warn abortion, voting rights at stake in Pennsylvania governor's race
© Reuters. FILE PHOTO: Pennsylvania State Senator Doug Mastriano speaks at a protest against the state's extended stay-at-home order to help slow the spread of the coronavirus disease (COVID-19) in Harrisburg, Pennsylvania, U.S., April 20, 2020. REUTERS/Rachel Wisni
By James Oliphant and Jarrett Renshaw
WASHINGTON (Reuters) – After far-right candidate Doug Mastriano won the Republican primary for Pennsylvania governor, Democrats quickly warned voters that he poses a threat to abortion access, voting rights and election integrity should he win in November.
Josh Shapiro, the state's attorney general and the Democratic nominee for governor, called Mastriano the most extreme gubernatorial candidate in the country.
The Republican supports abortion bans with no exceptions for rape, incest or the health of the mother. He has proposed restrictions on mail-in voting and eliminating ballot drop boxes, and he backs former President Donald Trump's false claims of election fraud in the 2020 presidential contest.
Shapiro's campaign said it had raised about $200,000 since the polls closed in the Republican primary on Tuesday night, and the Democratic candidate asked for more donations on Wednesday.
Democrats view the Pennsylvania governor's race as one of the most critical contests in the country. The current governor, Democrat Tom Wolf, has blocked measures from the Republican-controlled state legislature that would limit abortion and voting rights.
Some Republicans in Pennsylvania are also alarmed by Mastriano, who marched in Washington before the Jan. 6, 2021 siege of the U.S. Capitol. They said they fear Mastriano is all but unelectable and could drag down the party's entire state ticket with him.
"We are going to lose state house and state senate races," said Val Biancaniello, a Republican state committee member from Philadelphia's suburbs. "It is very difficult for someone like me to rally behind Doug Mastriano, who is going to get his butt kicked in November because he is a far-right extremist."
Mastriano, who was endorsed by Trump the weekend before the primary, disputed that he is a far-right candidate.
"I repudiate that," he said in his victory speech on Tuesday. "That is crap."
ABORTION, VOTING RIGHTS AT PLAY
As voters worry about inflation, the coronavirus pandemic and crime, Democrats are looking to leverage the battle over abortion rights to boost turnout among women and young voters, including independents and some Republicans.
Shapiro has vowed to veto any abortion restrictions that come before him as governor.
Mastriano, a state senator, has proposed a so-called "heartbeat" bill that would ban abortions after six weeks. He recently called abortion "genocide."
The Pennsylvania legislature has introduced a bill that would prevent the state Supreme Court from declaring abortion a right if the U.S. Supreme Court overturns its Roe v. Wade precedent and sends the issue of legalization back to individual states.
"With our fundamental rights on the line, we must work harder than ever to ensure that an anti-choice extremist like Doug Mastriano never holds the governor's office," said Ally Boguhn, a spokesperson for NARAL Pro-Choice America.
Mastriano also has championed Trump's stolen election claims, proposing a state audit of the 2020 results.
A retired Army colonel, Mastriano was seen outside the U.S. Capitol on Jan. 6, 2021, when Trump supporters breached the building. He has said he peacefully participated in a pro-Trump "Stop the Steal" rally that day but left before the siege.
Some influential Republicans in the state, such as Sam DeMarco, a Republican Party committee chair in Pittsburgh, warned ahead of the primary that Mastriano was unelectable, pointing to survey research that predicted swing voters would shift to Shapiro in large numbers if Mastriano won the nomination.
Analysts say Shapiro, a candidate who has won statewide and went unchallenged in the Democratic primary, has the edge in the race. Heading into the primary, Mastriano had about $800,000 in his campaign account, while Shapiro was sitting on a war chest of more than $18 million.
Mastriano "needs to start showing how he's going to appeal to moderate Republicans and independent voters," said Charlie O'Neil, a veteran of Republican campaigns in Pennsylvania. "You don't win Pennsylvania by winning the Republican base."
U.S. warns North Korea could greet Biden with nuclear, missile tests
© Reuters. FILE PHOTO: FILE PHOTO: North Korean leader Kim Jong Un walks next to what state media reports is the "Hwasong-17" intercontinental ballistic missile (ICBM) on its launch vehicle in this undated photo released on March 25, 2022 by North Korea's Korean Cen
By Alexandra Alper, David Brunnstrom and Josh Smith
WASHINGTON/SEOUL (Reuters) -U.S intelligence shows there could be a North Korean nuclear test, or a long-range missile test, or both, before, during or after President Joe Biden's trip to South Korea and Japan starting this week, the U.S. national security adviser Jake Sullivan, said on Wednesday.
The White House said Biden would not visit the Demilitarized Zone (DMZ) that divides North and South Korea during his visit to South Korea, which begins on Friday, having said last week he was considering such a trip.
"Our intelligence does reflect a genuine possibility that there will be either a further missile test, including long-range missile test, or a nuclear test, or frankly both, in the days leading into, on, or after the president's trip to the region," Sullivan told a White House briefing.
"We are preparing for all contingencies," he said.
Sullivan said the United States was coordinating closely with South Korea and Japan and he had also discussed North Korea with his Chinese counterpart Yang Jiechi in a phone call on Wednesday.
Biden's May 20-24 trip will be his first to Asia as president. It will include his first summit with South Korean President Yoon Suk-yeol, who took office on May 10 and has vowed a harder line against North Korean "provocations."
Sullivan said the United States was prepared to make both short- and longer-term adjustments to its military posture as necessary "to ensure that we are providing both defense and deterrence to our allies in the region and that we're responding to any North Korean provocation."
Earlier, U.S. and South Korean officials said North Korea appeared to be preparing to test an intercontinental ballistic missile (ICBM) ahead of Biden's trip to South Korea, even as it battled a big COVID-19 outbreak.
South Korean Deputy National Security Adviser Kim Tae-hyo said such a test appeared imminent and a U.S. official said it could happen as soon as Thursday or Friday.
Kim Tae-hyo said a "Plan B" had been prepared in the event of a small or large North Korean "provocation," which could involve altering the summit schedule.
A weapons test could overshadow Biden's broader trip focus on China, trade, and other regional issues, and underscore the lack of progress in denuclearization talks with North Korea, despite his administration's vow to break the stalemate with practical approaches.
North Korea has conducted repeated missile tests since Biden took office last year and this year resumed launches of ICBMs for the first time since 2017. After each launch, Washington has urged North Korea to return to dialogue, but to no response.
Meanwhile, U.S. efforts to encourage tougher international sanctions have met Russian and Chinese resistance.
Analysts say that while China's view on sanctions might alter with another nuclear test, Russian support appeared unlikely after the campaign of U.S.-led sanctions over Moscow's Ukraine intervention.
Yoon is expected to seek greater assurances from Biden that Washington will strengthen "extended deterrence" against North Korea – a reference to the U.S. nuclear weapons umbrella protecting its allies.
Yoon's administration has asked Washington to station more nuclear-capable "strategic assets," such as long-range bombers, submarines, and aircraft carriers in the region.
Kim said the chances of North Korea conducting a nuclear test this weekend appeared low, but if it staged any major provocation, such assets were ready to be mobilised.
A nuclear test could complicate international efforts to offer Pyongyang help to deal with its COVID crisis.
Yoon has offered to help North Korea with this issue, and analysts expect Biden to endorse this effort, even though his administration has said it has no plans to send vaccines directly to North Korea and Pyongyang has persistently refused help though the global vaccine initiative.
The rising case load and a lack of modern care for COVID-19 in North Korea worries World Health Organization officials that an unchecked spread could give rise to deadlier new variants.
North Korea sent aircraft to China to pick up medical supplies days after it confirmed the outbreak, media reported on Tuesday.
A new report by Washington's Center for International and Strategic Studies said commercial satellite imagery showed work continuing at North Korea's main nuclear site, where underground testing tunnels were shuttered in 2018 after leader Kim Jong Un declared a moratorium on nuclear and ICBM tests.
He has since said he is no longer bound by that moratorium because of a lack of progress in talks with the United States. While North Korea has resumed ICBM testing, it has not tested a nuclear bomb since 2017.
North Korea has also resumed construction at a long-dormant nuclear reactor that would increase its production of plutonium for nuclear weapons by a factor of 10, researchers at the U.S.-based James Martin Center for Nonproliferation Studies reported last week, citing satellite imagery.
U.S. health secretary tests positive for COVID on trip to Berlin
© Reuters. FILE PHOTO: Secretary of Health and Human Services Xavier Becerra testifies before the Senate Health, Education, Labor, and Pensions Committee hearing to discuss reopening schools during the coronavirus disease (COVID-19) at Capitol Hill in Washington, D.
WASHINGTON (Reuters) – U.S. Health and Human Services Secretary Xavier Becerra tested positive for COVID-19 on Wednesday while on a trip to Berlin ahead of G7 meetings of health ministers, a spokesperson said.
Becerra, who is fully vaccinated and boosted, is experiencing mild symptoms and will work in isolation, she said. Becerra had last visited the White House a week ago and President Joe Biden is not considered a "close contact" as defined by U.S. health authorities, she added.