Thousands of flights canceled globally as Omicron mars Christmas weekend
2/2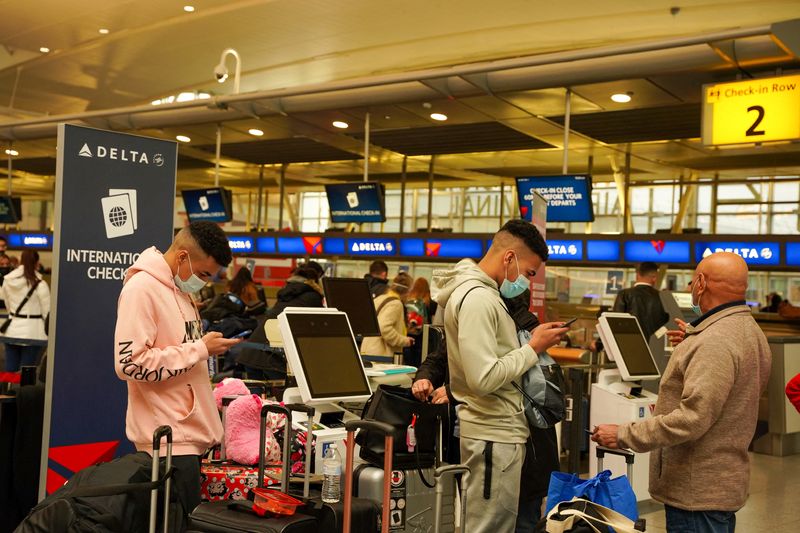 © Reuters. Passengers line up at John F. Kennedy International Airport after airlines announced numerous flights were canceled during the spread of the Omicron coronavirus variant on Christmas Eve in Queens, New York City, U.S., December 24, 2021. REUTERS//Dieu-Nali
2/2
By Arriana McLymore
NEW YORK (Reuters) – Commercial airlines around the world canceled more than 4,000 flights over the Christmas weekend, as a mounting wave of COVID-19 infections driven by the Omicron variant created greater uncertainty and misery for holiday travelers.
Airline carriers globally scrapped at least 2,314 flights on Friday, which fell on Christmas Eve and is typically a heavy day for air travel, according to a running tally on the flight-tracking website FlightAware.com.
The website showed that another 1,404 Christmas Day flights were called off worldwide, along with 340 more that had been scheduled for Sunday.
Commercial air traffic within the United States and into or out of the country accounted for roughly a fourth of all the canceled flights over the weekend, FlightAware data showed.
Among the first U.S. carriers to report a wave of holiday weekend cancellations were United Airlines and Delta Air Lines (NYSE:), which scrubbed nearly 280 flights combined on Friday alone, citing personnel shortages amid the surge of COVID-19 infections.
COVID-19 infections have surged in the United States in recent days due to the highly transmissible variant Omicron, which was first detected in November and now accounts for nearly three-quarters of U.S. cases and as many as 90% in some areas, such as the Eastern Seaboard.
The average number of new COVID cases has risen 45% to 179,000 per day over the past week, according to a Reuters tally. New York reported more than 44,000 newly confirmed infections on Friday alone, shattering that state's daily record.
Rising hospitalizations were hitting healthcare systems especially hard in the U.S. Midwest, with intensive care units in Indiana, Ohio and Michigan bracing for the worst even as they remain under pressure from an earlier wave of Delta variant cases.
In Britain, many industries and transport networks were struggling with staff shortages as sick workers self-isolated, while hospitals have warned of the risk of an impact on patient safety.
One in 20 Londoners had COVID-19 last week, a figure that could rise to one in 10 by early next week, according to data released on Thursday by the Office for National Statistics. https://www.reuters.com/world/uk/one-10-londoners-likely-infected-with-covid-ons-models-2021-12-24
Government data showed a record tally of 122,186 new infections nationwide on Friday, marking a third day in which the number of known cases has surpassed 100,000.
While recent research suggests Omicron produces milder illness, and a lower rate of hospitalizations, than previous variants of COVID-19, health officials have maintained a cautious note about the outlook.
"There is a glimmer of Christmas hope … but it definitely isn't yet at the point where we could downgrade that serious threat," Jenny Harries, head of the UK Health Security Agency, told the BBC.
France hit another COVID-19 infection record on Friday, with its daily tally exceeding 94,000 while hospitalizations from the virus reached a seven-month high, prompting the government to convene a special meeting for Monday that could trigger new public health restrictions.
Despite the uncertainties and grim news around the world, millions of Americans carried on with travel plans through a second pandemic-clouded holiday season.
Moses Jimenez, an accountant from Long Beach, Mississippi, flew to New York with his wife and three children, even though the latest torrent of coronavirus cases dashed their hopes to catch a Broadway performance of "Hamilton" or visit some museums.
"Hamilton" was one of a dozen productions to cancel shows this week as cast and crew members tested positive for COVID-19. Museums were scratched from the family's itinerary because many now require proof of vaccination and the two younger children are ineligible for the shot.
Instead, Jimenez, 33, said his brood will make the best of roaming the city's streets and parks, while also seeing relatives and friends.
"We just wanted to get out of the house, really, get the kids out to the city for Christmas," Jimenez told Reuters on Thursday at New York's LaGuardia airport.
New York planned to sharply limit the number of people it allows in Times Square for its annual outdoor New Year's Eve celebration, in response to the surge of new coronavirus cases https://www.reuters.com/world/us/new-york-city-scale-down-new-years-eve-celebrations-times-square-2021-12-23, capping the number of attendees 15,000.
The Biden administration will next week lift travel restrictions on eight southern African countries imposed last month over concerns about the Omicron variant, the White House said https://www.reuters.com/world/africa/exclusive-us-lift-travel-curbs-eight-african-countries-source-2021-12-24.
Some in Shanghai allowed out to shop; end of COVID lockdown in sight
4/4
© Reuters. Customers wearing face masks use self-checkout counters at a reopened Carrefour supermarket amid the coronavirus disease (COVID-19) outbreak in Shanghai, China May 19, 2022. REUTERS/Brenda Goh
2/4
By Brenda Goh
SHANGHAI/BEIJING (Reuters) – More Shanghai residents were given the freedom to go out to shop for groceries for the first time in nearly two months on Thursday as authorities set out more plans for exiting the city-wide COVID-19 lockdown more fully.
The commercial hub of 25 million recorded no new infections outside quarantined areas for a fifth day in a row, further cementing its "zero COVID" status with each day.
"I feel very happy, the lifting of the lockdown is starting," shopper Zhong Renqiu said at a Carrefour (EPA:CARR) supermarket in the central Changning district that had just reopened.
"We've mainly relied on government provisions and group-buys," said Zhong, who was stocking up on eggs, goji berries, black sesame and oats.
But officials are wary of the danger of new flare-ups of infection in their high-stakes effort to gradually re-open and are planning to keep most residents largely indoors this month, and prioritising work and production over other activities.
Deputy mayor Zhang Wei said economic activity had been recovering with businesses able to operate with workers living on site and that authorities would allow more to resume normal operations from the beginning of June.
The city was "striving to achieve a full resumption of work and production as soon as possible," he said.
"The rhythm of work resumption" would be based on the COVID situation, he said, adding that for the rest of May, on-site work restrictions would remain in place.
Some housing compounds in the Changning district distributed passes on Thursday for residents to enter the Carrefour store.
The passes were for one person from each household to go to the shop for 40 minutes and spend up to 500 yuan ($74). Residents were advised to walk or ride a bicycle to the shop and told to queue at the entrance two metres apart.
Some shoppers wore protective gowns, while others wore face shields and gloves.
In another positive sign, four of the city's 18 metro lines will resume operations from Sunday.
Shanghai reported fewer than 800 new cases. None were from outside quarantined areas, for a fifth day in a row.
The capital Beijing has not imposed a city-wide shutdown but has gradually tightened restrictions over the past month to contain a small but persistent outbreak of a few dozen new infections a day. It reported 55 new cases for May 18, down from 69.
SIGNS OF LIFE
Deputy mayor Zhang said Shanghai's economy was gradually returning to normal with daily container throughput at its ports at 90% of the levels of a year ago.
Pudong Airport cargo throughput has reached 70% of last year's levels, while the number of freight vehicles entering and leaving the city was back to two thirds, he said.
Roughly half of Taiwanese companies that suspended work in China because of COVID had resumed production, the democratically ruled island's economy minister said.
In another sign of improvement in China's manufacturing, data showed retail car sales jumped 27% in the first half of May from the same period in April.
But they were still down 21% from a year earlier.
COVID curbs in May were not as strict and widespread as in April but still weighed on growth.
Goldman Sachs (NYSE:GS) on Wednesday cut its 2022 economic growth forecast for China to 4% from 4.5%, well below the government's official target of about 5.5%, and warned it could slip further.
China's "zero COVID" policy has placed hundreds of millions of people in dozens of cities under various curbs and disrupted global manufacturing and firms ranging from Apple (NASDAQ:AAPL) and Tesla (NASDAQ:TSLA) to Starbucks (NASDAQ:SBUX) and Walmart (NYSE:WMT).
The New York Federal Reserve reported in its latest update to a worldwide index of supply problems that air freight costs between the United States and Asia rose in April and delivery times lengthened globally.
This could mean persistent inflation around the world and rising borrowing costs.
British luxury brand Burberry said on Wednesday its prospects depended on how quickly China, its biggest market where sales had fallen, recovers from lockdowns.
($1 = 6.7582 Chinese yuan renminbi)
North Korea weapons threat casts shadow on Biden visit
© Reuters. FILE PHOTO: Hwasong-17 intercontinental ballistic missiles take part in a nighttime military parade to mark the 90th anniversary of the founding of the Korean People's Revolutionary Army in Pyongyang, North Korea, in this undated photo released by North
WASHINGTON(Reuters) – Any major North Korea weapons test over the next five days could overshadow U.S. President Joe Biden's broader trip focus on bolstering Asian allies against China, analysts say.
Despite the Biden administration's vow to break a stalemate in denuclearization talks with North Korea with practical approaches, no progress has been made since he came into office in early 2021. Instead, North Korean leader Kim Jong Un has resumed testing his largest missiles.
GRAPHIC: North Korean ballistic missile programme – https://graphics.reuters.com/NORTHKOREA-MISSILES/mopandankva/graphic.jpg
U.S. and South Korean officials said North Korea appeared to be preparing another intercontinental ballistic missile test, that could some as soon as Thursday or Friday, despite North Korea's battle with its first admitted COVID-19 outbreak.
While Pyongyang resumed ICBM launches this year, it has not tested a nuclear bomb since 2017.
Although U.S. national security head Jake Sullivan said Wednesday this was a possibility, analysts and officials see it as less likely than a missile launch.
Explaining Kim's likely motivation, Ankit Panda, of the Carnegie Endowment for International Peace, said on Twitter (NYSE:TWTR) he had used "the accomplishments of the national defense industry as a beacon in the dark economic times of the last two years."
Panda said even a nuclear or missile test shouldn't stop Washington and Seoul from offering unconditional aid for North Korea's COVID fight.
Yoon has offered to help North Korea with its COVID crisis, and analysts expect Biden to endorse this effort, even though his administration has said it has no plans to send vaccines directly to North Korea and Pyongyang has refused help though the global vaccine initiative.
The White House also said Biden would not visit the heavily fortified Demilitarized Zone (DMZ) that divides North and South Korea, a change of plans from last week, when such a trip was under consideration.
Biden has stuck to a policy of keeping the door open to diplomacy with North Korea, while rejecting the idea, favored by China and Russia, of offering sanctions relief to Pyongyang before it takes steps to dismantle its nuclear weapons program.
Biden visits Japan, South Korea carrying warning to China
© Reuters. FILE PHOTO: Japan's Prime Minister Fumio Kishida attends a virtual meeting with the U.S. President Joe Biden at his official residence in Tokyo, Japan January 21, 2022, in this photo released by Japan's Cabinet Public Relations Office via Kyodo. Japan's
By Trevor Hunnicutt, David Brunnstrom and Michael Martina
WASHINGTON/SEOUL/TOKYO (Reuters) – Joe Biden will visit Japan and South Korea on his first Asian trip as U.S. president, carrying a clear message to China, advisers and analysts say – don't try what Russia did in Ukraine anywhere in Asia, and especially not in Taiwan.
Biden departs for the five day trip on Thursday, after spending several months organizing allies to punish Russia for its invasion of Ukraine, which Moscow calls a "special operation."
He meets new South Korean President Yoon Suk-yeol in Seoul and Japanese Prime Minister Fumio Kishida in Tokyo, leaders who share anxieties about North Korea and China and are eager to build on their long alliances with Washington.
"At its core this (trip) is about building out the alliance network in East Asia," in part to counter any Chinese actions against Taiwan, said Evan Medeiros, an Asia specialist in the Barack Obama administration.
Sweeping sanctions Biden led against Russia would not be so simple against Beijing. China is South Korea's largest trade partner, and the biggest source of goods that Japan imports, in each case beating no. 2 United States by a wide margin.
Complicating Biden's message, his administration has not laid out a plan to counter Beijing if it moves to retake the self-governed island of Taiwan, even as U.S. intelligence sees preparations underway.
Similarly, there's little public strategy to counter Beijing's no-COVID lockdown policy that some economists believe could provoke a global recession.
Even with those shortcomings, support for Washington from Seoul and Tokyo is stronger than in recent history.
"The president's lucky in who he has as counterparts," said Michael Green, an Asia specialist at the Washington think tank Center for Strategic and International Studies. "I was doing the math on this, and it's been at least 20 years since an American president could travel to Japan and Korea and count on the leaders in both countries being so forthrightly pro-alliance."
QUAD, ECONOMIC FRAMEWORK
Biden is expected to offer deeper collaboration to allies on a host of technological initiatives, highlight new public-private partnerships to ease supply chain constraints, and support for South Korean and Japanese initiatives to modernize their defense capabilities and develop offensive military capacity.
He will not visit the demilitarized zone that borders North Korea, and the administration brings no new ideas about how to manage the fraught relationship, analysts say. North Korea abandoned a freeze on intercontinental ballistic missiles testing and may soon resume nuclear tests.
North Korea also recently revealed it is struggling with a COVID-19 outbreak, but it has ignored calls to return to diplomacy, seeming unprepared to accept outside help even from China.
In Japan, Biden will meet prime ministers from the other three members of the "Quad" group: Kishida of Japan, Narendra Modi of India and whoever wins what is expected to be a tight election in Australia on Saturday.
While not a military alliance like NATO for Europe, Washington sees the informal grouping as key to cementing pro-democratic values. Biden will highlight cooperation on COVID vaccines, humanitarian aid, infrastructure development as well as on climate, space and cyberscurity.
Kishida and Biden are both expected to take a light touch with Modi over what Washington regards as India's tepid response to Russia's invasion of Ukraine.
In Japan, Biden will also launch the Indo-Pacific Economic Framework, a partnership encouraging dialogue and cross-border investment related to trade, supply chain resilience, infrastructure, decarbonization, and tax and anti-corruption measures.
But what Asian countries want most – greater access to hundreds of millions of American consumers, as agreed in the Trans-Pacific Partnership that Donald Trump abandoned in 2017 – will not be a part of the deal.
Kishida is expected to press Biden to rejoin that deal, Japanese officials and analysts said.