Thousands of flights scrapped globally as Omicron mars Christmas weekend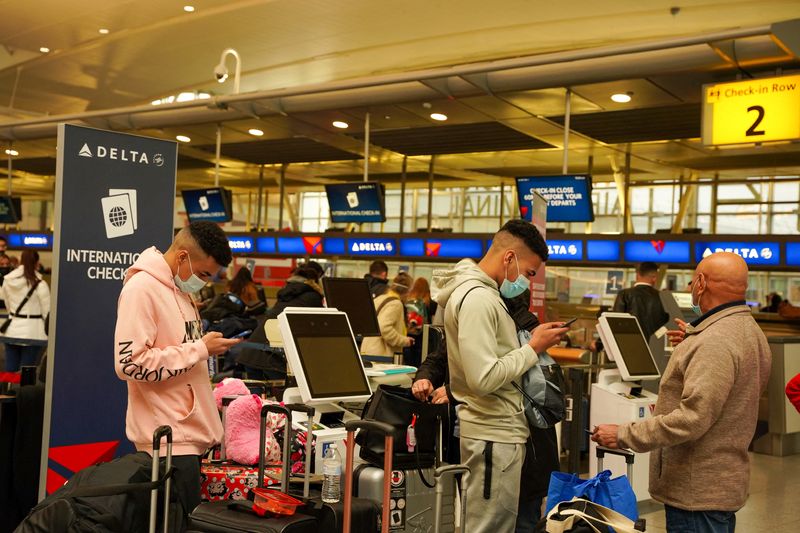 © Reuters. Passengers line up at John F. Kennedy International Airport after airlines announced numerous flights were canceled during the spread of the Omicron coronavirus variant on Christmas Eve in Queens, New York City, U.S., December 24, 2021. REUTERS//Dieu-Nali
By Arriana McLymore
NEW YORK (Reuters) – Commercial airlines around the world canceled more than 4,000 flights over the Christmas weekend, as a mounting wave of COVID-19 infections driven by the Omicron variant created greater uncertainty and misery for holiday travelers.
Airline carriers globally scrapped at least 2,314 flights on Friday, which fell on Christmas Eve and is typically a heavy day for air travel, according to a running tally on the flight-tracking website FlightAware.com.
The website showed that another 1,404 Christmas Day flights were called off worldwide, along with 340 more that had been scheduled for Sunday.
Commercial air traffic within the United States and into or out of the country accounted for roughly a fourth of all the canceled flights over the weekend, FlightAware data showed.
Among the first U.S. carriers to report a wave of holiday weekend cancellations were United Airlines and Delta Air Lines (NYSE:), which scrubbed nearly 280 flights combined on Friday alone, citing personnel shortages amid the surge of COVID-19 infections.
COVID-19 infections have surged in the United States in recent days due to the highly transmissible variant Omicron, which was first detected in November and now accounts for nearly three-quarters of U.S. cases and as many as 90% in some areas, such as the Eastern Seaboard.
The average number of new COVID cases has risen 45% to 179,000 per day over the past week, according to a Reuters tally. New York reported more than 44,000 newly confirmed infections on Friday alone, shattering that state's daily record.
Rising hospitalizations were hitting healthcare systems especially hard in the U.S. Midwest, with intensive care units in Indiana, Ohio and Michigan bracing for the worst even as they remain under pressure from an earlier wave of Delta variant cases.
In Britain, many industries and transport networks were struggling with staff shortages as sick workers self-isolated, while hospitals have warned of the risk of an impact on patient safety.
One in 20 Londoners had COVID-19 last week, a figure that could rise to one in 10 by early next week, according to data released on Thursday by the Office for National Statistics. https://www.reuters.com/world/uk/one-10-londoners-likely-infected-with-covid-ons-models-2021-12-24
Government data showed a record tally of 122,186 new infections nationwide on Friday, marking a third day in which the number of known cases has surpassed 100,000.
While recent research suggests Omicron produces milder illness, and a lower rate of hospitalizations, than previous variants of COVID-19, health officials have maintained a cautious note about the outlook.
"There is a glimmer of Christmas hope … but it definitely isn't yet at the point where we could downgrade that serious threat," Jenny Harries, head of the UK Health Security Agency, told the BBC.
France hit another COVID-19 infection record on Friday, with its daily tally exceeding 94,000 while hospitalizations from the virus reached a seven-month high, prompting the government to convene a special meeting for Monday that could trigger new public health restrictions.
Despite the uncertainties and grim news around the world, millions of Americans carried on with travel plans through a second pandemic-clouded holiday season.
Moses Jimenez, an accountant from Long Beach, Mississippi, flew to New York with his wife and three children, even though the latest torrent of coronavirus cases dashed their hopes to catch a Broadway performance of "Hamilton" or visit some museums.
"Hamilton" was one of a dozen productions to cancel shows this week as cast and crew members tested positive for COVID-19. Museums were scratched from the family's itinerary because many now require proof of vaccination and the two younger children are ineligible for the shot.
Instead, Jimenez, 33, said his brood will make the best of roaming the city's streets and parks, while also seeing relatives and friends.
"We just wanted to get out of the house, really, get the kids out to the city for Christmas," Jimenez told Reuters on Thursday at New York's LaGuardia airport.
New York planned to sharply limit the number of people it allows in Times Square for its annual outdoor New Year's Eve celebration, in response to the surge of new coronavirus cases https://www.reuters.com/world/us/new-york-city-scale-down-new-years-eve-celebrations-times-square-2021-12-23, capping the number of attendees 15,000.
The Biden administration will next week lift travel restrictions on eight southern African countries imposed last month over concerns about the Omicron variant, the White House said https://www.reuters.com/world/africa/exclusive-us-lift-travel-curbs-eight-african-countries-source-2021-12-24.
North Korea weapons threat casts shadow on Biden visit
© Reuters. FILE PHOTO: Hwasong-17 intercontinental ballistic missiles take part in a nighttime military parade to mark the 90th anniversary of the founding of the Korean People's Revolutionary Army in Pyongyang, North Korea, in this undated photo released by North
WASHINGTON(Reuters) – Any major North Korea weapons test over the next five days could overshadow U.S. President Joe Biden's broader trip focus on bolstering Asian allies against China, analysts say.
Despite the Biden administration's vow to break a stalemate in denuclearization talks with North Korea with practical approaches, no progress has been made since he came into office in early 2021. Instead, North Korean leader Kim Jong Un has resumed testing his largest missiles.
GRAPHIC: North Korean ballistic missile programme – https://graphics.reuters.com/NORTHKOREA-MISSILES/mopandankva/graphic.jpg
U.S. and South Korean officials said North Korea appeared to be preparing another intercontinental ballistic missile test, that could some as soon as Thursday or Friday, despite North Korea's battle with its first admitted COVID-19 outbreak.
While Pyongyang resumed ICBM launches this year, it has not tested a nuclear bomb since 2017.
Although U.S. national security head Jake Sullivan said Wednesday this was a possibility, analysts and officials see it as less likely than a missile launch.
Explaining Kim's likely motivation, Ankit Panda, of the Carnegie Endowment for International Peace, said on Twitter (NYSE:TWTR) he had used "the accomplishments of the national defense industry as a beacon in the dark economic times of the last two years."
Panda said even a nuclear or missile test shouldn't stop Washington and Seoul from offering unconditional aid for North Korea's COVID fight.
Yoon has offered to help North Korea with its COVID crisis, and analysts expect Biden to endorse this effort, even though his administration has said it has no plans to send vaccines directly to North Korea and Pyongyang has refused help though the global vaccine initiative.
The White House also said Biden would not visit the heavily fortified Demilitarized Zone (DMZ) that divides North and South Korea, a change of plans from last week, when such a trip was under consideration.
Biden has stuck to a policy of keeping the door open to diplomacy with North Korea, while rejecting the idea, favored by China and Russia, of offering sanctions relief to Pyongyang before it takes steps to dismantle its nuclear weapons program.
Biden visits Japan, South Korea carrying warning to China
© Reuters. FILE PHOTO: Japan's Prime Minister Fumio Kishida attends a virtual meeting with the U.S. President Joe Biden at his official residence in Tokyo, Japan January 21, 2022, in this photo released by Japan's Cabinet Public Relations Office via Kyodo. Japan's
By Trevor Hunnicutt, David Brunnstrom and Michael Martina
WASHINGTON/SEOUL/TOKYO (Reuters) – Joe Biden will visit Japan and South Korea on his first Asian trip as U.S. president, carrying a clear message to China, advisers and analysts say – don't try what Russia did in Ukraine anywhere in Asia, and especially not in Taiwan.
Biden departs for the five day trip on Thursday, after spending several months organizing allies to punish Russia for its invasion of Ukraine, which Moscow calls a "special operation."
He meets new South Korean President Yoon Suk-yeol in Seoul and Japanese Prime Minister Fumio Kishida in Tokyo, leaders who share anxieties about North Korea and China and are eager to build on their long alliances with Washington.
"At its core this (trip) is about building out the alliance network in East Asia," in part to counter any Chinese actions against Taiwan, said Evan Medeiros, an Asia specialist in the Barack Obama administration.
Sweeping sanctions Biden led against Russia would not be so simple against Beijing. China is South Korea's largest trade partner, and the biggest source of goods that Japan imports, in each case beating no. 2 United States by a wide margin.
Complicating Biden's message, his administration has not laid out a plan to counter Beijing if it moves to retake the self-governed island of Taiwan, even as U.S. intelligence sees preparations underway.
Similarly, there's little public strategy to counter Beijing's no-COVID lockdown policy that some economists believe could provoke a global recession.
Even with those shortcomings, support for Washington from Seoul and Tokyo is stronger than in recent history.
"The president's lucky in who he has as counterparts," said Michael Green, an Asia specialist at the Washington think tank Center for Strategic and International Studies. "I was doing the math on this, and it's been at least 20 years since an American president could travel to Japan and Korea and count on the leaders in both countries being so forthrightly pro-alliance."
QUAD, ECONOMIC FRAMEWORK
Biden is expected to offer deeper collaboration to allies on a host of technological initiatives, highlight new public-private partnerships to ease supply chain constraints, and support for South Korean and Japanese initiatives to modernize their defense capabilities and develop offensive military capacity.
He will not visit the demilitarized zone that borders North Korea, and the administration brings no new ideas about how to manage the fraught relationship, analysts say. North Korea abandoned a freeze on intercontinental ballistic missiles testing and may soon resume nuclear tests.
North Korea also recently revealed it is struggling with a COVID-19 outbreak, but it has ignored calls to return to diplomacy, seeming unprepared to accept outside help even from China.
In Japan, Biden will meet prime ministers from the other three members of the "Quad" group: Kishida of Japan, Narendra Modi of India and whoever wins what is expected to be a tight election in Australia on Saturday.
While not a military alliance like NATO for Europe, Washington sees the informal grouping as key to cementing pro-democratic values. Biden will highlight cooperation on COVID vaccines, humanitarian aid, infrastructure development as well as on climate, space and cyberscurity.
Kishida and Biden are both expected to take a light touch with Modi over what Washington regards as India's tepid response to Russia's invasion of Ukraine.
In Japan, Biden will also launch the Indo-Pacific Economic Framework, a partnership encouraging dialogue and cross-border investment related to trade, supply chain resilience, infrastructure, decarbonization, and tax and anti-corruption measures.
But what Asian countries want most – greater access to hundreds of millions of American consumers, as agreed in the Trans-Pacific Partnership that Donald Trump abandoned in 2017 – will not be a part of the deal.
Kishida is expected to press Biden to rejoin that deal, Japanese officials and analysts said.
Democrats warn abortion, voting rights at stake in Pennsylvania governor's race
© Reuters. FILE PHOTO: Pennsylvania State Senator Doug Mastriano speaks at a protest against the state's extended stay-at-home order to help slow the spread of the coronavirus disease (COVID-19) in Harrisburg, Pennsylvania, U.S., April 20, 2020. REUTERS/Rachel Wisni
By James Oliphant and Jarrett Renshaw
WASHINGTON (Reuters) – After far-right candidate Doug Mastriano won the Republican primary for Pennsylvania governor, Democrats quickly warned voters that he poses a threat to abortion access, voting rights and election integrity should he win in November.
Josh Shapiro, the state's attorney general and the Democratic nominee for governor, called Mastriano the most extreme gubernatorial candidate in the country.
The Republican supports abortion bans with no exceptions for rape, incest or the health of the mother. He has proposed restrictions on mail-in voting and eliminating ballot drop boxes, and he backs former President Donald Trump's false claims of election fraud in the 2020 presidential contest.
Shapiro's campaign said it had raised about $200,000 since the polls closed in the Republican primary on Tuesday night, and the Democratic candidate asked for more donations on Wednesday.
Democrats view the Pennsylvania governor's race as one of the most critical contests in the country. The current governor, Democrat Tom Wolf, has blocked measures from the Republican-controlled state legislature that would limit abortion and voting rights.
Some Republicans in Pennsylvania are also alarmed by Mastriano, who marched in Washington before the Jan. 6, 2021 siege of the U.S. Capitol. They said they fear Mastriano is all but unelectable and could drag down the party's entire state ticket with him.
"We are going to lose state house and state senate races," said Val Biancaniello, a Republican state committee member from Philadelphia's suburbs. "It is very difficult for someone like me to rally behind Doug Mastriano, who is going to get his butt kicked in November because he is a far-right extremist."
Mastriano, who was endorsed by Trump the weekend before the primary, disputed that he is a far-right candidate.
"I repudiate that," he said in his victory speech on Tuesday. "That is crap."
ABORTION, VOTING RIGHTS AT PLAY
As voters worry about inflation, the coronavirus pandemic and crime, Democrats are looking to leverage the battle over abortion rights to boost turnout among women and young voters, including independents and some Republicans.
Shapiro has vowed to veto any abortion restrictions that come before him as governor.
Mastriano, a state senator, has proposed a so-called "heartbeat" bill that would ban abortions after six weeks. He recently called abortion "genocide."
The Pennsylvania legislature has introduced a bill that would prevent the state Supreme Court from declaring abortion a right if the U.S. Supreme Court overturns its Roe v. Wade precedent and sends the issue of legalization back to individual states.
"With our fundamental rights on the line, we must work harder than ever to ensure that an anti-choice extremist like Doug Mastriano never holds the governor's office," said Ally Boguhn, a spokesperson for NARAL Pro-Choice America.
Mastriano also has championed Trump's stolen election claims, proposing a state audit of the 2020 results.
A retired Army colonel, Mastriano was seen outside the U.S. Capitol on Jan. 6, 2021, when Trump supporters breached the building. He has said he peacefully participated in a pro-Trump "Stop the Steal" rally that day but left before the siege.
Some influential Republicans in the state, such as Sam DeMarco, a Republican Party committee chair in Pittsburgh, warned ahead of the primary that Mastriano was unelectable, pointing to survey research that predicted swing voters would shift to Shapiro in large numbers if Mastriano won the nomination.
Analysts say Shapiro, a candidate who has won statewide and went unchallenged in the Democratic primary, has the edge in the race. Heading into the primary, Mastriano had about $800,000 in his campaign account, while Shapiro was sitting on a war chest of more than $18 million.
Mastriano "needs to start showing how he's going to appeal to moderate Republicans and independent voters," said Charlie O'Neil, a veteran of Republican campaigns in Pennsylvania. "You don't win Pennsylvania by winning the Republican base."