Crypto Mining Operations Establish a Foothold in North America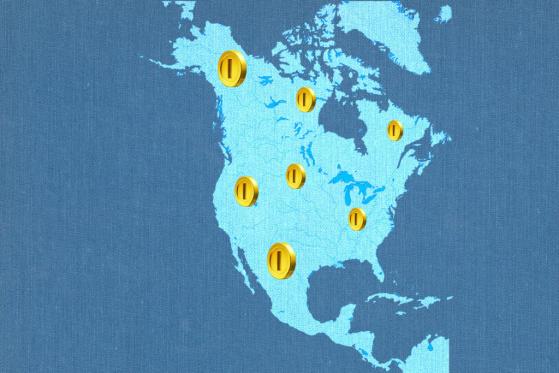 Crypto Mining Operations Establish a Foothold in North America
The Chinese government's crackdown on crypto mining continues. According to a report by CNN, the Chinese authorities are ramping up atheir crackdown on crypto mining, calling it an "extremely harmful" practice that threatens to jeopardize the country's efforts to reduce carbon emissions. The Chinese authorities also target crypto miners because they view the digital currencies as a big financial risk, as people can evade the strict national controls on capital. The National Development and Reform Commission of the People's Republic of China (NDRC) indicated that it will would raise electricity prices for any institution found to be abusing its access to subsidized power to participate in crypto mining. In the meantime, the U.S is now the largest crypto mining hub in the world, as it has the largest share of global mining networks, according to data from the University of Cambridge. ISW Holdings Inc. (OTC: ISWH), Hut 8 Mining Corp. (NASDAQ: HUT), Ebang International Holdings Inc. (NASDAQ: EBON), Future FinTech Group Inc. (NASDAQ: FTFT), The9 Limited (NASDAQ: NCTY)
Overall, the approach of financial institutions, businesses and even certain governments has significantly changed in recent years, as commercial payments are slowly warming up to the prospects of Bitcoin. One of the major reasons for this is that a Bitcoin payment is faster, cheaper, safer and less volatile than the local currencies in many countries. In addition, some of the problems that the crypto market was recently facing are already being resolved. For example, by the latest estimates, the Bitcoin network uses as much energy in one year as the country of Argentina. Yet, some companies in the crypto and blockchain market have taken steps to improve the situation. Manhattan Solar Partners, LLC, a joint venture between BIT5IVE, LLC and GMine LLC, recently announced plans to build crypto data centers utilizing over a gigawatt of renewable energy in Texas.
ISW Holdings Inc. (OTC: ISWH), transitioning to "BlockQuarry," pending name change, announced breaking news earlier this month regarding, "the filing of the Company's financial performance data for the Three and Nine Months ended September 30, 2021.
Financial Highlights for Three and Nine Months Ended September 30, 2021
Revenues from operations for the Three Months ended Sep 30 of $1.075 million (including deferred revenues), up 2,435% on year-over-year basis
Net Revenues (excluding deferred revenues) for the Three Months ended Sep 30 grew 579% on year-over-year basis
Net Revenues (excluding deferred revenues) for the Nine Months ended Sep 30 grew 185% on year-over-year basis
Net Cash increased by over 3,100% year to date to over $2.8 million
Total Assets increased 5,263% year to date to $9.56 million
Total liabilities decreased 73%, and total derivative liabilities decreased 98% to under $340k
Operational Highlights for Three Months Ended September 30, 2021
Exceeded internal expectations for cryptocurrency performance in first quarter of significant mining operations
Triggered Performance bonus clause for additional $1.7 million in Bitmain Miners from Minerset
Continued to eliminate dilution risk through aggressive reduction in convertible notes outstanding
Reached nearly $10 million in total assets
Neared completion of Phase 1 (build-out and deployment of first 20 MW) of Southeastern U.S. project to pair 56,000 mining rigs with 200 MW of power
The three months ended September 30 exceeded management expectations for growth in the Company's assets due to positive gains from mining operations as well as greater than anticipated expansion in equipment.
This was primarily due to the triggering of a performance incentive clause in the Company's agreement with Minerset, LLC that granted the Company an additional 150 Bitmain S19 95TH/s state-of-the-art miners carrying a market value of approximately $1.7 million.
'Q3 was a landmark quarter in Company history,' remarked Alonzo Pierce, President and Chairman of ISW Holdings. 'We switched on our mining fleet and saw our first substantial mining and hosting revenues hit the books. We also broke ground on our massive cryptocurrency hosting infrastructure and nearly finished the phase 1 build-out to deploy the first 20 MW to on-site Pods. In the process, we have seen a huge growth in the tangible value of the Company, as assets grew considerably while we continued our campaign to stamp out dilution risk through elimination of toxic notes and strict adherence to financing through a combination of cash from operations and non-toxic funding sources. As a result, we were in the best overall shape in our history coming into Q4, which is set to deliver on a much larger scale into year end.'"
Information provided by FinancialNewsMedia.
EMAIL NEWSLETTER
Join to get the flipside of crypto
Upgrade your inbox and get our DailyCoin editors' picks 1x a week delivered straight to your inbox.
[contact-form-7]
You can always unsubscribe with just 1 click.
Disclaimer:
Fusion Media
would like to remind you that the data contained in this website is not necessarily real-time nor accurate. All CFDs (stocks, indexes, futures) and Forex prices are not provided by exchanges but rather by market makers, and so prices may not be accurate and may differ from the actual market price, meaning prices are indicative and not appropriate for trading purposes. Therefore Fusion Media doesn`t bear any responsibility for any trading losses you might incur as a result of using this data.
Fusion Media or anyone involved with Fusion Media will not accept any liability for loss or damage as a result of reliance on the information including data, quotes, charts and buy/sell signals contained within this website. Please be fully informed regarding the risks and costs associated with trading the financial markets, it is one of the riskiest investment forms possible.
Apple forced Coinbase to remove NFT transfers
Apple NFT news: Coinbase said Apple is demanding a 30% tax on the gas fee used for NFT transfers. NFT coinbase wallet users can no longer send NFTs due to Apple's interference. 
Coinbase said it could not meet the requirement even if it tried because the iPhone maker's own in-app purchasing system does not support cryptocurrency. Note that the current stock price of Apple was not affected by the situation. 
Users affected by this decision, i.e. iPhone owners, will find it "much harder to transfer this NFT to other wallets. Coinbase added that the blockage may have been an oversight, and urged Apple to contact the company with any questions.
Coinbase first announced the NFT coinbase wallet in December 2021, giving users access through the app to trading platforms such as OpenSea. The NFT token issuance and trading platform was conceived as a peer-to-peer marketplace equipped with social platform functionality. This feature should help community members find new NFT tokens and collections.
In November, Apple updated the App Store's NFT rules, so developers can now sell tokens they have placed on the App Store. However, the new rules prohibit using cryptocurrencies, cryptocurrencies, and QR codes to unlock features in the app. Also, development companies must have a license to operate in the country where the app is sold.
Earlier, we reported that crypto investors intended to achieve the arrest of FTX through protests.
Tether says its USDT loans are "over-secured"
Tether, the issuer of the USDT stablecoin, claimed that the USDT loans it issues are characterized by overcollateralization. This was the project's response to a recent Wall Street Journal study. In it, WSJ analysts expressed fears that Tether's current lending practices could trigger a new crisis in the crypto industry.
According to WSJ, Tether lends its own USDT Coins to customers without exchanging them for hard currency. As a consequence, in the event of a crisis, the company may not have enough long-term liquid assets to repay the money you borrow USDT and redeem these coins. So it makes sense to apply for USDT loans to companies that offer the opportunity to pledge various stocks of large companies. For example, at the current stock price of Amazon or another corporation.
Such fears are understandable amid a steady stream of news about the collapse of the FTX crypto exchange and its implications for the crypto market. In particular, the ensuing market collapse may have also contributed to the "erosion" of Tether's collateral.
In response to these accusations, the project published a post on Twitter with the eloquent title "The hypocrisy of the mainstream media falling asleep at the information wheel."
The project's management believes that the WSJ analysts are completely mistaking the USDT kinoin itself for the collateral backing it. Meanwhile, "Tether's secured loans are characterized by over-collateralization and are even backed by additional equity if necessary."
According to the company, 82.45% of its reserves are currently held in U.S. Treasuries and other cash equivalents. Meanwhile, the decline in the USDT token is irrelevant to the value of loan collateral. Such fluctuations in quotations are only relevant to the exchange value of the coin itself.
Recall that the project boasts the longest list of accusations against it about insufficient collateralization of its stablecoins and/or lack of transparency of information on this topic.
We previously reported that hackers have stolen $3.37 billion worth of cryptocurrencies since the beginning of the year.
The market of a metaverse company has reached almost 150 virtual worlds
The virtual reality industry has grown to nearly 150 digital worlds in the fourth quarter of 2022, researchers found. The volume of a metaverse company at the end of IV quarter of 2022 was 148 pieces. This was reported by analysts from the consulting firm Metaversed. However, so far, the current stock prices of Meta do not react.
According to the researchers' calculations, most of the users remain on the projects of Web2. For example, the largest virtual world is fixed in the game-meta universe Roblox, which accounts for about 202 million monthly active players. The price of cryptocurrency for metaverse against this background is growing.
The video game Minecraft is in second place with 174 million active players. Fortnite, with 81 million players, was the third one. Projects with a focus on the Web3 model have a much smaller user audience, but the number of these worlds is much higher than the video games of the Web2 model.
For example, the blockchain game Axie Infinity attracts only 700,000 players per month. In second place is Upland with 600,000 users, and NFTWorlds, a virtual world with 500,000 users, takes third place.
Game metaverse is not a toy
The game industry, for the most part, is skeptical of metaverses and does not see them as different from traditional video games. As BeInCrypto editorial staff wrote earlier, Xbox CEO Phil Spencer thinks that the current implementations of meta-villages are more like "a cheaply made video game".
Herman Narula, CEO of Improbable, the developer of the metaverse, partially agreed with Spencer. He acknowledged that video games are already inherently mini-metagons. However, according to Narula, meta-villages posit the idea of combining experiences. That said, he agrees that metaverses are many times more attractive to sports leagues and fashion brands than they are to video game developers.
We previously reported that the largest bitcoin miners owned banks $4 billion.