China won't give up on its zero-tolerance COVID policy soon – experts
BEIJING (Reuters) – China will not give up on its zero-tolerance policy towards local COVID-19 cases any time soon, some experts said, as the policy has allowed it to quickly quell local outbreaks, while the virus continues to spread outside its borders.
2/2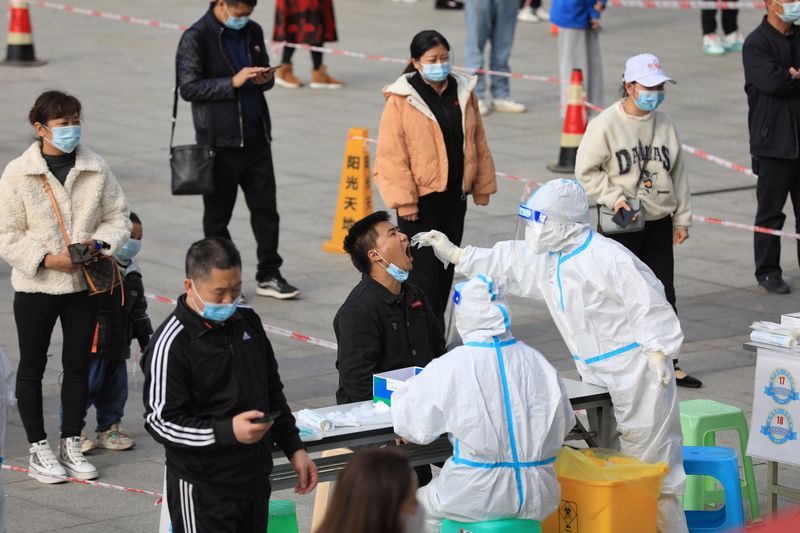 © Reuters. A medical worker in protective suit collects a swab from a man during a mass nucleic acid testing in Huichuan district following new cases of the coronavirus disease (COVID-19) in Zunyi, Guizhou province, China October 23, 2021. cnsphoto via REUTERS
2/2
BEIJING (Reuters) – China will not give up on its zero-tolerance policy towards local COVID-19 cases any time soon, some experts said, as the policy has allowed it to quickly quell local outbreaks, while the virus continues to spread outside its borders.
To stop local cases from turning into wider outbreaks, China has developed and continually refined its COVID-fighting arsenal — including mass testing, targeted lockdowns and travel restrictions – even when those anti-COVID measures occasionally disrupted local economies.
"The policy (in China) will remain for a long time," Zhong Nanshan, a respiratory disease expert who helped formulate China's COVID strategy in early 2020, told state media.
"How long it will last depends on the virus-control situation worldwide."
In a major outbreak in July-August, China counted a total of over 1,200 local symptomatic infections. In the latest flare-up, mostly in northern China, some 538 local cases were reported between Oct. 17 and Nov. 1.
Despite the lower caseload, the geographical spread of the infections has put constraints on China's leisure and tourism sectors.
Since Oct. 23, travel agencies have not been allowed to organise tourism between certain provinces, with such restrictions affecting trips to nearly one-third of the mainland's 31 province-level regions including Beijing.
Many cities with infections have also closed indoor entertainment and cultural venues. A flurry of marathons, theatrical performances and concerts have been delayed or cancelled.
China also requires weeks of quarantine for most travellers arriving from abroad.
In contrast, some Asia-Pacific countries are starting to open selectively to fully vaccinated international travellers as they seek to secure a more normal footing for their economies and societies.
ANOTHER YEAR?
The successful containment of clusters and popular support for restricting international travel make it overwhelmingly likely that China will stick to its zero tolerance towards domestic cases for at least another year, Gavekal Dragonomics analyst Ernan Cui said in a note.
"Officials seem to believe that giving up on the zero-tolerance approach would just replace one set of problems with another," wrote Cui.
Respiratory disease expert Zhong told state media CGTN that the current 2% death rate of the disease globally, despite vaccination, is not tolerable in China.
"Zero tolerance costs a lot indeed, but letting the virus spread costs more," Zhong said.
Some countries had loosened curbs while still reporting some small clusters, leading to a new series of infections that have since forced them to backpedal again, Zhong said.
Such back-and-forth in policy costs more, and has a greater impact on the public, he warned.
The cost of treating COVID patients – on average 20,000 yuan each and sometimes over 1 million yuan for those critically ill – totalled 2.8 billion yuan ($438 million) as of end-June, all paid by the government, state television said in August.
Italy says can exceed 3.1% growth target for 2022 despite energy prices
© Reuters. FILE PHOTO: People walk along the Galleria Vittorio Emanuele II shopping mall in Milan, August 25, 2015. REUTERS/Flavio Lo Scalzo
ROME (Reuters) – Italy's Treasury said the country's economy could grow this year by at least as much as Rome's official target of 3.1% set in April, despite the negative impact of surging energy prices.
Italy grew 0.1% in the first quarter from the previous three months, national statistics bureau ISTAT said last month, revising up a preliminary estimate of a 0.2% contraction.
This left Italy with so-called "carryover" growth of 2.6% this year, assuming gross domestic product was flat in the remaining three quarters, ISTAT said.
Announcing on Monday the bond issuance programme for the third quarter, the Treasury said it expected growth to accelerate in the second quarter, compared with the first three months.
This still makes it plausible to reach or exceed the 2022 growth target of 3.1%, it said in its debt issuance report.
Prime Minister Mario Draghi's government in April revised down its 2022 economic growth forecast to 3.1% from a 4.7% projection made last September.
The government has budgeted since January more than 33 billion euros ($34.90 billion) to soften the impact of sky-high electricity, gas and petrol costs.
($1 = 0.9456 euros)
French consumer confidence falls more than expected in June
© Reuters. A woman shops at a fruit and vegetables shop in Paris, France, June 10, 2022. REUTERS/Sarah Meyssonnier
PARIS (Reuters) – French consumer confidence fell more than expected in June, hitting a near nine-year low as concerns about the economic outlook surged in the face of high inflation and political uncertainty, a survey showed on Tuesday.
The INSEE official statistics agency said its consumer confidence index fell to 82 in June from 85 in May and the lowest level since July 2013.
A Reuters poll of 14 economists had an average forecast of 84 with the lowest estimate for 83.
Although households' concerns about future inflation remained well above the long-term average, they eased in June for the third month in a row.
However, household sentiment about the general economic outlook continued to worsen, falling to the lowest level since May 2020 when France was in the second month of its first and most strict COVID-19 lockdown.
While surging inflation has stressed households in recent months, France's political situation has added to uncertainty about the economic outlook since President Emmanuel Macron's party lost its ruling majority in legislative elections this month.
Peru truckers, farmers to strike over fuel and fertilizer costs
© Reuters. FILE PHOTO: People walk next to parked trucks during a national transportation strike against fuel prices, in Lima, Peru March 18, 2021. REUTERS/Angela Ponce/File Photo
By Marco Aquino
LIMA (Reuters) – Peru's truckers and some farm groups will go on strike on Monday after failing to reach agreements with the government seeking measures to reduce the impact of steep global price rises of fuel and fertilizer, sector leaders said on Sunday.
Union leaders met on Friday and Saturday with government representatives, with demands including considering freight transport a "public service" that would reduce costs and curb competition from truckers from neighbor countries.
"We are firm in plans to strike with all our bases nationwide," the leader of the heavy load haulage and drivers union Marlon Milla told radio station RPP. The union has 400,000 cargo transport units in 14 of the 25 regions of the country.
High global fuel prices linked to Russia's invasion of Ukraine have stoked unrest in Peru, the world's No. 2 copper producer, while shortages of fertilizer have raised fears over food supply with the government struggling to secure shipments.
The government of leftist President Pedro Castillo, who has seen his popularity tumble since taking office last year, has taken measures to curb the rising cost of living, but the annual inflation rate remains at around 8%, its highest level in 24 years.
Some farming unions also announced strikes on Monday, in protest at the rise in fertilizer prices and shortages.
Latin American leaders are grappling to bring down spiraling prices despite major interest rate hikes. Trucking protests over fuel costs have hit Argentina while Ecuador is being roiled by protests in part linked to gas prices. [L4N2YB27W]
"The dialogue has not been exhausted, we are in a permanent session of ministers to avoid protest," Justice Minister Félix Chero told reporters on Sunday. The government is offering subsidies for road tolls and fertilizer costs.