U.S. economy regaining speed as unemployment claims fall; manufacturing surges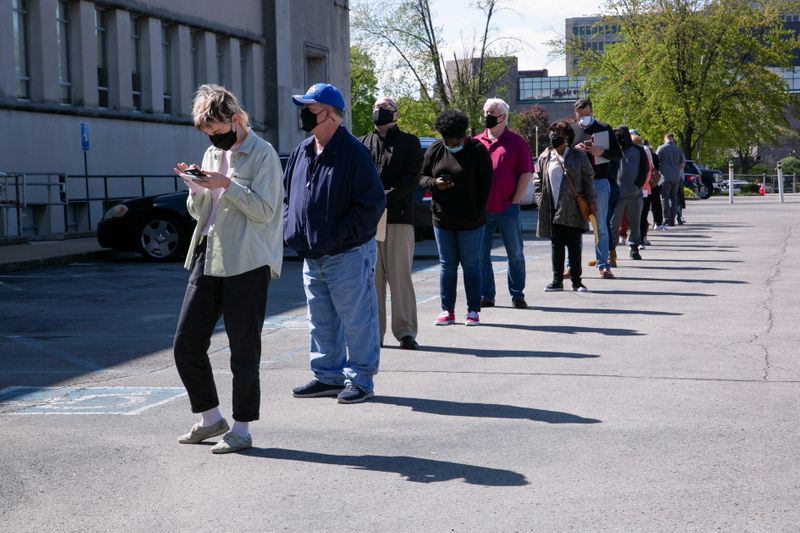 © Reuters. FILE PHOTO: People line up outside a newly reopened career center for in-person appointments in Louisville, U.S., April 15, 2021. REUTERS/Amira Karaoud
By Lucia Mutikani
WASHINGTON (Reuters) – The number of Americans filing new claims for unemployment benefits fell close to pre-pandemic levels last week as the labor market recovery continues, though a shortage of workers remains an obstacle to faster job growth.
The weekly unemployment claims report from the Labor Department on Thursday, the most timely data on the economy's health, also showed jobless benefits rolls declining to a 20-month low in early November. The economy is regaining momentum following a lull over the summer as a wave of COVID-19 infections driven by the Delta variant battered the nation.
"Demand for labor is very strong and workers are in short supply, so layoffs are very low right now," said Gus Faucher, chief economist at PNC Financial (NYSE:) in Pittsburgh, Pennsylvania.
Initial claims for state unemployment benefits slipped 1,000 to a seasonally adjusted 268,000 for the week ended Nov. 13. That was the lowest level since the start of the coronavirus pandemic in the United States more than 20 months ago.
Economists polled by Reuters had forecast 260,000 applications in the latest week. The smaller decline was because the model that the government uses to strip out seasonal fluctuations from the data was less generous last week.
Unadjusted claims dropped 18,183 to 238,850. The decrease was led by Kentucky, likely due to automobile workers returning to factories after temporary layoffs as motor vehicle manufacturers deal with a global semiconductor shortage. There were also big declines in Michigan, Tennessee and Ohio, states that also have a strong presence of auto manufacturers.
The decreases offset a surge in filings in California.
The seventh straight weekly decline left claims just above the 256,000 level in mid-March 2020, and in a range that is associated with a healthy labor market. Claims have declined from a record high of 6.149 million in early April 2020.
Jobless claims: https://graphics.reuters.com/USA-STOCKS/egpbkaebgvq/joblessclaims.png
The improving economic tone was matched by other data from the Philadelphia Federal Reserve on Thursday showing an acceleration in manufacturing activity in the mid-Atlantic region this month.
Factories in the region that covers eastern Pennsylvania, southern New Jersey and Delaware, reported strong order growth. They were upbeat about business conditions over the next six months and anticipated maintaining a strong pace of capital expenditures in 2022. But labor and raw material shortages persisted, leading to a rapid piling up of unfinished work, even as manufacturers increased hours for workers.
Factories continued to face higher prices for inputs, which they passed on to consumers.
"We look for voracious goods demand and a plethora of unfilled orders to keep factories pumping out goods at a very healthy pace," said Oren Klachkin, lead U.S. economist at Oxford Economics in New York. "We also expect that businesses will continue to face major supply-chain problems next year, though headwinds should start to ease in the second half of 2022."
Stocks on Wall Street were lower. The dollar slipped against a basket of currencies. U.S. Treasury yields dipped.
Philly Fed: https://graphics.reuters.com/USA-STOCKS/lgvdwngqepo/phillyfed.png
TIGHT LABOR MARKET
The reports added to a surge in retail sales in October and a sharp rebound in production at factories in suggesting that economic activity accelerated early in the fourth quarter after gross domestic product increased at its slowest pace in more than a year in the July-September period.
Stronger growth could spill over into 2022, with a third report from the Conference Board showing its index of Leading Economic Indicators jumped 0.9% in October after gaining 0.1% in September.
Leading indicators: https://graphics.reuters.com/USA-STOCKS/byvrjknbbve/leadingindicators.png
The labor market is getting tighter. The number of people continuing to receive benefits after an initial week of aid dropped 129,000 to 2.080 million in the week ended Nov. 6, the claims report showed. That was also the lowest level since the mid-March in 2020.
A total 3.185 million people were collecting unemployment checks under all programs during the week ended Oct. 30. Shrinking unemployment rolls raise hopes that more people will return to the labor force soon.
Millions of unemployed Americans remain at home even after the expiration of generous federal government-funded benefits, the reopening of schools for in-person learning and companies raising wages.
The claims data covered the period during which the government surveyed business establishments for the nonfarm payrolls component of November's employment report.
Claims have dropped since mid-October, which would suggest stronger employment growth this month. But workers are scarce, with 10.4 million job openings as of the end of September.
"There is some uncertainty as a key to monthly job growth is labor supply and the Delta variant," said Ryan Sweet, a senior economist at Moody's (NYSE:) Analytics in West Chester, Pennsylvania. "The good news is that the Delta variant's impact on the labor market in November will be less than that seen during the teeth of the recent wave."
The economy created 531,000 jobs in October. Employment growth has averaged 582,000 jobs per month this year and the labor force is down 3 million from its pre-pandemic level.
Italy says can exceed 3.1% growth target for 2022 despite energy prices
© Reuters. FILE PHOTO: People walk along the Galleria Vittorio Emanuele II shopping mall in Milan, August 25, 2015. REUTERS/Flavio Lo Scalzo
ROME (Reuters) – Italy's Treasury said the country's economy could grow this year by at least as much as Rome's official target of 3.1% set in April, despite the negative impact of surging energy prices.
Italy grew 0.1% in the first quarter from the previous three months, national statistics bureau ISTAT said last month, revising up a preliminary estimate of a 0.2% contraction.
This left Italy with so-called "carryover" growth of 2.6% this year, assuming gross domestic product was flat in the remaining three quarters, ISTAT said.
Announcing on Monday the bond issuance programme for the third quarter, the Treasury said it expected growth to accelerate in the second quarter, compared with the first three months.
This still makes it plausible to reach or exceed the 2022 growth target of 3.1%, it said in its debt issuance report.
Prime Minister Mario Draghi's government in April revised down its 2022 economic growth forecast to 3.1% from a 4.7% projection made last September.
The government has budgeted since January more than 33 billion euros ($34.90 billion) to soften the impact of sky-high electricity, gas and petrol costs.
($1 = 0.9456 euros)
French consumer confidence falls more than expected in June
© Reuters. A woman shops at a fruit and vegetables shop in Paris, France, June 10, 2022. REUTERS/Sarah Meyssonnier
PARIS (Reuters) – French consumer confidence fell more than expected in June, hitting a near nine-year low as concerns about the economic outlook surged in the face of high inflation and political uncertainty, a survey showed on Tuesday.
The INSEE official statistics agency said its consumer confidence index fell to 82 in June from 85 in May and the lowest level since July 2013.
A Reuters poll of 14 economists had an average forecast of 84 with the lowest estimate for 83.
Although households' concerns about future inflation remained well above the long-term average, they eased in June for the third month in a row.
However, household sentiment about the general economic outlook continued to worsen, falling to the lowest level since May 2020 when France was in the second month of its first and most strict COVID-19 lockdown.
While surging inflation has stressed households in recent months, France's political situation has added to uncertainty about the economic outlook since President Emmanuel Macron's party lost its ruling majority in legislative elections this month.
Peru truckers, farmers to strike over fuel and fertilizer costs
© Reuters. FILE PHOTO: People walk next to parked trucks during a national transportation strike against fuel prices, in Lima, Peru March 18, 2021. REUTERS/Angela Ponce/File Photo
By Marco Aquino
LIMA (Reuters) – Peru's truckers and some farm groups will go on strike on Monday after failing to reach agreements with the government seeking measures to reduce the impact of steep global price rises of fuel and fertilizer, sector leaders said on Sunday.
Union leaders met on Friday and Saturday with government representatives, with demands including considering freight transport a "public service" that would reduce costs and curb competition from truckers from neighbor countries.
"We are firm in plans to strike with all our bases nationwide," the leader of the heavy load haulage and drivers union Marlon Milla told radio station RPP. The union has 400,000 cargo transport units in 14 of the 25 regions of the country.
High global fuel prices linked to Russia's invasion of Ukraine have stoked unrest in Peru, the world's No. 2 copper producer, while shortages of fertilizer have raised fears over food supply with the government struggling to secure shipments.
The government of leftist President Pedro Castillo, who has seen his popularity tumble since taking office last year, has taken measures to curb the rising cost of living, but the annual inflation rate remains at around 8%, its highest level in 24 years.
Some farming unions also announced strikes on Monday, in protest at the rise in fertilizer prices and shortages.
Latin American leaders are grappling to bring down spiraling prices despite major interest rate hikes. Trucking protests over fuel costs have hit Argentina while Ecuador is being roiled by protests in part linked to gas prices. [L4N2YB27W]
"The dialogue has not been exhausted, we are in a permanent session of ministers to avoid protest," Justice Minister Félix Chero told reporters on Sunday. The government is offering subsidies for road tolls and fertilizer costs.