2014 vs 2021: How a Fed taper can move asset prices
By Ira Iosebashvili and Saqib Iqbal Ahmed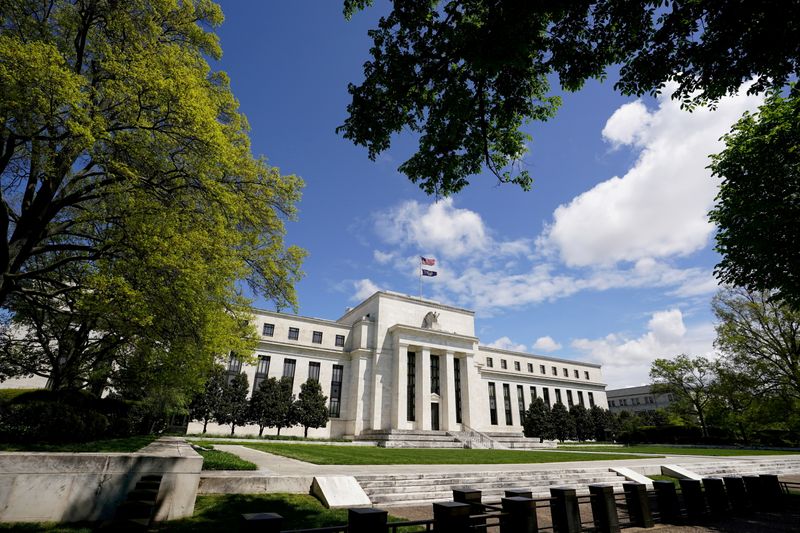 © Reuters. FILE PHOTO: The Federal Reserve building is set against a blue sky in Washington, U.S., May 1, 2020. REUTERS/Kevin Lamarque
By Ira Iosebashvili and Saqib Iqbal Ahmed
(Reuters) – The Federal Reserve's taper in 2014 was preceded by sharp gyrations in Treasury markets and helped lay the foundations for a massive rally in the U.S. dollar.
With the Fed widely expected to soon begin an unwind of its $120 billion in government bond buying, here's a comparison between the market backdrop around the time of the Fed's most recent unwind and today.
TAPER TIME
The Fed's taper of the $85 billion a month bond buying program, which it began in response to the 2007-2009 financial crisis and recession, ran from January 2014 until October of that year.
Since then the central bank's balance sheet has ballooned to $8.6 trillion as policymakers slashed rates to near zero and rolled out a raft of measures, including monthly government backed bond purchases, as they fought to support the economy in the wake of the COVID-19 outbreak last year.
The central bank concludes its November monetary policy meeting on Wednesday.
(For graphic on The Fed's balance sheet – https://fingfx.thomsonreuters.com/gfx/mkt/klvykzxamvg/Pasted%20image%201635880981244.png)
THE DOLLAR
(For graphic on Yield spread – https://fingfx.thomsonreuters.com/gfx/mkt/egvbkmzrjpq/Pasted%20image%201635880822573.png)
While U.S. monetary policy was far from hawkish in 2014, it stood in contrast to the ultra-dovish trajectories of central banks in Europe, Japan and other countries, who were still fully supporting their economies with stimulus while the Fed was curtailing its bond buying.
A widening between the yields on U.S. Treasuries and government bonds in other countries helped spark a rally in the dollar, which rose nearly 13% against a basket of major currencies in 2014.
The global monetary policy picture is different this time around, with some investors betting that central banks in the U.K., Canada and other economies are likely to soon raise interest rates to combat a global surge in inflation.
Signs that the Fed is more concerned about inflation than it has previously indicated, however, could buoy U.S. rates and potentially support the greenback, analysts said.
BOND YIELDS
Bond yields rocketed higher in 2013, after then-Fed chief Ben Bernanke alluded to the policymaker's thinking on plans for pulling back its monetary support in an appearance before lawmakers.
(For graphic on Treasury yield – https://fingfx.thomsonreuters.com/gfx/mkt/lgpdwlrdovo/Pasted%20image%201635880671039.png)
This time around, Fed Chair Jerome Powell has tried to prepare markets for the start of a taper well in advance.
Still, U.S. bond markets have experienced gyrations in recent weeks as some investors bet the central bank will need to be more hawkish than expected to combat inflation.
Meanwhile, rising yields on expectations of tighter monetary policy and rebounding growth have put the U.S. bond market on track for its worst year since 2013. Yields move inversely to prices.
(For graphic on Rough sledding in the bond market – https://graphics.reuters.com/USA-FED/INVESTORS/akvezadxmpr/chart.png)
STOCKS
The stood near record highs as the Fed kicked off its taper in 2014 and continued to fresh peaks after the unwind began.
Though stocks are at records today as well, valuations have ballooned over the years, leading some investors to worry that some areas of the market–including the big growth and technology stocks that make up a large chunk of the S&P 500–may be more vulnerable to higher yields and a more hawkish monetary policy stance.
(For graphic on Stock valuations – https://fingfx.thomsonreuters.com/gfx/mkt/dwpkraoxlvm/Pasted%20image%201635881622218.png)
Oil Prices Fall amid Protests in China
Oil prices fell on Monday amid a general decline in investor appetite for risk amid information about the ongoing protests in China against vested restrictions.
The cost of January futures on Brent crude oil on London's ICE Futures exchange was $81.31 per barrel on Monday, down $2.32 (2.77%) from the close of the previous session. At the close of trading on Friday, those contracts fell $1.71 per barrel to $83.63.
Oil prices decline – what's going on in the market?
The price of WTI futures for January crude fell by $2.31 (3.03%) to $73.97 per barrel in electronic trading on the New York Mercantile Exchange (NYMEX). By closing of previous trades, the cost of these contracts decreased by $1.66 (2.1%) to $76.28 per barrel. Brent and WTI gained 4.6% and 4.8%, respectively, last week.
According to Bloomberg, protests were held in cities across the country, including the capital Beijing, as well as Shanghai, Xinjiang, and Wuhan, which was originally the epicenter of the COVID-19 spread.
That contributes to a stronger U.S. dollar, which reduces the attractiveness of investments in crude, and also raises the possibility of even more significant tightening of restrictions by Chinese authorities, the agency said.
"The outlook for the oil market remains unfavorable and the events of this weekend in China do not add to the positive," notes Warren Patterson, who is in charge of commodities strategy at ING Groep NV in Singapore.
According to the forecast of analytical company Kpler, oil demand in China in the fourth quarter will decrease to 15.11 million barrels per day (bpd) compared to 15.82 million bpd a year earlier.
Earlier we reported that Russia will ban the sale of its oil to countries that have imposed a price ceiling.
Oil Russia ban news: Russia will ban the sale of its oil to countries that have imposed a price ceiling
Will Russia sell oil to Europe? The administration of President Vladimir Putin is preparing an order prohibiting Russian companies and any trader from buying Russian oil to sell raw materials to countries and companies that have imposed a price ceiling on Moscow. Bloomberg news agency wrote this, citing a report from sources.
"The Kremlin is preparing a presidential decree banning Russian companies and any traders buying national oil from selling it to anyone who participates in the price ceiling," the publication wrote.
According to the newspaper's interlocutors, this would prohibit any mention of the price ceiling in contracts for Russian crude, as well as transferring it to countries that have joined the price ceiling for the natural resource.
In the first half of September, the press service of the US Treasury Department said that the USA, together with its allies from G7 (Great Britain, Germany, Italy, Canada, France and Japan) and the European Union (EU) would impose a ban on marine transportation of Russian oil on December 5 and oil products – on February 5.
Earlier we reported that EU negotiations on limiting the prices of Russian oil reached a deadlock today.
EU talks on restrictions on Russian crude oil prices today stalled
Negotiations between the European Union countries about the "ceiling" of Russian crude oil prices today reached an impasse; Bloomberg reported, according to its sources.
Representatives of the bloc cannot reach an agreement on the ceiling price of Russian oil. According to the agency, the proposed European Commission limit of $65-70 per barrel, Poland and the Baltic countries believe "too generous," while Greece and Malta, which is actively engaged in transporting fuel, do not want the limit to fall below $ 70. Recall that the Russian response to the oil price cap was negative. The Russian government has officially said that it will only sell oil at market prices.
"We are looking for ways to make this solution work and we are trying to find a common ground to implement it in a perfectly pragmatic and efficient way, while avoiding that it may cause excessive inconvenience to the European Union," said German Chancellor Olaf Scholz.
Earlier, we reported that the SEC fined Goldman Sachs $4 million for non-compliance with ESG fund principles.