Analysis-Europe's big payday remains elusive even as inflation surges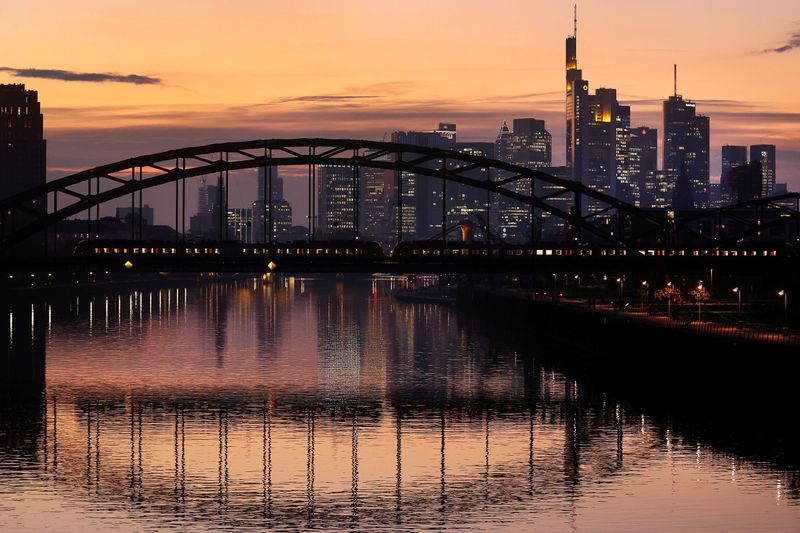 © Reuters. FILE PHOTO: A commuter train passes by the skyline of the financial district in Frankfurt, Germany, October 25, 2021. REUTERS/Kai Pfaffenbach
By Balazs Koranyi and Michael Nienaber
FRANKFURT (Reuters) – Visions of spiralling wage inflation in the euro zone have dominated the talking points of conservative central bankers in recent weeks as they called for a moderation in central bank stimulus.
The fear is that high inflation now, even if temporary, will prompt firms to boost wages, perpetuating inflation by increasing consumer demand.
On first look, this is not an irrational fear. Wage-price spirals have pushed inflation to unexpected highs in the past, most notably in the 1970s.
This could then keep inflation stubbornly above the European Central Bank's 2% target, potentially forcing the bank to bring the economy back down to earth by tightening policy after years of unprecedented stimulus.
"Companies' complaints about labour shortages have increased significantly, particularly in Germany, but also among our European neighbours," Bundesbank President Jens Weidmann said.
"In the future, such tensions on the labour markets could make it easier for employees and trade unions to push through noticeably higher wages."
LITTLE EVIDENCE
But there is very little evidence out there, from actual wage figures to labour market trends or union demands, to support these fears.
Wage growth remains anaemic, though the data are arguably distorted by the pandemic. Copious furlough schemes and wild swings in employment as the economy shut and opened, make it difficult to ascertain just how healthy the labour market is.
But union demands for next year's pay have been underwhelming so far, especially in light of an inflation rate now at 4.1%.
Some sectors with a notable skills shortage of course stand out. Germany's construction industry negotiated a 3.4% increase while in retail, the increase is 2.2%. Still, with inflation likely holding above 2% next year, that is modest, at best, in real terms.
Europe stands in stark contrast to the U.S. in this respect. U.S. labour costs increased by the most since 2001 last quarter as companies boosted wages and benefits amid a severe worker shortage, pointing to elevated inflation for some time.
Most wage deals in Germany, arguably the bloc's strongest labour market, so far appear to be in the 1.5% to 2.5% range, which may actually be too low to keep inflation at 2%, economists say.
This is primarily because unions are now increasingly prioritising non-wage benefits from more leisure time to increased job security.
"The wage agreements that we've seen so far this year do not indicate that wage developments are currently posing an increased risk of inflation in Germany," Sebastian Dullien, an expert at the IMK economic institute, said.
"The ongoing negotiations can be described as moderate – especially when you compare them with demands made during the times before the pandemic," he added.
Indeed, labour cost growth in the euro zone was in the 2% to 3% range before the pandemic, yet inflation still fell short of the ECB's target.
The labour market has also yet to recover from the pandemic. Employment is still below the pre-crisis level, hours worked are down 4% and nearly 2.5 million people are still in some sort of job retention scheme, all indicating that there is still plenty of slack.
Some even argue that a rise in wage growth would be welcome after the pandemic battered households.
"We should not be alarmed if we see signs of a one-off catch-up in wages next year," ECB board member Fabio Panetta said this week. "Over the medium term it is desirable that we see increases in unit labour costs."
Ironically, Germany's incoming government and not the ECB could give inflation a big boost.
Their plan to raise the minimum wage by around 25% to 12 euros an hour could push wages up across the board, a move heavily criticized by the Bundesbank, which normally refrains from discussing political decisions.
"The significant minimum wage increase would affect the lower wage brackets markedly and would have non-negligible spillover effects on the wage brackets higher up," it said.
Finally, the economy is far from healthy. A new wave of the pandemic is forcing economies to restrict economic activity that is likely to squeeze services once again and put downward pressure on economic growth.
Rapid wage rises are thus only a theoretical possibility for now, with evidence still heavily skewed towards a more benign outcome.
Futures rise as easing China COVID curbs lift travel, leisure stocks
© Reuters. A trader works on the floor of the New York Stock Exchange (NYSE) in New York City, U.S., June 22, 2022. REUTERS/Brendan McDermid
By Shreyashi Sanyal
(Reuters) – Travel and leisure shares propped up U.S. stock index futures after China relaxed some COVID-19 quarantine requirements for international travelers, raising hopes of a revival in global growth.
Airlines, cruises, casinos and hotels were among the gainers in premarket trading after China's slashing of the quarantine time for inbound travelers by half boosted hopes of a big jump in international travel and spending.
Shares of Walt Disney (NYSE:DIS) Inc rose 2.5% to top the list of gainers on the Dow Jones Industrial Average, after the company's Shanghai Disney Resort said it would reopen the Disneyland theme park on June 30 after being shut for more than three months.
Spirit Airlines (NYSE:SAVE) and American Airlines (NASDAQ:AAL) Group Inc were the biggest gainers in the sector, rising 4% and 2% respectively.
Melco Resorts jumped 10% and led the rise in the casino sector, closely followed by Wynn Resorts (NASDAQ:WYNN), MGM Resorts (NYSE:MGM) International.
Wall Street's main indexes started the week on soft footing after worries of surging inflation and an aggressive Federal Reserve dominated sentiment amid few market moving catalysts till the start of earnings season in two weeks.
Investors are now looking at data to determine whether the economy can withstand large interest rate hikes by the U.S. central bank to stamp out inflation.
A survey from the Conference Board is expected to show its consumer confidence index slipped to a reading of 100.4 in June, from 106.4 in May, at 10 a.m. ET.
The S&P 500 and the Nasdaq are set to post losses in June and are on course to log two straight quarterly declines for the first time since 2015.
At 6:49 a.m. ET, Dow e-minis were up 175 points, or 0.56%, S&P 500 e-minis were up 20 points, or 0.51%, and Nasdaq 100 e-minis were up 52.25 points, or 0.43%.
Nike Inc (NYSE:NKE) shed 2.8% as it forecast first-quarter revenue below estimates on expectations of more discounts and pandemic-related disruptions in China, its most profitable market.
Occidental Petroleum Corp (NYSE:OXY) climbed 3.1% after top investor Warren Buffett raised stake in the shale producer.
China ADRs also rose on Beijing easing its COVID curbs, with e-commerce firms Alibaba (NYSE:BABA).com, JD (NASDAQ:JD).com and Pinduoduo (NASDAQ:PDD) up between 1.2% and 1.4%
Euro below $1.06 as Lagarde keeps July policy options open
© Reuters. A shopper pays with a ten Euro bank note at a local market in Nice, France, June 7, 2022. REUTERS/Eric Gaillard
By Saikat Chatterjee
LONDON (Reuters) – The Aussie and the Canadian dollar climbed on Tuesday on firmer oil prices while the euro held below $1.06 as European Central Bank (ECB) President Christine Lagarde offered no fresh insight on the central bank's policy outlook.
The ECB is widely expected to follow its global peers by raising interest rates in July to check soaring inflation though economists are divided on the magnitude of the rate hike to protect a struggling economic recovery due to high oil prices.
Oil prices are up 10% in barely a week on supply constraint concerns with Brent crude holding above $117, pushing the Canadian dollar and the Australian dollar up 0.3% and 0.4% respectively. [O/R]
"Oil is helping the Norwegian crown and the Canadian dollar to outperform and the euro is again running into resistance at the 1.06 level," said Kenneth Broux, an FX strategist at Societe Generale (OTC:SCGLY) in London.
The euro held below $1.06 after the ECB's Lagarde said the central bank would move gradually but with the option to act decisively on any deterioration in medium-term inflation, especially if there were signs of a de-anchoring of inflation expectations.
Money markets are pricing in about 238 basis points (bps) of cumulative rate hikes by mid-2023 compared to around 280 bps two weeks ago.
Broader currency market moves were contained in a big week for markets in economic data terms. German inflation figures are due on Wednesday, French data on Thursday and euro zone numbers on Friday.
At the other end of the dial, higher oil prices caused the partially convertible Indian rupee to open at a record low, and fall further to 78.67 per dollar.
The U.S. dollar index struck a two-decade high of 105.79 this month and was last steady at 103.93.
Elsewhere, the offshore Chinese yuan moved higher after China reduced COVID quarantine for international travellers.
China's economy recovering but foundation not solid, premier says
© Reuters. FILE PHOTO: Chinese Premier Li Keqiang is seen on a screen as he attends a news conference via video link after the closing session of the National People's Congress (NPC) in Beijing, China March 11, 2022. REUTERS/Ryan Woo
BEIJING (Reuters) -China's economy has recovered to some extent, but its foundation is not solid, state media on Tuesday quoted Premier Li Keqiang as saying.
China will strive to drive the economy back onto a normal track and bring down the jobless rate as soon as possible, Li was quoted as saying.
"Currently, the implementation of the policy package to stabilise the economy is accelerating and taking effect. The economy has recovered on the whole, but the foundation is not yet solid," Li was quoted as saying.
"The task of stabilising employment remains arduous."
China's economy showed signs of recovery in May after slumping the previous month as industrial production revived, but consumption remained weak and underlined the challenge for policymakers amid the persistent drag from strict COVID-19 curbs.
China's nationwide survey-based jobless rate fell to 5.9% in May from 6.1% in April, still above the government's 2022 target of below 5.5%.
In particular, the surveyed jobless rate in 31 major cities picked up to 6.9%, the highest on record. Some economists expect employment to worsen before it gets better, with a record number of graduates entering the workforce in summer.
Li vowed to achieve reasonable economic growth in the second quarter, although some private-sector economists expect the economy to shrink in the April-June quarter from a year earlier, compared with the first quarter's 4.8% growth.