Analysis-Europe's big payday remains elusive even as inflation surges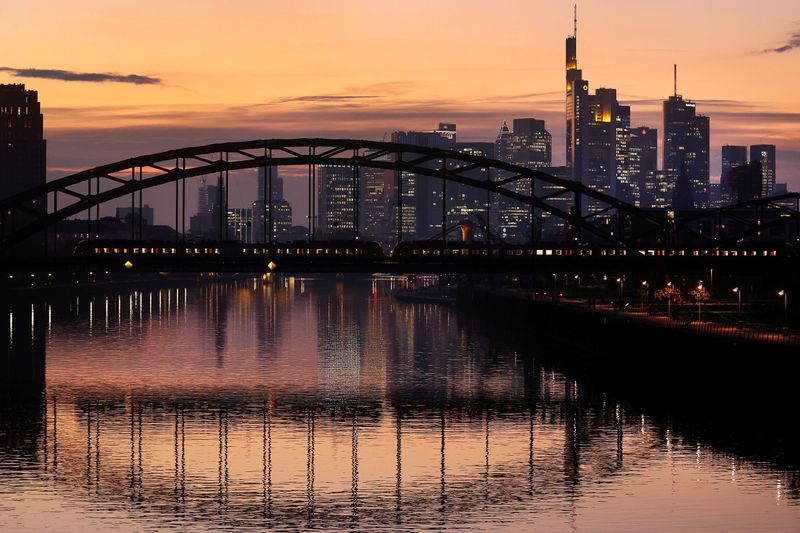 © Reuters. FILE PHOTO: A commuter train passes by the skyline of the financial district in Frankfurt, Germany, October 25, 2021. REUTERS/Kai Pfaffenbach
By Balazs Koranyi and Michael Nienaber
FRANKFURT (Reuters) – Visions of spiralling wage inflation in the euro zone have dominated the talking points of conservative central bankers in recent weeks as they called for a moderation in central bank stimulus.
The fear is that high inflation now, even if temporary, will prompt firms to boost wages, perpetuating inflation by increasing consumer demand.
On first look, this is not an irrational fear. Wage-price spirals have pushed inflation to unexpected highs in the past, most notably in the 1970s.
This could then keep inflation stubbornly above the European Central Bank's 2% target, potentially forcing the bank to bring the economy back down to earth by tightening policy after years of unprecedented stimulus.
"Companies' complaints about labour shortages have increased significantly, particularly in Germany, but also among our European neighbours," Bundesbank President Jens Weidmann said.
"In the future, such tensions on the labour markets could make it easier for employees and trade unions to push through noticeably higher wages."
LITTLE EVIDENCE
But there is very little evidence out there, from actual wage figures to labour market trends or union demands, to support these fears.
Wage growth remains anaemic, though the data are arguably distorted by the pandemic. Copious furlough schemes and wild swings in employment as the economy shut and opened, make it difficult to ascertain just how healthy the labour market is.
But union demands for next year's pay have been underwhelming so far, especially in light of an inflation rate now at 4.1%.
Some sectors with a notable skills shortage of course stand out. Germany's construction industry negotiated a 3.4% increase while in retail, the increase is 2.2%. Still, with inflation likely holding above 2% next year, that is modest, at best, in real terms.
Europe stands in stark contrast to the U.S. in this respect. U.S. labour costs increased by the most since 2001 last quarter as companies boosted wages and benefits amid a severe worker shortage, pointing to elevated inflation for some time.
Most wage deals in Germany, arguably the bloc's strongest labour market, so far appear to be in the 1.5% to 2.5% range, which may actually be too low to keep inflation at 2%, economists say.
This is primarily because unions are now increasingly prioritising non-wage benefits from more leisure time to increased job security.
"The wage agreements that we've seen so far this year do not indicate that wage developments are currently posing an increased risk of inflation in Germany," Sebastian Dullien, an expert at the IMK economic institute, said.
"The ongoing negotiations can be described as moderate – especially when you compare them with demands made during the times before the pandemic," he added.
Indeed, labour cost growth in the euro zone was in the 2% to 3% range before the pandemic, yet inflation still fell short of the ECB's target.
The labour market has also yet to recover from the pandemic. Employment is still below the pre-crisis level, hours worked are down 4% and nearly 2.5 million people are still in some sort of job retention scheme, all indicating that there is still plenty of slack.
Some even argue that a rise in wage growth would be welcome after the pandemic battered households.
"We should not be alarmed if we see signs of a one-off catch-up in wages next year," ECB board member Fabio Panetta said this week. "Over the medium term it is desirable that we see increases in unit labour costs."
Ironically, Germany's incoming government and not the ECB could give inflation a big boost.
Their plan to raise the minimum wage by around 25% to 12 euros an hour could push wages up across the board, a move heavily criticized by the Bundesbank, which normally refrains from discussing political decisions.
"The significant minimum wage increase would affect the lower wage brackets markedly and would have non-negligible spillover effects on the wage brackets higher up," it said.
Finally, the economy is far from healthy. A new wave of the pandemic is forcing economies to restrict economic activity that is likely to squeeze services once again and put downward pressure on economic growth.
Rapid wage rises are thus only a theoretical possibility for now, with evidence still heavily skewed towards a more benign outcome.
Oil Prices Fall amid Protests in China
Oil prices fell on Monday amid a general decline in investor appetite for risk amid information about the ongoing protests in China against vested restrictions.
The cost of January futures on Brent crude oil on London's ICE Futures exchange was $81.31 per barrel on Monday, down $2.32 (2.77%) from the close of the previous session. At the close of trading on Friday, those contracts fell $1.71 per barrel to $83.63.
Oil prices decline – what's going on in the market?
The price of WTI futures for January crude fell by $2.31 (3.03%) to $73.97 per barrel in electronic trading on the New York Mercantile Exchange (NYMEX). By closing of previous trades, the cost of these contracts decreased by $1.66 (2.1%) to $76.28 per barrel. Brent and WTI gained 4.6% and 4.8%, respectively, last week.
According to Bloomberg, protests were held in cities across the country, including the capital Beijing, as well as Shanghai, Xinjiang, and Wuhan, which was originally the epicenter of the COVID-19 spread.
That contributes to a stronger U.S. dollar, which reduces the attractiveness of investments in crude, and also raises the possibility of even more significant tightening of restrictions by Chinese authorities, the agency said.
"The outlook for the oil market remains unfavorable and the events of this weekend in China do not add to the positive," notes Warren Patterson, who is in charge of commodities strategy at ING Groep NV in Singapore.
According to the forecast of analytical company Kpler, oil demand in China in the fourth quarter will decrease to 15.11 million barrels per day (bpd) compared to 15.82 million bpd a year earlier.
Earlier we reported that Russia will ban the sale of its oil to countries that have imposed a price ceiling.
Oil Russia ban news: Russia will ban the sale of its oil to countries that have imposed a price ceiling
Will Russia sell oil to Europe? The administration of President Vladimir Putin is preparing an order prohibiting Russian companies and any trader from buying Russian oil to sell raw materials to countries and companies that have imposed a price ceiling on Moscow. Bloomberg news agency wrote this, citing a report from sources.
"The Kremlin is preparing a presidential decree banning Russian companies and any traders buying national oil from selling it to anyone who participates in the price ceiling," the publication wrote.
According to the newspaper's interlocutors, this would prohibit any mention of the price ceiling in contracts for Russian crude, as well as transferring it to countries that have joined the price ceiling for the natural resource.
In the first half of September, the press service of the US Treasury Department said that the USA, together with its allies from G7 (Great Britain, Germany, Italy, Canada, France and Japan) and the European Union (EU) would impose a ban on marine transportation of Russian oil on December 5 and oil products – on February 5.
Earlier we reported that EU negotiations on limiting the prices of Russian oil reached a deadlock today.
EU talks on restrictions on Russian crude oil prices today stalled
Negotiations between the European Union countries about the "ceiling" of Russian crude oil prices today reached an impasse; Bloomberg reported, according to its sources.
Representatives of the bloc cannot reach an agreement on the ceiling price of Russian oil. According to the agency, the proposed European Commission limit of $65-70 per barrel, Poland and the Baltic countries believe "too generous," while Greece and Malta, which is actively engaged in transporting fuel, do not want the limit to fall below $ 70. Recall that the Russian response to the oil price cap was negative. The Russian government has officially said that it will only sell oil at market prices.
"We are looking for ways to make this solution work and we are trying to find a common ground to implement it in a perfectly pragmatic and efficient way, while avoiding that it may cause excessive inconvenience to the European Union," said German Chancellor Olaf Scholz.
Earlier, we reported that the SEC fined Goldman Sachs $4 million for non-compliance with ESG fund principles.