Analysis-With Fed taper expected, investors brace for rate hikes on horizon
By Karen Pierog and Saqib Iqbal Ahmed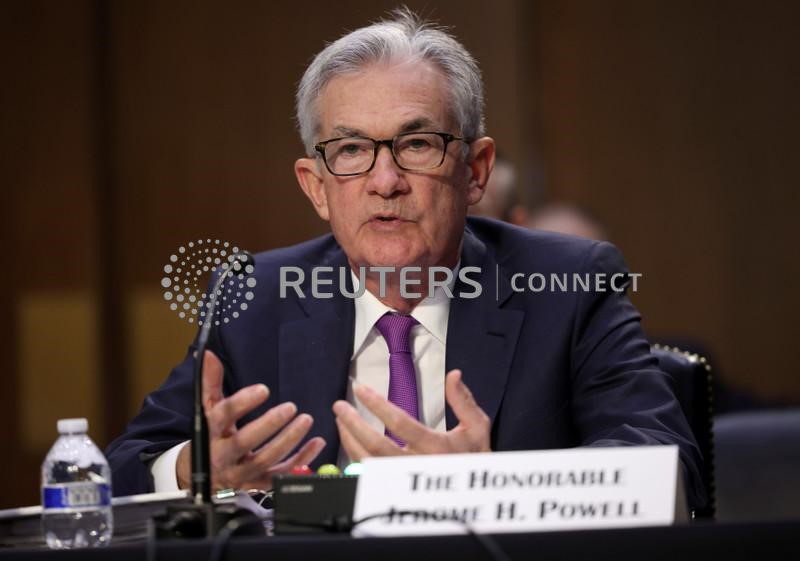 © Reuters. FILE PHOTO: Federal Reserve Chair Jerome Powell testifies during a Senate Banking, Housing and Urban Affairs Committee hearing on the CARES Act, at the Hart Senate Office Building in Washington, DC, U.S., September 28, 2021. Kevin Dietsch/Pool via REUTERS
By Karen Pierog and Saqib Iqbal Ahmed
(Reuters) – As the U.S. Federal Reserve gears up to taper its huge asset purchases, investors reeling from gyrations in the bond market are scanning the road ahead for signs of how effectively the central bank can tighten policy to deal with stubbornly high inflation.
At their meeting this week, Fed policymakers are expected to give the green light to reducing the central bank's bond purchases which have seen it hoover up $120 billion a month in government-backed bonds in a bid to steady the economy after the hit from the pandemic.
(GRAPHIC: In with a boom, out with a … – https://graphics.reuters.com/USA-FED/byvrjrggbve/chart.png)
The move, which is anticipated to commence in mid-November or mid-December, has been widely telegraphed. Still, the Treasury market has churned over the past week as investors positioned for tighter policy. Investors have sharply increased expectations that inflation would force the Fed to raise rates sooner and faster than projected. Short-term rates have risen and the yield curve flattened.
"Once you get by the taper the next big event is if-and-when the Fed does look to actually tighten going forward, and that puts more importance on effectively every major economic data point that comes out," said Chuck Tomes, associate portfolio manager at Manulife Asset Management in Boston. "There could be more volatility events around all of those major economic data points."
The gyrations in the bond market likely have already caused some leveraged hedge funds to suffer losses, Bank of America (NYSE:) warned in a report. The moves could also reflect investors unwinding positions to prevent deeper losses, Deutsche Bank (DE:) said.
Wall Street banks, meanwhile, are intensifying preparations for tapering to ensure they are able to handle spikes in market volatility.
There could still be surprises. Not tapering at this point could substantially steepen the U.S. Treasury yield curve, while a faster-than-expected tapering program would lead to a substantial flattening, according to Steve Bartolini, portfolio manager for U.S. core bond strategy at T. Rowe Price.
The Fed's communication this time around stands in contrast to 2013 when bond yields rose dramatically during the so-called "taper tantrum" after then-Fed chief Ben Bernanke unexpectedly told lawmakers the central bank could slow its pace of asset purchases that had been propping up markets. Benchmark 10-year U.S. Treasury yields rose from around 2% in May 2013 to around 3% in December.
While the move is not as extreme so far, the U.S. bond market is on track for its first annual loss since 2013.
(GRAPHIC: Rough sledding in the bond market – https://graphics.reuters.com/USA-FED/INVESTORS/akvezadxmpr/chart.png)
PRICE WORRIES
Investors are keenly focused on rising inflation and look to the Fed meeting to see if Chair Jerome Powell's stance that higher prices will moderate on their own over time may be wavering.
"It's the labor, the inflation, it's the consumer that we are mostly concerned about," said Tom Martin, senior portfolio manager at Globalt Investments in Atlanta, who thinks that long-term bond yields may fall once the taper announcement is made as rising short-term borrowing costs act as a headwind to growth.
"We are concerned that the central bank could make a policy error and raise rates sooner than they should," said Martin, who said he's been "positioned for interest rates to not rise for quite some time and we stand by that positioning."
Stephen Tally, chief operating officer at Leo Wealth, said the risk was "inflation is not as transitory as we've been led to believe" and that "pushes the Fed farther and faster than they want to go."
Inflation expectations spiked last week with 5- and 10-year breakeven inflation rates hitting their highest levels in more than a decade.
"Where it's going to be more dicey is how (Powell) dances with the word transitory and puts a definition around that maybe in terms of a time frame," said Lon Erickson, a portfolio manager at Thornburg Investment Management.
Sit Investment Associates Senior Portfolio Manager Bryce Doty said he has been tweaking portfolios recently with an eye on rising inflation.
"I think you still need to be heavily invested in TIPS and anything that offers some inflation protection," Doty said.
Powell, whose uncertain renomination as Fed chair has also played into market moves, puts rate hikes in a separate box from tapering, with higher interest rates dependent on a return to full employment and inflation reaching the Fed's 2% goal, while moderately exceeding that level for some time.
Investors have been closely watching monthly jobs reports, with October's due Friday.
"After a pretty weak September number are they relying on that October number before they start to really get deep into discussions around rate hikes?," said Jason England, global bonds portfolio manager at Janus Henderson Investors.
World food prices chart: World food prices have plummeted
Why are worldwide food prices rising? First, because of the current world situation. But world food prices fell sharply in July, with prices of major grains and vegetable oils dropping more than 10% in a month. 
World food prices chart
The Food Price Index was 140.9 points in July, down 8.6% from June. The drop in the index value continues for the fourth consecutive month after it reached an all-time high at the beginning of the year. Compared to July 2021, the index is up 13.1%. 
Despite the decline in high food prices, there are still many uncertainties around the world, such as high fertilizer prices, exchange rate volatility and weak global economic forecasts.
Vegetable Oil Price Index fell 19.2% in July from a month earlier, reaching its lowest level in a decade. Global cereal prices fell 11.5% for the month, still 16.6% higher than last year. Wheat prices fell the most (14.5%). 
World sugar prices over the month decreased by 3.8%; dairy products — by 2.5%, meat — by 0.5% due to weakened import demand for beef, lamb, and pork. At the same time, chicken meat rose in price due to strong demand and lower production volumes related to bird flu outbreaks. 
Are hedge funds bad? Investors are disappointed in hedge funds
Are hedge funds bad? This year is sure to be one of the worst years in hedge fund history. In the first six months of 2022, funds posted losses of 5.6%, according to HFR. In July, though, they rebounded by 0.5%, but nevertheless, writes the Financial Times, the sector is well on its way to its second-lowest year in a third of a century, since 1990, when they started keeping records. The only time the hedge fund market was worse than this was during the financial crisis in 2008.
Are hedge funds losing money? 
Most of the problems are accounted for by so-called long-short-term funds, whose assets total about $1.2 trillion. The results of their activity depend directly on the securities market. In the first half of this year, these funds lost an average of 12%, according to HFR data. This category of funds earned only about 1% in July, according to JPMorgan's John Schlegel calculations, well below the 7% rally in the stock market last month.
Among the hardest hit is the well-known Maverick Capital fund, which has been making double-digit returns to its investors for the past three years but lost 35% in January and June of this year. Similar losses have seen Skye Global, which has pleased investors with high returns over the past six years, but lost 10.4% in June alone. The fund was let down by a large stake in Amazon, which fell 36% in January-June 2022. However, in recent weeks, the retail giant has improved and cut its losses in half, to 19%. 
Already the first signs are starting to emerge that the losses are scaring investors. While they invested a total of $13.92 billion in hedge funds last year, only $440 million in the first quarter. There was a strong outflow of funds in March, and in June it exceeded $10.1 billion, according to Citco's fund administrator. Redemptions are expected to be $7.8 billion in the third quarter and $6.4 billion at the end of the year.
Weak performance in the first half of 2022 and investor dissatisfaction, however, have not affected the sector's confidence in its ability to raise funds. A survey of 100 hedge funds by technology company SigTech found that nearly one-in-four (23%) expect a sharp increase in investor activity in the next two years; 60% of respondents expect a slight increase in activity and only 4% believe investor activity will decline in 2023-24.
Chinese economy 2022: China will give up first place in the list of the largest importers of raw materials
Chinese economy 2022 news: China's commodity-buying companies will be adversely affected by government debt and demographic problems.
Over the next ten years, debt problems and slowing population growth may force China to cede the unofficial title of world's largest buyer of raw materials and minerals to India. 
Chinese economy analysis — the current situation
The structural challenges will make it very difficult for Beijing to accept and implement most of the policy initiatives coming from the center. Apart from the Chinese economy, this trend will have a major negative impact on mining companies around the world, many of which are heavily dependent on demand in China. Incidentally, many such companies are located in Australia.
China will likely be replaced in the next few years by India. If UN statistics are to be believed, India could overtake China regarding population as early as this year. This will have not only psychological, but also "material consequences" for the global market of raw materials and minerals.
China has been much criticized for shifting to mindless spending to combat the economic slowdown. Lowy Institute economist Roland Raja is pessimistic about the growth prospects of the Chinese economy. Even though the Indian economy is only a small part of the Chinese economy, he sees no signs of a slowdown soon. 
China will try to be more aggressive this year in combating the economic slowdown. Beijing will invest very heavily in the extractive industries.
Moyo also believes that Beijing will no longer be able to regain the high growth rates of past years. According to her forecast, China's economic growth will be 4% this year. Recall, the Chinese leadership set a higher target of 5.5%. Incidentally, this is the lowest growth in the Chinese economy for the past three decades. In the second quarter of this year, China's economic growth slowed to 0.4%.