Are auto shows dead after pandemic? LA shows some life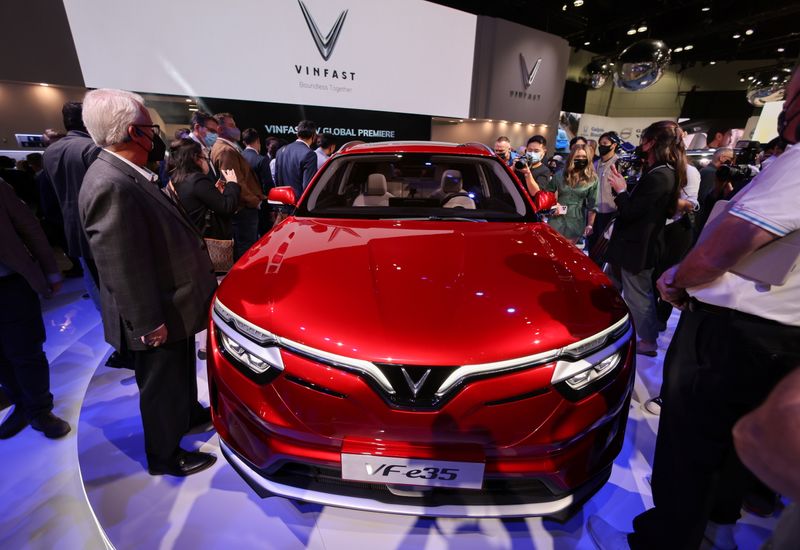 © Reuters. Attendees view VinFast's E35 SUV at the 2021 LA Auto Show in Los Angeles, California, U.S. November, 17, 2021. REUTERS/Mike Blake
By Hyunjoo Jin
LOS ANGELES (Reuters) -What a difference two years make. The 2019 Los Angeles auto show featured a parade of vehicle debuts, a flurry of press conferences and other events in the opening two days, along with hundreds of thousands of people eager to see new cars.
Fast forward to 2021. The Los Angeles Auto Show, the first major U.S. auto show since the start of the pandemic, kicked off on Wednesday with a single day of press events, with some automakers even skipping the show.
The show illustrates how the pandemic has accelerated automakers' shift toward the online world, as consumers buy more vehicles on the internet, though many still favor in-person visits.
The LA Auto Show opened to the public on Friday for 10 days. A smaller crowd waited for the doors of an exhibition hall to open, and visitors were spread out at convention halls.
"I would really like to see it with my own eyes instead of seeing it on the iPad all the time," said Peter Borch, who flew from Denmark to see Fisker's electric sport utility vehicle Ocean.
"The size is bigger than on the photo," Borch, 52, said, saying he spent all of his pension to buy an Ocean, which will start deliveries late next year.
Dustin Haug, 47, a construction manager in Los Angeles, said, "It is nothing like seeing an actual car in person, touching, feeling."
David Fortin, head of consumer marketing at Los Angeles Auto Show, told Reuters that although online reservations lag 2019 levels, they are "strong enough that we believe we're going to have a great year."
Honda and BMW both skipped the show in favor of separate, earlier events. Honda showed off a reincarnation of its iconic Integra prototype sedan at a livestreamed event in Los Angeles about a week earlier.
"That was an event that was exclusively ours. We find that we don't have to compete like you do on the press days of an auto show to get the attention," Honda executive vice president Dave Gardner told Reuters on a Zoom interview.
Korean automaker Kia expressed a similar view.
"The pandemic has taught us that we can work differently. … There will be auto shows still in the future, but there'll be also different types of presentations," Karim Habib, head of Kia Design Center, told Reuters at the show.
Kia and affiliate Hyundai Motor (KS:) were among the few automakers that debuted electric SUV concepts at the show and flew in executives, including chief executives, from their Seoul headquarters to Los Angeles.
"Auto shows used to be very, very popular for automakers to make a big media splash. That has changed with social media and with other forms of access to the media by consumers," Brett Smith, technology director at Center for Automotive Research, said. "I think the pandemic was maybe the last straw in this."
Smaller companies see a positive side to the changes.
"It gives more attention to us," Henrik Fisker, CEO of electric vehicle startup Fisker, told Reuters.
He said his Ocean SUV is a "sexy sports car" best seen in person. "I know I'm zoomed out. I don't think I enjoy any more sitting just looking at computers and pictures. I want to see the real stuff," Fisker said.
South Korean exports dropped 14% in November, the highest in 2.5 years
South Korea's exports fell 14 percent year-on-year to $51.91 billion in November, preliminary data from the Ministry of Commerce, Industry and Energy showed. The November drop was the biggest in 2.5 years since May 2020 and was caused both by the deteriorating global economy, which even a Google price chart showed, and a truckers' strike in the country.
South Korea exports 2022 – reasons for the drop
Exports fell for the second month in a row. Analysts on average expected an 11% decline, according to Trading Economics. Respondents to MarketWatch predicted a 10.5% decline.
Shipments of semiconductor products overseas, the country's top export item, fell 29.8%; petrochemicals fell 26.5% and steel exports fell 10.6%. Meanwhile, exports of automobiles jumped 31% and petroleum products 26%.
Exports to China, South Korea's largest trading partner, fell by 25.5%, and to Asian countries – by 13.9%. Below, supplies to the USA grew by 8% and to the European Union – by 0.1%.
In January-November exports rose by 7.8% on the same period last year and reached a record $629.1 billion.
South Korean imports rose 2.7% to $59.2 billion in November, marking the 23rd consecutive month of gains, but the current rate of growth is the lowest since November 2020. Experts had predicted an increase of only 0.2%.
South Korea's trade deficit last month was $7.01 billion, compared with a surplus of $2,973 billion a year earlier.
The negative balance was recorded for the eighth month in a row. As a result, by the end of 2022, the country may record a foreign trade deficit for the first time since the financial crisis in 2008.
Earlier we reported that the UN estimates the cost of humanitarian aid in 2023 at a record $51 billion.
The UN estimates humanitarian aid costs in 2023 at a record $51 billion because of an impending humanitarian crisis
Joint humanitarian operations will require a record $51.5 billion in 2023 to address urgent problems.
The UN Office for the OCHA estimates that 339 million people will need urgent aid in 2023. At the same time, OCHA called on donor countries to provide funds for assistance in 2023 to the 230 million people most in need, living in 68 countries.
Griffiths explained that aid is needed not only for people experiencing conflicts and disease outbreaks. but also for those suffering the effects of climate change, such as people in peninsular Somalia facing drought and those in Pakistan experiencing severe flooding. For the first time, the growing humanitarian crisis has brought the number of displaced people worldwide to the 100 million mark. Also worsening an already bad situation is the worldwide coronavirus pandemic, which affects the poor. Note that the general economic crisis has begun to negatively affect even the Netflix price chart.
Earlier we reported that house prices in the UK fell by 1.4% in November.
Average house prices in the UK fell 1.4% in November
Average house prices in the UK fell 1.4% in the previous month in November to 263,788 thousand pounds (about $319,000), according to the British mortgage company Nationwide Building Society.
The decline was recorded at the end of the second consecutive month and was the most significant in almost 2.5 years – since June 2020. Analysts on average had forecast a decline of only 0.3%, according to Trading Economics.
Are house prices in the UK going to fall even more?
Residential real estate prices in November compared to the same month last year increased by 4.4%. At the same time, experts expected a larger increase of 5.8%. The growth rate slowed down significantly compared with 7.2% in October. Because of the difficult economic situation, British investors are investing in other instruments. The Microsoft price chart, for example, is showing potential for growth, so many are interested in the U.S. stock market. 
"The market looks set to remain under pressure in the coming quarters. Inflation will remain high for some time, and interest rates are likely to continue to rise," believes Nationwide Senior Economist Robert Gardner. – The outlook is unclear, and much will depend on how the overall economy behaves, but a relatively soft landing is still possible."
Earlier we reported that Sanctions Circumvention was included in the EU's list of criminal offenses.