Australia home price boom piles on pressure for RBA pullback
By Wayne Cole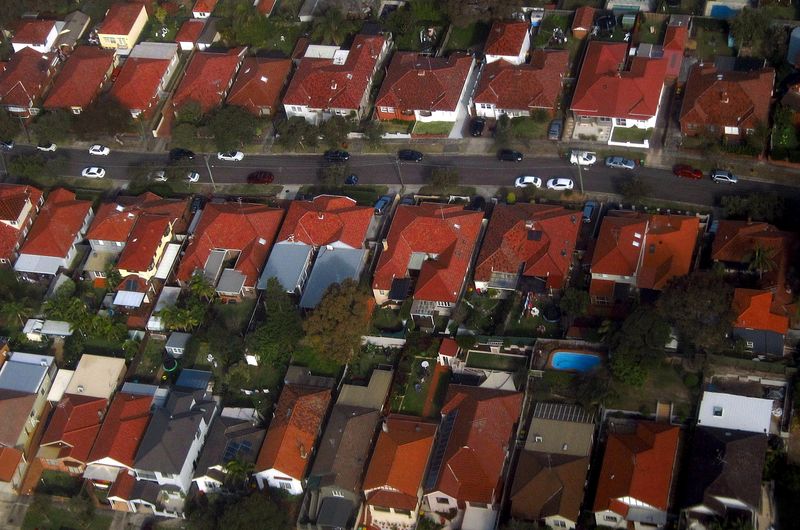 © Reuters. FILE PHOTO: Properties can be seen in the Sydney suburb of Clovelly, Australia, July 19, 2015. REUTERS/David Gray
By Wayne Cole
SYDNEY (Reuters) – Australian home prices raced to fresh heights in October, piling pressure on the country's central bank to open the door to an interest rates rise well before the current projection of 2024.
The Reserve Bank of Australia (RBA) holds its monthly policy meeting on Tuesday and speculation is rife it will soften or drop a commitment to keep yields on its April 2024 target bond at 0.1%, effectively signalling an earlier hike in cash rates.
"Yield cure control (YCC) is extraordinary policy that semi-ties the central bank's hands, limiting forward flexibility," said Nomura economist Andrew Ticehurst. "With the pandemic crisis passing, the case for extraordinary forward guidance naturally weakens."
Highlighting those pressures were figures from property consultant CoreLogic on Monday, which showed home prices rose 1.5% in October, up a steep 21.6% on last year. That was the fastest pace since 1989, while Sydney boasted an annual gain of 25%.
Ticehurst thought the RBA would likely bring forward the guidance date to, say April 2023, and perhaps shift from a fixed target of 0.1% to a range of 0.1-0.5%.
"A range is easier to hit than a target point, and the RBA could regard this as a somewhat-elegant and partial exit," argued Ticehurst. "The more aggressive option would be to simply drop it entirely, ripping the band-aid off in one go."
Such a move would be a drastic course change given the RBA was only recently chastising market for pricing in any risk of a rate rise this side of 2024.
Investors have since gone far further, as futures imply a real chance of a hike to 0.25% by April next year and rates above 1.0% by year end.
The yield on the April 2024 bond is all the way up at 0.81% after the market suffered its worst routs in decades as the RBA declined to defend the 0.1% target.
The selloff was triggered last week by data showing annual core inflation rose a surprisingly strong 2.1% in the third quarter, taking it back into the RBA's 2-3% target band almost two years earlier than policy makers expected.
Much of the jump was due to the surging cost of housing construction, fuelled by global supply bottlenecks and a rush to build in a red-hot market.
The property boom has been a windfall for household wallets and consumer confidence, but has also stirred concerns about affordability and debt as prices run far ahead of wages.
Australia's main banking regulator responded last month by announcing a modest tightening of lending standards, with the threat of more action if the market failed to cool.
The RBA had resisted pressure to raise rates to restrain the market, arguing it would only slow the economy and cost jobs, but some pullback in stimulus now seems certain.
"We expect YCC to be removed on Tuesday and a full pivot to outcomes-based guidance in its absence," said Tapas Strickland, a director of economics at NAB.
NAB also expects the RBA to end its A$4 billion-a-week ($3.01 billion) bond buying campaign in February and now sees a first rate rise in mid 2023, rather than in 2024.
The central bank will also update its economic forecasts in a report to be released on Friday, which should see an upward shift in inflation and economic growth for next year.
While coronavirus lockdowns almost certainly caused a sharp contraction in the economy in the third quarter, world-beating rates of vaccinations have allowed most restrictions to be lifted.
Figures from ANZ on Monday showed job advertisements had already rebounded by 6.2% in October to be almost back to where they were in June, auguring well for a tighter labour market and higher wages growth.
($1 = 1.3305 Australian dollars)
Oil Prices Fall amid Protests in China
Oil prices fell on Monday amid a general decline in investor appetite for risk amid information about the ongoing protests in China against vested restrictions.
The cost of January futures on Brent crude oil on London's ICE Futures exchange was $81.31 per barrel on Monday, down $2.32 (2.77%) from the close of the previous session. At the close of trading on Friday, those contracts fell $1.71 per barrel to $83.63.
Oil prices decline – what's going on in the market?
The price of WTI futures for January crude fell by $2.31 (3.03%) to $73.97 per barrel in electronic trading on the New York Mercantile Exchange (NYMEX). By closing of previous trades, the cost of these contracts decreased by $1.66 (2.1%) to $76.28 per barrel. Brent and WTI gained 4.6% and 4.8%, respectively, last week.
According to Bloomberg, protests were held in cities across the country, including the capital Beijing, as well as Shanghai, Xinjiang, and Wuhan, which was originally the epicenter of the COVID-19 spread.
That contributes to a stronger U.S. dollar, which reduces the attractiveness of investments in crude, and also raises the possibility of even more significant tightening of restrictions by Chinese authorities, the agency said.
"The outlook for the oil market remains unfavorable and the events of this weekend in China do not add to the positive," notes Warren Patterson, who is in charge of commodities strategy at ING Groep NV in Singapore.
According to the forecast of analytical company Kpler, oil demand in China in the fourth quarter will decrease to 15.11 million barrels per day (bpd) compared to 15.82 million bpd a year earlier.
Earlier we reported that Russia will ban the sale of its oil to countries that have imposed a price ceiling.
Oil Russia ban news: Russia will ban the sale of its oil to countries that have imposed a price ceiling
Will Russia sell oil to Europe? The administration of President Vladimir Putin is preparing an order prohibiting Russian companies and any trader from buying Russian oil to sell raw materials to countries and companies that have imposed a price ceiling on Moscow. Bloomberg news agency wrote this, citing a report from sources.
"The Kremlin is preparing a presidential decree banning Russian companies and any traders buying national oil from selling it to anyone who participates in the price ceiling," the publication wrote.
According to the newspaper's interlocutors, this would prohibit any mention of the price ceiling in contracts for Russian crude, as well as transferring it to countries that have joined the price ceiling for the natural resource.
In the first half of September, the press service of the US Treasury Department said that the USA, together with its allies from G7 (Great Britain, Germany, Italy, Canada, France and Japan) and the European Union (EU) would impose a ban on marine transportation of Russian oil on December 5 and oil products – on February 5.
Earlier we reported that EU negotiations on limiting the prices of Russian oil reached a deadlock today.
EU talks on restrictions on Russian crude oil prices today stalled
Negotiations between the European Union countries about the "ceiling" of Russian crude oil prices today reached an impasse; Bloomberg reported, according to its sources.
Representatives of the bloc cannot reach an agreement on the ceiling price of Russian oil. According to the agency, the proposed European Commission limit of $65-70 per barrel, Poland and the Baltic countries believe "too generous," while Greece and Malta, which is actively engaged in transporting fuel, do not want the limit to fall below $ 70. Recall that the Russian response to the oil price cap was negative. The Russian government has officially said that it will only sell oil at market prices.
"We are looking for ways to make this solution work and we are trying to find a common ground to implement it in a perfectly pragmatic and efficient way, while avoiding that it may cause excessive inconvenience to the European Union," said German Chancellor Olaf Scholz.
Earlier, we reported that the SEC fined Goldman Sachs $4 million for non-compliance with ESG fund principles.