Australia's Westpac takes hit to margins, shares tumble despite buyback
By Paulina Duran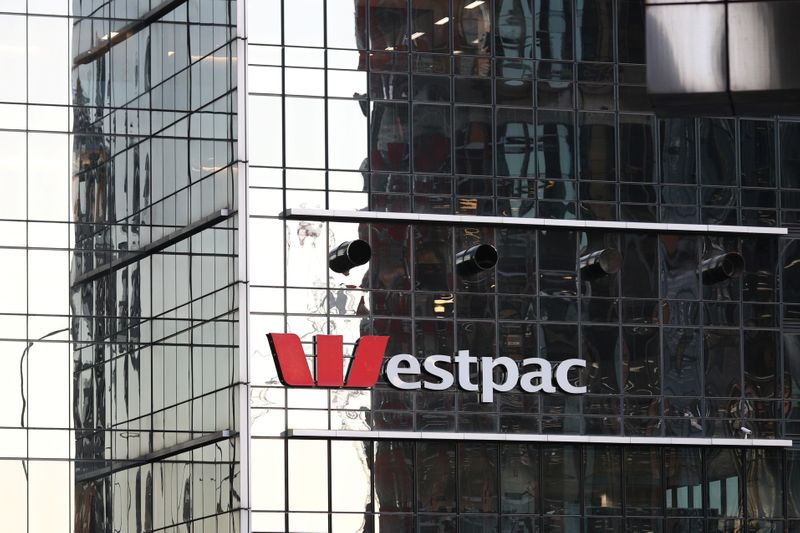 © Reuters. FILE PHOTO: An office building with Westpac logo is seen amidst the easing of the coronavirus disease (COVID-19) restrictions in the Central Business District of Sydney, Australia, June 3, 2020. REUTERS/Loren Elliott
By Paulina Duran
SYDNEY (Reuters) -Westpac Banking Corp on Monday disappointed investors hoping for a quick restructure at Australia's No. 3 lender, revealing big cuts in margins and still-high expenses, knocking its shares sharply lower.
Westpac reported cash earnings for 2020/21 of A$5.35 billion ($4.02 billion), just below expectations but more than twice last year's result after the release of funds set aside for pandemic losses, and announced a A$3.5 billion share buyback.
However, its shares sank more than 6% to an eight-month low as investors pointed to the fall in margins, particularly in the second half, and higher expenses, which put pressure on core earnings.
"Our underlying results are not where we want them to be, and we recognise we have more to do to become the high-performing company we aspire to be," Chief Executive Peter King said.
Westpac is slowly emerging from a costly turnaround https://www.reuters.com/article/australia-banks-westpac-int-idUSKBN27T0IB to fix outdated software and convoluted procedures that led last year to record fines for breaches of anti-money laundering law and market-share losses in mortgages, it's main product.
"They are on a far better footing going forward, but the market has focused on the cost of rectification rather than the benefits that flow from this," said Regal Funds Management portfolio manager Mark Nathan.
"I think the market expects most of the cost benefit to flow through in 2023 and 2024, rather than through the 2022 fiscal year," he said.
MARGIN PRESSURE
A rebound in the Australian economy and sky-rocketing house prices helped drive a 4% rise in Westpac's mortgage book after a decline last year, but the growth came at the expense of margins.
Net interest margin, a key measure of profitability that measures the difference between what banks charge for loans and what they pay, fell 10 basis points during the second half, to 1.99%. For the full year, it was 4 basis points lower at 2.04%.
In the second half, cash earnings fell at all the bank's business units, including retail and business banking, institutional banking and its New Zealand subsidiary. Core profit, excluding a pre-announced A$1.3 billion hit from Westpac's institutional bank and remediation costs, was 13% lower for the year.
"We expect significant consensus earnings downgrades on the back of today's result," Macquarie banking analyst Victor German said.
Westpac CEO King said competition was likely to put further pressure on margins.
Smaller rival Australia and New Zealand Banking Group, last week reported https://www.reuters.com/world/asia-pacific/australian-lender-anz-posts-65-jump-annual-cash-profit-2021-10-27/#:~:text=SYDNEY%2C%20Oct%2028%20(Reuters),induced%20boom%20in%20home%20lending flat margins but a shrinking loan book, missing out on the pandemic-induced boom in home lending, and vowed it would prioritise re-growing its home lending business.
Westpac's King also reiterated his commitment to cutting the bank's cost base https://www.reuters.com/article/westpac-results-idUSL1N2MQ00W by over a fifth to A$8 billion by fiscal 2024, a key part of his strategy. Still, that is far from the A$11 billion in costs it reported on Monday that excluded an A$2.3 billion one-off "notable" charge.
Westpac said it expects demand for credit to remain high, although home price growth would likely moderate to about 8%, King said, given tighter restrictions on home lending https://www.reuters.com/world/asia-pacific/australia-banking-watchdog-tightens-home-loan-requirements-2021-10-05.
The bank declared a dividend of A$0.60 a share.
($1 = 1.3319 Australian dollars)
Costs of electricity in Italy rose by more than 76% in August
Costs of electricity in Italy rose by 76.4% in August, compared with an average of 51.9% in the euro area. La Repubblica writes about it, citing the estimates of Italy's Confartigianato, an association of small and medium-sized businesses.
"Italy has structural problems. Here the cost of gas and electricity has always been very high because of the nature of production and the fact that there has never been an appropriate energy plan. Therefore, the average electricity bill in Italy will continue to rise," said the head of Confartigianato, Bruno Pannier.
According to him, now Italy can concentrate on the production of energy from renewable sources. In this matter, the country is in a better position than other countries of the European Union, in particular due to the climate.
The newspaper said that in July electricity and gas prices in France jumped by 23.8%; in Germany – by 46% and in Spain – 54.3%, while in Italy the increase was 59.1%.
Earlier we reported that Nord Streams was almost completely out of service due to malfunctions.
The situation in Europe is worsening. Rising food and energy prices are becoming a growing problem
The situation with rising food and energy prices in the EU soon will only get worse. This follows from the statement of the head of the European Central Bank Christine Lagarde.
British residents have already spent more than half of their savings. According to The Times, monthly expenditures on British energy prices are growing by a record £145. The pound itself reached a historic low against the dollar and almost equaled it. The sharp decline occurred after the decision of the British government to reduce taxes in the country.
Against this backdrop, Parliament began to prepare a vote of no confidence in the new Prime Minister, Liz Truss, who proposed new economic measures. The situation in Germany is also difficult. As German Finance Minister Christian Lindner admitted, he does not yet know how to fight gas prices.
"We are working in parallel with the commission on gas prices, which was created by the federal government. And so we will be looking for ways in which we can put price control into practice. I have an idea of what direction to think, but I don't really want to go into all the details," Ridus said.
Earlier, we reported that cryptocurrencies and the dollar began a showdown for the title of most profitable asset.
Nord stream sabotage? "Nord Streams" is almost completely out of order due to malfunctions
The Nord Stream and Nord Stream 2 gas pipelines are almost completely out of service due to various faults. Many are voicing opinions about sabotage on Nord Stream.
Both gas supply routes to Europe via the Baltic Sea bed are out of service. First there was the Nord Stream 2 accident, where the pressure on one of the lines dropped drastically. The cause of the leakage is currently being investigated. Then pressure dropped in both strings of Nord Stream, but the reason for the drop in pressure is still unknown. There are serious reasons to assume a Nord Stream attack.
The publication noted that the German authorities have already started working with the Danish authorities and local law enforcement agencies to find out the reason for the pressure drop in Nord Stream-2. However, it is not clear how the pipeline will be repaired, as it is under U.S. sanctions and bankruptcy proceedings, although it has been postponed until January 2023.
At the moment it is impossible to name the exact cause of the malfunctions that have occurred. However, the sudden drop in pressure may indicate not just a leak, but a much more serious problem. Also, this accident could have certain consequences for the entire gas market, and repairs could take quite a long time.
Earlier we reported that British banks had begun stopping some mortgage deals because of the pound falling against the dollar.