Canada says completes important step for resuming potato exports to U.S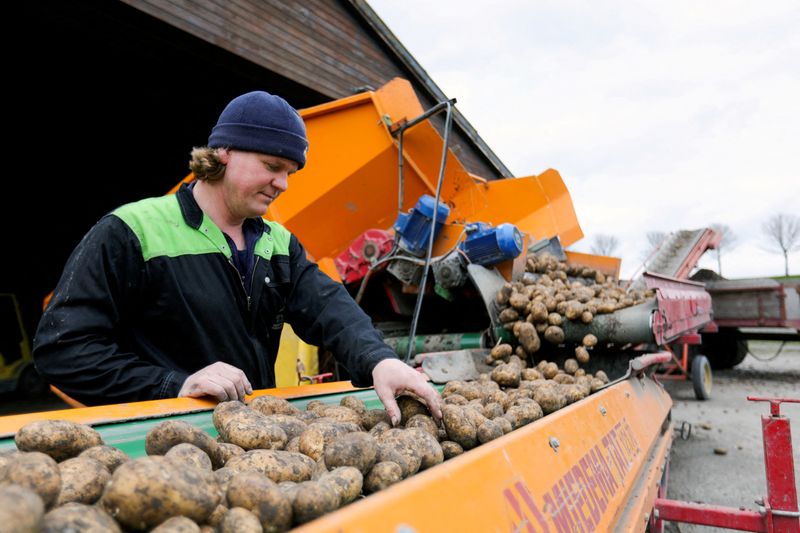 © Reuters. FILE PHOTO: A farmer handles a large stock of potatoes that he can?t sell to restaurants or catering services, as they are closed due the coronavirus disease (COVID-19) outbreak, at his property in Purmer, Netherlands, April 3, 2020. REUTERS/Eva Plevier
(Corrects headline and first and seventh paragraphs to show that exports will only resume eventually; in first paragraph deletes that no fungus found in fresh potatoes. Corrects 4th paragraph to show that no wart found in seed potatoes in fields not regulated by Ottawa, not that no wart found in non-quarantined areas; in 4th and 5th paragraphs, correct to say national survey was of seed potatoes in unregulated fields and not a national survey of fresh potatoes)
OTTAWA (Reuters) – Canada has completed an important step for eventually resuming exports of fresh potatoes to the United States from the province of Prince Edward Island, the Canadian Food Inspection Agency said on Friday.
Canada unilaterally halted the shipments in November from the province after finding the potato wart fungus on two farms in October, the first in 21 years.
The United States had said it would ban all imports of fresh potatoes from the province unless Canada took further action, a measure Ottawa says would be hard to overturn.
One U.S. demand was for Canada to check for wart in fields of seed potatoes. These are exported and then grown to maturity and the risk of contagion would be greater if they had the wart.
The CFIA carried out a national survey which detected no wart in seed potatoes in fields not regulated by Ottawa. This, it said, was information Washington wanted.
"(This) was provided to the U.S. Animal and Plant Health Inspection Service earlier today, and should serve to provide reassurances they need that it is safe to resume the trade of fresh potatoes," the CFIA said in a statement.
"We do not anticipate that it will lead to any immediate change in the current prohibition," it added, saying Washington was seeking other information. This, the CFIA indicated, could take months to provide.
The U.S. Animal and Plant Health Inspection Service did not respond to a request for comment. Friday is a public holiday in the United States.
Potato wart can decrease crop yields but poses no threat to human health or food safety, the CFIA says.
Prince Edward Island grew about 20% of the national harvest in 2020. The crop is worth more than C$1 billion ($781 million)annually to the province's economy.
($1 = 1.2808 Canadian dollars)
Disclaimer:
Fusion Media
would like to remind you that the data contained in this website is not necessarily real-time nor accurate. All CFDs (stocks, indexes, futures) and Forex prices are not provided by exchanges but rather by market makers, and so prices may not be accurate and may differ from the actual market price, meaning prices are indicative and not appropriate for trading purposes. Therefore Fusion Media doesn`t bear any responsibility for any trading losses you might incur as a result of using this data.
Fusion Media or anyone involved with Fusion Media will not accept any liability for loss or damage as a result of reliance on the information including data, quotes, charts and buy/sell signals contained within this website. Please be fully informed regarding the risks and costs associated with trading the financial markets, it is one of the riskiest investment forms possible.
China's zero-COVID policy dashes global hopes for quick economic return to normal
© Reuters. FILE PHOTO: A worker in a protective suit walks on a closed bridge during lockdown, amid the coronavirus disease (COVID-19) outbreak, in Shanghai, China, May 18, 2022. REUTERS/Aly Song/File Photo
(Reuters) – A sharp slowdown in China's economy caused by its strict zero-COVID rules and Beijing's shift away from a traditional reliance on external demand have cast doubts over how much the country will contribute to future global trade and investment.
While China staged a remarkably quick recovery from its initial pandemic slump, thanks to bumper exports and factory production, analysts expect the current downturn will be harder to shake off than the one seen in early 2020.
The gloomier outlook presents challenges not only for leaders in Beijing worried about rising unemployment, but foreign businesses counting on China to resume its level of engagement it had with the rest of the world before the pandemic.
Calculations based on International Monetary Fund projections show China's expected average annual contribution to global economic growth through to 2027 at about 29%. While that's a considerable addition, it contrasts with the years following the 2008 global financial crisis when that averaged closer to 40%.
ANZ's chief economist for Greater China, Raymond Yeung, said Beijing's economic policies have more recently shifted to home-grown solutions and reforms, rather than the resumption of its past model that focused on greater engagement with the world.
"Successful implementation of these may pave the way to sustainable growth over the long term," Yeung wrote in a note. "However, the risk of failing to achieve a similar growth rate is higher. If MNCs (multinationals) begin to withdraw their onshore presence, the process of economic convergence may come to an end sooner than anticipated."
China's export growth slowed to single digits in April, the weakest since the onset of the pandemic, while imports barely changed as COVID-19 curbs halted factory production and slashed demand.
Authorities are expected to tread a careful policy path around COVID ahead of a key Communist Party meeting towards the end of the year.
In a sign of that caution, China last week gave up hosting rights for the Asian Cup football finals next year due to COVID concerns.
Peiqian Liu, China economist at NatWest Markets in Singapore, said faced with a choice, Beijing would likely prioritise maintaining wins in hard-fought battles against COVID and rampant debt over its 2022 growth target of 5.5%, which many analysts consider ambitious.
"Broadly speaking, there has been a long-term shift starting as early as 2018 to a more domestic-driven economy, boosting the services sector and upgrading the manufacturing supply chain, (and) steering away from debt-addicted stimulus and growth," Liu said.
A broad and sustained slowdown in investment would weigh on demand, contributing to a deeper slowdown in global growth, she said.
IMMEDIATE CONCERNS
Beijing has defended its policies and downplayed the global ripple effects. An opinion piece in state-owned Global Times last week said zero-COVID was the most suitable strategy to fight the virus and keep the economy stable and expected a continued strong contribution to global growth.
Others broadly agree — Fitch Ratings chief economist Brian Coulton acknowledged the disruptions from zero-COVID but did not see it being a more serious drag on global growth.
"If anything the reliance of the rest of the world on Chinese production has increased in the last couple of years so I don't see any waning of the influence of China on the global cycle in the near-term anyway," Coulton told Reuters.
For now, however, foreign businesses in China are becoming vocal about worsening operating conditions.
Under the zero-COVID policy, Chinese citizens enjoyed a long period of relative openness and freedom within the confines of the domestic economy, but remained tightly shut off from the rest of the world.
However, more recent domestic outbreaks mean authorities have not only locked down large parts of the manufacturing sector, adding to global supply shocks, but also doubled down on curbs restricting the movement of people in and out of the country.
While travel curbs in much of the rest of the world are easing as countries try to "live with COVID", China said last week it would strictly limit unnecessary foreign travel by its citizens, continuing an effective freeze that has been in place for the past two years.
The American Chamber of Commerce in China warned on Tuesday that strict COVID-19 controls would hamper foreign investment into the country for years to come as limits on travel block the pipeline for projects.
A survey from Germany's Chambers of Industry and Commerce (DIHK) last week showed 47% of German companies in China were critically rethinking their activities there and one in eight companies were even considering leaving the country.
"It usually takes years to establish oneself here and given the size of the country, a relocation is all the more difficult, the more astonishing the survey result is," said Volker Treier, head of foreign trade with the German chambers.
New Zealand government forecasts narrower deficit for 2021/22
© Reuters. FILE PHOTO – Cranes located on construction sites are seen in central Auckland, New Zealand, June 25, 2017. REUTERS/David Gray
By Lucy Craymer
WELLINGTON (Reuters) – New Zealand's government on Thursday increased income support and promised significant investment in the health sector while forecasting that returning the budget to surplus would take longer than previously forecast.
The deficit for the current financial year, ending on June 30, will be narrower than previously forecast.
Heavy spending was targeted towards infrastructure, including new schools, and defence, while funds were also allocated to ease the impact of global inflation on New Zealanders.
The highlight was billions of New Zealand dollars in new funding for the country's health system, which will, among other things, see more funding for drugs and infrastructure.
"As the pandemic subsides, other challenges both long-term and more immediate, have come to the fore. This Budget responds to those challenges," Prime Minister Jacinda Ardern said in a statement.
"COVID-19, climate change and the war in Ukraine have taught us we need to build a more secure economy that protects New Zealand households from the external shocks we know are coming," she added. Ardern was not at the release of the budget as she currently has COVID.
THE BOOKS
The government predicted a budget deficit of NZ$18.978 billion ($11.97 billion) for 2021/22, narrower than a deficit of NZ$20.844 billion forecast in a half-year fiscal update in December. However, the government now expects the budget to surplus in 2024/25, a year later that previously forecast.
Net debt under an old method of calculation was forecast to peak at 41.2% of gross domestic product (GDP) in 2023/24, compared with the December forecast for a peak in 2022/23 at 40.1% of GDP.
Under a new calculation method, introduced to bring the measure more in line with international norms, net debt for 2022/23 will be 31.8% of GDP.
INFLATION
With New Zealand facing its fastest inflation in three decades, the government moved to provide support for households. It has extended subsidies on petrol and public transport and will extend supplementary payments to middle-income families not already receiving support.
"While we know the current storm will pass, it's important we do what we can to take the hard edges of it," said Ardern.
Along with the funding, Robertson announced new legislation that would remove land covenants that currently allow existing supermarkets to prevent competitors from building nearby. It is hoped this will make the sector – currently dominated by two companies – more competitive.
SECURITY
Defence spending will rise over the next five years. Government documents show the defence establishment will spend NZ$5.9 billion on new equipment in the five years beginning 2021/22, up more than 40% on an earlier outlook.
Minister of Defence Peeni Henare said in a statement that the defence force would receive an additional NZ$662.5 million to maintain existing defence capabilities and more money to boost salaries of lower-paid staff in the defence force.
"What we are funding today is the regeneration and strengthening of our Defence Force," said Henare.
($1 = 1.5858 New Zealand dollars)
Safe-haven dollar eases after Wednesday's jump, but risk sentiment remains fragile
© Reuters. FILE PHOTO: U.S. one dollar banknotes are seen in this illustration taken February 8, 2021. REUTERS/Dado Ruvic/Illustration//File Photo
By Kevin Buckland
TOKYO (Reuters) – Safe-haven currencies, including the dollar, eased on Thursday, pausing for breath after big gains the previous session as Wall Street stocks tumbled amid mounting concerns that aggressive tightening by the Federal Reserve and other global central banks could choke growth.
The dollar index, which tracks the greenback against six major peers, edged 0.05% lower to 103.74, after a 0.55% jump overnight that ended a three-day losing streak.
The yen slipped, with the dollar adding 0.21% to 128.495 yen after a 0.86% tumble on Wednesday.
The Swiss franc continued to strengthen, with the dollar losing a further 0.13% to 0.9869 franc, following a 0.6% slide.
The benchmark 10-year U.S. Treasury yield was steady around 2.89% in Tokyo trading after dropping from as high as 3.015% in the prior session.
Despite the pause in the safe haven rally, sentiment remained fragile with Asian stocks sliding and U.S. futures pointing lower, a day after a 4% drop for the S&P 500 and a 5% plunge for the Nasdaq.
Poor U.S. housing data on Wednesday added to slowdown concerns, and Fed Chair Jerome Powell had ratcheted up the hawkish rhetoric the previous day by saying the U.S. monetary authority would push interest rates as high as needed to stem a surge in inflation that he said threatened the foundation of the economy.
Powell's stance "makes it hard to achieve a 'soft landing' for the U.S. economy given the long lags between changes in monetary policy and changes in inflation," Joseph Capurso, a currency strategist at Commonwealth Bank of Australia (OTC:CMWAY) in Sydney, wrote in a client note. "The darkening outlook for the U.S. economy supports the USD and safe-haven currencies."
The euro recovered some ground, adding 0.25% to $1.0489 after Wednesday's 0.84% slump.
The Aussie rose 0.14% to $0.6965 – shaking off a smaller-than-forecast increase in jobs for last month – but the currency had slumped 1.05% on Wednesday.
Sterling remained under pressure, trading little changed at $1.2343 after dropping 1.2% overnight as a surge in U.K. inflation to a 40-year record fostered worries for a sharp economic slowdown.