China central bank says to promote healthy development of property market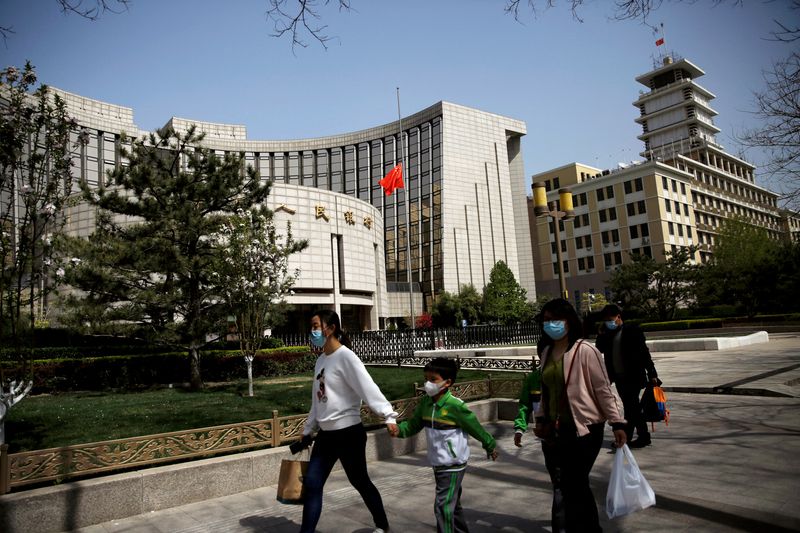 © Reuters. FILE PHOTO: People wearing face masks walk past the headquarters of Chinese central bank People's Bank of China (PBOC), April 4, 2020. REUTERS/Tingshu Wang
SHANGHAI (Reuters) – China's central bank said on Saturday it will safeguard the legal rights of home buyers and better satisfy their reasonable living needs, vowing to promote healthy development of the country's real estate market.
The statement from the People's Bank of China (PBOC), made following its fourth-quarter monetary policy committee meeting, is the latest sign that Chinese regulators are marginally easing curbs on the property sector to prevent a hard-landing.
Echoing China's annual Central Economic Work Conference held in early December, the PBOC said it will prioritise economic stability, amid an increasingly severe external environment and the unrelenting global pandemic.
The PBOC said it will keep its monetary policy flexible and appropriate, and liquidity reasonably ample. It will strengthen support to the real economy, with a bias toward small companies.
The central bank reiterated that it will deepen reforms of the forex market and increase the flexibility of the yuan's exchange rate while guiding companies and financial institutions to be "risk neutral".
Disclaimer:
Fusion Media
would like to remind you that the data contained in this website is not necessarily real-time nor accurate. All CFDs (stocks, indexes, futures) and Forex prices are not provided by exchanges but rather by market makers, and so prices may not be accurate and may differ from the actual market price, meaning prices are indicative and not appropriate for trading purposes. Therefore Fusion Media doesn`t bear any responsibility for any trading losses you might incur as a result of using this data.
Fusion Media or anyone involved with Fusion Media will not accept any liability for loss or damage as a result of reliance on the information including data, quotes, charts and buy/sell signals contained within this website. Please be fully informed regarding the risks and costs associated with trading the financial markets, it is one of the riskiest investment forms possible.
A manual for grief: How to handle loss at work
© Reuters. FILE PHOTO: Buddhist monks from Dieu Ngu Temple in Westminster, California, chant during a candlelight vigil to mark the one million U.S. lives lost in the coronavirus disease (COVID-19) pandemic, as well as the victims of the shootings in Buffalo and Lag
By Chris Taylor
NEW YORK (Reuters) – More than one million American lives have been lost to the COVID pandemic, a staggering milestone. The challenge, of course, is that America's Type-A, hard-charging culture is famously bad at coping with the emotional realities of pain and loss.
Even so, grief does not have to derail your career.
If you face up to those feelings, work with them and adjust the components of your job, you can come out on the other side.
That is the message of Rebecca Soffer, co-founder (with Gabrielle Birkner) of the Modern Loss community (modernloss.com) and author of the new book "The Modern Loss Handbook: An Interactive Guide to Moving Through Grief and Building Your Resilience."
"The whole point of the book is to help you stay connected to the person you've lost, to yourself, and to the world around you," says Soffer, who helped start the Modern Loss community after losing both parents. "I wanted to go deep into what it feels like when you go back to work, and to continue in your career, while also taking care of yourself at the same time."
While there is no national policy regarding bereavement leave, corporations do seem to be getting better at understanding the subject of grief, mainly because they have no choice after the last couple of years.
And from an individual standpoint, there are strategies you can employ to help you survive in the office, and navigate your post-loss world.
A few ideas from Soffer:
ADJUST HOW AND WHEN YOU WORK
If there is anything certain about grief, it is that it is unpredictable. Waves might come at different times, making it impossible to be clear-headed or productive during working hours.
As a result, you (and hopefully your boss) should be flexible about how you structure your day and get work done. Maybe you find you work better early in the morning, or late at night. Take frequent breaks, and actively build them into your schedule.
The good news: "I do think more companies are being much more flexible right now," Soffer says. "They had to, because when everyone started working from home, they had to accept non-traditional situations."
HAVE A 'POINT PERSON'
If you are undergoing a loss that has shaken you to your core, the last thing you want to do is recount the event to a hundred different people. That is where a designated 'point person' can come in: Someone you trust, who can listen to whatever information you want to be known (and what you do not), and then do the disseminating for you. That saves you time, and emotional exhaustion, and helps you focus on the tasks at hand.
ADVOCATE FOR YOURSELF AND OTHERS
Corporations are still muddling their way through this era, because grief is such a delicate emotional issue. So if you are going through it on a personal level, you can help them understand what employees need and what they do not, suggests Soffer.
That might include putting together a resource kit, for those who need the tools to cope. It might mean assembling an employee discussion group, for those who need to talk things through. Or it could mean advocating for official company policies, such as paid bereavement leave. Having a purpose like that could give you some direction, in a moment of life which can often feel direction-less.
REDUCE THE PRESSURE
Whatever steps you can take to reduce burdens on yourself are probably a good idea. That includes a potential switching of roles, at least on a temporary basis.
"If you have a performative role, like being a professor, maybe you could switch into a more administrative role for a period of time," Soffer says. "That way you won't feel so exposed."
Another idea: Discuss with your boss a two- or three-month period that will not count towards your annual performance review.
The main thing to remember about grief: "No feeling is final," says Soffer. "When you're in the worst of it, I guarantee you will not feel that way for the rest of your life.
"Grief is such a sneaky thing, and we are expected to handle it with such grace and courage and power," Soffer adds. "But it's okay to feel like a mess sometimes. It's not just okay – it's normal."
China's zero-COVID policy dashes global hopes for quick economic return to normal
© Reuters. FILE PHOTO: A worker in a protective suit walks on a closed bridge during lockdown, amid the coronavirus disease (COVID-19) outbreak, in Shanghai, China, May 18, 2022. REUTERS/Aly Song/File Photo
(Reuters) – A sharp slowdown in China's economy caused by its strict zero-COVID rules and Beijing's shift away from a traditional reliance on external demand have cast doubts over how much the country will contribute to future global trade and investment.
While China staged a remarkably quick recovery from its initial pandemic slump, thanks to bumper exports and factory production, analysts expect the current downturn will be harder to shake off than the one seen in early 2020.
The gloomier outlook presents challenges not only for leaders in Beijing worried about rising unemployment, but foreign businesses counting on China to resume its level of engagement it had with the rest of the world before the pandemic.
Calculations based on International Monetary Fund projections show China's expected average annual contribution to global economic growth through to 2027 at about 29%. While that's a considerable addition, it contrasts with the years following the 2008 global financial crisis when that averaged closer to 40%.
ANZ's chief economist for Greater China, Raymond Yeung, said Beijing's economic policies have more recently shifted to home-grown solutions and reforms, rather than the resumption of its past model that focused on greater engagement with the world.
"Successful implementation of these may pave the way to sustainable growth over the long term," Yeung wrote in a note. "However, the risk of failing to achieve a similar growth rate is higher. If MNCs (multinationals) begin to withdraw their onshore presence, the process of economic convergence may come to an end sooner than anticipated."
China's export growth slowed to single digits in April, the weakest since the onset of the pandemic, while imports barely changed as COVID-19 curbs halted factory production and slashed demand.
Authorities are expected to tread a careful policy path around COVID ahead of a key Communist Party meeting towards the end of the year.
In a sign of that caution, China last week gave up hosting rights for the Asian Cup football finals next year due to COVID concerns.
Peiqian Liu, China economist at NatWest Markets in Singapore, said faced with a choice, Beijing would likely prioritise maintaining wins in hard-fought battles against COVID and rampant debt over its 2022 growth target of 5.5%, which many analysts consider ambitious.
"Broadly speaking, there has been a long-term shift starting as early as 2018 to a more domestic-driven economy, boosting the services sector and upgrading the manufacturing supply chain, (and) steering away from debt-addicted stimulus and growth," Liu said.
A broad and sustained slowdown in investment would weigh on demand, contributing to a deeper slowdown in global growth, she said.
IMMEDIATE CONCERNS
Beijing has defended its policies and downplayed the global ripple effects. An opinion piece in state-owned Global Times last week said zero-COVID was the most suitable strategy to fight the virus and keep the economy stable and expected a continued strong contribution to global growth.
Others broadly agree — Fitch Ratings chief economist Brian Coulton acknowledged the disruptions from zero-COVID but did not see it being a more serious drag on global growth.
"If anything the reliance of the rest of the world on Chinese production has increased in the last couple of years so I don't see any waning of the influence of China on the global cycle in the near-term anyway," Coulton told Reuters.
For now, however, foreign businesses in China are becoming vocal about worsening operating conditions.
Under the zero-COVID policy, Chinese citizens enjoyed a long period of relative openness and freedom within the confines of the domestic economy, but remained tightly shut off from the rest of the world.
However, more recent domestic outbreaks mean authorities have not only locked down large parts of the manufacturing sector, adding to global supply shocks, but also doubled down on curbs restricting the movement of people in and out of the country.
While travel curbs in much of the rest of the world are easing as countries try to "live with COVID", China said last week it would strictly limit unnecessary foreign travel by its citizens, continuing an effective freeze that has been in place for the past two years.
The American Chamber of Commerce in China warned on Tuesday that strict COVID-19 controls would hamper foreign investment into the country for years to come as limits on travel block the pipeline for projects.
A survey from Germany's Chambers of Industry and Commerce (DIHK) last week showed 47% of German companies in China were critically rethinking their activities there and one in eight companies were even considering leaving the country.
"It usually takes years to establish oneself here and given the size of the country, a relocation is all the more difficult, the more astonishing the survey result is," said Volker Treier, head of foreign trade with the German chambers.
New Zealand government forecasts narrower deficit for 2021/22
© Reuters. FILE PHOTO – Cranes located on construction sites are seen in central Auckland, New Zealand, June 25, 2017. REUTERS/David Gray
By Lucy Craymer
WELLINGTON (Reuters) – New Zealand's government on Thursday increased income support and promised significant investment in the health sector while forecasting that returning the budget to surplus would take longer than previously forecast.
The deficit for the current financial year, ending on June 30, will be narrower than previously forecast.
Heavy spending was targeted towards infrastructure, including new schools, and defence, while funds were also allocated to ease the impact of global inflation on New Zealanders.
The highlight was billions of New Zealand dollars in new funding for the country's health system, which will, among other things, see more funding for drugs and infrastructure.
"As the pandemic subsides, other challenges both long-term and more immediate, have come to the fore. This Budget responds to those challenges," Prime Minister Jacinda Ardern said in a statement.
"COVID-19, climate change and the war in Ukraine have taught us we need to build a more secure economy that protects New Zealand households from the external shocks we know are coming," she added. Ardern was not at the release of the budget as she currently has COVID.
THE BOOKS
The government predicted a budget deficit of NZ$18.978 billion ($11.97 billion) for 2021/22, narrower than a deficit of NZ$20.844 billion forecast in a half-year fiscal update in December. However, the government now expects the budget to surplus in 2024/25, a year later that previously forecast.
Net debt under an old method of calculation was forecast to peak at 41.2% of gross domestic product (GDP) in 2023/24, compared with the December forecast for a peak in 2022/23 at 40.1% of GDP.
Under a new calculation method, introduced to bring the measure more in line with international norms, net debt for 2022/23 will be 31.8% of GDP.
INFLATION
With New Zealand facing its fastest inflation in three decades, the government moved to provide support for households. It has extended subsidies on petrol and public transport and will extend supplementary payments to middle-income families not already receiving support.
"While we know the current storm will pass, it's important we do what we can to take the hard edges of it," said Ardern.
Along with the funding, Robertson announced new legislation that would remove land covenants that currently allow existing supermarkets to prevent competitors from building nearby. It is hoped this will make the sector – currently dominated by two companies – more competitive.
SECURITY
Defence spending will rise over the next five years. Government documents show the defence establishment will spend NZ$5.9 billion on new equipment in the five years beginning 2021/22, up more than 40% on an earlier outlook.
Minister of Defence Peeni Henare said in a statement that the defence force would receive an additional NZ$662.5 million to maintain existing defence capabilities and more money to boost salaries of lower-paid staff in the defence force.
"What we are funding today is the regeneration and strengthening of our Defence Force," said Henare.
($1 = 1.5858 New Zealand dollars)