China Evergrande sells entire stake in streaming platform HengTen to ease debt burden
2/2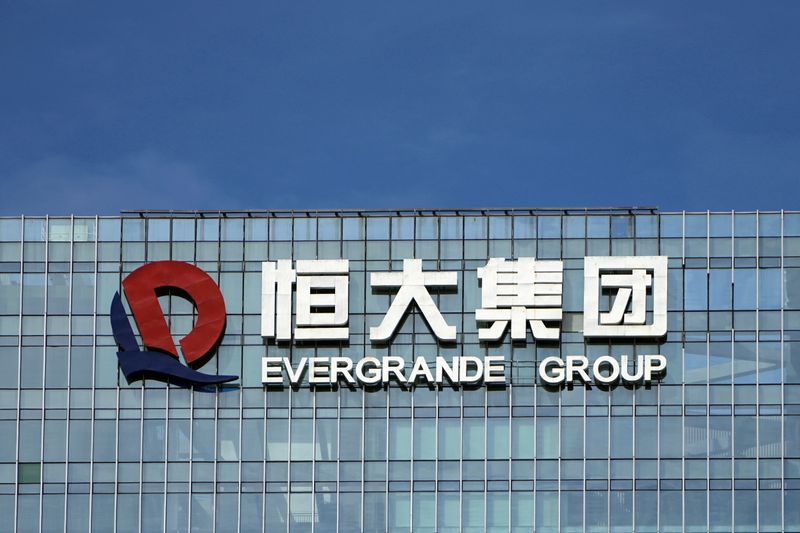 © Reuters. FILE PHOTO: The company logo is seen on the headquarters of China Evergrande Group in Shenzhen, Guangdong province, China September 26, 2021. REUTERS/Aly Song/File Photo
2/2
By Clare Jim and Indranil Sarkar
HONG KONG (Reuters) – China Evergrande Group is selling its entire stake in streaming services firm HengTen Network Group to raise HK$2.13 billion ($273.5 million), as the cash-strapped developer boosts efforts to avoid a debilitating default on its debts.
Evergrande, the world's most indebted developer, said on Thursday it would book a loss of HK$8.5 billion from selling the 18% stake in HengTen, in which Chinese gaming and social media giant Tencent Holdings (OTC:) holds around a 20% share.
The Shenzhen-based real estate company has been stumbling from deadline to deadline in recent weeks as it grapples with more than $300 billion in liabilities, $19 billion of which are international market bonds.
A wholly owned unit of Evergrande entered into an agreement with Allied Resources Investment Holdings Ltd, owned by investor Li Shao Yu, to sell 1.66 billion HengTen shares at HK$1.28 per share, at a discount of 24% to its closing price on Wednesday.
The latest share disposal extends Evergrande's sell-down of its HangTen stake from 26.55% in the secondary market since early this month.
Shares of Evergrande dropped 2.5% in late morning trade, while HengTen, which streams and produces film and television programmes and has been described as China's Netflix (NASDAQ:) by Chinese media, jumped 22.5%.
Evergrande said that 20% of the deal consideration will be payable within five business days from the date of the agreement, while the remainder will be completed within two months, according to the Hong Kong stock exchange filing.
Investors are on tenterhooks as they wait to see if Evergrande, which failed to pay coupons totalling $82.5 million due on Nov. 6, can meet its obligations before the 30-day grace period expires on Dec 6.
Other Chinese property developers are also stepping up financing efforts via share sales as liquidity in the offshore bond market dries up due to fears over any contagion from Evergrande's troubles.
Country Garden Services Holdings, the property services unit of developer Country Gardens, is selling 150 million new shares, representing 4.5% of the enlarged capital, to raise $1.03 billion, according to a term sheet seen by Reuters on Thursday.
The selling price is HK$53.35 ($6.85) each, a 9.5% discount to the last traded price of HK$58.95 on Wednesday. Country Garden Services said it will use the proceeds for future acquisition opportunities and new business development.
The company's shares were suspended from trading on Thursday, while those of parent Country Garden dropped 3.2%.
Smaller rival Agile Group also said on Thursday it sold convertible bonds worth HK$2.4 billion based on the initial exchange price of HK$27.48 per share of its property management unit A-Living Smart City Services.
When fully converted, the bonds will represent 6.2% of A-Living's issued share capital. Shares of A-Living tumbled 8.3% to HK$21 on Thursday.
Agile said the fund raising is beneficial to the company considering the recent market conditions. The company said it has remitted funds to repay its $190 million senior notes due Thursday.
Early this week, Sunac China, among the top four developers in the country, said it raised a total of $949.70 million by issuing new shares and selling a stake in Sunac Services.
On top of the debt market pressures, Chinese property developers are also facing stiff challenges from an array of unprecedented policy tightening steps by Beijing to curb speculative buying.
China Vanke told its staff on Tuesday they need to raise their "crisis awareness" and cut unnecessary spending akin to being in "war time", according to a person with direct knowledge.
Last week, Evergrande once again averted a destabilising default with a last-minute bond payment but the reprieve did little to alleviate strains in the country's wider property sector from a liquidity crunch.
Evergrande has new coupon payments totalling more than $255 million due on Dec. 28. It has come under pressure from its other creditors at home and a stifling funding squeeze has cast a shadow over hundreds of its residential projects.
Chinese authorities have urged Evergrande Chairman Hui Ka Yan, 63, to use some of his personal wealth to help pay bondholders, two people with knowledge of the matter told Reuters last month.
Its founder is now freeing up funds from luxury assets including art, calligraphy and three high-end homes, according to filings and a person with knowledge of the matter.
Construction company Shanghai Trendzone Holdings said on Wednesday it is suing Evergrande and its units for missing payments worth $38.3 million.
($1 = 7.7889 Hong Kong dollars)
Oil Prices Fall amid Protests in China
Oil prices fell on Monday amid a general decline in investor appetite for risk amid information about the ongoing protests in China against vested restrictions.
The cost of January futures on Brent crude oil on London's ICE Futures exchange was $81.31 per barrel on Monday, down $2.32 (2.77%) from the close of the previous session. At the close of trading on Friday, those contracts fell $1.71 per barrel to $83.63.
Oil prices decline – what's going on in the market?
The price of WTI futures for January crude fell by $2.31 (3.03%) to $73.97 per barrel in electronic trading on the New York Mercantile Exchange (NYMEX). By closing of previous trades, the cost of these contracts decreased by $1.66 (2.1%) to $76.28 per barrel. Brent and WTI gained 4.6% and 4.8%, respectively, last week.
According to Bloomberg, protests were held in cities across the country, including the capital Beijing, as well as Shanghai, Xinjiang, and Wuhan, which was originally the epicenter of the COVID-19 spread.
That contributes to a stronger U.S. dollar, which reduces the attractiveness of investments in crude, and also raises the possibility of even more significant tightening of restrictions by Chinese authorities, the agency said.
"The outlook for the oil market remains unfavorable and the events of this weekend in China do not add to the positive," notes Warren Patterson, who is in charge of commodities strategy at ING Groep NV in Singapore.
According to the forecast of analytical company Kpler, oil demand in China in the fourth quarter will decrease to 15.11 million barrels per day (bpd) compared to 15.82 million bpd a year earlier.
Earlier we reported that Russia will ban the sale of its oil to countries that have imposed a price ceiling.
Oil Russia ban news: Russia will ban the sale of its oil to countries that have imposed a price ceiling
Will Russia sell oil to Europe? The administration of President Vladimir Putin is preparing an order prohibiting Russian companies and any trader from buying Russian oil to sell raw materials to countries and companies that have imposed a price ceiling on Moscow. Bloomberg news agency wrote this, citing a report from sources.
"The Kremlin is preparing a presidential decree banning Russian companies and any traders buying national oil from selling it to anyone who participates in the price ceiling," the publication wrote.
According to the newspaper's interlocutors, this would prohibit any mention of the price ceiling in contracts for Russian crude, as well as transferring it to countries that have joined the price ceiling for the natural resource.
In the first half of September, the press service of the US Treasury Department said that the USA, together with its allies from G7 (Great Britain, Germany, Italy, Canada, France and Japan) and the European Union (EU) would impose a ban on marine transportation of Russian oil on December 5 and oil products – on February 5.
Earlier we reported that EU negotiations on limiting the prices of Russian oil reached a deadlock today.
EU talks on restrictions on Russian crude oil prices today stalled
Negotiations between the European Union countries about the "ceiling" of Russian crude oil prices today reached an impasse; Bloomberg reported, according to its sources.
Representatives of the bloc cannot reach an agreement on the ceiling price of Russian oil. According to the agency, the proposed European Commission limit of $65-70 per barrel, Poland and the Baltic countries believe "too generous," while Greece and Malta, which is actively engaged in transporting fuel, do not want the limit to fall below $ 70. Recall that the Russian response to the oil price cap was negative. The Russian government has officially said that it will only sell oil at market prices.
"We are looking for ways to make this solution work and we are trying to find a common ground to implement it in a perfectly pragmatic and efficient way, while avoiding that it may cause excessive inconvenience to the European Union," said German Chancellor Olaf Scholz.
Earlier, we reported that the SEC fined Goldman Sachs $4 million for non-compliance with ESG fund principles.