China walks a tightrope on property clampdown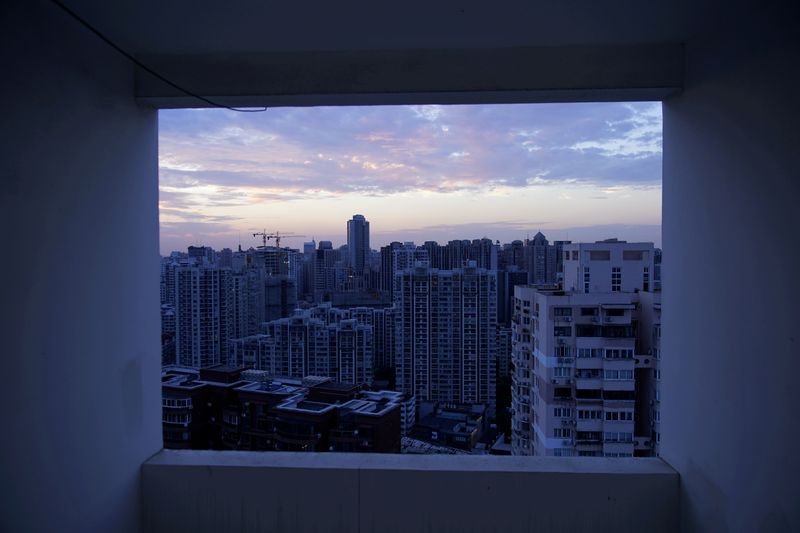 © Reuters. FILE PHOTO: Buildings of residential compounds are seen in Shanghai, China August 11, 2020. REUTERS/Aly Song/File Photo
By Gabriel Crossley
BEIJING (Reuters) – China's property sector, a major driver of economic growth, has weakened sharply this year as Beijing cracks down on speculators and indebted developers in a broad push to ease financial risks, with prices of new homes down for the first time in six years.
In the near term, many analysts expect authorities will try to stabilise the sector, which accounts for a quarter of gross domestic product by some measures, although there is uncertainty over which policy levers Beijing would pull.
Authorities would have to address and navigate challenges on multiple fronts: debt risks, cost-of-living pressures, worried homeowners, and the need to boost economic growth.
DEBT RISKS
Concerns over growing financial risks are a primary driver of the crackdown.
China's property sector is heavily reliant on credit. As of the end of the second quarter, Chinese developers owed 33.5 trillion yuan ($5 trillion), or a third of the country's GDP, according to Nomura.
Since authorities last year unveiled the "three red lines" – a significant policy plank aimed at limiting developers' liabilities-to-assets, net debt-to-equity, and cash-to-short term borrowing ratios – many companies have grown desperately short of cash.
GRAPHIC: Cost of housing in China's big cities far outstrips incomes https://graphics.reuters.com/CHINA-ECONOMY/xmpjoldbdvr/chart.png
A string of missed offshore debt payments and sell-offs in shares and bonds followed, with China Evergrande Holdings, the world's most indebted developer, repeatedly lurching to the brink of default.
Bankers and analysts say that Beijing is unlikely to relax the "three red lines" policy any time soon.
COST OF LIVING
Authorities have also slapped lending restrictions on mortgages to deter speculative home buying.
China's major cities have some of the highest-priced real estate in the world compared to average local earnings.
It would take decades of savings to afford an apartment in Beijing, Shanghai or Shenzhen for someone with a standard salary in those cities.
GRAPHIC: China tier one city house prices https://fingfx.thomsonreuters.com/gfx/ce/jnpwexrybpw/ChinaTier1CitiesPriceOct2021.png
Many who work in these megacities must eventually return to their home towns or move to cheaper inland cities. Cost-of-living pressures have led some young people to embrace a passive lifestyle known as "lying down."
President Xi Jinping has pledged to reduce inequality and ensure that housing is for living in, not speculation.
GRAPHIC: China's households put their wealth in real estate https://graphics.reuters.com/CHINA-ECONOMY/akpezmyglvr/chart.png
Prices of new homes dropped 0.2% on average last month from September, according to Reuters calculations, the first decline since 2015.
HOMEOWNER INTERESTS
On the whole, the interests of millions of concerned homeowners are likely to act as an important brake on government policy to excessively cool the sector, say analysts.
Some two-thirds of the wealth of China's 1.4 billion people is tied up in residential property. Over 90% of urban households own homes, one of the highest rates in the world.
Buying is fuelled by expectations that the government will ensure sustained growth in the sector, as well as by strong social pressures to purchase a house before marriage.
GRAPHIC: China's real estate sector has global weight https://graphics.reuters.com/CHINA-PROPERTY/znpnekqkgvl/chart.png
Worries that a too-rapid slowdown could spark a market freefall and social unrest will weigh heavily on China's stability-obsessed government as it tries to balance the risks and rewards of pushing through reforms.
GROWTH WORRIES
Concerns over growth could also limit regulators.
Property and related industries account for about a quarter of China's GDP, analysts estimate, and drive demand for mountains of steel, cement and other materials.
GDP growth is already slowing sharply this year, with the pace easing off to just 4.9% in the third quarter from a blistering 18.3% in the first.
GRAPHIC: China GDP by sector https://fingfx.thomsonreuters.com/gfx/ce/zgvomklbyvd/ChinaGDPbyProductionType.png
A further significant economic downturn could have ramifications across the world.
If China's current property slump follows the pattern of the last one in 2014-2015, global GDP growth could be dragged 0.7 percentage points lower in the last quarter of 2022, with metal and iron ore prices plummeting, according to a report by analysts at Oxford Economics.
A more severe deterioration could have China's GDP growth bottoming out at 1.0% in the first three months of 2023, and global growth taking a substantial hit.
"The worst hit countries would be those for whom exports to China are particularly important and commodity exporters," said the Oxford analysts.
Oil Prices Fall amid Protests in China
Oil prices fell on Monday amid a general decline in investor appetite for risk amid information about the ongoing protests in China against vested restrictions.
The cost of January futures on Brent crude oil on London's ICE Futures exchange was $81.31 per barrel on Monday, down $2.32 (2.77%) from the close of the previous session. At the close of trading on Friday, those contracts fell $1.71 per barrel to $83.63.
Oil prices decline – what's going on in the market?
The price of WTI futures for January crude fell by $2.31 (3.03%) to $73.97 per barrel in electronic trading on the New York Mercantile Exchange (NYMEX). By closing of previous trades, the cost of these contracts decreased by $1.66 (2.1%) to $76.28 per barrel. Brent and WTI gained 4.6% and 4.8%, respectively, last week.
According to Bloomberg, protests were held in cities across the country, including the capital Beijing, as well as Shanghai, Xinjiang, and Wuhan, which was originally the epicenter of the COVID-19 spread.
That contributes to a stronger U.S. dollar, which reduces the attractiveness of investments in crude, and also raises the possibility of even more significant tightening of restrictions by Chinese authorities, the agency said.
"The outlook for the oil market remains unfavorable and the events of this weekend in China do not add to the positive," notes Warren Patterson, who is in charge of commodities strategy at ING Groep NV in Singapore.
According to the forecast of analytical company Kpler, oil demand in China in the fourth quarter will decrease to 15.11 million barrels per day (bpd) compared to 15.82 million bpd a year earlier.
Earlier we reported that Russia will ban the sale of its oil to countries that have imposed a price ceiling.
Oil Russia ban news: Russia will ban the sale of its oil to countries that have imposed a price ceiling
Will Russia sell oil to Europe? The administration of President Vladimir Putin is preparing an order prohibiting Russian companies and any trader from buying Russian oil to sell raw materials to countries and companies that have imposed a price ceiling on Moscow. Bloomberg news agency wrote this, citing a report from sources.
"The Kremlin is preparing a presidential decree banning Russian companies and any traders buying national oil from selling it to anyone who participates in the price ceiling," the publication wrote.
According to the newspaper's interlocutors, this would prohibit any mention of the price ceiling in contracts for Russian crude, as well as transferring it to countries that have joined the price ceiling for the natural resource.
In the first half of September, the press service of the US Treasury Department said that the USA, together with its allies from G7 (Great Britain, Germany, Italy, Canada, France and Japan) and the European Union (EU) would impose a ban on marine transportation of Russian oil on December 5 and oil products – on February 5.
Earlier we reported that EU negotiations on limiting the prices of Russian oil reached a deadlock today.
EU talks on restrictions on Russian crude oil prices today stalled
Negotiations between the European Union countries about the "ceiling" of Russian crude oil prices today reached an impasse; Bloomberg reported, according to its sources.
Representatives of the bloc cannot reach an agreement on the ceiling price of Russian oil. According to the agency, the proposed European Commission limit of $65-70 per barrel, Poland and the Baltic countries believe "too generous," while Greece and Malta, which is actively engaged in transporting fuel, do not want the limit to fall below $ 70. Recall that the Russian response to the oil price cap was negative. The Russian government has officially said that it will only sell oil at market prices.
"We are looking for ways to make this solution work and we are trying to find a common ground to implement it in a perfectly pragmatic and efficient way, while avoiding that it may cause excessive inconvenience to the European Union," said German Chancellor Olaf Scholz.
Earlier, we reported that the SEC fined Goldman Sachs $4 million for non-compliance with ESG fund principles.