China's offshore listing rules seen easing market uncertainty
2/2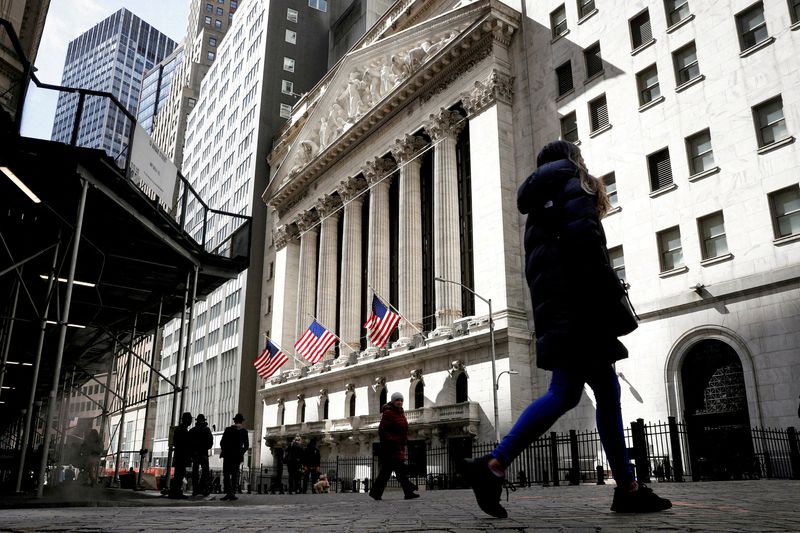 © Reuters. FILE PHOTO: People are seen on Wall Street outside the New York Stock Exchange (NYSE) in New York City, U.S., March 19, 2021. REUTERS/Brendan McDermid/File Photo
2/2
By Kane Wu and Julie Zhu
HONG KONG (Reuters) – China's plan to tighten scrutiny over mainland companies' overseas share sales is likely to ease the regulatory uncertainty that roiled financial markets this year and stalled offshore listings, bankers and analysts said.
But the securities regulator's new filing-based system, designed to rein in once freewheeling Chinese listings in the U.S. market and elsewhere, leaves open questions about rule enforcement and compliance criteria, they added.
"The new rules represent a comprehensive, systemic and market-oriented regulatory upgrade," investment bank China International Capital Corp (CICC) said in a note, but added they contain "some items that need further observation, and clarification".
The China Securities and Regulatory Commission published draft rules https://www.reuters.com/markets/europe/china-securities-regulator-says-vie-compliant-companies-can-list-overseas-2021-12-24 late on Friday requiring filings by companies seeking offshore listings under a framework to ensure they comply with Chinese laws and regulations.
Companies using a so-called variable interest entity (VIE) structure will still be allowed to seek offshore listings as long as they are compliant, removing uncertainty for investors who feared China would block such listings.
That risk loomed large after Didi Global Inc's U.S. listing in July sparked a major regulatory backlash from Chinese officials, who were concerned over national security.
The VIE structure has been used by most overseas-listed Chinese tech companies, such as Alibaba (NYSE:) and JD (NASDAQ:).com, to skirt Chinese restrictions on foreign investment in certain sectors.
Uncertainty over the future of VIE structures, coupled with China's regulatory crackdowns in major sectors such as e-commerce and tutoring, has bashed shares in offshore-listed Chinese companies this year.
And while Chinese firms raised $12.8 billion in the United States this year, the value of deals ground to a halt after Didi's July listing. In Hong Kong, the value of IPOs in 2021 fell to $26.7 billion from the previous year's $32.1 billion, according to Refinitiv data.
REGULATORY COORDINATION
Reaction to the new rules will be seen Monday when the U.S stock market resumes trade after closing on Friday for the Christmas holiday. Hong Kong stocks will resume trading on Tuesday.
The planned filing-based system is also expected to ease uncertainty by calling for closer coordination between the securities regulator and various industry regulators, such as the cyberspace watchdog.
"The issuance of the draft rules shows that major communication obstacles have been removed between different regulatory bodies," said Ming Jin, managing partner at Chinese boutique investment bank Cygnus Equity.
But it remains unclear how the rules would be enforced and compliance determined, especially when a VIE structure is used to circumvent foreign investment restrictions, the CICC note said.
The investment bank added that even if a company plans a Hong Kong listing, which would pose no risk to national security, "we still suggest the issuer voluntarily contact the Cyber Administration of China () for its nod" before going to the securities regulator.
The new rules cover all types of offshore share sales, including initial public offerings, secondary listings, backdoor listings, and flotation via Special Purpose Acquisition Companies (SPACs).
Winston Ma, adjunct professor at NYU Law School, stressed that cross-border data security had become critical in the global digital economy and was a main driver for the latest move.
"As such, under the proposed new rule, cybersecurity review must be completed before the (security regulator's) clearance process," Ma said.
Public consultation on the draft rules will remain open until Jan. 23.
Sri Lanka central bank holds rates; reiterates need for political stability
© Reuters. FILE PHOTO: People walk past the main entrance of the Sri Lanka's Central Bank in Colombo, Sri Lanka March 24, 2017. REUTERS/Dinuka Liyanawatte
By Uditha Jayasinghe and Swati Bhat
COLOMBO (Reuters) -Sri Lanka's central bank held its key interest rates steady on Thursday following a massive 700 basis points increase at its previous meeting and reiterated the need for more fiscal measures and political stability in the crisis-hit economy.
The Standing Lending Facility rate remained unchanged at 14.50% while the Standing Deposit Facility Rate was steady at 13.50%.
"It is envisaged that the recent tightening of monetary conditions and the strengthening of monetary policy communication will help anchor inflation expectations of the public in the period ahead," the bank said in a statement https://www.cbsl.gov.lk/sites/default/files/cbslweb_documents/press/pr/press_20220519_Monetary_Policy_Review_No_4_2022_e.pdf.
The measures taken so far, "would continue to be further transmitted to the financial markets, while some signs of tighter monetary policy already being observed in real economic activity," it added.
The CSE All Share index was trading down 0.9% at 0530 GMT, after earlier falling as much as 1.4%. There were no trades in the rupee. Traders said they were awaiting comments from the central bank governor at a post policy media briefing.
The central bank said inflation will remain elevated in the near term due to supply-side pressures while economic growth will also record a setback.
The nation of 22 million people is battling a devastating economic crisis as tax cuts by President Gotabaya Rajapaksa drained government coffers, COVID-19 hit the lucrative tourism industry and rising oil prices emptied foreign exchange reserves.
Foreign reserves have plunged to almost zero, leaving Colombo struggling to pay for such essentials as fuel, medicines and food.
"In terms of credibility of policy…keeping rates unchanged is not good in my view," said Thilina Panduwawala, head of economic research at Frontier Research.
"But from an operational angle, given how tough the rates adjustment is for corporates and financial institutions is after a such large hike in April, I assume they saw fit to give the system time to adjust amidst the political uncertainty".
Inflation hit 29.8% in April with food prices expanding by 46.6% year-on-year in the island nation.
The policy measures implemented by the central bank need to be reinforced by adequate and timely policy adjustments by the government, the bank said.
"Urgent measures are required to restore greater political stability through consensus governance and social harmony," it wrote.
Central bank Governor P. Nandalal Weerasinghe told reporters earlier this month that without a political solution to the current crisis, the bank's steps to revive the economy would not be successful and he would resign unless there was stability in two weeks.
Investors jolted as U.S. retailers show inflation hitting consumers
© Reuters. FILE PHOTO: Shoppers are seen wearing masks while shopping at a Walmart store, in North Brunswick, New Jersey, U.S. July 20, 2020. REUTERS/Eduardo Munoz/File Photo
By Sinéad Carew
NEW YORK (Reuters) – The evidence of red-hot inflation seeping into the economy is sending a chill through investors after major U.S. retailers showed people are cutting back on buying bigger ticket items as they just try and get by.
Investors wiped almost 25% off Target (NYSE:TGT) shares on Wednesday after its profit halved as it had to discount bigger items, and Walmart (NYSE:WMT) has dropped more than 17% since it reported weak results early on Tuesday.
Target's earnings showed consumers spending more on food and household essentials instead of high-margin discretionary items while Walmart showed shoppers moved to buy lower-margin basics.
Investors will on Thursday be focused on earnings due from Kohl's (NYSE:KSS), which fell 11% on Wednesday and BJ's Wholesale Club, which fell 16%.
The turmoil came a day after Federal Reserve Chair Jerome Powell pledged the U.S. central bank would ratchet interest rates as high as needed to kill a surge in inflation.
"Retailers are starting to reveal the impact of eroding consumer purchasing power," said Paul Christopher, head of global market strategy at Wells Fargo (NYSE:WFC) Investment Institute, on the same day his firm forecast a mild recession around year-end into early 2023.
"The consumer's ability to spend is eroding at a faster pace than it was a month or two ago. We think that pace is going to accelerate further," he said.
Wednesday's sell-off saw the S&P 500 close down 4% on the day, 17.7% for the year-to-date and down 18.2% from its Jan. 3 record close. [.N]
The benchmark index's consumer discretionary index lost 6.6% for its deepest one-day sell-off since March 2020 and is off 30.8% so far for 2022, putting it on track for its weakest year since 2008.
Cantor Fitzgerald said it was unwinding its expectation for a short-term bounce in equities and that if there is a lift, it would likely be shallow and "not worth playing."
"The (Wal-Mart/Target) numbers are very concerning as they show the consumer is reducing discretionary purchases while company margins return to pre-pandemic levels," said Eric Johnston, head of equity derivatives and cross asset at Cantor Fitzgerald.
While investors have been worried for some time about inflation, the latest results pile on worries about the impact of inflation on the consumer, said Ryan Detrick, chief market strategist at LPL Financial (NASDAQ:LPLA).
However, the sell-off came the day after data showing U.S. retail sales rose strongly in April as consumers bought more motor vehicles amid supply improvements along with increased spending at restaurants despite high inflation, souring consumer sentiment and rising interest rates.
Cliff Hodge, chief investment officer at Cornerstone Wealth said the narrative was "shifting from inflation scare to recession scare."
Chuck Carlson, chief executive officer at Horizon Investment Services said retailer results appeared to be potentially "one more indication of perhaps a slowdown in the economy."
"I just wonder if people are starting to really get pinched by fuel costs – both businesses as well as consumers … When you are paying north of $5 for a gallon of gas, that's a hammer and that's a hammer on everybody," Carlson said.
Aussie jumps, safe-haven dollar and yen ease amid Shanghai reopening signs
2/2
© Reuters. FILE PHOTO: U.S. one dollar banknotes are seen in this illustration taken February 8, 2021. REUTERS/Dado Ruvic/Illustration//File Photo
2/2
By Kevin Buckland
TOKYO (Reuters) – The safe-haven dollar and yen eased on Thursday while the Australian and New Zealand dollars jumped amid signs of an easing in Shanghai's coronavirus lockdown, although sentiment remained fragile as global equities sold off.
Shanghai will allow more businesses in some areas to resume normal operations from the start of June, an official said, stirring hopes for an end to a crippling weeks-long lockdown under the government's strict zero-COVID policy.
That helped lift the mood in a market that was badly bruised on Wednesday by mounting concerns that aggressive tightening by the Federal Reserve and other global central banks could choke growth.
The Aussie gained 0.8% to $0.7008, just above the psychologically important 70 cent level, getting additional support from a tick down in Australian unemployment to the lowest in almost half a century. Overnight, the currency had retreated 1.1% from a high of $0.7046.
New Zealand's kiwi bounced 0.6% to $0.6334, after losing 1.1% overnight from a top of $0.6370.
Preeminent haven currency the yen slid, with the dollar adding 0.48% to 128.845 yen after a 0.86% tumble on Wednesday.
The dollar index, which tracks the greenback against six major peers, edged 0.16% lower to 103.63, after a 0.55% jump overnight that ended a three-day losing streak.
Despite the moves in foreign exchange markets, a 1.9% slide in Asian stocks was evidence that risk aversion was still front of mind, a day after a 4% drop for the S&P 500 and a 5% plunge for the Nasdaq, said Ray Attrill, head of currency strategy at National Australia Bank (OTC:NABZY).
"Zero-COVID is here to stay, so to me the China outlook is no less grim today than it was yesterday," he said.
"The macro backdrop that is supporting the dollar, either on relative interest rate grounds or on risk aversion, one or other of those forces is going to remain in play for the time being, so I don't see a meaningful decline from these levels" in the dollar index, he said.
Poor U.S. housing data on Wednesday added to slowdown concerns, and Fed Chair Jerome Powell had ratcheted up the hawkish rhetoric the previous day by saying the U.S. monetary authority would push interest rates as high as needed to stem a surge in inflation that he said threatened the foundation of the economy.
Powell's stance "makes it hard to achieve a 'soft landing' for the U.S. economy given the long lags between changes in monetary policy and changes in inflation," Joseph Capurso, a currency strategist at Commonwealth Bank of Australia (OTC:CMWAY) in Sydney, wrote in a client note. "The darkening outlook for the U.S. economy supports the USD and safe-haven currencies."
The euro rebounded 0.38% to $1.0501 after Wednesday's 0.84% slump.
Sterling got some respite with a 0.37% gain to $1.23905, after dropping 1.2% overnight as a surge in U.K. inflation to a 40-year record fostered worries for a sharp economic slowdown.