COVID comeback threatens fresh setback for European market bulls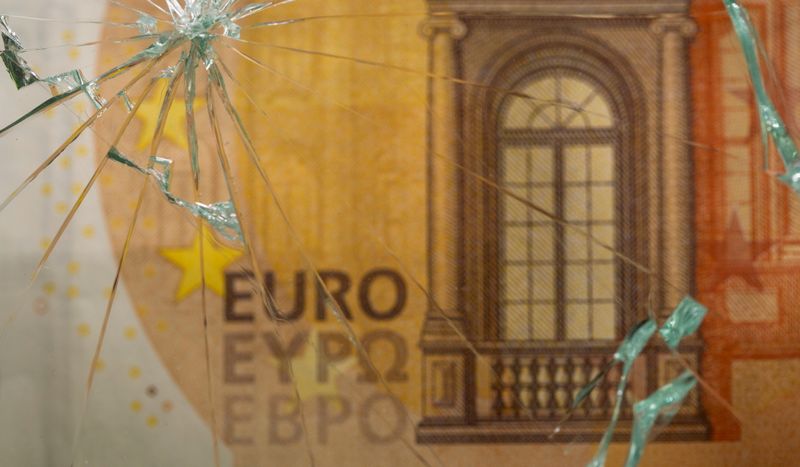 © Reuters. FILE PHOTO: Euro banknote is seen through broken glass in this illustration taken June 25, 2021. REUTERS/Dado Ruvic/Illustration/File Photo
By Julien Ponthus and Yoruk Bahceli
LONDON (Reuters) – COVID-19 lockdowns have returned anew to haunt Europe's economic prospects, forcing investors on Friday to reassess portfolios and sell vulnerable assets such as the euro and bank stocks.
Days after the Netherlands, Hungary, Slovakia and the Czech Republic reimposed curbs, Austria put itself back under lockdown and Germany's health minister refused to rule out one.
Markets were little soothed by Germany's foreign minister ruling out a lockdown and mandatory vaccinations for all to tabloid Bild.
The developments upended the buoyant mood in European equity markets where French and German shares had hit a string of record highs, thanks to a strong earnings recovery.
A pan-European equity index, up 80% from March 2020, slipped half a percent on Friday.
"One thing is certain, if the whole of Europe had to go under lockdown once more, and depending on how long that would last, we would need to rethink our growth scenarios," said Stephane Ekolo, a global equity strategist at the brokerage Tradition.
As markets started scaling back wagers on euro zone interest rate rises for next year, an index of European banks plunged 2.5%, its biggest daily drop since late September.
The question now is to what extent lockdowns might hammer expectations for fourth-quarter earnings. Refinitiv I/B/E/S currently flags a 51% rise for the benchmark, only marginally below 60% in Q3.
It still compares favourably with predictions of a 21% earnings growth for companies.
But some ominous signs had emerged for Europe even before the latest COVID resurgence. European data lags U.S. equivalents by the biggest margin in over a year, according to economic surprise indexes compiled by Citi.
Hospitality turnover was also weakening, Oxford Economics pointed out, noting Germany's 3.5% drop in September.
"Markets have been aware for a few weeks now that this winter will be difficult and that the vaccination rollout doesn't reduce lockdown risk by 100%," said Emmanuel Cau, head of European equity strategy at Barclays (LON:).
The setback, if it deepens, will prove painful to many. BofA's widely followed monthly investor survey showed funds most bullish on euro zone equities, with a 33% "overweight" and EU banks especially in favour.
Cau says it is too early to see the lockdowns as a gamechanger and that investors are booking profits off recent sizzling rallies. And deeply negative inflation-adjusted bond yields probably means that the tsunami of cash chasing global stocks will not ebb entirely.
And there will be winners: healthcare stocks rose 1% on Friday, while the technology sector gained 0.6%.
BUND BOOST
Investors made a beeline for bonds, turning Germany's entire yield curve negative for the first time since August as 30-year government borrowing costs fell below 0%.
Ten-year yields, the euro area benchmark, dropped as much as 6 basis points to the lowest since mid-September at -0.342%.
The euro tumbled to more than six-year lows versus the Swiss franc and approached 16-month troughs against the greenback.
"It's just building, that story of the pandemic not being quite over in Europe and that's a knee-jerk flight to quality," said Peter McCallum, rates strategist at Mizuho.
"The more that becomes a theme and we get the market thinking about a dovish ECB….we've got some room to fill the (10-year Bund yield) gap down to -0.45%," he added.
Some market watchers are starting to look beyond Europe.
Deutsche Bank (DE:) noted that on the cusp of winter, vaccination rates in Austria and Germany at 64% and 69% were well above the U.S. 58% level.
"Although all the headlines are in Europe at the moment, will the United States be more vulnerable than many European countries over the course of the full winter?" the bank wrote.
Oil Russia ban news: Russia will ban the sale of its oil to countries that have imposed a price ceiling
Will Russia sell oil to Europe? The administration of President Vladimir Putin is preparing an order prohibiting Russian companies and any trader from buying Russian oil to sell raw materials to countries and companies that have imposed a price ceiling on Moscow. Bloomberg news agency wrote this, citing a report from sources.
"The Kremlin is preparing a presidential decree banning Russian companies and any traders buying national oil from selling it to anyone who participates in the price ceiling," the publication wrote.
According to the newspaper's interlocutors, this would prohibit any mention of the price ceiling in contracts for Russian crude, as well as transferring it to countries that have joined the price ceiling for the natural resource.
In the first half of September, the press service of the US Treasury Department said that the USA, together with its allies from G7 (Great Britain, Germany, Italy, Canada, France and Japan) and the European Union (EU) would impose a ban on marine transportation of Russian oil on December 5 and oil products – on February 5.
Earlier we reported that EU negotiations on limiting the prices of Russian oil reached a deadlock today.
EU talks on restrictions on Russian crude oil prices today stalled
Negotiations between the European Union countries about the "ceiling" of Russian crude oil prices today reached an impasse; Bloomberg reported, according to its sources.
Representatives of the bloc cannot reach an agreement on the ceiling price of Russian oil. According to the agency, the proposed European Commission limit of $65-70 per barrel, Poland and the Baltic countries believe "too generous," while Greece and Malta, which is actively engaged in transporting fuel, do not want the limit to fall below $ 70. Recall that the Russian response to the oil price cap was negative. The Russian government has officially said that it will only sell oil at market prices.
"We are looking for ways to make this solution work and we are trying to find a common ground to implement it in a perfectly pragmatic and efficient way, while avoiding that it may cause excessive inconvenience to the European Union," said German Chancellor Olaf Scholz.
Earlier, we reported that the SEC fined Goldman Sachs $4 million for non-compliance with ESG fund principles.
More than 50% of Germans said they had given up shopping for new clothes and electronics. Is Germany's economy failing?
Die Welt newspaper cited a survey by the consulting company EY and said that about 56% of Germans who took part in the survey said that they had practically refused to buy new clothes.
Also, 56% of German consumers reported that they now refrain from buying televisions, smartphones, laptops and game consoles. Also, nearly one in two now uses less gasoline, and one in four said they are saving on medications.
What caused the economic crisis in Germany? The main reason is the war in Ukraine and the resulting sanctions by the EU. Also, every second respondent reported that at the moment he could buy only the essentials. According to EY analysts, German households plan to further reduce spending in the coming months. In particular, they plan to save money on food delivery and entertainment.
Earlier, we reported that prices for liquefied natural gas in Asia reached their highest since October.