Currencies wait for RBA to kick off big central bank week
By Tom Westbrook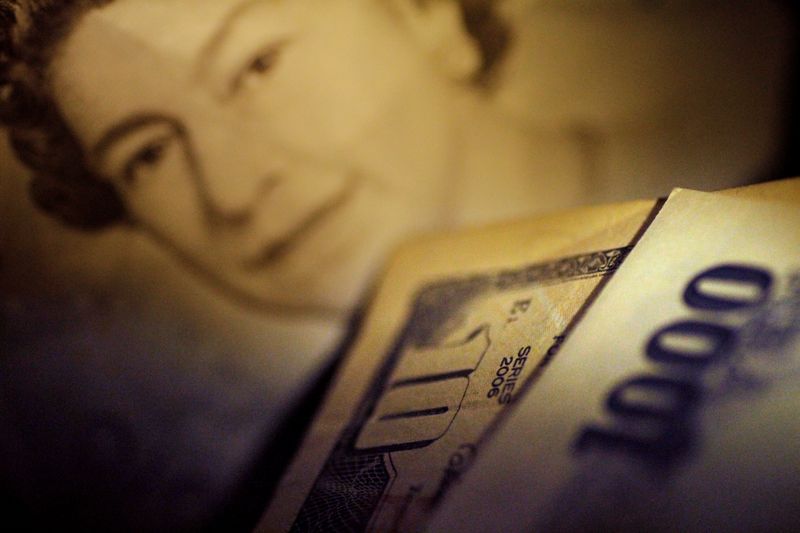 © Reuters. FILE PHOTO: A Japan Yen note in front of U.S. Dollar and British Pound Sterling notes are seen in this June 22, 2017 illustration photo. REUTERS/Thomas White/Illustration
By Tom Westbrook
SINGAPORE (Reuters) – The dollar hovered below recent highs on Tuesday as traders waited for the Reserve Bank of Australia to lead a handful of central bank meetings set to define the rates outlook this week.
The RBA, Federal Reserve and Bank of England all meet with surging inflation looming over financial markets.
Australia issues its policy decision at 0330 GMT and some sort of guidance change is expected after the bank failed to defend its yield target as bonds sold off over recent sessions.
The Fed also begins a two-day meeting later on Tuesday, where it is expected to announce tapering of its asset purchases, and the BOE meets on Thursday with markets all but pricing in a small rate hike.
Moves were slight in morning trade, with the yen a fraction weaker at 114.11 per dollar and the greenback nursing a small overnight loss on the euro, following softer-than-expected U.S. manufacturing data.
The euro last bought $1.1599. The , which had been steady through a week or so of wild selling in the domestic bond market, held at $0.7521, though volatility gauges point to a bumpy week.
"The RBA meeting is widely considered 'live' after the RBA failed to defend its 0.1% April 24 bond yield target in the wake of stronger than expected inflation data last week," said Commonwealth Bank of Australia (OTC:) analyst Kim Mundy. 
"We expect the RBA will abandon the 0.1% target while also changing its forward guidance on the timing of the first hike in the cash rate from 2024," she said. "In our view, AUD can fall if the RBA is not as hawkish as market pricing, but may find support around the technical level of $0.7379."
Analysts said the could track moves in its Australian counterpart, while the broader market may also be sensitive to the bank's tone in addressing inflation as its U.S. and UK peers face similar dilemmas.
The kiwi was marginally softer at $0.7177 in morning trade. Sterling was also on the back foot at $1.3656, but moves were small ahead of the Fed and the BOE.
"The elephant in the room is headline and underlying inflation, which are higher than the (Fed) was anticipating," said Standard Chartered (OTC:)'s head of G10 FX, Steve Englander.
"We expect the (Federal Open Market Committee) to state that the Fed is ready to act decisively if inflation is not moving towards target levels when tapering ends, but it still expects inflation to fall as supply constraints ease. We think investors will see this as advancing the likely timing of Fed rate hikes," he said.
"We expect FX markets to react to the implied Fed threat of rates moving off zero but discount inflation optimism. This adds up to a dollar-positive combination of higher real rates and increased risk-off positions."
Trader positioning also points to bets on higher rates, with speculators crowding in to short the yen.
"That's a bet that interest rate trends will continue to move against the yen as they rise elsewhere, particularly in the U.S," said Societe Generale (OTC:) strategist Kit Juckes.
"In other words, there's a majority that thinks the bond sell-off isn't over yet. It's also, to a smaller extent, a bet that risk sentiment will survive the experience."
========================================================
Currency bid prices at 0018 GMT
Description RIC Last U.S. Close Pct Change YTD Pct High Bid Low Bid
Previous Change
Session
Euro/Dollar
$1.1598 $1.1607 -0.07% -5.07% +1.1607 +1.1599
Dollar/Yen
114.0150 113.9900 +0.05% +10.42% +114.1250 +114.0500
Euro/Yen
132.23 132.29 -0.05% +4.18% +132.3900 +132.2500
Dollar/Swiss
0.9095 0.9092 +0.03% +2.80% +0.9096 +0.9093
Sterling/Dollar
1.3650 1.3662 -0.08% -0.08% +1.3669 +1.3652
Dollar/Canadian
1.2375 1.2373 +0.00% -2.83% +1.2376 +1.2365
Aussie/Dollar
0.7520 0.7520 +0.02% -2.22% +0.7524 +0.7515
NZ
Dollar/Dollar 0.7176 0.7186 -0.13% -0.06% +0.7185 +0.7177
All spots
Tokyo spots
Europe spots
Volatilities
Tokyo Forex market info from BOJ
World food prices chart: World food prices have plummeted
Why are worldwide food prices rising? First, because of the current world situation. But world food prices fell sharply in July, with prices of major grains and vegetable oils dropping more than 10% in a month. 
World food prices chart
The Food Price Index was 140.9 points in July, down 8.6% from June. The drop in the index value continues for the fourth consecutive month after it reached an all-time high at the beginning of the year. Compared to July 2021, the index is up 13.1%. 
Despite the decline in high food prices, there are still many uncertainties around the world, such as high fertilizer prices, exchange rate volatility and weak global economic forecasts.
Vegetable Oil Price Index fell 19.2% in July from a month earlier, reaching its lowest level in a decade. Global cereal prices fell 11.5% for the month, still 16.6% higher than last year. Wheat prices fell the most (14.5%). 
World sugar prices over the month decreased by 3.8%; dairy products — by 2.5%, meat — by 0.5% due to weakened import demand for beef, lamb, and pork. At the same time, chicken meat rose in price due to strong demand and lower production volumes related to bird flu outbreaks. 
Are hedge funds bad? Investors are disappointed in hedge funds
Are hedge funds bad? This year is sure to be one of the worst years in hedge fund history. In the first six months of 2022, funds posted losses of 5.6%, according to HFR. In July, though, they rebounded by 0.5%, but nevertheless, writes the Financial Times, the sector is well on its way to its second-lowest year in a third of a century, since 1990, when they started keeping records. The only time the hedge fund market was worse than this was during the financial crisis in 2008.
Are hedge funds losing money? 
Most of the problems are accounted for by so-called long-short-term funds, whose assets total about $1.2 trillion. The results of their activity depend directly on the securities market. In the first half of this year, these funds lost an average of 12%, according to HFR data. This category of funds earned only about 1% in July, according to JPMorgan's John Schlegel calculations, well below the 7% rally in the stock market last month.
Among the hardest hit is the well-known Maverick Capital fund, which has been making double-digit returns to its investors for the past three years but lost 35% in January and June of this year. Similar losses have seen Skye Global, which has pleased investors with high returns over the past six years, but lost 10.4% in June alone. The fund was let down by a large stake in Amazon, which fell 36% in January-June 2022. However, in recent weeks, the retail giant has improved and cut its losses in half, to 19%. 
Already the first signs are starting to emerge that the losses are scaring investors. While they invested a total of $13.92 billion in hedge funds last year, only $440 million in the first quarter. There was a strong outflow of funds in March, and in June it exceeded $10.1 billion, according to Citco's fund administrator. Redemptions are expected to be $7.8 billion in the third quarter and $6.4 billion at the end of the year.
Weak performance in the first half of 2022 and investor dissatisfaction, however, have not affected the sector's confidence in its ability to raise funds. A survey of 100 hedge funds by technology company SigTech found that nearly one-in-four (23%) expect a sharp increase in investor activity in the next two years; 60% of respondents expect a slight increase in activity and only 4% believe investor activity will decline in 2023-24.
Chinese economy 2022: China will give up first place in the list of the largest importers of raw materials
Chinese economy 2022 news: China's commodity-buying companies will be adversely affected by government debt and demographic problems.
Over the next ten years, debt problems and slowing population growth may force China to cede the unofficial title of world's largest buyer of raw materials and minerals to India. 
Chinese economy analysis — the current situation
The structural challenges will make it very difficult for Beijing to accept and implement most of the policy initiatives coming from the center. Apart from the Chinese economy, this trend will have a major negative impact on mining companies around the world, many of which are heavily dependent on demand in China. Incidentally, many such companies are located in Australia.
China will likely be replaced in the next few years by India. If UN statistics are to be believed, India could overtake China regarding population as early as this year. This will have not only psychological, but also "material consequences" for the global market of raw materials and minerals.
China has been much criticized for shifting to mindless spending to combat the economic slowdown. Lowy Institute economist Roland Raja is pessimistic about the growth prospects of the Chinese economy. Even though the Indian economy is only a small part of the Chinese economy, he sees no signs of a slowdown soon. 
China will try to be more aggressive this year in combating the economic slowdown. Beijing will invest very heavily in the extractive industries.
Moyo also believes that Beijing will no longer be able to regain the high growth rates of past years. According to her forecast, China's economic growth will be 4% this year. Recall, the Chinese leadership set a higher target of 5.5%. Incidentally, this is the lowest growth in the Chinese economy for the past three decades. In the second quarter of this year, China's economic growth slowed to 0.4%.