Dollar firms as Fed policy meeting gets underway
By John McCrank
2/2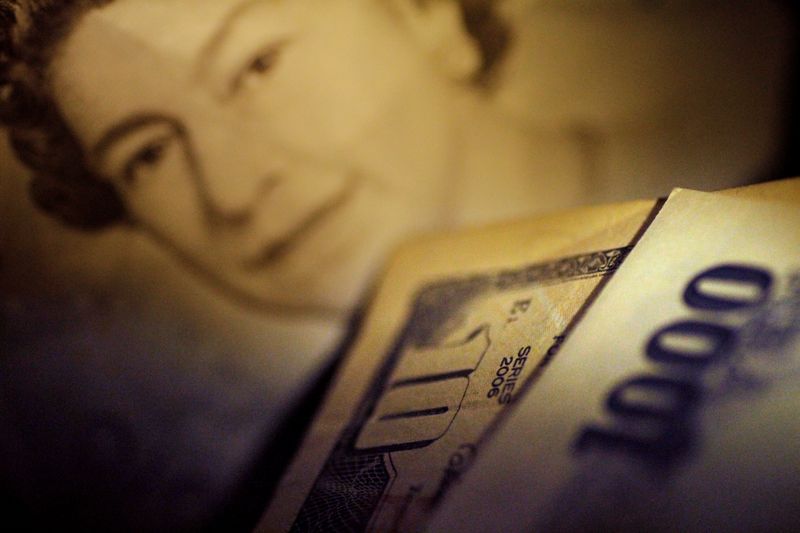 © Reuters. FILE PHOTO: A Japan Yen note in front of U.S. Dollar and British Pound Sterling notes are seen in this June 22, 2017 illustration photo. REUTERS/Thomas White/Illustration
2/2
By John McCrank
NEW YORK (Reuters) -The dollar firmed slightly on Tuesday as the U.S. Federal Reserve kicked off its two-day policy meeting where it was expected to announce it will begin tapering its massive asset purchases put in place at the start of the COVID-19 pandemic.
Investors in recent weeks have priced in a wave of tightening from central banks as they bet policymakers are sufficiently concerned about rising inflation to end pandemic-era levels of easing.
The Reserve Bank of Australia (RBA) on Tuesday sounded a more dovish tone than investors had anticipated, in the first of several central bank meetings this week, sending the to it's biggest one-day loss since Sept. 29.
The Fed will announce its policy decision on Wednesday, and the Bank of England will do so on Thursday.
"The theme of inflation getting out of control and forcing central banks into action is unfolding," said Edward Moya, a senior market analyst at Oanda.
The , which measures the greenback against a basket of peer currencies, was up 0.19% at 94.106.
The market has fully priced in the Fed's expected tapering announcement, and will be looking for any clues as to when the central bank will begin raising rates.
"It's going to be interesting because we'll have to see if we get any pushback from the Fed, given how the market pricing has become a bit aggressive in anticipating multiple rate increases next year," said Joe Manimbo, senior market analyst at Western Union (NYSE:) Business Solutions.
"The rate debate is not all about inflation, it's also about the job market and I think the Fed wants to see the job market really turn the corner before acknowledging that policymakers are considering higher rates," he said.
Australia's central bank did not display the hawkish pivot markets were expecting, sending the Aussie dollar down 1.23% to $0.74265, its weakest since Oct. 19.
The RBA stressed that inflation was still too low, although it also omitted its previous projection that rates were unlikely to rise until 2024 and dropped a key target for the April 2024 government bond.
"Unlike other central banks (like the ECB recently), the RBA's message was successful in at least marginally scaling down hawkish bets, although markets are still pricing in 76bp (basis points) of tightening in the next 12 months," ING analysts said in a note.
Sterling was on the back foot, slipping 0.32% to $1.36175, ahead of Thursday's Bank of England meeting, where the market is pricing in an interest rate hike.
The euro edged 0.25% lower to $1.15775.
Elsewhere, the Swiss franc briefly hit an 18-month high versus the euro. The single currency dropped to as weak as 1.0544 francs – the lowest since May 2020 – before bouncing back to trade at 1.05875, up 0.33% on the day.
The franc has been strengthening versus the dollar, and was up 0.6% at $0.91455.
Marshall Gittler, head of investment research at BDSwiss Holding, noted that sight deposits data suggested the Swiss National Bank – which worries about a stronger franc hurting the Swiss economy – was not intervening as actively to arrest the franc strength as it had during previous moves higher.
"This could be the way the SNB goes along with the global trend toward tighter monetary policy, only doing it through the exchange rate rather than through its policy rate," he said.
Oil Russia ban news: Russia will ban the sale of its oil to countries that have imposed a price ceiling
Will Russia sell oil to Europe? The administration of President Vladimir Putin is preparing an order prohibiting Russian companies and any trader from buying Russian oil to sell raw materials to countries and companies that have imposed a price ceiling on Moscow. Bloomberg news agency wrote this, citing a report from sources.
"The Kremlin is preparing a presidential decree banning Russian companies and any traders buying national oil from selling it to anyone who participates in the price ceiling," the publication wrote.
According to the newspaper's interlocutors, this would prohibit any mention of the price ceiling in contracts for Russian crude, as well as transferring it to countries that have joined the price ceiling for the natural resource.
In the first half of September, the press service of the US Treasury Department said that the USA, together with its allies from G7 (Great Britain, Germany, Italy, Canada, France and Japan) and the European Union (EU) would impose a ban on marine transportation of Russian oil on December 5 and oil products – on February 5.
Earlier we reported that EU negotiations on limiting the prices of Russian oil reached a deadlock today.
EU talks on restrictions on Russian crude oil prices today stalled
Negotiations between the European Union countries about the "ceiling" of Russian crude oil prices today reached an impasse; Bloomberg reported, according to its sources.
Representatives of the bloc cannot reach an agreement on the ceiling price of Russian oil. According to the agency, the proposed European Commission limit of $65-70 per barrel, Poland and the Baltic countries believe "too generous," while Greece and Malta, which is actively engaged in transporting fuel, do not want the limit to fall below $ 70. Recall that the Russian response to the oil price cap was negative. The Russian government has officially said that it will only sell oil at market prices.
"We are looking for ways to make this solution work and we are trying to find a common ground to implement it in a perfectly pragmatic and efficient way, while avoiding that it may cause excessive inconvenience to the European Union," said German Chancellor Olaf Scholz.
Earlier, we reported that the SEC fined Goldman Sachs $4 million for non-compliance with ESG fund principles.
More than 50% of Germans said they had given up shopping for new clothes and electronics. Is Germany's economy failing?
Die Welt newspaper cited a survey by the consulting company EY and said that about 56% of Germans who took part in the survey said that they had practically refused to buy new clothes.
Also, 56% of German consumers reported that they now refrain from buying televisions, smartphones, laptops and game consoles. Also, nearly one in two now uses less gasoline, and one in four said they are saving on medications.
What caused the economic crisis in Germany? The main reason is the war in Ukraine and the resulting sanctions by the EU. Also, every second respondent reported that at the moment he could buy only the essentials. According to EY analysts, German households plan to further reduce spending in the coming months. In particular, they plan to save money on food delivery and entertainment.
Earlier, we reported that prices for liquefied natural gas in Asia reached their highest since October.