Dollar on solid footing into Fed decision; yen dips on LDP victory
By Kevin Buckland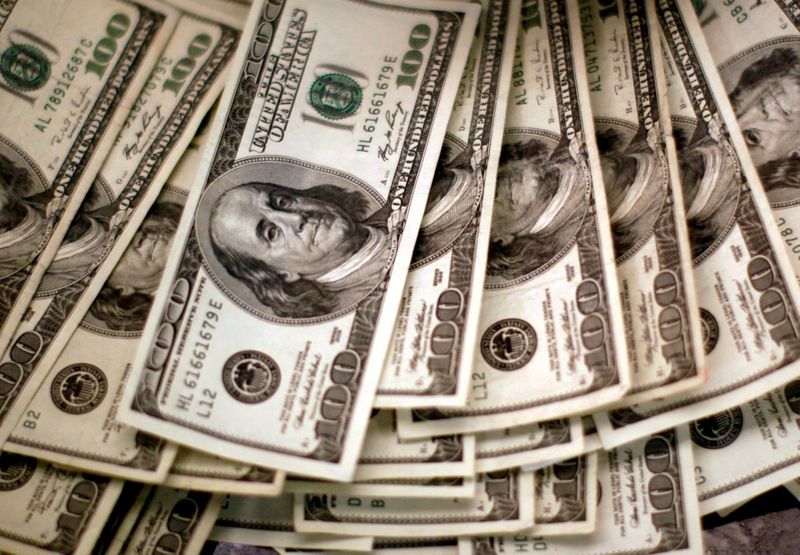 © Reuters. FILE PHOTO: Four thousand U.S. dollars are counted out by a banker counting currency at a bank in Westminster, Colorado November 3, 2009. REUTERS/Rick Wilking
By Kevin Buckland
TOKYO (Reuters) – The dollar traded near a 2 1/2-week high to major peers on Monday as quickening inflation in the United States boosted the case for earlier Federal Reserve interest rate hikes ahead of a policy decision on Tuesday.
The greenback approached a 1 1/2-week top to the yen . The safe-haven Japanese currency weakened after a strong showing for the ruling party in weekend elections eased doubts about the new prime minister's popularity.
The , which measures the U.S. currency against six rivals, was little changed at 94.161, hovering close to Friday's peak of 94.302, a level not seen since Oct. 13.
The U.S. currency traded 0.16% stronger at 114.205 yen, reaching as high as 114.315. Above 114.41 would be the strongest since Oct. 20, when it hit an almost four-year high of 114.695.
Japanese Prime Minister Fumio Kishida's ruling Liberal Democratic Party defied expectations and held its strong majority in Sunday's parliamentary election, solidifying his position in a fractious party and allowing him to ramp up stimulus.
"The reduction in political uncertainty is playing out with slight yen weakness this morning," said Shinichiro Kadota, senior FX strategist at Barclays (LON:) in Tokyo.
"The bigger driver of dollar-yen direction going ahead remains the Fed."
Monetary policy in the United States and elsewhere is in sharp focus this week, with the Federal Open Market Committee widely expected to announce a tapering of stimulus.
A 4.4% surge in the government's index of core personal consumption expenditures – the Fed's preferred inflation measure – solidified market expectations for a rates lift-off around the middle of next year.
Following the data, futures on the fed funds rate, which track short-term rate expectations, priced in a 90% chance of quarter-point tightening by June 2022, factoring in another rate increase by December.
Those bets could be shaken again this Friday, with the release of the closely watched monthly payrolls report.
The dollar "looks well-positioned to build on gains through a potentially decisive week of event risk," Westpac strategists wrote in a note to clients, predicting a "brisk" $15 billion per month tapering of asset purchases and a jobs number "at least as strong as consensus."
Any dips in the dollar index to the mid-93 level are a buying opportunity, they said.
The Reserve Bank of Australia also decides policy on Tuesday, with markets challenging the central bank's contention that rates won't rise until 2024.
"There is a chance the guidance for hiking in 2024 will change to 2023," Chris Weston, head of research at brokerage Pepperstone in Melbourne, wrote in a client note.
"There is a strong chance the statement attempts to push back on rate hikes which have gone so hard – effectively pricing the first hike by May 2022 and two hikes by July."
The dollar slipped 0.13% to $0.7511, continuing its retreat from a nearly four-month high $0.75555 reached last week.
The Bank of England announces its policy decision on Thursday, with markets weighing whether the monetary authority will raise rates at the meeting.
Sterling was mostly flat at $1.3680, and earlier dipped to $1.3663 for the first time since mid-October.
Meanwhile, the euro was about flat at $1.15605, staying close to Friday's low of $1.1535, the weakest since Oct. 13.
World food prices chart: World food prices have plummeted
Why are worldwide food prices rising? First, because of the current world situation. But world food prices fell sharply in July, with prices of major grains and vegetable oils dropping more than 10% in a month. 
World food prices chart
The Food Price Index was 140.9 points in July, down 8.6% from June. The drop in the index value continues for the fourth consecutive month after it reached an all-time high at the beginning of the year. Compared to July 2021, the index is up 13.1%. 
Despite the decline in high food prices, there are still many uncertainties around the world, such as high fertilizer prices, exchange rate volatility and weak global economic forecasts.
Vegetable Oil Price Index fell 19.2% in July from a month earlier, reaching its lowest level in a decade. Global cereal prices fell 11.5% for the month, still 16.6% higher than last year. Wheat prices fell the most (14.5%). 
World sugar prices over the month decreased by 3.8%; dairy products — by 2.5%, meat — by 0.5% due to weakened import demand for beef, lamb, and pork. At the same time, chicken meat rose in price due to strong demand and lower production volumes related to bird flu outbreaks. 
Are hedge funds bad? Investors are disappointed in hedge funds
Are hedge funds bad? This year is sure to be one of the worst years in hedge fund history. In the first six months of 2022, funds posted losses of 5.6%, according to HFR. In July, though, they rebounded by 0.5%, but nevertheless, writes the Financial Times, the sector is well on its way to its second-lowest year in a third of a century, since 1990, when they started keeping records. The only time the hedge fund market was worse than this was during the financial crisis in 2008.
Are hedge funds losing money? 
Most of the problems are accounted for by so-called long-short-term funds, whose assets total about $1.2 trillion. The results of their activity depend directly on the securities market. In the first half of this year, these funds lost an average of 12%, according to HFR data. This category of funds earned only about 1% in July, according to JPMorgan's John Schlegel calculations, well below the 7% rally in the stock market last month.
Among the hardest hit is the well-known Maverick Capital fund, which has been making double-digit returns to its investors for the past three years but lost 35% in January and June of this year. Similar losses have seen Skye Global, which has pleased investors with high returns over the past six years, but lost 10.4% in June alone. The fund was let down by a large stake in Amazon, which fell 36% in January-June 2022. However, in recent weeks, the retail giant has improved and cut its losses in half, to 19%. 
Already the first signs are starting to emerge that the losses are scaring investors. While they invested a total of $13.92 billion in hedge funds last year, only $440 million in the first quarter. There was a strong outflow of funds in March, and in June it exceeded $10.1 billion, according to Citco's fund administrator. Redemptions are expected to be $7.8 billion in the third quarter and $6.4 billion at the end of the year.
Weak performance in the first half of 2022 and investor dissatisfaction, however, have not affected the sector's confidence in its ability to raise funds. A survey of 100 hedge funds by technology company SigTech found that nearly one-in-four (23%) expect a sharp increase in investor activity in the next two years; 60% of respondents expect a slight increase in activity and only 4% believe investor activity will decline in 2023-24.
Chinese economy 2022: China will give up first place in the list of the largest importers of raw materials
Chinese economy 2022 news: China's commodity-buying companies will be adversely affected by government debt and demographic problems.
Over the next ten years, debt problems and slowing population growth may force China to cede the unofficial title of world's largest buyer of raw materials and minerals to India. 
Chinese economy analysis — the current situation
The structural challenges will make it very difficult for Beijing to accept and implement most of the policy initiatives coming from the center. Apart from the Chinese economy, this trend will have a major negative impact on mining companies around the world, many of which are heavily dependent on demand in China. Incidentally, many such companies are located in Australia.
China will likely be replaced in the next few years by India. If UN statistics are to be believed, India could overtake China regarding population as early as this year. This will have not only psychological, but also "material consequences" for the global market of raw materials and minerals.
China has been much criticized for shifting to mindless spending to combat the economic slowdown. Lowy Institute economist Roland Raja is pessimistic about the growth prospects of the Chinese economy. Even though the Indian economy is only a small part of the Chinese economy, he sees no signs of a slowdown soon. 
China will try to be more aggressive this year in combating the economic slowdown. Beijing will invest very heavily in the extractive industries.
Moyo also believes that Beijing will no longer be able to regain the high growth rates of past years. According to her forecast, China's economic growth will be 4% this year. Recall, the Chinese leadership set a higher target of 5.5%. Incidentally, this is the lowest growth in the Chinese economy for the past three decades. In the second quarter of this year, China's economic growth slowed to 0.4%.