Dollar rises on safe-haven bid as Austria reimposes lockdown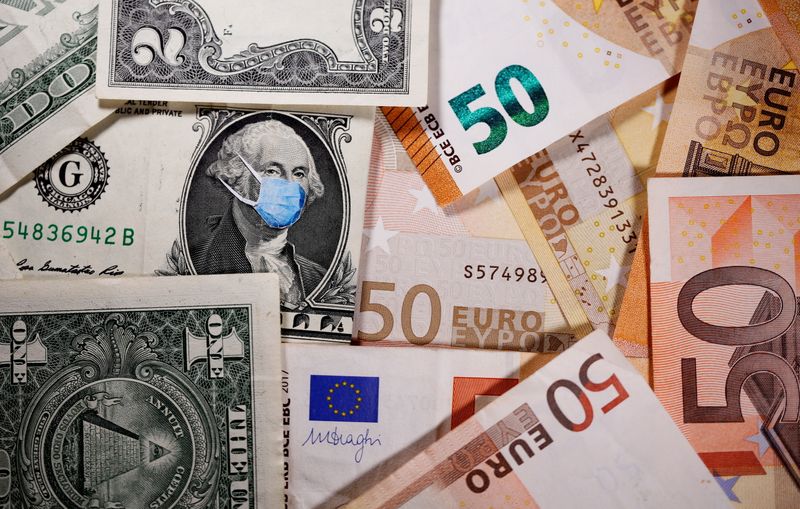 © Reuters. FILE PHOTO: George Washington is seen with printed medical masks on the one Dollar near Euro banknotes in this illustration taken, March 31, 2020. REUTERS/Dado Ruvic/Illustration
By John McCrank and Iain Withers
NEW YORK/LONDON (Reuters) – The dollar rose on Friday as investors sought safe havens after Austria said it would be the first country in western Europe to reimpose a full lockdown amid surging COVID-19 infections, and Germany said it could follow suit.
The , which tracks the dollar against a basket of six major currencies, was up 0.357% at 95.903, close to its 16-month high of 96.266 hit on Wednesday. The dollar was on track for a weekly gain of around 1%.
The euro, meanwhile, which has been on the back foot all week, hit a 16-month low amid the COVID surge in Europe and as expectations have grown that interest rates will be hiked faster elsewhere, particularly in the United States.
Commodity-linked currencies, such as the Australian, New Zealand, and Canadian dollars, often seen as risky, all declined.
"The greenback is capitalizing on risk-off flows," said Fiona Cincotta, senior financial markets analyst at City Index.
On top of a lockdown, Austria also said it will require all its citizens to be vaccinated against COVID-19 from Feb. 1, while Germany's health minister cautioned lockdown restrictions could return there.
"One thing is certain, if the whole of Europe had to go under lockdown once more, and depending on how long that would last, we would need to rethink our growth scenarios," said Stephane Ekolo, global equity strategist at brokerage Tradition.
The euro has declined more than 1% this week versus the dollar and was down 0.61% on the day at $1.13055, having earlier touched $1.1248, its weakest since July 2020.
European Central Bank President Christine Lagarde doubled down on her cautious position on Friday, saying the ECB should not tighten policy as it could undermine recovery.
Expectations are growing that the dollar can strengthen further into next year as U.S. economic data, including retail sales numbers earlier this week, has largely been surprising to the upside, while inflation has been running hotter-than-expected.
"We think a combination of Fed tapering and slowing global growth should favour the U.S. dollar in 2022," analysts at UBS said in an outlook report.
The was down 0.32% at $0.72525 and the was 0.47% lower at $0.7013.
The Canadian dollar slid 0.23% to 1.26295.
The Japanese yen, also considered a safe-haven currency, strengthened following Austria's lockdown announcement, last up 0.35% versus the dollar at 113.85 yen.
Sterling shed some of its recent gains and was down 0.37% at around $1.3449.
In cryptocurrencies, bitcoin was below $60,000 and set for its worst week in six months – last trading around $58,000.
($1 = 114.4500 yen)
Large US companies by market cap begin to think more about cutting investments and staff – survey
The chief executive officers (CEOs) of the largest US companies by market cap are revising downward their plans for hiring and investment amid a worsening outlook for the US economy, a quarterly Business Roundtable (BRT) survey showed.
That's because of high inflation and rising costs, said the association, which includes dozens of major U.S. corporations. The S&P 500 and U.S. 100 indices are also declining amid the developments.
The index, which gauges the economic outlook, fell 11 points this quarter, to 73 points. The indicator is still above the 50-point mark, indicating that the economy is growing. However, it fell below the long-term average of 84 points for the first time since the third quarter of 2020.
The index of planned investments fell 7 points to 68 points and expected sales fell 8 points to 91 points, according to the BRT report.
What will the biggest U.S. companies do by market cap?
About 39% of CEOs plan to increase the number of employees at their companies in the next six months, while 28% of respondents intend to downsize. Last quarter, those numbers were 47% and 19%, respectively.
Nearly half (49%) said that labor costs are a major expense at their company. Twenty-one percent of CEOs plan to reduce capex in the next six months and 40% plan to increase it. In the third quarter these proportions were 18% and 43%, respectively.
U.S. CEOs on average forecast that U.S. GDP will increase by 1.2% in 2023. 142 CEOs participated in the BRT survey, which ran from October 31 to November 28.
Earlier, we reported that Saxo Bank presented "shocking predictions" for the next year.
Saxo Bank predictions 2023: Saxo Bank presents "shocking predictions" for the next year
Saxo Bank predictions 2023: The Danish Bank has published ten "shocking predictions" for 2023. They concern a series of unlikely and underestimated events because of which, however, "the world markets can be covered with a powerful shock wave"..
Saxo Bank analysis – what's going to happen next year?
Against the backdrop of rising energy prices, leading U.S. technology companies and "billionaire technophiles" will create a multi-billion dollar project aimed at exploring new opportunities in the energy sector, the bank predicts. According to the bank, this project will be comparable to the "Manhattan Project" to study atomic energy and the creation of the nuclear bomb, and investments in the new project will be about $1 trillion.
Inflationary pressures and geopolitical instability will continue to affect not only the global economy but also the financial markets, says the Danish bank. Against this background, states will take a more conservative policy, reducing investments in more complex financial instruments, and investing in traditional assets such as gold. And traders at the same time are considering Gold Futures.
Increased demand for gold in 2023 will, according to Saxo Bank, cause its price to rise from the current $1,800 to $3,000 per ounce.
Earlier, we reported that Apple has postponed the release date of an unmanned electric car for a year.
Apple postponed the release date of Apple's electric car by a year
U.S. Apple Inc. (NASDAQ:AAPL) has pushed back the release date of Apple's unmanned electric car by a year to 2026 and somewhat tempered its ambitions about the extent of its self-driving capability, Bloomberg reported, citing sources.
Earlier, Apple announced electric cars. According to the sources, the Titan project has been in limbo for the past few months because top executives at Apple have concluded that their vision of a fully self-driving car with no steering wheel and no pedals can't be realized with existing technology. The APPLE Price Chart showed a slight decline amid this news. 
In this regard, the company has decided to adjust the project and now plans to create a less autonomous car, with a steering wheel and pedals, with the possibility of fully unmanned driving on highways, sources said.
The driver of the car is expected to be able to do his or her own thing while driving on the highway, such as watching a movie or playing a game, and will receive advance notifications to switch to manual control when approaching city streets or deteriorating weather conditions.
Apple shares fell 2.5 percent in trading Tuesday. Since the beginning of this year, their value has fallen by 19.5%.
We previously reported on World Economic News now through the morning of Dec. 6.