From beef bowls to coffee, cost surge squeezes Japan's salaryman staples
By Daniel Leussink and Leika Kihara
4/4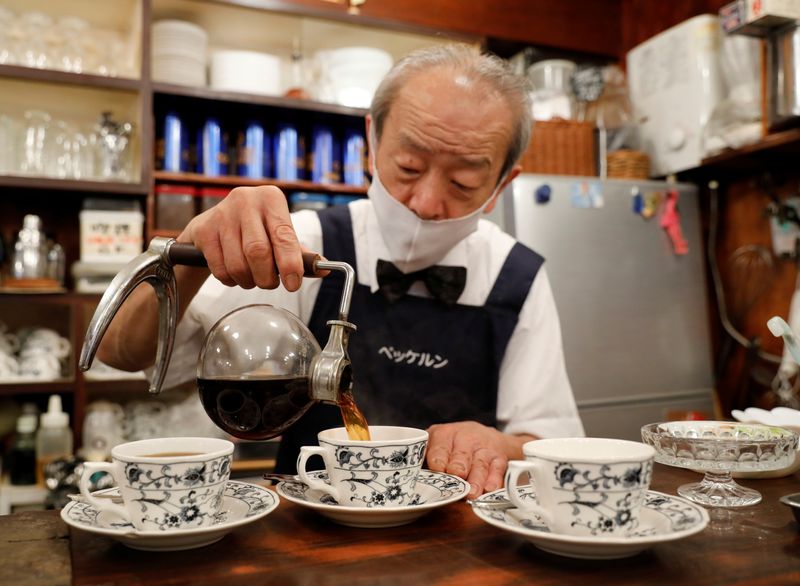 © Reuters. Shizuo Mori, the owner of Heckeln coffee shop pours coffee into a cup after brewing coffee with a Syphon coffee maker at his shop in Tokyo, Japan, October 8, 2021. REUTERS/Kim Kyung-Hoon
2/4
By Daniel Leussink and Leika Kihara
TOKYO (Reuters) – In 50 years running a cafe in Tokyo, Shizuo Mori can't remember a time when his coffee supplies cost this much.
The 78-year-old, who owns Heckeln, an old-school coffee shop in Tokyo's Toranomon business district, says the wholesale cost of his main product has surged 5% in the last three months.
That is a jolting experience for a country where weak growth has meant that prices of many things – including wages – haven't risen much in decades.
While he has not yet passed on the increase to his customers – coffee at his cramped shop costs 400 yen ($3.50) a cup – price pressures are squeezing his bottom line and he knows his regulars have low tolerance for such hikes.
"Salarymen don't get paid a lot, so everyone will stop drinking if prices are too high," said Mori, whose shop is famous for its caramel sauce pudding, slabs of buttered toast and ham and egg sandwiches.
Across Japan, consumers and businesses like Heckeln are facing sticker shock for everything from coffee, beef bowls and other items whose prices have barely budged during the country's decades of deflation.
Japan's core consumer inflation – which excludes fresh food prices – only stopped falling in August, snapping a 12-month deflationary spell. Economists and policymakers expect to see the recent price rises reflected in official data in the coming months.
Although Japan's inflation is still modest by global standards, surging raw material costs https://www.reuters.com/world/asia-pacific/japan-wholesale-inflation-spikes-squeezing-corporate-profits-2021-10-12 have made it almost impossible for firms in the world's third-largest economy not to pass on wholesale price hikes, something they have typically resisted for fear of losing business.
For younger Japanese, many with no memory of significant prices hikes, that has come as a rude surprise especially as households, workers and businesses struggle to shake off the economic hit from the pandemic.
"It's terrible – incomes haven't changed. Taxes are rising. People are increasingly becoming poor," said Yuka Urakawa, 23, who works in the beauty industry and was going for a noodle dinner near Tokyo's Yurakucho station.
Like many on social media, she has noticed changes to prices of beef bowls at restaurant chains like Matsuya Foods.
At most of its outlets, Matsuya has stopped selling its 380 yen "premium" beef bowl and started offering regular bowls using cheaper ingredients such as frozen beef and Chinese spring onions for the same price.
Dairy products maker Meiji Holdings has hiked prices of its margarines by up to 12.8%, the first increase since 2008, and other food companies have also raised prices on their main product lines for the first time in years.
While not necessarily welcomed by consumers, the trend may be starting to nudge the way Japanese perceive the prices they pay for staples https://www.reuters.com/world/asia-pacific/more-japan-households-see-higher-inflation-year-now-boj-survey-2021-10-11.
"It feels like Japan's prices were too cheap for too long compared to other countries," said Nozomi Yuasa, 28, who was also having dinner near Yurakucho station and has noticed price rises in eggs, dairy and candy.
The Bank of Japan's quarterly "tankan" business survey this month showed more companies facing higher input costs, but also seeing rises in the price they charge to customers.
While reviving stagnant consumer prices has been the central bank's main objective for years, its strategy has been to do so by stoking demand. Inflation caused by constrained supply, on the other hand, is unwelcome, especially if it's not matched by increased wages.
Aware of households' sensitivity to price hikes, some firms are treading carefully. Aeon Co Ltd, Japan's largest retailer by sales, said it won't raise prices on about 3,000 products of its own brand Topvalu products this year, instead seeking to keep cost low in part by bulk-buying.
"Japan's demand recovery is lagging due to the coronavirus," said Hiroaki Muto, economist at Sumitomo Life Insurance Co.
"If there are price rises, it'll result in lower demand."
($1 = 113.4900 yen)
Japanese insurers cautious on foreign govt bonds, shrug off dollar rally
By Hideyuki Sano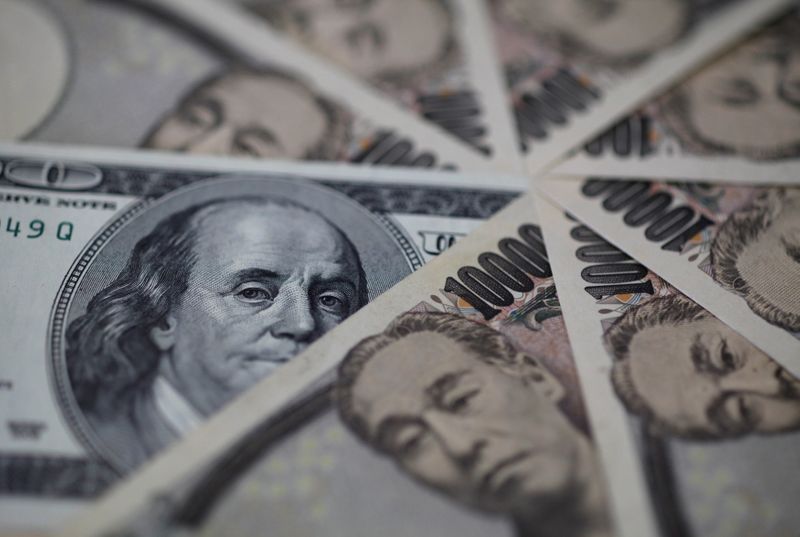 © Reuters. FILE PHOTO: A U.S. hundred dollar bill and Japanese 10,000 yen notes are seen in this photo illustration in Tokyo, February 28, 2013. REUTERS/Shohei Miyano/File Photo
By Hideyuki Sano
TOKYO (Reuters) – Japanese insurers are growing increasingly reluctant to buy foreign government bonds without a currency hedge, as they are not expecting the recent dollar rally against the yen to continue for much longer.
Only two out of Japan's top 10 insurers said they planned to increase foreign bonds without a currency hedge between October and March while the others either planned to reduce their overall holdings or keep them steady, according to insurers' comments made at press conferences and to Reuters in October.
U.S. dollar bonds make up the bulk of Japanese insurers' foreign bond holdings.
Many insurers also said they preferred investing in corporate bonds, which offer higher returns than sovereign ones, or in local yen bonds as they seek to meet regulatory requirements.
"We are cautious on unhedged foreign bonds. The yen has already weakened considerably. We are not increasing their holdings when the yen is at current levels," Hiroyuki Nomura, head of investment planning at Japan Post Insurance told reporters during a news conference on Wednesday.
The dollar hit a four-year high against the Japanese currency at 114.695 yen on Oct. 20, as rising U.S. inflation has fuelled expectations of an earlier-than-expected Federal Reserve rate hike, while the Bank of Japan looks poised to keep interest rates low for some time.
A rising import bill, driven by soaring energy prices, has also weighed on the yen in recent weeks, while the currency has also come under pressure from slowing export growth, as automakers curb production due to supply shortages.
Industry leader Nippon Life expects the dollar to slip back to around 108 yen by March from 114 yen currently, voicing scepticism on rising expectations of a U.S. rate hike next year.
Federal Reserve Chair Jerome Powell said last week the U.S. central bank should start the process of reducing its support of the economy by cutting back on its asset purchases, but should not yet touch the interest rate dial.
Fukoku Life, which had a considerable exposure to the dollar many years ago when it was way below 100 yen, will take out currency hedges on all of its foreign bond investment because it thinks the current dollar level is a bit expensive, said the company's investment planning manager Yoshiyuki Suzuki.
Japanese life insurers collectively manage 412 trillion yen ($3.61 trillion) of assets and have been big investors in foreign bonds for years.
But they became a net seller of foreign bonds in the financial year to March 2021 for the first time in seven years, after having purchased 20.5 trillion yen in the preceding six years.
STILL TOO LOW
Many of Japan's top insurers said they have limited appetite for foreign government bonds, even with currency hedges, given the low returns on offer.
Ten-year U.S. Treasury yields rose to a six-month high of 1.705% last week on inflation worries but it is still way below the 2-3% range seen between 2017 and 2019.
Instead, most insurers are buying higher-yielding corporate debt, even though the extra return they offer compared with equivalent U.S. government bonds has fallen to near record lows.
The credit spreads in U.S. bond markets have tightened sharply since March last year to historically low levels.
The yield spread on Bank of America (NYSE:)'s investment grade corporate bond index over Treasuries shrank to 1.07% this week, the tightest spread since 2018, compared with a peak of 4.28% in March 2020, at the height of the pandemic-driven market troubles.
"The global low interest rate environment will likely continue, which means investors will have strong needs for yield enhancement. So we feel demand for credit products will remain strong," said Akifumi Kai, general manager of investment planning at Dai-ichi Life.
Many Japanese insurers also plan to increase yen bonds, in part to meet regulatory requirements before the introduction of new solvency rules in 2025, even though the 10-year JGB yield is stuck near 0% due to the Bank of Japan's policy to peg it around that level.
($1 = 114.00 yen)
Equinor Q3 surges on gas and derivatives, boosting share buybacks
By Nerijus Adomaitis and Nora Buli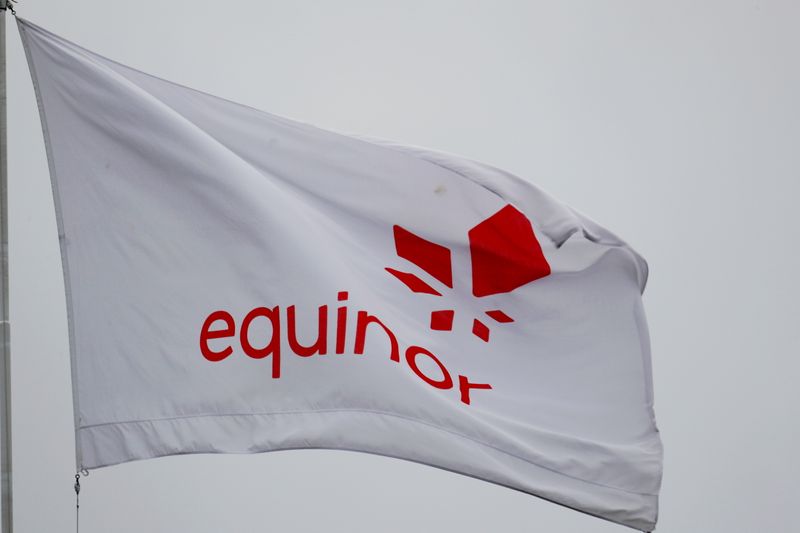 © Reuters. FILE PHOTO: Equinor's flag in Stavanger, Norway December 5, 2019. REUTERS/Ints Kalnins
By Nerijus Adomaitis and Nora Buli
OSLO (Reuters) -Norway's Equinor posted its strongest quarterly result in nine years on Wednesday, driven by a global energy supply crunch that pushed Europe's prices to record highs and sent the value of derivative contracts soaring.
The company said it would sharply increase the size of its share buybacks in coming months, while maintaining a quarterly dividend level of $0.18 per share.
Adjusted earnings before tax rose to $9.77 billion in the July-September quarter from $780 million a year ago, exceeding the $8.4 billion predicted in a poll of 25 analysts compiled by Equinor.
"The current unprecedented level and volatility in European gas prices underlines the uncertainty in the market," Chief Executive Officer Anders Opedal said in a statement.
"Equinor has an important role as a reliable energy provider to Europe and we have taken steps to increase our gas exports to respond to the high demand."
Norway is western Europe's largest oil and gas producer, pumping around 4 million barrels of oil equivalent per day. Last year, it supplied 22% of the gas consumed in the European Union, according to Norwegian government data.
Equinor has said it would seek to boost pipeline gas exports to Europe by increasing production from Troll and Oseberg fields, as well as from reducing gas injections normally used to pump oil.
Global gas prices rose sharply in the third quarter, with Europe's benchmark TTF front-month contract increasing threefold to around 90 euros per megawatt hour (MWh) due to rising demand, below average storage levels and concerns over Russian supply ahead of the winter heating season.
In early October, the gas price spiked https://www.reuters.com/article/power-prices-europe-idINL1N2R10AQ again, hitting a record https://www.reuters.com/article/europe-gas-idINL8N2R21XB of 155 euros per MWh before easing to 89 euros on Tuesday. The price of North Sea has meanwhile risen 67% this year to trade at a three-year high of $86 per barrel.
DERIVATIVE GAINS AND LOSSES
Earnings at Equinor's marketing, midstream and processing (MMP) unit rose to $2.19 billion from $262 million, boosted by derivatives contracts related to European gas, the company said.
Equinor sells most of its gas on a short-term, or spot, basis but also sells a small share based on longer-dated indices. For the latter, MMP has used financial contracts to change the price exposure to benefit from strong spot and front-month pricing.
The mark-to-market gains from such contracts in the third quarter will be followed by losses in the MMP segment when those volumes are delivered under the long-term contracts, Equinor reiterated in its earnings report.
"The decision to take derivative positions has been beneficial to the group but created volatility in this segment," the company said in reference to the MMP unit.
The one-off nature of the MMP gains should be a note of caution for investors, SpareBank 1 Markets analyst Teodor Sveen-Nilsen said.
"MMP's profitability is a black box with low visibility," he wrote in a note to clients.
Still, Equinor's share price could outperform peers by some 2-4% on Wednesday, the analyst added.
BUYBACK OF $1 BILLION
The increased energy cost has led to soaring electricity prices across much of Europe and the world, hitting household as well as companies which have been forced to shut factories as profits eroded, triggering more supply chain shortages.
Equinor plans to buy back shares worth $1 billion during the next three months, up from its previous plan to purchase $300 million worth of shares.
During the previous three months, the company had also planned to buy up to $300 million worth of shares, but ended up spending just $99 million.
Equinor revised its capital spending for 2021 to $8.0 billion from a range of $9 billion to $10 billion seen previously. The average for 2021 and 2022 will still be between $9 billion and $10 billion, however.
It kept its plans to spend around $12 billion per year in 2023 and 2024.
Equinor's shares have risen 60.6% year-to-date. Trading on the Oslo Bourse is due to resume at 0700 GMT.
Dollar edges lower, Australian dollar calms after inflation jump
LONDON (Reuters) – The U.S. dollar slipped as European markets opened on Wednesday, while the Australian dollar pared gains, having jumped following surprisingly strong inflation data which raised the possibility of sooner-than-planned rate hikes.
2/2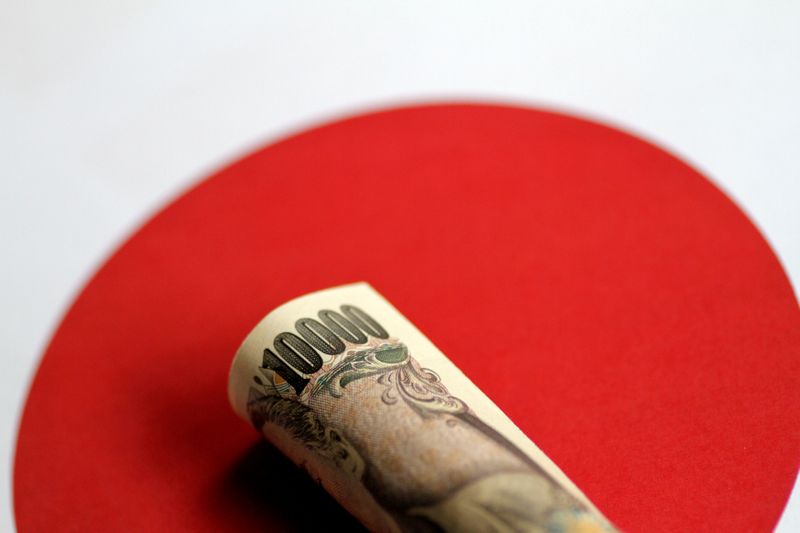 © Reuters. FILE PHOTO: A Japan Yen note is seen in this illustration photo taken June 1, 2017. REUTERS/Thomas White/Illustration
2/2
LONDON (Reuters) – The U.S. dollar slipped as European markets opened on Wednesday, while the Australian dollar pared gains, having jumped following surprisingly strong inflation data which raised the possibility of sooner-than-planned rate hikes.
Currency markets have been generally quiet in recent sessions as investors wait for the U.S. Federal Reserve meeting next week.
Investors are also looking to policy announcements this week from the European, Canadian and Japanese central banks for clues on the outlook for rates amid a backdrop of supply-side driven global inflation pressures.
At 0802 GMT, the was down less than 0.1% at 93.877.
Short-term U.S. Treasury yields spiked overnight as investors bet that inflation would bring forward interest rate rises.
Standard Chartered (OTC:) FX analysts wrote in a client note that they expect currency market risk sentiment to be limited until the Fed next week, where "hawkish risks are still under-priced".
The Australian dollar was up 0.2% at $0.7513, having reached as high as $0.7536 overnight after data showed that Australian core inflation sped to a six-year high in September, surprising the market. The data prompted a spike in short-term yields.
The Reserve Bank of Australia meets on Tuesday next week and market pricing is at odds with RBA policymakers' insistence that there will be no rate hikes before 2024.
"The Reserve Bank of Australia (RBA) might be forced into action after all," wrote Commerzbank (DE:) analyst Antje Praefcke in a note to clients, referring to rising 3-year yields.
"The market is likely to increasingly assume that the RBA will have to rethink its expansionary monetary policy further due to economic and inflationary developments, which is likely to principally support AUD."
The U.S. dollar was down around 0.4% against Japan's yen, with the pair changing hands at 113.745 – still within recent ranges and close to the four-year high of 114.695 the dollar touched against the yen one week ago.
"Short-JPY positions have clearly become a very popular trade among speculators… but it still seems hard to see the yen finding  sustained support at the moment," wrote ING FX strategists in a client note.
"115.00 in now appears a matter of when, rather than if."
The Bank of Japan meets on Thursday and is widely expected to downgrade its economic assessment, with markets betting on no rate hike in the foreseeable future.
The Canadian dollar was little changed at $1.2402 ahead of Canada's central bank policy announcement later in the session.
The central bank is expected to raise its inflation forecast and to largely end stimulus from its pandemic-era bond buying program, starting a countdown of sorts to the first interest rate hike since October 2018
The euro was up around 0.1% at $1.1605. The European Central Bank, which meets on Thursday, is expected to take a dovish stance.
The British pound was down 0.2% against the euro at 84.39 pence per euro. The UK's budget forecasts will be unveiled later in the session but are not expected to impact the pound.
In cryptocurrencies, bitcoin was down 2% at around $59,114, having been knocked off the all-time high of $67,016.50 it reached last week.