Global shares hold near record peak ahead of Fed
By Alun John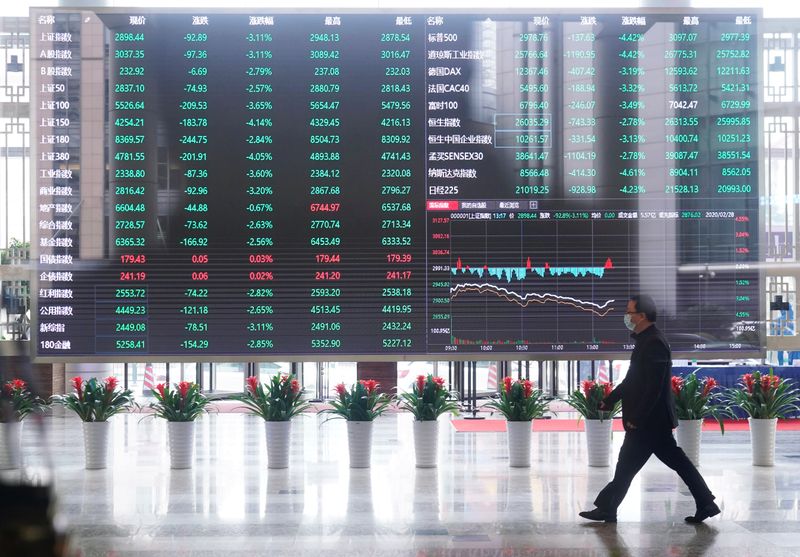 © Reuters. FILE PHOTO: A man wearing a face mask is seen inside the Shanghai Stock Exchange building, as the country is hit by a novel coronavirus outbreak, at the Pudong financial district in Shanghai, China February 28, 2020. REUTERS/Aly Song
By Alun John
HONG KONG (Reuters) – Global shares held near record highs in Asia on Wednesday, while currency markets and U.S. Treasuries were steady, as investors awaited an expected unwinding of pandemic-era monetary stimulus in the world's largest economy.
The U.S. Federal Reserve is expected to announce the tapering of its $120 billion-a-month asset purchase programme in its policy statement at 1800 GMT.
Markets are almost certain the Fed will taper but are looking to see if policymakers will give any hints about the possibility of interest rate hikes next year.
MSCI's all-country world index, which tracks equity performance in 50 nations, was down 0.01%, just off the record high it hit on Tuesday as European U.S. shares surged on strong corporate earnings. [.N][.EU]
"While confidence remains that the Fed will begin its taper, there is scepticism around just how hawkish they will be on the rate hike front," said analysts at Westpac in a morning note to clients.
Fed officials are trying to maintain a balance between raising rates to ensure inflation remains contained and giving the economy as much time as possible to restore the jobs lost since the pandemic.
European and U.S. futures pointed to a marginally softer open, with pan-region slipping 0.1%, and futures losing 0.17%.
U.S. , were down 0.14%.
In Asia, the regional benchmark has been trending down since early this year, and is off more than 13% from its February peak, as it struggles to rebound from sweeping regulatory changes in China in the summer, which roiled sectors from property to technology.
MSCI's broadest index of Asia-Pacific shares outside Japan lost 0.33% on Wednesday, weighed by declines in Hong Kong and mainland China. Japanese markets were closed for a public holiday.
On Thursday, the Hong Kong benchmark lost 1% and Chinese bluechips shed 0.72%. Investors are now looking ahead to a major Chinese Communist Party gathering to be held Nov. 8-11.
"Shares in Hong Kong have been weakening as investors wait to see whether there will be indications about any more regulatory changes at the meeting next week," said Steven Leung executive director for institutional sales at UOB Kay Hian in Hong Kong.
Adding to jitters, new locally transmitted COVID-19 cases in China spiked to a near three-month high and Premier Li Keqiang warned of downward pressure on the economy.
Moves in currency markets were muted on Wednesday, and the dollar kept near recent highs against the yen and euro. ()
The dollar was also steady, having dropped 1.2% against the dollar a day earlier after more dovish remarks from the Reserve Bank of Australia, even as it abandoned its short-term yield target.
Also in central bank news, the Bank of England on Thursday could become the first of the world's major central banks to raise rates after the coronavirus crisis.
U.S. benchmark 10-year Treasury yields were steady at 1.5541%, a little off last month's recent top of 1.7%.
Oil prices fell on Wednesday as industry data pointed to a big build in oil stocks in the United States, the world's largest oil consumer, and as pressure mounted on OPEC to increase supply. [O/R]
fell 1.2% to $83.74 a barrel while tumbled 1.5% to $82.65 a barrel.
slipped 0.35%. [GOL/]
Oil Russia ban news: Russia will ban the sale of its oil to countries that have imposed a price ceiling
Will Russia sell oil to Europe? The administration of President Vladimir Putin is preparing an order prohibiting Russian companies and any trader from buying Russian oil to sell raw materials to countries and companies that have imposed a price ceiling on Moscow. Bloomberg news agency wrote this, citing a report from sources.
"The Kremlin is preparing a presidential decree banning Russian companies and any traders buying national oil from selling it to anyone who participates in the price ceiling," the publication wrote.
According to the newspaper's interlocutors, this would prohibit any mention of the price ceiling in contracts for Russian crude, as well as transferring it to countries that have joined the price ceiling for the natural resource.
In the first half of September, the press service of the US Treasury Department said that the USA, together with its allies from G7 (Great Britain, Germany, Italy, Canada, France and Japan) and the European Union (EU) would impose a ban on marine transportation of Russian oil on December 5 and oil products – on February 5.
Earlier we reported that EU negotiations on limiting the prices of Russian oil reached a deadlock today.
EU talks on restrictions on Russian crude oil prices today stalled
Negotiations between the European Union countries about the "ceiling" of Russian crude oil prices today reached an impasse; Bloomberg reported, according to its sources.
Representatives of the bloc cannot reach an agreement on the ceiling price of Russian oil. According to the agency, the proposed European Commission limit of $65-70 per barrel, Poland and the Baltic countries believe "too generous," while Greece and Malta, which is actively engaged in transporting fuel, do not want the limit to fall below $ 70. Recall that the Russian response to the oil price cap was negative. The Russian government has officially said that it will only sell oil at market prices.
"We are looking for ways to make this solution work and we are trying to find a common ground to implement it in a perfectly pragmatic and efficient way, while avoiding that it may cause excessive inconvenience to the European Union," said German Chancellor Olaf Scholz.
Earlier, we reported that the SEC fined Goldman Sachs $4 million for non-compliance with ESG fund principles.
More than 50% of Germans said they had given up shopping for new clothes and electronics. Is Germany's economy failing?
Die Welt newspaper cited a survey by the consulting company EY and said that about 56% of Germans who took part in the survey said that they had practically refused to buy new clothes.
Also, 56% of German consumers reported that they now refrain from buying televisions, smartphones, laptops and game consoles. Also, nearly one in two now uses less gasoline, and one in four said they are saving on medications.
What caused the economic crisis in Germany? The main reason is the war in Ukraine and the resulting sanctions by the EU. Also, every second respondent reported that at the moment he could buy only the essentials. According to EY analysts, German households plan to further reduce spending in the coming months. In particular, they plan to save money on food delivery and entertainment.
Earlier, we reported that prices for liquefied natural gas in Asia reached their highest since October.