Global shares linger at peaks ahead of Fed move
By Alun John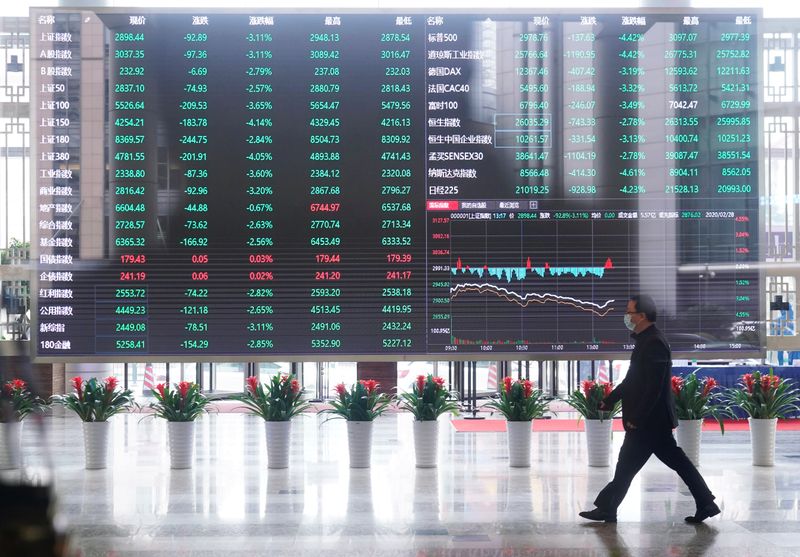 © Reuters. FILE PHOTO: A man wearing a face mask is seen inside the Shanghai Stock Exchange building, as the country is hit by a novel coronavirus outbreak, at the Pudong financial district in Shanghai, China February 28, 2020. REUTERS/Aly Song
By Alun John
HONG KONG (Reuters) – Global shares hovered at record highs while currency markets and U.S. Treasuries were steady on Wednesday, as investors looked to the expected winding down of pandemic-era monetary stimulus in the world's largest economy.
The Federal Reserve is expected to announce the tapering of its $120 billion-a-month asset purchase programme in its policy statement at 1800 GMT. Ahead of the much anticipated meeting, Asian shares failed to follow a strong lead from Wall Street.
Markets are almost certain the Fed will taper but are looking to see if policymakers will give any hints about the possibility of interest rate hikes next year.
"While confidence remains that the Fed will begin its taper, there is scepticism around just how hawkish they will be on the rate hike front," said analysts at Westpac in a morning note to clients.
Federal Reserve officials are trying to maintain a balance between raising rates to ensure inflation remains contained and giving the economy as much time as possible to restore the jobs lost since the pandemic.
MSCI's broadest index of Asia-Pacific shares outside Japan lost 0.33% in early trading on Thursday. Japanese markets were closed for a public holiday.
"The shape of markets in our region may be driven more by what happens to Treasury and dollar markets overnight than what happens locally," said Rob Carnell, ING's Asia Pacific head of research, in a note.
The Australian benchmark share index was the biggest gainer, rising 1.3%. But those gains were outweighed by falls in Hong Kong's off 1%, and South Korea's down 1.2%, even as local fintech Kakao Pay Corp saw its shares double in value from their initial public offering price on their trading debut.
Chinese shares were steady after data showed service sector activity expanded in October.
On Tuesday, MSCI's all-country world index, which tracks equity performance in 50 nations, closed at a record high, helped by all three major U.S. stock indexes hitting intraday peaks during the session, and a record finish from Europe's index. [.N] ()
Strong earnings supported shares in both Europe and North America.
In contrast the Asian regional benchmark has been trending down since early this year, and is off more than 13% from its February peak, as it struggles to rebound from sweeping regulatory changes in China in the summer, which roiled sectors from property to technology.
Moves in currency markets were muted on Thursday. The dollar kept within sight of its recent highs against the yen and euro.
The dollar was steady on Wednesday, having dropped 1.2% against the dollar on Tuesday after more dovish remarks from the Reserve Bank of Australia, even as it abandoned its short-term yield target.
Also in central bank news, the Bank of England on Thursday could become the first of the world's biggest central banks to raise rates after the coronavirus crisis.
U.S. benchmark 10-year Treasury yields were steady at 1.5540%, a little off last month's recent top of 1.7%.
Oil prices fell on Wednesday as industry data pointed to a big build in oil stocks in the United States, the world's largest oil consumer, and as pressure mounted on OPEC to increase supply. [O/R]
fell 1.2% to $83.74 a barrel while tumbled 1.5% to $82.65 a barrel.
slipped 0.2%. [GOL/]
RCB Bank Cyprus latest news: Bank will stop providing banking services to its clients from October 8
RCB Bank Cyprus latest news: As of October 8, the bank will cease to provide banking services to its customers. The bank has warned its customers that within two months it will close their accounts. The last day of banking services – October 7, 2022.
In March, RCB Bank, which had close ties with clients from Russia, said it would give up its banking license and transform itself into a management company. In an agreement with the ECB, it stopped attracting new clients.
RCB Bank news today
The bank was planning to negotiate with clients whose liabilities mature after June 2022 about the terms of early repayment with payment of the full amount of the deposit and interest for the period during which the amount was held by the bank.
After all liabilities were fully repaid, RCB planned to transform itself into an asset management company, which would continue to manage the remaining loan portfolio and specialize in providing other services.
At the end of 2020, it had €2.75 billion in deposits, of which €769 million came from retail customers. The Cypriot bank had a combined loan portfolio of 3.5 billion euros. The bank indicated in reports that the most part of the credits were given to organizations which work in Russia and CIS countries.
RCB said in June that it had sold a portfolio of corporate loans worth €356 million to Hellenic Bank. The sale of the loan portfolio will strengthen RCB Bank's capital and liquidity reserves and create additional reserves that will enable the bank to meet its obligations to all of its clients in full. It was expected that the bank would get more than 500 million euros from the deal.
Earlier we reported that Markets get restless ahead of weekend.
Stainless steel market news: EC to impose five-year duties on stainless steel from Russia and Turkey
Stainless steel market news: The European Commission, after completing an anti-dumping investigation that covered the period from January 1 to December 31, 2020, decided to impose duties on the supply of corrosion-resistant steel from Russia and Turkey, says the materials EC. 
How will the situation affect steel market prices? 
The investigation was carried out at the request of the European Association of the Steel Industry (Eurofer). The subject of the investigation was rolled steel with galvanized, magnesium, and aluminum coatings. Transformers and high-speed steel were not included in the investigation.
The anti-dumping duty on steel from Magnitogorsk Iron and Steel Works is 36.6%; from Novolipetsk Steel – 10.3%; from Severstal – 31.3% and from all other mills – 37.4%.
For the Turkish asset MMK (MMK Metalurji) the duty is 10.5%; for other Turkish steel producers – from 2.4% to 11%.
Imports of corrosion-resistant steel from Russia and Turkey increased more than fivefold – from 196,643 tons in 2017 to more than 1 million tons during the investigation period; the share of such metal from these countries increased from 2.2% to 13.1%. At the same time, the EC draws attention to the materials to implement supplies at prices below the average market prices in the EU.
The European Commission recalls that the sanctions imposed against Russia affect the supply of steel products in the region or directly to companies producing and exporting metal during the investigation, and since mid-March a complete ban on the supply of stainless steel to the EU was introduced.
Earlier we reported that Germany's economic outlook for the second half of the year has deteriorated significantly.


German Ministry of Economics news: Economic outlook for the second half of the year significantly worsened
German Ministry of Economics news: The ministry said in its monthly report published this Friday that the economy is facing a "considerably worsened outlook" in the second half of the year due to shrinking gas supplies, rising energy prices, supply chain problems, and general uncertainty.
Despite the gloomy economic outlook, Germany's 10-year bond yield, the benchmark for the eurozone, rose above 1% for the first time since July 28.
Meanwhile, money markets continue to price in a 100% chance of a 50bp rate hike in September.
Now, EUR/USD is trading at 1.0296, down 0.19% for the day.
Earlier we reported that Chip makers fear worst recession in a decade.