Hawks, doves and kōtuku: how Māori culture is changing New Zealand's central bank
By Praveen Menon
3/3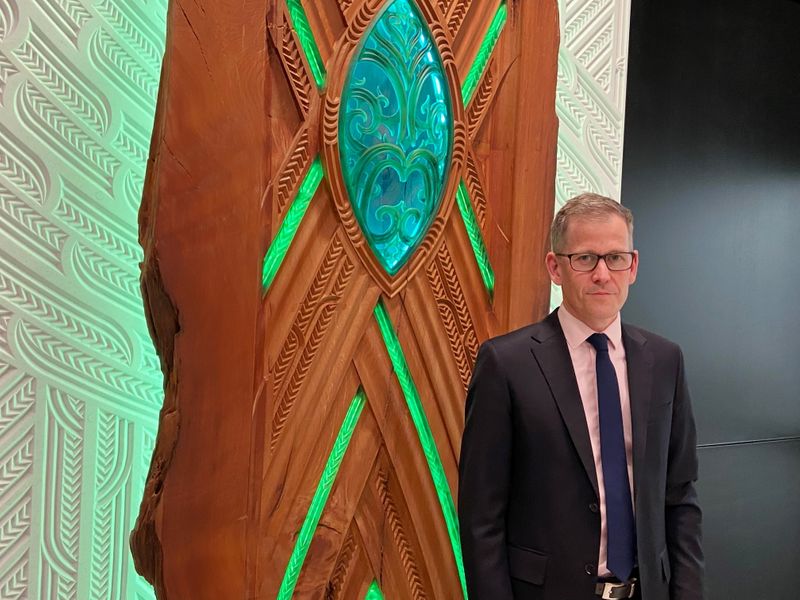 © Reuters. Assistant Governor Christian Hawkesby stands with an art installation of Maori forest god Tane Mahuta at the lobby of New Zealand's Central Bank building in Wellington, New Zealand September 22, 2021. REUTERS/Praveen Menon
2/3
By Praveen Menon
WELLINGTON (Reuters) – When a New Zealand central bank official spoke in September about the kōtuku, a white heron that features prominently in folklore of the indigenous Māori, the world's hard-nosed foreign exchange traders took it as a cue to dump the local currency.
Assistant Governor Christian Hawkesby was challenging the financial market's hackneyed use of terms like "hawks" and "doves" to describe monetary policy and introduced a third bird for them to consider, one that takes small and considered steps and constantly assesses its environment before making bold moves.
The nuanced illustration was meant to show how the Reserve Bank of New Zealand (RBNZ) would deftly navigate economic uncertainties https://www.reuters.com/world/asia-pacific/rbnz-comments-dampen-market-expectations-big-rate-hike-2021-09-20 such as the pandemic. Instead, it gave traders itching to know how fast interest rates would rise a reason to sell the currency to a one-month low.
"When we are using Māori and the cultural stories we need to explain those and translate those into English to bring everyone along with us," Hawkesby told Reuters, acknowledging the challenges of employing indigenous cultural references.
Over the past few years, the RBNZ has undergone an overhaul that puts the country's Māori heritage and language at the centre of its operations.
The makeover, driven by RBNZ Governor Adrian Orr, has resulted in some bold changes not only to its corporate branding but also its approach to policy and communication. https://www.reuters.com/article/newzealand-markets-orr/a-tricky-read-nz-central-bank-chief-wrong-foots-markets-idINKCN1RS0NO
The RBNZ's new stylised logo is inspired by the legend of Tāne Mahuta, the Māori god of the forest, and builds on the narrative of RBNZ as a giant tree that serves as "kaitiaki", or guardian, of the financial system.
Policy documents are now dotted with visual and linguistic references to Māori folklore, which have perplexed some investors in the New Zealand dollar, the world's 10th-most traded currency.
"It took me a while to figure what was being said here," a Sydney-based foreign exchange trader said of the kōtuku example.
BROADER PERSPECTIVES
The changes are part of a drive to elevate Māori culture, language and society in policymaking and promote indigenous perspectives on issues including climate change and sustainability, which has gathered pace under Prime Minister Jacinda Ardern.
For the central bank, that means a greater focus on financial inclusion for Māori, who make up 17% of the 5.1 million population but are under-represented in the economy.
Inequality has contributed to an income gap between Māori and non-Māori and led to poorer education and health outcomes for Māori, who have also been more affected by the economic and health impacts of the pandemic.
"Monetary policy is very much a macro perspective but it does have different distributional impacts, and it's critical that we recognise them when we take these policy decisions," said Ganesh Nana, Chair of the New Zealand Productivity Commission.
The change also calls for a better modelling and understanding of the $50 billion "Māori economy", which includes Māori-owned businesses, customary gift exchanges, assets in Māori entities and in natural resource-based sectors, much of it tied to traditional communities and land ownership.
"What you find is it's growing rapidly and it's much bigger and far more diverse than people realise," Hawkesby said of the Māori economy.
BEYOND OPTICS
The RBNZ has a reputation for innovation, pioneering the inflation targeting approach to monetary policy more than three decades ago, a tool now commonly used by other central banks.
Its increased Māori focus comes as more attention is being paid to how indigenous wisdom might help tackle issues including environmental protection.
Global leaders gathering at the UN COP26 climate summit in Scotland this week are being asked to include indigenous communities in climate debates.
"If you think of environmental, social and governance (ESG) investing, or development of green bonds and green investing, and socially responsible investment…all these things are becoming more mainstream than niche," Hawkesby said.
"Māori culture has hundreds of years of experience and pre-existing language underpinning all of that."
But the improved institutional profile of Māori culture has faced criticisms from some that the shift is mostly optics.
New art installations in the RBNZ's Wellington headquarters, including a piece depicting forest god Tāne Mahuta, are designed to connect the bank and the financial markets with the Māori community. However, its almost NZ$300,000 ($214,000) price tag has raised eyebrows.
Māori still find it harder to get employed compared to a New Zealander of European descent. Even in the RBNZ only 4.8% of its staff are Māori.
Hawkesby said the RBNZ was now doing internships with Māori and Pacific Islander students but acknowledged the bank still had "a long way to go" in terms of representation.
Morgan Godfrey, senior lecturer at the Otago Business School and a Māori political commentator, said Māori communities' and businesses' struggles to access private capital impeded growth and participation in the wider economy.
"The government is harvesting the low hanging fruit – incorporating te reo Māori (language) into marketing, implementing Māori leadership positions in government organisations. But none of this addresses the structural issues impeding the growth of Māori businesses."
($1 = 1.3935 New Zealand dollars)
Futures rise as easing China COVID curbs lift travel, leisure stocks
© Reuters. A trader works on the floor of the New York Stock Exchange (NYSE) in New York City, U.S., June 22, 2022. REUTERS/Brendan McDermid
By Shreyashi Sanyal
(Reuters) – Travel and leisure shares propped up U.S. stock index futures after China relaxed some COVID-19 quarantine requirements for international travelers, raising hopes of a revival in global growth.
Airlines, cruises, casinos and hotels were among the gainers in premarket trading after China's slashing of the quarantine time for inbound travelers by half boosted hopes of a big jump in international travel and spending.
Shares of Walt Disney (NYSE:DIS) Inc rose 2.5% to top the list of gainers on the Dow Jones Industrial Average, after the company's Shanghai Disney Resort said it would reopen the Disneyland theme park on June 30 after being shut for more than three months.
Spirit Airlines (NYSE:SAVE) and American Airlines (NASDAQ:AAL) Group Inc were the biggest gainers in the sector, rising 4% and 2% respectively.
Melco Resorts jumped 10% and led the rise in the casino sector, closely followed by Wynn Resorts (NASDAQ:WYNN), MGM Resorts (NYSE:MGM) International.
Wall Street's main indexes started the week on soft footing after worries of surging inflation and an aggressive Federal Reserve dominated sentiment amid few market moving catalysts till the start of earnings season in two weeks.
Investors are now looking at data to determine whether the economy can withstand large interest rate hikes by the U.S. central bank to stamp out inflation.
A survey from the Conference Board is expected to show its consumer confidence index slipped to a reading of 100.4 in June, from 106.4 in May, at 10 a.m. ET.
The S&P 500 and the Nasdaq are set to post losses in June and are on course to log two straight quarterly declines for the first time since 2015.
At 6:49 a.m. ET, Dow e-minis were up 175 points, or 0.56%, S&P 500 e-minis were up 20 points, or 0.51%, and Nasdaq 100 e-minis were up 52.25 points, or 0.43%.
Nike Inc (NYSE:NKE) shed 2.8% as it forecast first-quarter revenue below estimates on expectations of more discounts and pandemic-related disruptions in China, its most profitable market.
Occidental Petroleum Corp (NYSE:OXY) climbed 3.1% after top investor Warren Buffett raised stake in the shale producer.
China ADRs also rose on Beijing easing its COVID curbs, with e-commerce firms Alibaba (NYSE:BABA).com, JD (NASDAQ:JD).com and Pinduoduo (NASDAQ:PDD) up between 1.2% and 1.4%
Euro below $1.06 as Lagarde keeps July policy options open
© Reuters. A shopper pays with a ten Euro bank note at a local market in Nice, France, June 7, 2022. REUTERS/Eric Gaillard
By Saikat Chatterjee
LONDON (Reuters) – The Aussie and the Canadian dollar climbed on Tuesday on firmer oil prices while the euro held below $1.06 as European Central Bank (ECB) President Christine Lagarde offered no fresh insight on the central bank's policy outlook.
The ECB is widely expected to follow its global peers by raising interest rates in July to check soaring inflation though economists are divided on the magnitude of the rate hike to protect a struggling economic recovery due to high oil prices.
Oil prices are up 10% in barely a week on supply constraint concerns with Brent crude holding above $117, pushing the Canadian dollar and the Australian dollar up 0.3% and 0.4% respectively. [O/R]
"Oil is helping the Norwegian crown and the Canadian dollar to outperform and the euro is again running into resistance at the 1.06 level," said Kenneth Broux, an FX strategist at Societe Generale (OTC:SCGLY) in London.
The euro held below $1.06 after the ECB's Lagarde said the central bank would move gradually but with the option to act decisively on any deterioration in medium-term inflation, especially if there were signs of a de-anchoring of inflation expectations.
Money markets are pricing in about 238 basis points (bps) of cumulative rate hikes by mid-2023 compared to around 280 bps two weeks ago.
Broader currency market moves were contained in a big week for markets in economic data terms. German inflation figures are due on Wednesday, French data on Thursday and euro zone numbers on Friday.
At the other end of the dial, higher oil prices caused the partially convertible Indian rupee to open at a record low, and fall further to 78.67 per dollar.
The U.S. dollar index struck a two-decade high of 105.79 this month and was last steady at 103.93.
Elsewhere, the offshore Chinese yuan moved higher after China reduced COVID quarantine for international travellers.
China's economy recovering but foundation not solid, premier says
© Reuters. FILE PHOTO: Chinese Premier Li Keqiang is seen on a screen as he attends a news conference via video link after the closing session of the National People's Congress (NPC) in Beijing, China March 11, 2022. REUTERS/Ryan Woo
BEIJING (Reuters) -China's economy has recovered to some extent, but its foundation is not solid, state media on Tuesday quoted Premier Li Keqiang as saying.
China will strive to drive the economy back onto a normal track and bring down the jobless rate as soon as possible, Li was quoted as saying.
"Currently, the implementation of the policy package to stabilise the economy is accelerating and taking effect. The economy has recovered on the whole, but the foundation is not yet solid," Li was quoted as saying.
"The task of stabilising employment remains arduous."
China's economy showed signs of recovery in May after slumping the previous month as industrial production revived, but consumption remained weak and underlined the challenge for policymakers amid the persistent drag from strict COVID-19 curbs.
China's nationwide survey-based jobless rate fell to 5.9% in May from 6.1% in April, still above the government's 2022 target of below 5.5%.
In particular, the surveyed jobless rate in 31 major cities picked up to 6.9%, the highest on record. Some economists expect employment to worsen before it gets better, with a record number of graduates entering the workforce in summer.
Li vowed to achieve reasonable economic growth in the second quarter, although some private-sector economists expect the economy to shrink in the April-June quarter from a year earlier, compared with the first quarter's 4.8% growth.