Indonesia's GDP growth set to slow in Q3 as COVID-19 curbs bite
(Corrects third bullet and fourth paragraph to note release time of data as 0200 GMT.)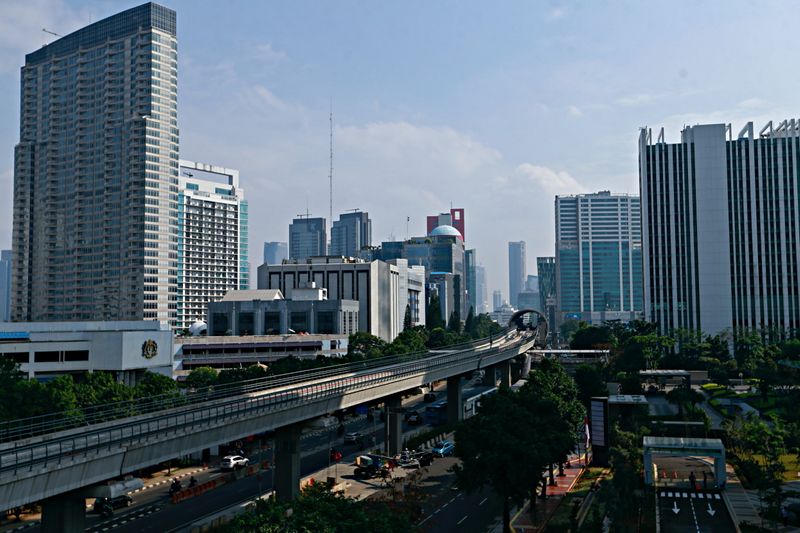 © Reuters. A general view of the city skyline of Jakarta, the capital city of Indonesia, August 5, 2021. REUTERS/Ajeng Dinar Ulfiana
(Corrects third bullet and fourth paragraph to note release time of data as 0200 GMT.)
By Vivek Mishra
BENGALURU (Reuters) – Indonesia's economic growth is expected to have slowed significantly in the third quarter as restrictions imposed to prevent the spread of the coronavirus Delta variant put the brakes on a nascent recovery, a Reuters poll found.
After reporting annual growth of 7.07% in the second quarter https://www.reuters.com/world/asia-pacific/indonesia-exits-recession-with-7-gdp-growth-q2-virus-clouds-recovery-2021-08-05, the strongest in nearly two decades, southeast Asia's biggest economy only grew 3.76% in the July-September period compared with the same three months a year earlier, according to the median forecast of 21 economists in the poll.
If realised, it would also be well below the latest government forecast https://www.reuters.com/world/asia-pacific/official-update-1-indonesia-sees-q3-gdp-growth-45-yy-warns-future-headwinds-2021-10-25 for the third-quarter growth of 4.5%.
Forecasts in the poll for gross domestic product (GDP) growth, due to be released on Nov. 5 at 0200 GMT, ranged from 1.6% to 5.2%, underscoring the widespread uncertainty around the impact of the pandemic on the economy.
On a quarter-on-quarter basis, growth was expected to have slowed to 1.80% from 3.31% in the second quarter. That was based on a smaller sample of forecasts.
"The government was forced to tighten measures last quarter to stem the surge in virus cases, and we expect the services sector will have been hit especially hard," said Alex Holmes, emerging Asia economist at Capital Economics.
"Even after the pandemic is over, the crisis will leave behind it a legacy of higher debt, impaired balance sheets and bankruptcies which mean GDP is unlikely to ever regain its pre-crisis path," he said.
Although the government has gradually eased lockdown restrictions after a sharp fall in coronavirus cases since July, when Indonesia was Asia's COVID-19 epicentre, the country is still not completely free from the virus.
With year-end holidays just around the corner, festive gatherings and increased mobility could trigger a third wave of COVID-19 infections. That, along with an economic slowdown in China, Indonesia's biggest trade partner, would pose a significant risk to the resource-rich country.
For now, Indonesia is benefiting from a surge in exports thanks to booming demand for commodities. The accompanying jump in prices meant Indonesia's trade surplus https://www.reuters.com/world/asia-pacific/indonesia-trade-surplus-shrinks-less-than-expected-september-437-bln-2021-10-15 was larger than expected in September, according to government data.
Strong exports may help cushion some of the negative economic impact of the pandemic, economists say.
"Economic activity has started to recover following the easing of virus curbs in the later part of Q3, with indicators such as mobility, consumer confidence, loan demand and the PMI showing improvement," said Krystal Tan, economist at ANZ.
"The upshot is that Indonesia's economy is gradually regaining a better footing and rising commodity prices are a boon for the resource-rich economy," Tan said.
A larger trade surplus may also help the country narrow its current account deficit, making its financial markets less vulnerable to capital outflows and allowing Bank Indonesia to keep monetary policy accommodative for longer.
The central bank is expected to keep its main policy rate unchanged at a record low of 3.50% until the third quarter of 2022, a separate Reuters poll https://www.reuters.com/world/asia-pacific/bank-indonesia-hold-rates-until-late-2022-awaiting-economic-resurgence-2021-10-15 showed.
Oil Prices Fall amid Protests in China
Oil prices fell on Monday amid a general decline in investor appetite for risk amid information about the ongoing protests in China against vested restrictions.
The cost of January futures on Brent crude oil on London's ICE Futures exchange was $81.31 per barrel on Monday, down $2.32 (2.77%) from the close of the previous session. At the close of trading on Friday, those contracts fell $1.71 per barrel to $83.63.
Oil prices decline – what's going on in the market?
The price of WTI futures for January crude fell by $2.31 (3.03%) to $73.97 per barrel in electronic trading on the New York Mercantile Exchange (NYMEX). By closing of previous trades, the cost of these contracts decreased by $1.66 (2.1%) to $76.28 per barrel. Brent and WTI gained 4.6% and 4.8%, respectively, last week.
According to Bloomberg, protests were held in cities across the country, including the capital Beijing, as well as Shanghai, Xinjiang, and Wuhan, which was originally the epicenter of the COVID-19 spread.
That contributes to a stronger U.S. dollar, which reduces the attractiveness of investments in crude, and also raises the possibility of even more significant tightening of restrictions by Chinese authorities, the agency said.
"The outlook for the oil market remains unfavorable and the events of this weekend in China do not add to the positive," notes Warren Patterson, who is in charge of commodities strategy at ING Groep NV in Singapore.
According to the forecast of analytical company Kpler, oil demand in China in the fourth quarter will decrease to 15.11 million barrels per day (bpd) compared to 15.82 million bpd a year earlier.
Earlier we reported that Russia will ban the sale of its oil to countries that have imposed a price ceiling.
Oil Russia ban news: Russia will ban the sale of its oil to countries that have imposed a price ceiling
Will Russia sell oil to Europe? The administration of President Vladimir Putin is preparing an order prohibiting Russian companies and any trader from buying Russian oil to sell raw materials to countries and companies that have imposed a price ceiling on Moscow. Bloomberg news agency wrote this, citing a report from sources.
"The Kremlin is preparing a presidential decree banning Russian companies and any traders buying national oil from selling it to anyone who participates in the price ceiling," the publication wrote.
According to the newspaper's interlocutors, this would prohibit any mention of the price ceiling in contracts for Russian crude, as well as transferring it to countries that have joined the price ceiling for the natural resource.
In the first half of September, the press service of the US Treasury Department said that the USA, together with its allies from G7 (Great Britain, Germany, Italy, Canada, France and Japan) and the European Union (EU) would impose a ban on marine transportation of Russian oil on December 5 and oil products – on February 5.
Earlier we reported that EU negotiations on limiting the prices of Russian oil reached a deadlock today.
EU talks on restrictions on Russian crude oil prices today stalled
Negotiations between the European Union countries about the "ceiling" of Russian crude oil prices today reached an impasse; Bloomberg reported, according to its sources.
Representatives of the bloc cannot reach an agreement on the ceiling price of Russian oil. According to the agency, the proposed European Commission limit of $65-70 per barrel, Poland and the Baltic countries believe "too generous," while Greece and Malta, which is actively engaged in transporting fuel, do not want the limit to fall below $ 70. Recall that the Russian response to the oil price cap was negative. The Russian government has officially said that it will only sell oil at market prices.
"We are looking for ways to make this solution work and we are trying to find a common ground to implement it in a perfectly pragmatic and efficient way, while avoiding that it may cause excessive inconvenience to the European Union," said German Chancellor Olaf Scholz.
Earlier, we reported that the SEC fined Goldman Sachs $4 million for non-compliance with ESG fund principles.