Japan ruling party's election win takes pressure off PM for bigger spending
By Leika Kihara and Kantaro Komiya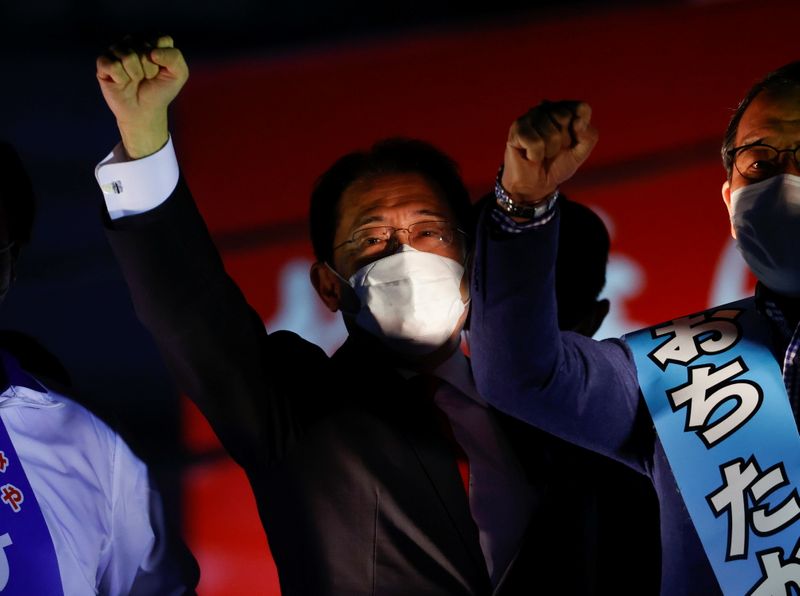 © Reuters. Japan's Prime Minister Fumio Kishida, who is also the President of the ruling Liberal Democratic Party, raises his fist with the party's candidates atop the campaigning bus on the last day of campaigning for the October 31 lower house election, amid the c
By Leika Kihara and Kantaro Komiya
TOKYO (Reuters) – The ruling party's solid victory in Japan's parliamentary election on Sunday will likely take pressure off Prime Minister Fumio Kishida to inflate the size of a pandemic-relief stimulus package, easing market fears of massive bond issuance.
Kishida has pledged to compile a fresh stimulus package worth "several tens of trillion yen" to cushion the economic blow from the COVID-19 crisis, but so far offered few details including the exact size of spending and how to pay for it.
During the election campaign, he rebuffed opposition calls for even bigger spending and a cut to the sales tax on the view Japan must not lose sight of the need to rein in its huge public debt that has ballooned to twice the size of its economy.
With his Liberal Democratic Party (LDP) having maintained its single-party majority in the powerful lower house, Kishida will face less pressure to heed such calls, as well as a proposal by coalition partner Komeito for blanket cash payouts to families with children aged 18 or lower, analysts say.
"Japan may have suffered flat or slightly negative economic growth in July-September. As a political gesture, a spending package around 30 trillion yen ($263 billion) would suffice," said Saisuke Sakai, senior economist at Mizuho Research and Technologies.
"Having won enough seats, Kishida doesn't need to inflate the spending package to counter opposition proposals for bigger fiscal stimulus," he said.
The big winner in the opposition was the Japan Innovation Party, which came in third in the lower house after the LDP and the opposition Constitutional Democratic Party of Japan with calls for more focus on deregulation than pork-barrel spending.
"The Innovation Party's strong showing is a sign of the rising popularity of a small government," said Yoshimasa Maruyama, chief market economist at SMBC Nikko Securities. "The Japanese public said no to excessive fiscal expansion."
PRICED IN
At a news conference on Monday, Kishida said he will compile the stimulus package in mid-November and aim to pass a supplementary budget through parliament by the end of this year.
"We'll have to issue bonds to fund necessary emergency steps to help people's livelihood," Kishida said, without commenting on the size of spending or bond issuance.
Markets have roughly priced in 30 trillion yen as a ballpark size of the package, which may lead to issuance of fresh debt but not enough to jolt financial markets.
Kishida hopes to deliver the package in time to support an economy struggling to emerge from the pandemic-induced doldrums.
While state of emergency curbs were lifted on Sept. 30, consumption has yet to fire up. Supply constraints and rising input costs have disrupted factory output, weighing on the export-reliant economy.
Analysts polled by Reuters expect Japan's economy to have grown an annualised 0.8% in the third quarter, before accelerating to 4.5% this quarter.
Sunday's election did leave some scars. Several LDP executives lost seats, including secretary-general Akira Amari, who is among masterminds of Kishida's growth strategy and a driver of the party's focus on economic security.
While Amari still won proportional representation, domestic media have reported he would step down from the party post.
"The impact of Amari's loss on economic security policy would be huge," said Yasuhide Yajima, chief economist at NLI Research Institute. "Regardless of whether he stays on at his post or resigns, there would be uncertainty over the fate of the steps he tried to pursue.
($1 = 114.2700 yen)
World food prices chart: World food prices have plummeted
Why are worldwide food prices rising? First, because of the current world situation. But world food prices fell sharply in July, with prices of major grains and vegetable oils dropping more than 10% in a month. 
World food prices chart
The Food Price Index was 140.9 points in July, down 8.6% from June. The drop in the index value continues for the fourth consecutive month after it reached an all-time high at the beginning of the year. Compared to July 2021, the index is up 13.1%. 
Despite the decline in high food prices, there are still many uncertainties around the world, such as high fertilizer prices, exchange rate volatility and weak global economic forecasts.
Vegetable Oil Price Index fell 19.2% in July from a month earlier, reaching its lowest level in a decade. Global cereal prices fell 11.5% for the month, still 16.6% higher than last year. Wheat prices fell the most (14.5%). 
World sugar prices over the month decreased by 3.8%; dairy products — by 2.5%, meat — by 0.5% due to weakened import demand for beef, lamb, and pork. At the same time, chicken meat rose in price due to strong demand and lower production volumes related to bird flu outbreaks. 
Are hedge funds bad? Investors are disappointed in hedge funds
Are hedge funds bad? This year is sure to be one of the worst years in hedge fund history. In the first six months of 2022, funds posted losses of 5.6%, according to HFR. In July, though, they rebounded by 0.5%, but nevertheless, writes the Financial Times, the sector is well on its way to its second-lowest year in a third of a century, since 1990, when they started keeping records. The only time the hedge fund market was worse than this was during the financial crisis in 2008.
Are hedge funds losing money? 
Most of the problems are accounted for by so-called long-short-term funds, whose assets total about $1.2 trillion. The results of their activity depend directly on the securities market. In the first half of this year, these funds lost an average of 12%, according to HFR data. This category of funds earned only about 1% in July, according to JPMorgan's John Schlegel calculations, well below the 7% rally in the stock market last month.
Among the hardest hit is the well-known Maverick Capital fund, which has been making double-digit returns to its investors for the past three years but lost 35% in January and June of this year. Similar losses have seen Skye Global, which has pleased investors with high returns over the past six years, but lost 10.4% in June alone. The fund was let down by a large stake in Amazon, which fell 36% in January-June 2022. However, in recent weeks, the retail giant has improved and cut its losses in half, to 19%. 
Already the first signs are starting to emerge that the losses are scaring investors. While they invested a total of $13.92 billion in hedge funds last year, only $440 million in the first quarter. There was a strong outflow of funds in March, and in June it exceeded $10.1 billion, according to Citco's fund administrator. Redemptions are expected to be $7.8 billion in the third quarter and $6.4 billion at the end of the year.
Weak performance in the first half of 2022 and investor dissatisfaction, however, have not affected the sector's confidence in its ability to raise funds. A survey of 100 hedge funds by technology company SigTech found that nearly one-in-four (23%) expect a sharp increase in investor activity in the next two years; 60% of respondents expect a slight increase in activity and only 4% believe investor activity will decline in 2023-24.
Chinese economy 2022: China will give up first place in the list of the largest importers of raw materials
Chinese economy 2022 news: China's commodity-buying companies will be adversely affected by government debt and demographic problems.
Over the next ten years, debt problems and slowing population growth may force China to cede the unofficial title of world's largest buyer of raw materials and minerals to India. 
Chinese economy analysis — the current situation
The structural challenges will make it very difficult for Beijing to accept and implement most of the policy initiatives coming from the center. Apart from the Chinese economy, this trend will have a major negative impact on mining companies around the world, many of which are heavily dependent on demand in China. Incidentally, many such companies are located in Australia.
China will likely be replaced in the next few years by India. If UN statistics are to be believed, India could overtake China regarding population as early as this year. This will have not only psychological, but also "material consequences" for the global market of raw materials and minerals.
China has been much criticized for shifting to mindless spending to combat the economic slowdown. Lowy Institute economist Roland Raja is pessimistic about the growth prospects of the Chinese economy. Even though the Indian economy is only a small part of the Chinese economy, he sees no signs of a slowdown soon. 
China will try to be more aggressive this year in combating the economic slowdown. Beijing will invest very heavily in the extractive industries.
Moyo also believes that Beijing will no longer be able to regain the high growth rates of past years. According to her forecast, China's economic growth will be 4% this year. Recall, the Chinese leadership set a higher target of 5.5%. Incidentally, this is the lowest growth in the Chinese economy for the past three decades. In the second quarter of this year, China's economic growth slowed to 0.4%.