Some Republicans in U.S. Congress try to close government over vaccine mandates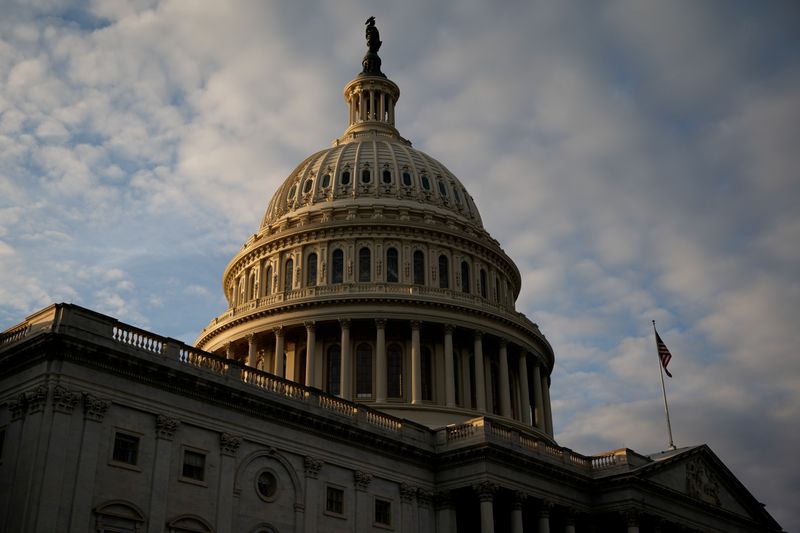 © Reuters. FILE PHOTO: The U.S. Capitol building is seen in Washington, U.S., November 16, 2021. REUTERS/Elizabeth Frantz/File Photo
By Susan Cornwell and David Morgan
WASHINGTON (Reuters) – U.S. lawmakers' efforts to keep the U.S. government operating hit a stumbling block on Wednesday as a group of hard-line Republicans threatened to try to block any plan that allowed COVID-19 vaccine mandates to proceed.
Congress has until midnight on Friday to pass a measure continuing to fund federal government operations or face a partial shutdown during a pandemic that would be a political embarrassment to President Joe Biden's Democrats, who narrowly control both chambers of Congress.
The hard-line Republican House Freedom Caucus called on Senate colleagues on Wednesday to vote against any measure, known as a "continuing resolution," that would support Biden's requirements that workers at federal contractors and large companies receive the COVID-19 vaccine.
"Use all procedural tools at your disposal to deny timely passage of the CR unless it prohibits funding – in all respects – for the vaccine mandates and enforcement thereof," the group wrote in an open letter to top Senate Republican Mitch McConnell.
McConnell earlier in the week said he was confident that the measure funding the government would pass. House Republicans do not have enough votes to block legislation. But most legislation requires 60 votes to advance in the evenly divided 100-seat Senate, so Democrats would need support from at least 10 Senate Republicans to get to a vote on passage.
Democratic Senate Majority Leader Chuck Schumer told reporters talks with McConnell on funding the government were "making good progress". He dismissed the Freedom Caucus' threat.
"We'll have total chaos," Schumer said. "It's up to the leaders on both sides to make sure that doesn't happen." Other lawmakers suggested one way to solve the problem would be to allow a separate vote on the vaccine mandates.
Negotiations between the two parties are focused on how long to continue to fund the government. Democrats want to extend current funding levels just until January and then pass new spending bills, while Republicans have urged a delay until later in the spring, a move that would leave spending at levels agreed to when Republican Donald Trump was president.
The Biden administration was blocked in court on Tuesday from enforcing two mandates requiring millions of American workers to get vaccinated against COVID-19, a key part of its strategy for controlling the spread of the coronavirus.
One federal judge temporarily blocked enforcement of a government mandate for healthcare workers. Another blocked the administration from enforcing a regulation that new government contracts must include clauses requiring that contractors' employees get vaccinated.Democrats were indignant at the conservative Republicans' demand. "I think we're in the middle of a public-health crisis. And vaccine requirements are reasonable public-health measures at this particular point in time," House Democratic Caucus Chairman Hakeem Jeffries told reporters.
Disclaimer:
Fusion Media
would like to remind you that the data contained in this website is not necessarily real-time nor accurate. All CFDs (stocks, indexes, futures) and Forex prices are not provided by exchanges but rather by market makers, and so prices may not be accurate and may differ from the actual market price, meaning prices are indicative and not appropriate for trading purposes. Therefore Fusion Media doesn`t bear any responsibility for any trading losses you might incur as a result of using this data.
Fusion Media or anyone involved with Fusion Media will not accept any liability for loss or damage as a result of reliance on the information including data, quotes, charts and buy/sell signals contained within this website. Please be fully informed regarding the risks and costs associated with trading the financial markets, it is one of the riskiest investment forms possible.
Rough gas storage facility UK to be mothballed
Rough gas storage facility UK, which was mothballed in 2017 due to safety concerns, will resume operations due to the country's energy crisis. According to The Telegraph, Centrica, which owns the facility, is ready to begin filling it in early September.
The Occupational Safety and Health Administration has already approved the storage facility's reopening. Now Centrica needs to coordinate state support and get the go-ahead from the North Sea Transition Authority. According to the authors, both of these tasks "do not appear to be problematic" for the company.
At the same time, the newspaper reports that Rough will initially operate at only a quarter of its capacity. A total of about 3.4 billion cubic meters of natural gas could be pumped there. According to the newspaper's calculations, a partial return to service would increase the current total volume of blue fuel stored in Great Britain to 1.6 billion cubic meters.
"We can bring Rough back into service by increasing its capacity in stages each winter," Centrica said.
Economists predict that in January 2023, electricity bills in the UK for local households could rise to more than three thousand pounds per year.
Earlier we reported that the U.S. economy was falling for the second quarter in a row.
Will the decline in the US economy begin to slow? The economy is falling for the second quarter in a row. What does it mean?
Will the decline in the US economy begin to slow? Compared to the first quarter of 2022, U.S. GDP has fallen by 0.9% year on year, said the country's Commerce Department. At the same time, the economy was supposed to show growth of 0.3 p. p. This was the second decrease in the year – in the first quarter of 2022; it decreased by 0.3 p p. compared to the previous quarter. The decline in real GDP reflects a decline in private investment in inventories and fixed capital, as well as reduced spending and investment by the federal government.
Decline in the US economy becoming stronger or weaker? 
Despite the decline in real GDP, the Commerce Department reported a 7.8% ($465.1 billion) year-over-year increase in GDP at current prices, as well as an increase in exports and personal consumption expenditures (PCE) related to Americans' domestic and foreign travel.
Consumer spending, which accounts for two-thirds of U.S. GDP, increased 1% in Q2 after rising 1.8% a quarter earlier. Business fixed investment fell 3.9% and federal government spending declined 1.9%. Exports jumped 18% last quarter, while imports rose only 3.1%.
Economists at Deutsche Bank predicted recessions in the U.S. and Germany on July 15. In their opinion, markets were seriously changed after the data publication on July 13, which showed an acceleration of consumer price growth in the USA. The futures-markets dynamics allow for an almost 100% probability of a recession in the American economy till the end of 2022.
A report from the International Monetary Fund on July 12 stressed that the U.S. will find it "increasingly difficult" to avoid a recession. The Institute worsened its estimates of the economy: the growth forecast for 2022 was decreased from 2.9% to 2.3%; the real GDP growth expectation for 2023 was decreased from 1.7% to 1%.
The Fed is raising the rate at an accelerated pace: at the last meeting – immediately by 0.75 bp to 1.75%, which was the biggest increase since 1994. However, the current prime rate (1.58%) remains very low – far below both the neutral level (2.5%), and the inflation rate (9.1% in annual terms in June). Most analysts expect the Fed to have to raise the rate to at least 3.75-4% at the end of the year.
We should not expect that the very fact of a recession in the U.S. will have a strong negative impact on other developed world economies. The effect will strongly depend on the depth of the crisis. In any case, the severity of the recession will not be comparable to the Great Depression, when for four years there was a rapid drop in GDP.
Earlier we reported on whether Europe is in a recession.
Is Europe in a recession now: the consequences are listed
Is Europe in a recession now? The depth of the recession in the eurozone will depend on the pace as well as the extent of the economic decline, which can be tried to regulate by raising key interest rates. The consequences of a recession could be a drop in personal income and a rise in unemployment. 
The euro zone economy is very likely to face a recession, according to 60 percent of experts surveyed by Bloomberg. That number has risen from 45 percent in the last survey and 20 percent since the Russian invasion of Ukraine.
Is there a recession in Europe? 
Is there a recession in Europe? There are different variations on the speed at which the eurozone is going into this dynamic. Most markets will show zero or negative growth in the third quarter. Naturally, this will have an immediate impact on equity and commodity markets. This, in turn, will lead to big changes in the economy.
Different countries, regions and markets will go into recession unevenly. Most likely, the USA will show one more quarter of negative growth rates, which will be a clear indicator of a departure into this phase. The same is likely to be true for Europe.
There is no recession in China, but the growth rate is already declining. This is also a significant factor which will affect the global economy. The depth of the failure will depend on how the authorities of different countries will react to what is happening: whether they will slow down the increase in rates; whether they will manage to achieve a balance. This will have an impact on the price of raw materials, unemployment, etc.
No precise predictions are impossible to make at the moment: we will have to wait for statistics for the third quarter or at least for August.
Earlier we reported on an unexpected threat to the U.S. economy.