Take Five: Gas, inflation and time to hit the shops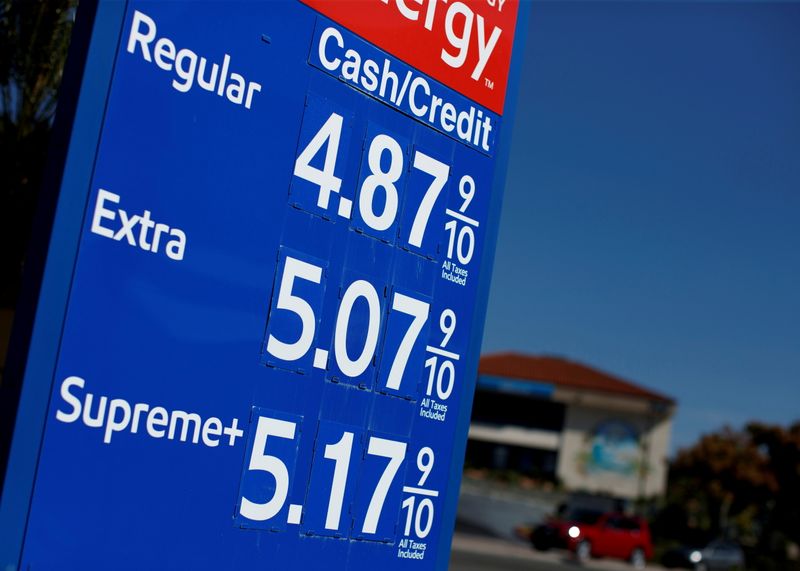 © Reuters. FILE PHOTO: Gas prices grow along with inflation as this sign at a gas station shows in San Diego, California, U.S. November, 9, 2021. REUTERS/Mike Blake/File Photo
(Reuters) – Rising geopolitical tensions across central and eastern Europe and climbing gas prices should keep markets on edge in the week to come.
U.S. shoppers gear up for Black Friday while investors will scour inflation data and Fed minutes for hints on the impact of price pressures on interest rates. And, just how far will Kiwi rates fly?
1/BLOWING HOT AND COLD
Russia-West ties have been at their frostiest since the Cold War for a while – but could they turn hot? Russia's Vladimir Putin says the West is not heeding "red lines", warning against deploying NATO infrastructure in Ukraine. Russian troop movements at Ukraine's borders have led NATO to warn it was standing by Kyiv.
Ukrainian bond prices have slumped, Moscow's markets are waking up to fresh risk, Poland and Hungary have seen currencies and stocks fall hard. But much of the conflict is playing out on markets, where a 350% price surge this year will fan inflation and hurt growth.
Markets are also on alert for tensions flaring around Russia's $11 billion Nordstream 2 pipeline, opposed by the U.S. and Ukraine, supported by Germany. A suspension of its certification saw Russian gas flows to Europe ease, pushing prices back towards 100 euros a megawatt hour. Gas prices, https://fingfx.thomsonreuters.com/gfx/mkt/lgpdwnggevo/gas.PNG
2/ UNEVEN BREAKEVENS
Minutes from the Federal Reserve's November meeting on Wednesday should provide clues on its take on inflation.
U.S. consumer prices rising at the fastest pace in more than three decades in October and accelerating inflation expectations have lifted expectations that the Fed will need to speed up tapering of asset purchases and hike rates faster-than-expected.
The 5-year and 10-year breakeven rate – the yield spread between inflation protected and normal Treasuries – stand at record highs. More fodder comes from Wednesday's reading of the October personal consumption expenditures (PCE) price index – the Fed's preferred inflation gauge – expected to rise to 0.4%, according to a Reuters poll. Breakeven inflation rates, https://fingfx.thomsonreuters.com/gfx/mkt/gkplgdqylvb/MicrosoftTeams-image%20(17).png
3/RETAIL RODEO
Black Friday kicks off the key holiday shopping period and news has been mostly good for retailers in recent months as a vaccine-fueled U.S. reopening sent shoppers back into stores.
That's been reflected in retailers' shares: The retailing exchange-traded fund is up 15% this quarter, compared with a 9% gain for the S&P 500. Consumer discretionary earnings growth – including many retailers – has risen to 14.5% from 8% at the start of October, Refinitiv data shows.
But global supply-chain bottlenecks crimping inventories and pushing up prices remain a worry: Walmart (NYSE:) shares tumbled after high labour and supply chain costs ate into margins.
Soaring inflation also has markets worried about consumers tightening their belts. But recent retail sales numbers made for happier reading, showing October sales surging as Americans started shopping early to beat supply shortages. Retail rodeo, https://fingfx.thomsonreuters.com/gfx/mkt/zjpqkwdzwpx/Pasted%20image%201637183327127.png
4/ GROWTH VS COVID
The flash November purchasing managers' index (PMI), a key forward looking economic indicator, is due out from a host of major economies in coming days — the United States, Australia, Britain and the euro area.
Market focus is on what impact price pressures and supply bottlenecks are having on business activity and whether these are abating. Euro area PMIs, which have held up well, could provide a sense of what toll a resurgent COVID-19 is taking.
Germany's Angela Merkel warns the coronavirus situation in the powerhouse economy is dramatic, the Netherlands is in partial lockdown and pressure is mounting on Austria to do more. But vaccine rollouts and the reassuring – and hefty – presence of ECB stimulus ease some of those worries. Euro zone PMIs and COVID-19, https://fingfx.thomsonreuters.com/gfx/mkt/zdvxongxxpx/theme1811.PNG
5/A NOT SO FLIGHTLESS KIWI
The Reserve Bank of New Zealand is expected to move deeper into the vanguard of inflation fighters on Wednesday, and deliver a second rate hike in as many months. Since October, when the RBNZ joined Norway as developed markets' first hikers, inflation has surged to a decade high and the unemployment rate has sunk to record lows. Traders are sure rates will go up, and are focused on two hawkish risks: A roughly 40% chance that the hike is a chunky 50 bps one, and the bank lifts its long-term rates outlook. Either could hoist the higher, though both bring risks to local borrowers already squeezed by the fastest pace of mortgage rate rises in 15 years. Kiwi rates primed for liftoff, https://fingfx.thomsonreuters.com/gfx/mkt/lbvgnbynapq/Pasted%20image%201637210870403.png
South Korean exports dropped 14% in November, the highest in 2.5 years
South Korea's exports fell 14 percent year-on-year to $51.91 billion in November, preliminary data from the Ministry of Commerce, Industry and Energy showed. The November drop was the biggest in 2.5 years since May 2020 and was caused both by the deteriorating global economy, which even a Google price chart showed, and a truckers' strike in the country.
South Korea exports 2022 – reasons for the drop
Exports fell for the second month in a row. Analysts on average expected an 11% decline, according to Trading Economics. Respondents to MarketWatch predicted a 10.5% decline.
Shipments of semiconductor products overseas, the country's top export item, fell 29.8%; petrochemicals fell 26.5% and steel exports fell 10.6%. Meanwhile, exports of automobiles jumped 31% and petroleum products 26%.
Exports to China, South Korea's largest trading partner, fell by 25.5%, and to Asian countries – by 13.9%. Below, supplies to the USA grew by 8% and to the European Union – by 0.1%.
In January-November exports rose by 7.8% on the same period last year and reached a record $629.1 billion.
South Korean imports rose 2.7% to $59.2 billion in November, marking the 23rd consecutive month of gains, but the current rate of growth is the lowest since November 2020. Experts had predicted an increase of only 0.2%.
South Korea's trade deficit last month was $7.01 billion, compared with a surplus of $2,973 billion a year earlier.
The negative balance was recorded for the eighth month in a row. As a result, by the end of 2022, the country may record a foreign trade deficit for the first time since the financial crisis in 2008.
Earlier we reported that the UN estimates the cost of humanitarian aid in 2023 at a record $51 billion.
The UN estimates humanitarian aid costs in 2023 at a record $51 billion because of an impending humanitarian crisis
Joint humanitarian operations will require a record $51.5 billion in 2023 to address urgent problems.
The UN Office for the OCHA estimates that 339 million people will need urgent aid in 2023. At the same time, OCHA called on donor countries to provide funds for assistance in 2023 to the 230 million people most in need, living in 68 countries.
Griffiths explained that aid is needed not only for people experiencing conflicts and disease outbreaks. but also for those suffering the effects of climate change, such as people in peninsular Somalia facing drought and those in Pakistan experiencing severe flooding. For the first time, the growing humanitarian crisis has brought the number of displaced people worldwide to the 100 million mark. Also worsening an already bad situation is the worldwide coronavirus pandemic, which affects the poor. Note that the general economic crisis has begun to negatively affect even the Netflix price chart.
Earlier we reported that house prices in the UK fell by 1.4% in November.
Average house prices in the UK fell 1.4% in November
Average house prices in the UK fell 1.4% in the previous month in November to 263,788 thousand pounds (about $319,000), according to the British mortgage company Nationwide Building Society.
The decline was recorded at the end of the second consecutive month and was the most significant in almost 2.5 years – since June 2020. Analysts on average had forecast a decline of only 0.3%, according to Trading Economics.
Are house prices in the UK going to fall even more?
Residential real estate prices in November compared to the same month last year increased by 4.4%. At the same time, experts expected a larger increase of 5.8%. The growth rate slowed down significantly compared with 7.2% in October. Because of the difficult economic situation, British investors are investing in other instruments. The Microsoft price chart, for example, is showing potential for growth, so many are interested in the U.S. stock market. 
"The market looks set to remain under pressure in the coming quarters. Inflation will remain high for some time, and interest rates are likely to continue to rise," believes Nationwide Senior Economist Robert Gardner. – The outlook is unclear, and much will depend on how the overall economy behaves, but a relatively soft landing is still possible."
Earlier we reported that Sanctions Circumvention was included in the EU's list of criminal offenses.