Turkey's lira dives back into crisis territory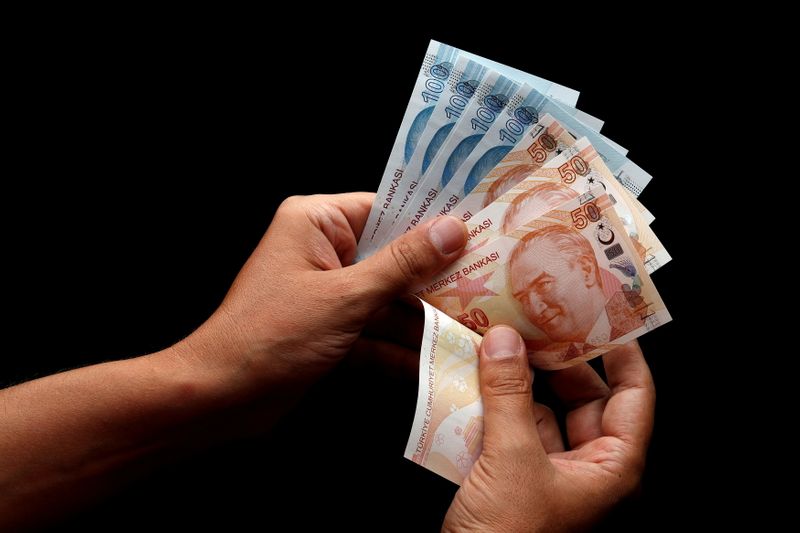 © Reuters. FILE PHOTO: Turkish lira banknotes are seen in this picture illustration in Istanbul, Turkey August 14, 2018. REUTERS/Murad Sezer/Illustration/File Photo
By Tommy Wilkes and Marc Jones
LONDON (Reuters) – suffered one of its worst days in three years on Thursday after the central bank defied warnings of a full-blown currency meltdown and rocketing inflation, and slashed interest rates by 100 basis points.
The country's President Tayyip Erdogan takes the unorthodox view that lower rates are the only way to curb inflation. Not only has he seemingly got his way this time, but his central bank chief hinted at another cut next month.
Economists warn Turkey now risks even higher inflation – 30% potentially – and full currency meltdown unless the course changes and rates are raised.
Below are a series of charts explaining what's behind the lira's woes.
1. SLUMP, JUMP AND SLUMP AGAIN
Turkey, the largest economy in the Middle East and the 20th biggest in the world, has been hit by two sharp contractions in as many years and its currency has shed two-thirds of its value since mid-2018.
The lira enjoyed some respite in 2020 — it rallied more than 20% between November 2020 and February 2021 — after a change of finance minister and central bank governor restored some confidence.
But Erdogan ousted that governor in March and investors say any remaining credibility has been lost as the new chief delivers a series of rate cuts.
Graphic: Turkey's lira https://fingfx.thomsonreuters.com/gfx/mkt/zjpqkwmdrpx/lira%20decade.PNG
2. RUNNING LOW ON AMMUNITION
The central banks' reserves have risen this year thanks to an infusion of IMF money, but analysts say they are actually still in negative territory due to various funding arrangements with the country's local banks.
Turkey's net FX reserves stood at $28.61 billion as of Nov. 12. That's up significantly from the sub-$10 billion levels of April.
However, the bank's outstanding swap transactions stand at $43.44 billion, which means reserves are technically $15 billion in the red.
Graphic: Turkey's currency reserves https://fingfx.thomsonreuters.com/gfx/mkt/zgvomklljvd/Pasted%20image%201637254041981.png
3. CRISIS IN THE BALANCE
Turkey also runs a current account deficit, though smaller than in previous years. The central bank chief has said addressing the deficit is key to tackling price stability.
Looser monetary policy though in the context of an economy already operating above its pre-COVID trend risks causes imbalances to build and could sow the seeds of another balance of payments crisis, warns Capital Economics.
Graphic: Turkey's balance of payments https://fingfx.thomsonreuters.com/gfx/mkt/dwpkreyywvm/Pasted%20image%201637257931363.png
4. IS ANOTHER CUT COMING?
Thursday's cut leaves interest rates at 15% and roughly 500 basis points below October's inflation near 20% reading.
In 2018 when the lira was in free fall, the central bank yanked up interest rates to 24%, or about seven percentage points above where inflation was at the time, before the currency stabilised.
"Noting the risks for further cuts, we keep our view that continued market pressures will discourage further easing," JPMorgan (NYSE:) said after Thursday's policy meeting.
Graphic: Turkey rates and inflation https://fingfx.thomsonreuters.com/gfx/mkt/mypmnkyymvr/turkey%20rates%202.PNG
5. NOT SO APPEALING
Turkey's government and its companies need to refinance a combined $174.5 billion next year, according to ratings firm Fitch.
But Turkey's real yields — adjusted for inflation — are negative and below peers, making them less appealing for overseas investors.
"We have had this issue (absence of central bank credibility) for a long time, but what we are looking at is the fallout elsewhere – how it effects the ability of the banks and corporates to meet their financing requirements," one of Fitch's top sovereign analysts, Paul Gamble, said.
Graphic: EM real yields https://fingfx.thomsonreuters.com/gfx/mkt/znvnekmmkpl/turkey%20real.PNG
6. HOUSEHOLDS HURT
The International Monetary Fund forecasts Turkey's economy will grow 9% this year as it recovers from the pandemic.
But for households and consumers it's a different story. With inflation likely to be heading towards 30% thanks to the plummeting their spending power is being eroded fast.
Graphic: Turkey economic confidence https://fingfx.thomsonreuters.com/gfx/mkt/zdpxonggrvx/turkey%20confidence.PNG
7. IN THE BANK
Turks and businesses in the country tend to convert their lira into dollars and euros, especially during times of strife.
It has not moved much of late. Dollarization of the domestic deposit base is hovering above 60%. The real crisis would come if Turks starts pulling their money of the banks en masse.
Graphic: Forex held by Turkish local individuals and institutions https://fingfx.thomsonreuters.com/gfx/mkt/akvezmxlapr/forex%20held%20turkish.PNG
Oil Prices Fall amid Protests in China
Oil prices fell on Monday amid a general decline in investor appetite for risk amid information about the ongoing protests in China against vested restrictions.
The cost of January futures on Brent crude oil on London's ICE Futures exchange was $81.31 per barrel on Monday, down $2.32 (2.77%) from the close of the previous session. At the close of trading on Friday, those contracts fell $1.71 per barrel to $83.63.
Oil prices decline – what's going on in the market?
The price of WTI futures for January crude fell by $2.31 (3.03%) to $73.97 per barrel in electronic trading on the New York Mercantile Exchange (NYMEX). By closing of previous trades, the cost of these contracts decreased by $1.66 (2.1%) to $76.28 per barrel. Brent and WTI gained 4.6% and 4.8%, respectively, last week.
According to Bloomberg, protests were held in cities across the country, including the capital Beijing, as well as Shanghai, Xinjiang, and Wuhan, which was originally the epicenter of the COVID-19 spread.
That contributes to a stronger U.S. dollar, which reduces the attractiveness of investments in crude, and also raises the possibility of even more significant tightening of restrictions by Chinese authorities, the agency said.
"The outlook for the oil market remains unfavorable and the events of this weekend in China do not add to the positive," notes Warren Patterson, who is in charge of commodities strategy at ING Groep NV in Singapore.
According to the forecast of analytical company Kpler, oil demand in China in the fourth quarter will decrease to 15.11 million barrels per day (bpd) compared to 15.82 million bpd a year earlier.
Earlier we reported that Russia will ban the sale of its oil to countries that have imposed a price ceiling.
Oil Russia ban news: Russia will ban the sale of its oil to countries that have imposed a price ceiling
Will Russia sell oil to Europe? The administration of President Vladimir Putin is preparing an order prohibiting Russian companies and any trader from buying Russian oil to sell raw materials to countries and companies that have imposed a price ceiling on Moscow. Bloomberg news agency wrote this, citing a report from sources.
"The Kremlin is preparing a presidential decree banning Russian companies and any traders buying national oil from selling it to anyone who participates in the price ceiling," the publication wrote.
According to the newspaper's interlocutors, this would prohibit any mention of the price ceiling in contracts for Russian crude, as well as transferring it to countries that have joined the price ceiling for the natural resource.
In the first half of September, the press service of the US Treasury Department said that the USA, together with its allies from G7 (Great Britain, Germany, Italy, Canada, France and Japan) and the European Union (EU) would impose a ban on marine transportation of Russian oil on December 5 and oil products – on February 5.
Earlier we reported that EU negotiations on limiting the prices of Russian oil reached a deadlock today.
EU talks on restrictions on Russian crude oil prices today stalled
Negotiations between the European Union countries about the "ceiling" of Russian crude oil prices today reached an impasse; Bloomberg reported, according to its sources.
Representatives of the bloc cannot reach an agreement on the ceiling price of Russian oil. According to the agency, the proposed European Commission limit of $65-70 per barrel, Poland and the Baltic countries believe "too generous," while Greece and Malta, which is actively engaged in transporting fuel, do not want the limit to fall below $ 70. Recall that the Russian response to the oil price cap was negative. The Russian government has officially said that it will only sell oil at market prices.
"We are looking for ways to make this solution work and we are trying to find a common ground to implement it in a perfectly pragmatic and efficient way, while avoiding that it may cause excessive inconvenience to the European Union," said German Chancellor Olaf Scholz.
Earlier, we reported that the SEC fined Goldman Sachs $4 million for non-compliance with ESG fund principles.