Cuomo's lawyer calls for NY attorney general to recuse herself
2/2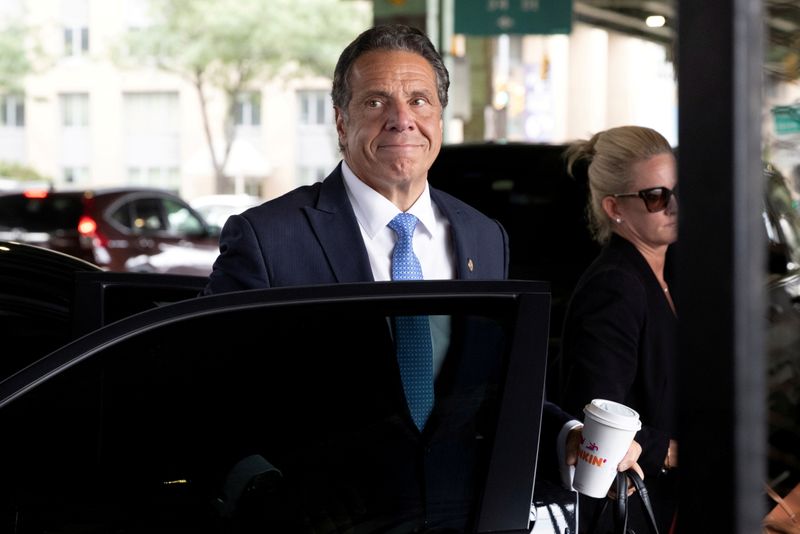 © Reuters. FILE PHOTO: New York Governor Andrew Cuomo arrives to depart in his helicopter after announcing his resignation in Manhattan, New York City, U.S., August 10, 2021. REUTERS/Caitlin Ochs/File Photo
2/2
By Tyler Clifford and Brendan O'Brien
NEW YORK (Reuters) -A lawyer for Andrew Cuomo on Thursday called on New York state Attorney General Letitia James to recuse herself from any decisions regarding the sexual harassment case against the former governor, saying her gubernatorial campaign created a conflict of interest.
"Her office must recuse as she is campaigning for governor," said Rita Galvin, a lawyer for Cuomo, calling attention to James' campaign announcement a day after the Albany County Sheriff's Office charged Cuomo with a misdemeanor sex offense.
"Her judgment in those months was absolutely compromised by her political motivations," Galvin said, referring to the weeks before James' office issued a report that found Cuomo had sexually harassed 11 women.
Cuomo has denied wrongdoing. He said in August he accepted "full responsibility" for what he characterized as ill-conceived attempts to be affectionate or humorous, but said he would resign for the good of the state.[nL1N2PH1JI]
James' office says it is standing by the sexual misconduct report and the women who came forward with allegations against the former governor.
In a statement, the office characterized Cuomo's tactics as "school yard bullying" and a way for the former governor to keep his name in the spotlight.
"Today's embarrassing press conference was simply dramatics and faux outrage," the statement said. "If Andrew Cuomo didn't want to be accused of sexual harassment, he shouldn't have sexually harassed multiple women in the first place."
James, 63, announced on Oct. 29 that she would challenge fellow Democrat Kathy Hochul, the former lieutenant governor, who replaced Cuomo when he stepped down on Aug. 24 after more than 10 years in office. The gubernatorial election is to be held next November.
James said the five-month independent investigation concluded that Cuomo had engaged in conduct that violated multiple federal and state laws.
Galvin called the report's contents into question, saying that James had personal motivations to redact certain parts of transcripts and evidence.
The redactions had motivations to cause less damage to some and more damage to others, she said. Galvin also requested that tens of thousands of documents used in the investigation be released.
A criminal complaint charging Cuomo with a misdemeanor sex offense was filed on Oct. 29 in a court in Albany, the state capital.
Galvin also called for James to recuse herself from any investigation that is looking into whether Cuomo and his administration misused state resources to write and promote a book he published last October about his leadership during the early months of the pandemic.
Disclaimer:
Fusion Media
would like to remind you that the data contained in this website is not necessarily real-time nor accurate. All CFDs (stocks, indexes, futures) and Forex prices are not provided by exchanges but rather by market makers, and so prices may not be accurate and may differ from the actual market price, meaning prices are indicative and not appropriate for trading purposes. Therefore Fusion Media doesn`t bear any responsibility for any trading losses you might incur as a result of using this data.
Fusion Media or anyone involved with Fusion Media will not accept any liability for loss or damage as a result of reliance on the information including data, quotes, charts and buy/sell signals contained within this website. Please be fully informed regarding the risks and costs associated with trading the financial markets, it is one of the riskiest investment forms possible.
Georgia Gov. Kemp defeats Trump-backed rival for Republican nomination
2/2
© Reuters. Georgia Governor Brian Kemp speaks during a rally ahead of the state's Republican primary, in Kennesaw, Georgia, U.S. May 23, 2022. REUTERS/Alyssa Pointer
2/2
WASHINGTON (Reuters) – Georgia Governor Brian Kemp won the Republican nomination to run for reelection in November, Edison Research projected on Tuesday, holding off a challenge by former U.S. Senator David Perdue, who Donald Trump had backed.
The former president endorsed Perdue after Kemp refused to overturn the results of Georgia's votes in the 2020 election which saw the state go for President Joe Biden. Kemp will face Stacey Abrams in the general election on Nov. 8.
U.S. court revives 'insurrection' challenge to congressman Cawthorn
© Reuters. FILE PHOTO: U.S. Rep. Madison Cawthorn of North Carolina speaks at the Conservative Political Action Conference (CPAC) in Orlando, Florida, U.S. February 26, 2021. REUTERS/Octavio Jones/File Photo
By Jan Wolfe
WASHINGTON (Reuters) – A U.S. appeals court on Tuesday issued a decision that could bolster efforts to disqualify members of Congress on the grounds that they voiced support for the Jan. 6, 2021, attack on the Capitol, saying a 150-year-old law does not shield lawmakers from such challenges.
In a written ruling, the 4th U.S. Circuit Court of Appeals revived a lawsuit alleging U.S. Representative Madison Cawthorn is unfit for federal office.
The ruling will likely have little to no impact on Cawthorn because last week he lost his re-election bid in North Carolina's Republican primary, but the decision is likely to be cited as an important precedent in future challenges.
The voters claimed Cawthorn voiced support for the violent Capitol attack, violating a provision of the U.S. Constitution known as the "Insurrectionist Disqualification Clause."
Cawthorn was one of only two members of Congress who spoke at then-President Donald Trump's rally that preceded the Capitol rioting. Cawthorn has vigorously denied that his actions and comments can be equated with "insurrection" against the United States.
The Insurrectionist Disqualification Clause, passed after the 19th-century U.S. Civil War, bars politicians from running for Congress if they have engaged in "insurrection or rebellion" against the United States, or "given aid or comfort" to the nation's enemies.
The North Carolina voters are represented by Free Speech For People, an advocacy group that brought a similar, unsuccessful challenge to Republican U.S. Representative Marjorie Taylor Greene's qualifications for office.
In that case, an administrative judge said challengers to Greene failed to prove she was unfit for the office.
A federal judge in March dismissed the challenge to Cawthorn's candidacy, saying the Insurrectionist Disqualification Clause was effectively overridden by a law Congress passed in 1872 that granted amnesty to Confederates who opposed the Union in the Civil War.
The 4th Circuit reversed that decision, concluding that the 1872 law applied only to Civil War Confederates.
Factbox-Power of Trump's endorsements faces test in 12 U.S. midterm primaries
© Reuters. FILE PHOTO: Former U.S. President Donald Trump speaks during his rally in Selma, North Carolina, U.S., April 9, 2022. REUTERS/Erin Siegal McIntyre/File Photo
(Reuters) -Former U.S. President Donald Trump is seeking to demonstrate his power over the Republican Party with more than 190 endorsements of candidates ahead of the Nov. 8 midterm elections that will determine control of Congress for 2023 and 2024.
Twelve picks in primary elections taking place stand out among the many. Some are Republicans opposing incumbent members of his party.
STILL UNDECIDED
Mehmet Oz
* Seeks U.S. Senate seat for Pennsylvania vacated by retiring Republican Senator Pat Toomey
Oz, a celebrity doctor whose endorsement by Trump divided Republican leaders in Pennsylvania, could be heading to a recount in his race against former hedge fund executive David McCormick (NYSE:MKC). Votes were still being counted on Monday in the May 17 Republican primary, with Oz leading by roughly 1,000 votes – or 0.3 percentage points – a gap so narrow it could automatically trigger an official recount.
The eventual winner will face Democratic Lieutenant Governor John Fetterman in what is expected to be among the tightest races of the November election.
WINNERS IN PRIMARIES
Ted Budd
* Seeks U.S. Senate seat for North Carolina vacated by retiring Republican Senator Richard Burr
A rank-and-file member of the House of Representatives, Budd had little statewide name recognition before he sought the Republican nomination for what is expected to be a tight race in November. But following Trump's endorsement, he surged in opinion polls and easily defeated former North Carolina Governor Pat McCrory in the May 17 primary.
In November, Budd will face Democrat Cheri Beasley, a Black woman who formerly served as the state's chief justice.
J.D. Vance
* Seeks U.S. Senate seat for Ohio vacated by retiring Republican Senator Rob Portman
Trump-backed Vance triumphed in a crowded May 3 Republican primary and is favored to win in November against Democrat Tim Ryan, currently a U.S. Representative for Ohio, although some political observers expect a stiff challenge from Ryan.
Vance is best known as the author of best-seller "Hillbilly Elegy" which documented the descent of factory towns in states like Ohio into poverty and drug abuse. He has styled himself as an angry populist in the Trump mold, seeking to shed his prior reputation as a Trump critic.
UPCOMING RACES
Herschel Walker
* Seeks to defeat incumbent Democratic Senator Raphael Warnock of Georgia
* May 24 Republican primary
A retired football star, Walker is favored to win the Republican nomination contest and public opinion polls already point to a close race in November against Warnock, a pastor. But Trump-endorsed Walker, who has never held elected office, has vulnerabilities including past allegations of domestic abuse. Groups backing Walker's Republican primary opponents are planning ad campaigns that argue Walker cannot beat Warnock because of his baggage.
David Perdue
* Seeks to defeat Georgia incumbent Republican Governor Brian Kemp
* May 24 Republican primary
In 2021, Perdue conceded that he lost his U.S. Senate seat to Democrat Jon Ossoff, but in March 2022 reversed himself, voicing false claims that the election was stolen, although the evidence of fraud that he cited was part of a case that was ultimately dismissed by a judge. Kemp angered Trump by dismissing the former president's false statements about election fraud but holds a double-digit lead over Perdue in opinion polls.
Katie Arrington
* Seeks to defeat incumbent U.S. Republican Representative Nancy Mace
* June 14 Republican primary for South Carolina's 1st congressional district
The South Carolina state representative is challenging a sitting Republican lawmaker who voted against Trump's impeachment. Mace irked the former president shortly after taking office in January 2021 when she said Congress should consider censuring Trump for his role in his supporters' assault on the U.S. Capitol on Jan. 6, 2021. Arrington has trailed Mace in public opinion polls.
Russell Fry
* Seeks to defeat incumbent U.S. Republican Representative Tom Rice
* June 14 Republican primary for South Carolina's 7th congressional district
Trump's pick to unseat Rice, one of a handful of Republicans who voted to impeach the former leader, is a state representative whose campaign had nearly a half million dollars in the bank on March 31, pointing to a potentially competitive race with Rice.
Loren Culp
* Seeks to defeat incumbent U.S. Republican Representative Dan Newhouse
* Aug. 2 Republican primary for Washington's 4th congressional district
Trump's pick to challenge Newhouse is former small-town police chief Loren Culp, who in March called for the execution of a Black man accused of badly injuring a woman by throwing her down the stairs of a train station. Trump had endorsed Culp in February, angered by Newhouse's 2021 impeachment vote.
John Gibbs
* Seeks to defeat incumbent U.S. Republican Representative Peter Meijer
* Aug. 2 Republican primary for Michigan's 3rd congressional district
A former housing official under Trump, Gibbs' nomination to head the U.S. Office of Personnel Management floundered after lawmakers from both parties questioned his history of inflammatory tweets, including references to baseless conspiracy theories about Democrats and Satanism. His opponent Meijer, who voted to impeach Trump, is far ahead in fundraising. The winner of the nomination contest will face a Democrat in what is expected to be among the tightest House races in November.
Joe Kent
* Seeks to defeat incumbent U.S. Republican Representative Jaime Herrera Beutler
* Aug. 2 Republican primary for Washington's 3rd congressional district
Former special forces officer Kent has campaigned with far right U.S. representative Matt Gaetz of Florida and told Oregon Public Broadcasting he held a social media strategy call with white nationalist Nicholas Fuentes, though he said he disagreed with Fuentes' "ethno-nationalism." Kent's campaign had more than $1 million in the bank on March 31, setting up a strong challenge to incumbent Herrera Beutler, who voted to impeach Trump.
Kelly Tshibaka
* Seeks to defeat incumbent U.S. Republican Senator Lisa Murkowski of Alaska
* Aug. 16 open primary contest
Trump is backing Tshibaka, a former Alaska state administration commissioner, to unseat Murkowski, who was one of seven Republican senators who voted to convict Trump in 2021 on impeachment charges that he incited insurrection. The Alaska contest has taken on the shade of a proxy war between Trump and Republican Senate leader Mitch McConnell, who vowed to do everything possible to help the campaign of Murkowski, one of the Senate's few Republican moderates.
Harriet Hageman
* Seeks to defeat incumbent U.S. Republican Representative Liz Cheney
* Aug. 16 Wyoming at-large-district Republican primary
Trump threw his backing behind Hageman, a land-use lawyer, in September 2021, looking to punish Cheney, who was stripped of her role as the No. 3 House Republican for voting to impeach the former president on a charge of inciting insurrection. Hageman led Cheney by 20 percentage points in a December poll.