Airbus jet demand hopes bolstered by Dubai orders – CEO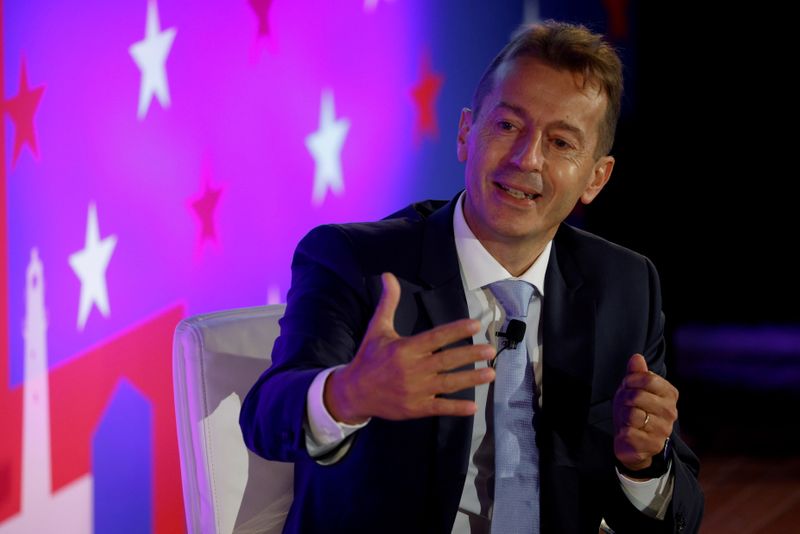 © Reuters. FILE PHOTO: Airbus CEO Guillaume Faury takes part in a panel discussion at the International Air Transport Association's (IATA) Annual General Meeting in Boston, Massachusetts, U.S., October 4, 2021. REUTERS/Brian Snyder/File Photo
(This November 17 story corrects target date for 65/mth to 2023 from 2025 in paragraph 4)
By Tim Hepher and Alexander Cornwell
DUBAI (Reuters) – A slew of plane orders at this week's Dubai Airshow has added weight to Airbus' hopes of raising output, but the jetmaker is not yet ready to pull the trigger, its top executive said.
Airbus SE (OTC:) bagged 265 firm orders at the Middle East event, closing a gap with Boeing (NYSE:) which had been leading this year as sales of its 737 MAX rebound from a safety crisis.
A further 139 provisional orders lifted Airbus' Dubai tally above 400 jets, while Boeing won a firm order for 72 MAX.
CEO Guillaume Faury said Airbus had definitively agreed to increase production to 65 single-aisle jets a month by summer 2023, from a planned average of 45 this quarter.
Beyond that, Airbus has asked suppliers to explore rates of 70 in early 2024 and 75 by 2025, but has not made a decision.
Some suppliers have criticised the plans, worried the pandemic recovery will remain patchy.
"We are in the phase of assessing demand," Faury told Reuters in an interview this week.
"What happened (in Dubai) is important, because together with other prospects or deals to come, it gives substance and … evidence that the demand we see for rate 70, 75 will be sustained for many years."
That "inside-out" view of demand – based on orders Airbus is receiving and its own assumptions based on talks with airlines – matches the "outside-in" or top-down picture provided by new Airbus market forecasts published at the show, he said.
NOT THERE YET
The forecasts cover 20 years and straddle categories, so cannot easily be used to gauge near-term output of a specific model. But Faury said the latest report was consistent with demand for "maybe 70, 75" A320-family jets a month this decade.
"So if those simulation tools and those sensors continue to be as robust as they have demonstrated in the past, we think 70, 75 is reasonable, but we're not yet there," Faury said.
Industry sources say Airbus intends to take a decision by the middle of next year to leave time for suppliers to react.
Faury said he had received encouraging signals during recent talks with French and German supplier groups.
Privately, some suppliers are less optimistic. "I think most still believe it will be bumpy," a senior industry source said.
Airbus deliveries have flattened in the past three months, in part due to snags in the supply chain.
Faury said the overall burden on the supply chain had eased, however, because of a drop in demand for wide-body jets.
He declined to be drawn on a recent row with engine makers who oppose plans to raise monthly A320-family output beyond 65 in order to leave space for repair revenues on older planes that might otherwise be pushed into early retirement.
Faury said he respected their concerns, as well as those of lessors, and any decisions would be made "as a community".
Airbus appears worried disputes over output plans will deter suppliers from making investments needed to reach the first step of 65 a month, roughly where output was pre-pandemic.
"We are going to 65: that is decided … We are executing this. But we have not decided anything beyond," Faury said.
Huawei is banned in the US: the US has banned the import of equipment from Huawei and several other companies from China
Huawei is banned in the US. The Federal Communications Commission for the first time recognized products of a lot of Chinese companies banned for import and sale because of national security risks. Commission member Carr said that China threatens U.S. interests through espionage.
Telecommunications and surveillance equipment manufactured by Huawei, ZTE, Hytera and several other Chinese companies are banned from importation and sale in the United States because of "unacceptable risks" to national security. This was announced by the Federal Communications Commission (FCC) on its website.
Huawei banned in the U.S. – what is banned?
The products of the subsidiaries and affiliates mentioned in the list of companies fall under the ban. Brendan Carr, a member of the Federal Communications Commission, called the decision unprecedented and unanimously adopted with the support of both parties in Congress. This is the first time in the history of the agency, he noted, that the distribution of communications and electronic equipment has been banned because of national security reasons.
Carr pointed out that "Communist China and other malevolent actors" are too eager to use loopholes in U.S. electronic systems to obtain sensitive information, they are trying to "compromise American interests through espionage, intellectual property theft, blackmail, foreign influence campaigns and other nefarious activities."
Two years ago, the commission had already banned using government subsidies to buy equipment from Huawei and other Chinese companies, he recalled, and as a result many operators had refused to cooperate with such firms. But that decision left a loophole for buying equipment with private funds, and it's time to close it, Carr said.
Huawei was put on U.S. sanctions lists more than three years ago, in May 2019. Washington accused the company of industrial espionage, stealing technology and threatening the U.S. economy. In February 2020, The Wall Street Journal, citing statements from U.S. officials, reported that Huawei had covert access to cell phone networks around the world.
The CIA believes Huawei was funded by Chinese intelligence, the Chinese Armed Forces and the Republic's National Security Central Committee, sources told The Times. At the same time, the FBI believes that Huawei equipment installed on cellular towers near US military bases can jam and intercept Defense Department communications, including those used by the US Strategic Command, which is responsible for nuclear weapons.
Earlier, we reported that Bloomberg named the most profitable stock market in 2022.
What is the most profitable stock market? Bloomberg called it the most profitable stock market in 2022
What is the most profitable stock market? The stock market of Turkey, which is the most profitable stock market in the world, has become the growth leader this year, ahead of U.S., European and Asian platforms, Bloomberg wrote. The benchmark index Borsa Istanbul 100 (BIST 100) since the beginning of the year rose 78% in dollar terms.
In lira terms, the index, which includes shares of the 100 largest Turkish companies listed on the Istanbul Stock Exchange, has risen by more than 150% since January. This was the best result since 1999, the publication calculated. Most European financial markets have shown negative dynamics this year.
What is the most profitable stock market?
Turkey's stock market hit an all-time high in November 2022 as private investors invested in Turkish assets to protect against high inflation. The Borsa Istanbul 100 index rose to a new record high of 4,784 points in trading on Nov. 16. During trading on Tuesday, Nov. 22, the BIST 100 index gained 3.6 percent to trade at 4,734 points.
Domestic investors are investing in stocks as Turkey's central bank pursues a policy of lowering interest rates to spur economic growth, even as the country's inflation rate exceeds 80 percent. Despite high inflation, the country's regulator has conducted monetary policy easing cycles in 2021, which goes against current monetary policy. The rate cut has helped weaken the Turkish lira and turned equities into one of the few income-generating havens for investors.
Inflation in Turkey surpassed 85% in October for the first time in 25 years, and while the country's central bank predicts it could fall to 65.2% by year's end, price growth remains among the highest in the world.
Stocks have become favorites of Turkish investors. The number of stock trading accounts opened by private investors rose 32% this year to 3.1 million as of Nov. 18, according to Turkey's Central Securities Depository.
According to Evren Kirikoglu, founder of Istanbul-based Sardis Research Consultancy, Turkish stocks are likely to remain attractive to investors for at least the first half of next year, even as inflation in the country begins to decline.
Earlier we reported that the U.S. stock market was up more than 1% for the day.
US stock market news today: U.S. stock market closed with more than a percent gain
US stock market news today. U.S. stock indices closed Tuesday, trading up more than 1 percent in anticipation of the Federal Reserve's (Fed) November meeting minutes.
US stock market analysis
The Dow Jones Industrial Average gained 397.82 points (1.18 per cent) and was up 34098.1 points. Intel Corp (NASDAQ:INTC) and Salesforce (NYSE:CRM) Inc (+3%) were the top gainers among the index components. Only three of the 30 companies in the index's calculation finished with losses, including shares of Walt Disney Co (NYSE:DIS), which fell 1.4 percent.
Standard & Poor's 500 rose 53.64 points (1.36%) to 4,003.58 points. The Nasdaq Composite added 149.9 points (1.36%) to 11174.41 points.
The Fed minutes will be released tonight. At its last meeting, the Fed once again raised the rate by 75 basis points and hinted at the possibility of a slowdown in rate hikes at later meetings.
On Monday, Federal Reserve Bank of Cleveland and San Francisco governors Loretta Mester and Mary Daly signaled that the Fed would slow the pace of interest rate hikes next month, while stressing that the need for further policy tightening remains.
Senior strategist at B. Riley Wealth Management Art Hogan recalled that the U.S. market will be closed Thursday due to the Thanksgiving holiday, and many traders will take Friday off, so trading volumes this week will be lower than usual.
"Under such conditions, moves in both directions are often particularly pronounced," he said.
Market participants were also assessing corporate news.
Earlier we reported that stock markets in Europe are changing in different directions.