Austria infuriates many with full lockdown as Germany warns it may follow suit
3/3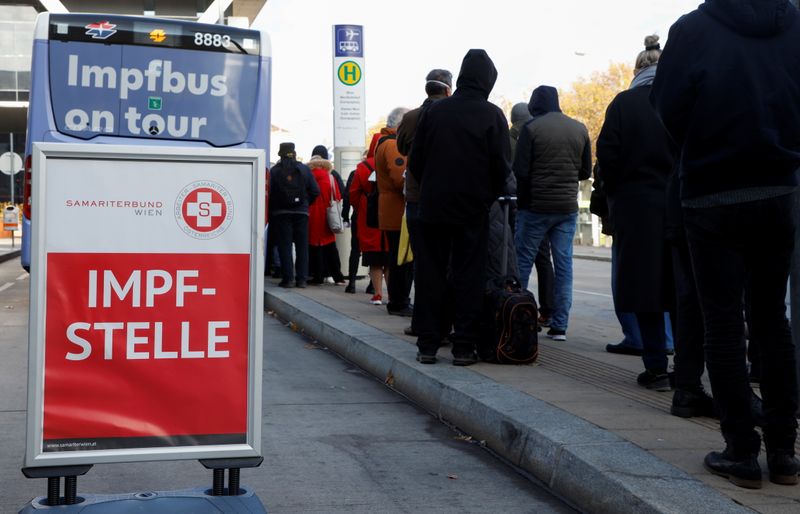 © Reuters. People wait in front of a vaccination bus during the coronavirus disease (COVID-19) outbreak as Austria's government has imposed a lockdown on people who are not fully vaccinated, in Vienna, Austria, November 18, 2021. REUTERS/Leonhard Foeger
2/3
By Francois Murphy and Paul Carrel
VIENNA/BERLIN (Reuters) – Austria will become the first country in western Europe to reimpose a full COVID-19 lockdown, it said on Friday as neighbouring Germany warned it may follow suit, sending shivers through financial markets worried about the economic fallout.
Europe has again become the epicentre of the pandemic, accounting for half of global cases and deaths. A fourth wave of infections has plunged Germany, Europe's largest economy, into a national emergency, Health Minister Jens Spahn said, warning that vaccinations alone will not cut case numbers.
Austria said it in addition to lockdown it would require the whole population to be vaccinated from Feb. 1. Both decisions infuriated many in a country where scepticism about state mandates affecting individual freedoms runs high, encouraged by the far-right Freedom Party, the third biggest in parliament.
Party leader Herbert Kickl posted a picture on Facebook (NASDAQ:) with the inscription: "As of today Austria is a dictatorship." The party is planning a protest on Saturday, but Kickl cannot attend because he has tested positive for COVID-19.
Roughly two-thirds of those eligible in Austria are fully vaccinated against COVID-19, one of the lowest rates in western Europe. Its infections are among the highest in Europe, with a seven-day incidence of 991 per 100,000 people.
"We have not succeeded in convincing enough people to get vaccinated," Chancellor Alexander Schallenberg told a news conference, saying the lockdown would start on Monday and the requirement to be vaccinated on Feb. 1.
"It hurts that such measures still have to be taken."
Asked if Germany could rule out an Austrian-style full lockdown, Spahn said: "We are now in a situation – even if this produces a news alert – where we can't rule anything out.
"We are in a national emergency," he told a news conference.
The threat of fresh lockdowns comes as optimism grows about experimental drugs developed by Pfizer (NYSE:) and Merck that cut the chance of hospitalisation and severe illness, more weapons in the world's fight against the virus.
On Friday, the EU drug regulator said it was reviewing data on Pfizer's COVID-19 pill to help member states decide on quick adoption ahead of any formal EU-wide approval.
Looming lockdowns weighed on a range of financial market sectors on Friday, pushing stocks and oil down and boosting the dollar.
"We expect targeted measures (against COVID-19) across some countries mainly according to the health situation, but other factors, such as domestic political situations, will be relevant," Oxford Economics analysts said in a note.
"And while it might take a while before a political consensus can be reached in other countries, it is clear that the tide has turned."
(For Reuters interactive COVID tracker, click https://graphics.reuters.com/world-coronavirus-tracker-and-maps/vaccination-rollout-and-access in external browser window)
CHRISTMAS CONUNDRUM
As cases rise again, a number of European governments have started to reimpose limits on activity, ranging from Austria's full lockdown to a partial lockdown in the Netherlands and restrictions on the unvaccinated in parts of Germany, the Czech Republic and Slovakia.
Niels Van Regenmortel, the intensive care units coordinator at the ZNA Stuivenberg hospital in Antwerp, said there was an increasing risk hospitals in Belgium will have to resort to triage as ICUs fill up amid soaring COVID-19 numbers, calling on the government to restrict night life.
Whether or not countries opt to lock down again depends on a wide range of factors, including vaccination rates, mask mandates and the extent to which booster shots are being made available.
Germany has said further measures will be decided based on when hospitalisation rates hit certain thresholds. In France, President Emmanuel Macron has made it clear he thinks high levels of vaccinations should be enough to avoid future lockdowns.
Britain, with higher numbers of infections than most countries in Europe, is rolling out third shots – or boosters – to offset waning protection from the first two and help keep the economy open.
While the new measures across Europe are not seen hitting the economy as much as the all-out lockdowns of last year, analysts say they could weigh on the recovery in the last quarter, especially if they hurt the retail and hospitality sectors over Christmas.
A full lockdown in Germany would be more serious, however.
"With Germany … imposing new restrictions, any thoughts that the vaccines would offer a way to a more normal Christmas period appear to have gone up in smoke for now, in Europe at least," said Michael Hewson, chief market analyst at CMC Markets UK.
"Although there is a nagging fear this could ripple out across the region."
The pressure on intensive care units in Germany has not yet reached its peak, Spahn said, urging people to reduce contacts to help break the wave. "How Christmas will turn out, I dare not say. I can only say it's up to us," he added.
Chancellor Angela Merkel said on Thursday Germany will limit large parts of public life in areas where hospitals are becoming dangerously full of COVID-19 patients to those who have either been vaccinated or have recovered from the illness.
"It's clear from our experience in England and from what's happening across Europe that while vaccines do a lot of the heavy lifting … other interventions are required to prevent case numbers rising," said Lawrence Young, virologist and professor of molecular oncology at the University of Warwick.
"Less mask wearing, more mixing indoors due to colder weather and waning immunity are also contributing to the high case levels across Europe."
Stats had a positive effect on the European stock market. European growth stocks
West European stock indexes closed Wednesday's trading with a confident growth. Traders evaluated the fresh batch of statistics and bought European growth stocks.
What influenced European stocks to high growth?
GDP volume in France rose 0.2% in the third quarter compared to the previous three months, final data from the national statistics institute Insee showed. The final data coincided with a preliminary estimate. Analysts, on average, had not expected a revision, according to a Trading Economics survey. GDP growth slowed from a 0.5% rebound in the second quarter.
Consumer prices in France, harmonized with European Union standards, rose 7.1% year-over-year in November. Insee also reported. The November rate of increase in consumer prices coincided with that of October, and analysts polled by Trading Economics expected inflation to remain at the same level.
Consumer spending in the country collapsed by 2.8% in October compared with the previous month. Analysts polled by Bloomberg expected a more moderate decline of 1 percent. The consensus forecast of experts polled by Trading Economics envisioned a 0.6% decline. The decrease in consumer spending was the maximum since April 2021.
The number of unemployed in Germany increased by 17 thousand in November, according to the Federal Employment Agency of Germany. The rise in the index was marked at the end of the sixth month in a row. Experts interviewed by Bloomberg agency, on average, predicted an increase of 13.5 thousand. Respondents to Trading Economics expected an increase of 13 thousand.
Additional positives for investors in European markets on Wednesday were messages about easing of coronavirus restrictions in a lot of cities in China. Note that Amazon's stock price is also rising if you are interested in the U.S. stock market.
Earlier, we reported that U.S. stock indices were up 2.2-4.4%.
U.S. stock indices today rose 2.2-4.4%
The U.S. stock indices today closed the trading on Wednesday with the confident growth due to the statements of the Federal Reserve Chairman, Jerome Powell, who confirmed that the U.S. Central Bank could slow down the basic rate rise as early as in December.
Judging by the quotations of futures on the level of the prime rate, U.S. stock market indices expect the Federal Reserve to raise it by 50 basis points (bps) in December – to 4.25-4.5%. The U.S. Central Bank has increased the rate by 75 bps at each of the previous four meetings. Against this background, the current stock price of Facebook also rose.
The report by the industry organization ADP, published on Wednesday, showed a slowdown in job growth in the U.S. private sector. Their number increased by 127,000 in November, the lowest rate since January, said the ADP. Analysts polled by The Wall Street Journal on average had forecast job growth of 190,000 after a jump of 239,000 in October.
Data from the U.S. Commerce Department, also released Nov. 30, showed higher-than-reported growth in the U.S. economy in the third quarter. U.S. GDP grew at an annualized rate of 2.9% in the July-September quarter, rather than the previously reported 2.6%. Experts polled by Trading Economics had expected an average revision of 2.7%.
Also, the Federal Reserve released its regional Beige Book survey Wednesday, showing that economic activity in the United States was little changed in the fall.
Federal Reserve banks in five counties reported a weak increase in activity in October and November, while the other seven reported a stable or slightly declining economy.
The Dow Jones Industrial Average index was up 737.24 points (2.18%) at 34589.77 as of Wednesday's market close.

Standard & Poor's 500 rose 122.48 points (3.09%) to 4,080.11 points.

The Nasdaq Composite added 484.22 points (4.41%) to 1,468.
All three U.S. stock market indices closed November, with the Dow Jones gaining 5.3%; the S&P 500 gaining 4.6%, and the Nasdaq Composite gaining 3.3%.
Earlier we reported that Main European stock indices were rising during trading.
Main European stock indices rise in trading
Main European stock indices are rising during trading on Thursday. The Stoxx Europe 600 composite index of the largest companies in the region rose 0.58% to 442.60 points. German DAX is up 0.34%, British FTSE 100 is up 0.15%, French CAC 40 is up 0.01%, Italian FTSE MIB is up 0.47% and Spanish IBEX 35 is up 0.45%.
What affected the best European stock indices?
During a speech at the Brookings Institution on Wednesday, Powell reiterated that the Fed could slow the rise in the prime rate as early as December. "The time to moderate the pace of rate hikes may come as early as the next meeting," Powell said. 
The Fed chair, meanwhile, tried to balance those words with "hawkish" signals. Market Watch notes. He said that the U.S. Central Bank will have to raise the rate higher than could be expected a few months ago. Moreover, Powell made it clear that the issue of rate cuts is irrelevant at the moment. By the way, his words influenced the growth of the current stock price of the NASDAQ-100. 
Another Fed official, Board of Governors member Lisa Cook said she believes the regulator needs to keep raising rates as inflation is still too high. "We've started to get more favorable inflation data. But I would be cautious about drawing big conclusions on just one month's worth of data," Cook said during a speech at the Detroit Economic Club.
Earlier, we reported on how European stock indexes were falling following Asian stock markets.