BBVA lifts targets as investors fret over emerging markets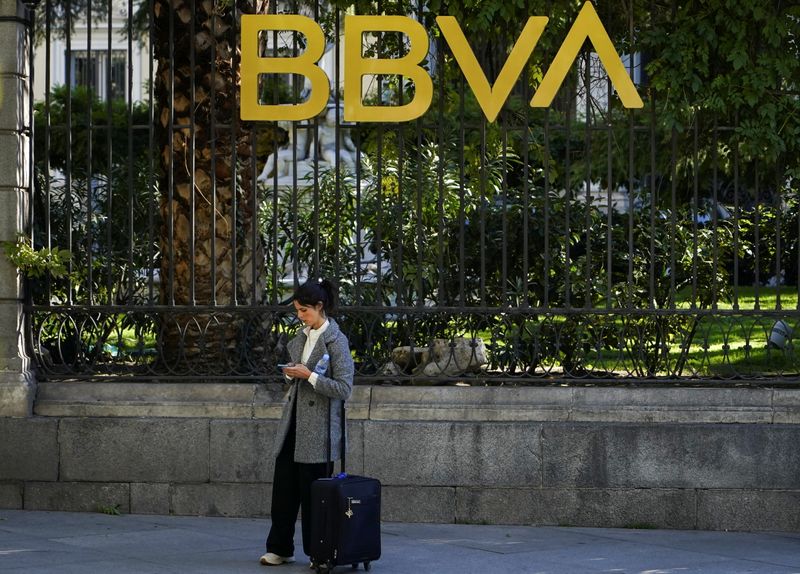 © Reuters. FILE PHOTO: A woman scans through her phone outside a BBVA bank building in Madrid, Spain, November 15, 2021. REUTERS/Juan Medina/File Photo
By Jesús Aguado and Emma Pinedo
MADRID (Reuters) -Spain's BBVA (MC:) raised key profitability and cost targets on Thursday and said it would add 10 million customers by 2024, banking on growth in places such as Mexico and Turkey, yet its shares fell on concerns about its emerging market exposure.
BBVA, like Santander (MC:), is struggling to earn money from more mature markets in Europe and has been expanding in emerging markets, where it sees greater growth.
Chairman Carlos Torres said at BBVA's first investor day in 14 years that the bank's strategy was predicated on a more benign global economic outlook and with the "worst of the pandemic behind us, growth is back".
BBVA outlined its 2022-2024 plans just a few days after it offered to buy the rest of Garanti for up to 2.25 billion euros ($2.6 billion), taking advantage of a slide in the Turkish lira.
The bank said it expected its return on tangible equity (ROTE) to rise to 14% by the end of 2024 from 11.7%, and its cost-to-income ratio to fall to 42% from 44.7%, even while keeping up investments in digital banking.
But its shares closed down 5.5%, against a 1% fall on the European STOXX banking index.
Credit Suisse (SIX:) analysts said that while welcoming the ROTE target hike, they saw potential headwinds due to BBVA's exposure to emerging-market currencies, particularly Mexico and Turkey.
BBVA's Chief Executive Onur Genc played down concerns and told Reuters that the investment would pay off.
"We are just spending 1.4 billion euros in terms of capital when Garanti has been delivering 1.2 billion profits every year over the last six years," Genc said.
MEXICO TO DRIVE GROWTH
BBVA also said it expected revenues at its unit in Mexico, which make up more than 40% of its profit, to achieve an almost double-digit accumulated growth by 2024, while revenues in Turkey, which will make up to 25% of group earnings from 14% now, would grow in the high teens.
To weather the pandemic, BBVA sold its U.S. business last year, generating more than 8 billion euros in excess capital to focus on cost-cutting in Spain and shareholder returns.
"We will continue to cut costs in Spain but we don't need to do another round of layoffs," Genc said in an interview.
Taking into account a full take-up of the Garanti offer and a 3.5 billion euro share buy-back to be launched early next week, BBVA's excess capital was around 2.2 billion euros.
Although BBVA called off merger talks with Sabadell a year ago, a deal is still widely viewed as an option given BBVA's solid solvency buffers.
Asked about Sabadell, Torres said: "who knows what the future may bring".
BBVA also unveiled a new dividend distribution policy of between 40% and 50% of ordinary profit, compared to a previous 35% to 40% payout. This would be implemented with the possibility of combining cash distributions and share buy-backs.
The bank reaffirmed its target for fully-loaded CET1 of between 11.5% to 12%. With the Garanti deal and the share buyback, this capital ratio stands at 12.72%.
Huawei is banned in the US: the US has banned the import of equipment from Huawei and several other companies from China
Huawei is banned in the US. The Federal Communications Commission for the first time recognized products of a lot of Chinese companies banned for import and sale because of national security risks. Commission member Carr said that China threatens U.S. interests through espionage.
Telecommunications and surveillance equipment manufactured by Huawei, ZTE, Hytera and several other Chinese companies are banned from importation and sale in the United States because of "unacceptable risks" to national security. This was announced by the Federal Communications Commission (FCC) on its website.
Huawei banned in the U.S. – what is banned?
The products of the subsidiaries and affiliates mentioned in the list of companies fall under the ban. Brendan Carr, a member of the Federal Communications Commission, called the decision unprecedented and unanimously adopted with the support of both parties in Congress. This is the first time in the history of the agency, he noted, that the distribution of communications and electronic equipment has been banned because of national security reasons.
Carr pointed out that "Communist China and other malevolent actors" are too eager to use loopholes in U.S. electronic systems to obtain sensitive information, they are trying to "compromise American interests through espionage, intellectual property theft, blackmail, foreign influence campaigns and other nefarious activities."
Two years ago, the commission had already banned using government subsidies to buy equipment from Huawei and other Chinese companies, he recalled, and as a result many operators had refused to cooperate with such firms. But that decision left a loophole for buying equipment with private funds, and it's time to close it, Carr said.
Huawei was put on U.S. sanctions lists more than three years ago, in May 2019. Washington accused the company of industrial espionage, stealing technology and threatening the U.S. economy. In February 2020, The Wall Street Journal, citing statements from U.S. officials, reported that Huawei had covert access to cell phone networks around the world.
The CIA believes Huawei was funded by Chinese intelligence, the Chinese Armed Forces and the Republic's National Security Central Committee, sources told The Times. At the same time, the FBI believes that Huawei equipment installed on cellular towers near US military bases can jam and intercept Defense Department communications, including those used by the US Strategic Command, which is responsible for nuclear weapons.
Earlier, we reported that Bloomberg named the most profitable stock market in 2022.
What is the most profitable stock market? Bloomberg called it the most profitable stock market in 2022
What is the most profitable stock market? The stock market of Turkey, which is the most profitable stock market in the world, has become the growth leader this year, ahead of U.S., European and Asian platforms, Bloomberg wrote. The benchmark index Borsa Istanbul 100 (BIST 100) since the beginning of the year rose 78% in dollar terms.
In lira terms, the index, which includes shares of the 100 largest Turkish companies listed on the Istanbul Stock Exchange, has risen by more than 150% since January. This was the best result since 1999, the publication calculated. Most European financial markets have shown negative dynamics this year.
What is the most profitable stock market?
Turkey's stock market hit an all-time high in November 2022 as private investors invested in Turkish assets to protect against high inflation. The Borsa Istanbul 100 index rose to a new record high of 4,784 points in trading on Nov. 16. During trading on Tuesday, Nov. 22, the BIST 100 index gained 3.6 percent to trade at 4,734 points.
Domestic investors are investing in stocks as Turkey's central bank pursues a policy of lowering interest rates to spur economic growth, even as the country's inflation rate exceeds 80 percent. Despite high inflation, the country's regulator has conducted monetary policy easing cycles in 2021, which goes against current monetary policy. The rate cut has helped weaken the Turkish lira and turned equities into one of the few income-generating havens for investors.
Inflation in Turkey surpassed 85% in October for the first time in 25 years, and while the country's central bank predicts it could fall to 65.2% by year's end, price growth remains among the highest in the world.
Stocks have become favorites of Turkish investors. The number of stock trading accounts opened by private investors rose 32% this year to 3.1 million as of Nov. 18, according to Turkey's Central Securities Depository.
According to Evren Kirikoglu, founder of Istanbul-based Sardis Research Consultancy, Turkish stocks are likely to remain attractive to investors for at least the first half of next year, even as inflation in the country begins to decline.
Earlier we reported that the U.S. stock market was up more than 1% for the day.
US stock market news today: U.S. stock market closed with more than a percent gain
US stock market news today. U.S. stock indices closed Tuesday, trading up more than 1 percent in anticipation of the Federal Reserve's (Fed) November meeting minutes.
US stock market analysis
The Dow Jones Industrial Average gained 397.82 points (1.18 per cent) and was up 34098.1 points. Intel Corp (NASDAQ:INTC) and Salesforce (NYSE:CRM) Inc (+3%) were the top gainers among the index components. Only three of the 30 companies in the index's calculation finished with losses, including shares of Walt Disney Co (NYSE:DIS), which fell 1.4 percent.
Standard & Poor's 500 rose 53.64 points (1.36%) to 4,003.58 points. The Nasdaq Composite added 149.9 points (1.36%) to 11174.41 points.
The Fed minutes will be released tonight. At its last meeting, the Fed once again raised the rate by 75 basis points and hinted at the possibility of a slowdown in rate hikes at later meetings.
On Monday, Federal Reserve Bank of Cleveland and San Francisco governors Loretta Mester and Mary Daly signaled that the Fed would slow the pace of interest rate hikes next month, while stressing that the need for further policy tightening remains.
Senior strategist at B. Riley Wealth Management Art Hogan recalled that the U.S. market will be closed Thursday due to the Thanksgiving holiday, and many traders will take Friday off, so trading volumes this week will be lower than usual.
"Under such conditions, moves in both directions are often particularly pronounced," he said.
Market participants were also assessing corporate news.
Earlier we reported that stock markets in Europe are changing in different directions.