China property firms' shares, bonds hit as Yango seeks new extension
By Andrew Galbraith and Xiao Han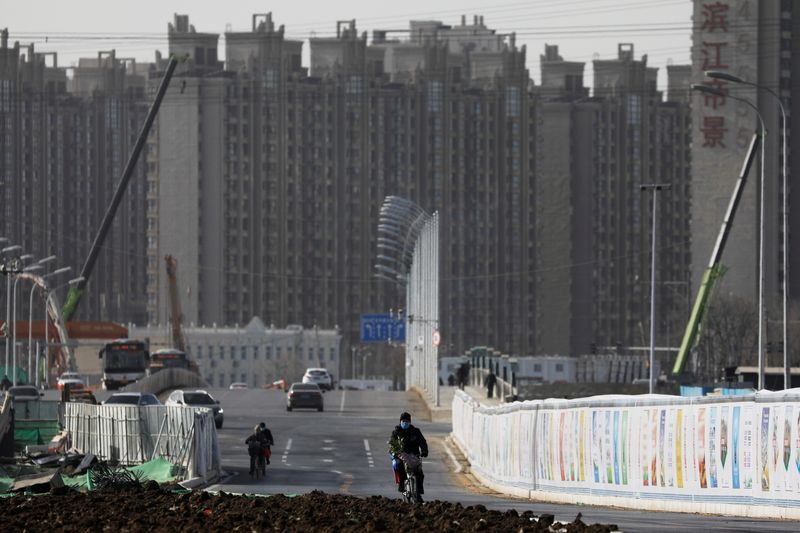 © Reuters. FILE PHOTO: A man rides a bicycle next to a construction site near residential buildings in Beijing, China, January 13, 2021. Picture taken January 13, 2021. REUTERS/Tingshu Wang
By Andrew Galbraith and Xiao Han
SHANGHAI/BEIJING (Reuters) -Chinese developers' shares and bonds stumbled on Tuesday on worries over spreading financial contagion, as sources said one of the country's top 20 homebuilders is seeking a new extension for its onshore debts.
Fujian province-based Yango Group Co. Ltd. has been in talks with investors to discuss the extension of payments on yuan-denominated asset-backed securities that holders can redeem this month, three sources familiar with the matter told Reuters.
The company plans to repay interest in full, with unpaid principal rolled over for a year, they said. Reuters was unable to confirm whether the company would make principal payments on the securities this month.
Yango Group did not immediately respond to Reuters' requests for comment.
On Monday, Yango offered to exchange some U.S. dollar bonds for new notes personally guaranteed by its chairman to avoid defaulting on upcoming debt payments.
Fitch Ratings said Tuesday that it considered that offer a distressed debt exchange, downgrading Yango's rating to "C" from "B-". Moody's (NYSE:) Investors Service earlier cut Yango's corporate family rating to Caa2 from B2, citing liquidity risk.
"Yango may not be able to mobilise all of its cash holdings to repay its maturing debts, given that most of it resides in its project companies. In addition, Yango's exposure to its joint ventures is significant, which could limit its ability to control its cash flow," Moody's said in a statement.
China Chengxin International, a domestic agency, said it had placed the company on a watchlist for possible downgrades, while Dagong Global Credit Rating Co on Monday cut its outlook on Yango to negative due to uncertainty over funds for debt repayments.
The downgrades and warnings weighed on market sentiment on Tuesday, pushing Hong Kong's mainland properties sub-index down more than 4% at one point, taking its losses since an Oct. 22 peak – when China Evergrande Group narrowly avoided a $19 billion default – to nearly 17%.
The CSI300 real estate index of A-shares fell 2.4%, while Yango's own shares fell as much as 9%.
Yango Group's bonds fell sharply for a second day, with Duration Finance quoting its 12% March 2024 bond down almost 58% on the day to less than 13 cents, yielding nearly 160%. Its Shenzhen-traded April 2024 bond fell more than 20%, triggering a trading halt.
November 2022 and 2023 bonds issued by Evergrande unit Scenery Journey fell more than 12% to about 20% of their face value ahead of coupon payments totalling $82.5 million this weekend.
Bonds issued by developers Yuzhou Group Holdings Co, Ronshine China Holdings and Zhenro Properties Group also fell more than 10%.
Clarence Tam, fixed income portfolio manager at Avenue Asset Management in Hong Kong, said the Yango exchange offer had aggravated gloomy sentiment. Falling market value forced some leveraged products to unwind positions, weighing prices down further, he said.
"Quality BB and split names … suffer the most these two days," said Tam.
Evergrande narrowly avoided a catastrophic default for the second time in a week on Friday, making a last-minute payment on an overdue dollar bond coupon. On Tuesday its shares gave up early gains to fall 2.5%.
Evergrande's woes have brought collateral damage to China's property sector, with some Chinese developers forced into formal default on their dollar bonds last month and others proposing extended payment schedules.
Morgan Stanley: bear market rally to continue
One of Wall Street's best-known bears, Michael Wilson, thinks the S&P 500 will rise another 7% before turning down, so the bear market rally will continue for now, writes Market Watch.
After the Dow Jones, S&P 500 and Nasdaq Composite joined their strongest weekly gains since at least May last Friday, Wilson, who is chief strategist and head of U.S. equity markets at Morgan Stanley (NYSE:MS), told clients that there could be another 5% to 7% before the downward trajectory of U.S. stocks resumes during the latest bear market recovery.
Wilson has held a bearish view of the stock market for about 2 years and correctly predicted a sell-off this year.
Wilson explained in a research note sent out to clients on Monday that a pullback in the 38-50% drop in the stock market this year "would not seem like something unnatural, not consistent with the previous bear market rally."
While growth concerns have triggered a sell-off in commodities and lowered inflation expectations, the fact that the U.S. economy is already slowing and heading toward recession means that any market rally is likely to be short-lived, and U.S. stocks are likely to eventually fall.
Wilson mentioned in the note that the bear market is not over yet, although it may appear otherwise in the next few weeks as the market takes the rate cut as a sign that the Fed can still manage a "soft landing" and prevent a meaningful revision to earnings forecasts.
U.S. stocks rose last week as investors now hope the slowing economy and falling commodity prices may inspire the Fed to raise interest rates less sharply. Federal funds futures, a derivative used by investors to bet on the pace of the Fed's monetary policy changes, estimate with a high probability that the Fed will be forced to start cutting interest rates again as soon as next summer.
They also consider the lower peak in the federal funds rate: it will peak around 3.5% at the end of 2022 instead of 3.75% just a couple of weeks ago. Wilson also pointed out the drop in Treasury yields: the 10-year Treasury bond yield went from 3.230% to a low of 3.07% on Friday before rebonding again on Monday.
Wilson expects the S&P 500 index to fall to around 3,400 points if the U.S. Federal Reserve manages to get a "soft landing" for the economy — which Fed Chairman Jerome Powell said last week would be "a very difficult thing to do."
Wilson expects that if the U.S. economy plunges into recession, the S&P 500 index will fall to around 3,000 points. In any case, Wilson believes that U.S. stocks are still highly valued because the risk premium — that is, the measure of compensation that investors receive for the extra risk of owning stocks instead of bonds — remains about 300 basis points higher than the 10-year Treasury bond yield, which is considered a "risk-free rate." 
Easing chip shortages to help Volkswagen in H2 – CEO
© Reuters. FILE PHOTO: Volkswagen logo is pictured at the 2022 New York International Auto Show, in Manhattan, New York City, U.S., April 13, 2022. REUTERS/Brendan McDermid/File Photo
BERLIN (Reuters) – Volkswagen (ETR:VOWG_p) sees a strong second half of 2022 and expects progress in catching up with rival Tesla (NASDAQ:TSLA) as easing chip shortages start to offset supply chain bottlenecks and rising costs, the carmaker's CEO said on Tuesday.
"We are earning more than ever," Chief Executive Herbert Diess said at a works meeting, adding Volkswagen is ramping up electric vehicle volumes in its biggest markets in Germany and China thanks to easing semiconductor shortages.
This should allow the carmaker to narrow the Volkswagen-Tesla gap this year and meet its goal of becoming market leader by 2025 if it seizes the moment while the U.S. electric car maker burns cash on large investments, the CEO said.
"Elon (Musk) has to ramp up two highly complex factories in Austin and Gruenheide at the same time – as well as expand production in Shanghai. That's going to take strength out of him," Diess said.
Reliance Chairman Mukesh Ambani steps down as director of telecom arm
© Reuters. FILE PHOTO: Mukesh Ambani, Chairman and Managing Director of Reliance Industries, arrives to address the company's annual general meeting in Mumbai, India July 5, 2018. REUTERS/Francis Mascarenhas
BENGALURU (Reuters) – Reliance Industries Chairman Mukesh Ambani has stepped down as director of Reliance Jio Infocomm Ltd, the conglomerate's telecom arm said on Tuesday.
Reliance Jio said https://refini.tv/3Nrs773 it has appointed Mukesh's son and non-executive director Akash Ambani as the chairman of its board. Akash has been involved with the telecom unit since its launch in late 2016, where he started as a director.
India's telecoms sector had been upended after the entry of Jio, which triggered a price war that forced some rivals out of the market and turned profits into losses.
Jio, which started out offering mobile teleservices, has been aggressively investing in services like internet broadband and forging ties with handset makers to launch low-cost smartphones and providing 5G services.