China stock pickers reshape portfolios on Xi's 'common prosperity'
By Samuel Shen and Vidya Ranganathan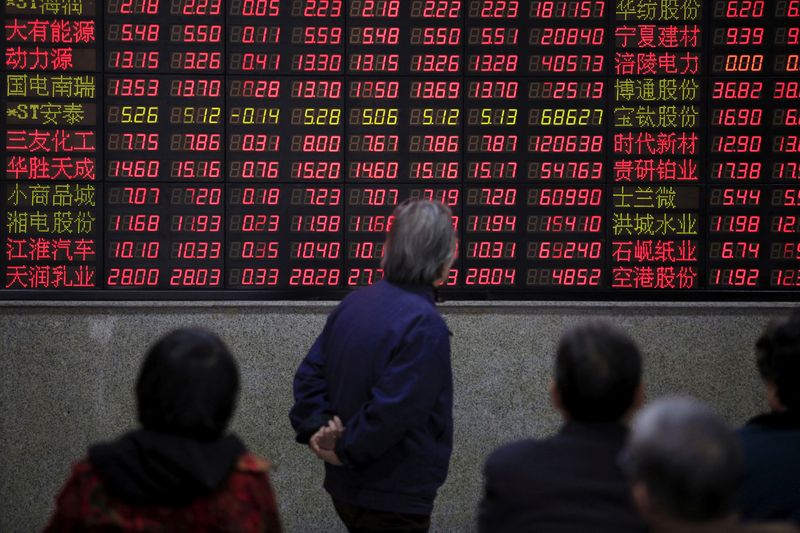 © Reuters. FILE PHOTO: Investors look at an electronic board showing stock information at a brokerage house in Shanghai, China, March 7, 2016. REUTERS/Aly Song
By Samuel Shen and Vidya Ranganathan
SHANGHAI (Reuters) – Chinese stock market investors are swapping big tech names for "small giants" and luxury brands for mass market companies, aiming to cash in on President Xi Jinping's "common prosperity" plan for the economy.
The intent behind Xi's drive is a narrower gap between the rich and poor in the world's second largest economy.
But the first policy moves rattled markets as authorities introduced heavy new regulations on industries such as technology, property and private tuition, sending shares in those sectors tumbling.
While some active fund managers have shunned China for the time being, others see opportunity in an economy aiming for a larger and richer middle class.
Chinese policymakers "are talking about how to go from a pear-shaped type of economy, which is bottom-heavy, top-light, into an olive shape," said Ronald Chan, Hong Kong-based Asia head of equities at Manulife Investment Management. "They are talking about how to split the pie going forward."
"Common prosperity" also embodies China's desire for self-sufficiency in technology and energy and for industry to move up the value chain, said Chan, who has been buying Chinese solar energy companies while avoiding luxury spirit brands.
Manulife's Greater China funds have also slashed holdings in tech giants such as Alibaba (NYSE:) and Tencent over the past year, according to public disclosures.
While it is difficult to estimate how big overall investment swings have been – particularly as passively managed funds continue to seek stock index heavyweights – market moves have been sharp.
China's new energy index has surged more than 70% this year, while the property sector is down over 10%.
Among tech companies, those offering "hard" products and components have performed better than "soft technology", such as online providers.
The KraneShares CSI China Internet ETF has plunged nearly 40% so far this year, while China's start-up board ChiNext is up 13% and Shanghai's hardware-heavy STAR Market, has barely budged.
"We've seen a lot of very extreme sentiment on China. Is it going back to Maoism? Is it investible?" said William Sterling, global strategist at GW&K Investment Management, which invests in emerging markets including China.
"It seems very, very unlikely that even with these new policy initiatives, the government would want to throw away the dynamism of the economy that the country's capitalist engine has created."
Sterling bets Chinese consumer stocks will benefit from a growing middle class, but is avoiding property firms and related sectors such as cement and steel.
(For graphic on Winners vs losers under Common Prosperity – https://fingfx.thomsonreuters.com/gfx/mkt/zgvomrozyvd/MR.GOLD-OWNERSHIP%20-%20Winners%20and%20losers%20under%20China's%20Common%20Prosperity%20initiative.png)
DIVERGING FORTUNES
Goldman Sachs (NYSE:) has picked 50 "common prosperity" stocks in sectors including green and renewable energy, hard technology, higher-end manufacturing and mass but unique consumption brands.
Its list includes indigenous brands such as Xiaomi (OTC:) and Li Ning, chip makers Will Semiconductor and Hua Hong Semiconductor, as well as green energy companies LONGI Green Energy and Xinyi Solar.
Goldman advises investors to shun sectors vulnerable to regulatory headwinds including luxury consumption, soft tech with high data intensity, along with education, property, media and entertainment.
Investors are already piling into electric vehicles and chipmakers.
China Universal CSI New Energy Vehicle Industry Index ETF has seen its assets under management (AUM) nearly triple to 9 billion yuan ($1.41 billion) this year, while the Guotai CES China Semiconductor Chips ETF has witnessed a near doubling in AUM.
Societe Generale (OTC:) has a "common prosperity" basket of 30 stocks, which includes consumer companies such as China Tourism, Anta Sports and Gree Electric, as well as tech firms including Luxshare Precision and Nari Technology.
In the medium term, "common prosperity" will improve the purchasing power of the lower-middle income group in China, therefore benefiting consumer staples and the service sector including tourism, catering and affordable healthcare, said Caro Liao, China economist at bond fund giant PIMCO.
"In the long run, a properly regulated business environment likely will benefit all investors, by reducing vulnerabilities in the system and ensuring a sustainable growth path."
(For graphic on Small caps vs large caps under Common Prosperity – https://fingfx.thomsonreuters.com/gfx/mkt/akpezabxyvr/MR.GOLD-OWNERSHIP%20-%20China%20small%20caps%20outperform%20large%20caps%20this%20year.png)
($1 = 6.3999 renminbi)
Morgan Stanley: bear market rally to continue
One of Wall Street's best-known bears, Michael Wilson, thinks the S&P 500 will rise another 7% before turning down, so the bear market rally will continue for now, writes Market Watch.
After the Dow Jones, S&P 500 and Nasdaq Composite joined their strongest weekly gains since at least May last Friday, Wilson, who is chief strategist and head of U.S. equity markets at Morgan Stanley (NYSE:MS), told clients that there could be another 5% to 7% before the downward trajectory of U.S. stocks resumes during the latest bear market recovery.
Wilson has held a bearish view of the stock market for about 2 years and correctly predicted a sell-off this year.
Wilson explained in a research note sent out to clients on Monday that a pullback in the 38-50% drop in the stock market this year "would not seem like something unnatural, not consistent with the previous bear market rally."
While growth concerns have triggered a sell-off in commodities and lowered inflation expectations, the fact that the U.S. economy is already slowing and heading toward recession means that any market rally is likely to be short-lived, and U.S. stocks are likely to eventually fall.
Wilson mentioned in the note that the bear market is not over yet, although it may appear otherwise in the next few weeks as the market takes the rate cut as a sign that the Fed can still manage a "soft landing" and prevent a meaningful revision to earnings forecasts.
U.S. stocks rose last week as investors now hope the slowing economy and falling commodity prices may inspire the Fed to raise interest rates less sharply. Federal funds futures, a derivative used by investors to bet on the pace of the Fed's monetary policy changes, estimate with a high probability that the Fed will be forced to start cutting interest rates again as soon as next summer.
They also consider the lower peak in the federal funds rate: it will peak around 3.5% at the end of 2022 instead of 3.75% just a couple of weeks ago. Wilson also pointed out the drop in Treasury yields: the 10-year Treasury bond yield went from 3.230% to a low of 3.07% on Friday before rebonding again on Monday.
Wilson expects the S&P 500 index to fall to around 3,400 points if the U.S. Federal Reserve manages to get a "soft landing" for the economy — which Fed Chairman Jerome Powell said last week would be "a very difficult thing to do."
Wilson expects that if the U.S. economy plunges into recession, the S&P 500 index will fall to around 3,000 points. In any case, Wilson believes that U.S. stocks are still highly valued because the risk premium — that is, the measure of compensation that investors receive for the extra risk of owning stocks instead of bonds — remains about 300 basis points higher than the 10-year Treasury bond yield, which is considered a "risk-free rate." 
Easing chip shortages to help Volkswagen in H2 – CEO
© Reuters. FILE PHOTO: Volkswagen logo is pictured at the 2022 New York International Auto Show, in Manhattan, New York City, U.S., April 13, 2022. REUTERS/Brendan McDermid/File Photo
BERLIN (Reuters) – Volkswagen (ETR:VOWG_p) sees a strong second half of 2022 and expects progress in catching up with rival Tesla (NASDAQ:TSLA) as easing chip shortages start to offset supply chain bottlenecks and rising costs, the carmaker's CEO said on Tuesday.
"We are earning more than ever," Chief Executive Herbert Diess said at a works meeting, adding Volkswagen is ramping up electric vehicle volumes in its biggest markets in Germany and China thanks to easing semiconductor shortages.
This should allow the carmaker to narrow the Volkswagen-Tesla gap this year and meet its goal of becoming market leader by 2025 if it seizes the moment while the U.S. electric car maker burns cash on large investments, the CEO said.
"Elon (Musk) has to ramp up two highly complex factories in Austin and Gruenheide at the same time – as well as expand production in Shanghai. That's going to take strength out of him," Diess said.
Reliance Chairman Mukesh Ambani steps down as director of telecom arm
© Reuters. FILE PHOTO: Mukesh Ambani, Chairman and Managing Director of Reliance Industries, arrives to address the company's annual general meeting in Mumbai, India July 5, 2018. REUTERS/Francis Mascarenhas
BENGALURU (Reuters) – Reliance Industries Chairman Mukesh Ambani has stepped down as director of Reliance Jio Infocomm Ltd, the conglomerate's telecom arm said on Tuesday.
Reliance Jio said https://refini.tv/3Nrs773 it has appointed Mukesh's son and non-executive director Akash Ambani as the chairman of its board. Akash has been involved with the telecom unit since its launch in late 2016, where he started as a director.
India's telecoms sector had been upended after the entry of Jio, which triggered a price war that forced some rivals out of the market and turned profits into losses.
Jio, which started out offering mobile teleservices, has been aggressively investing in services like internet broadband and forging ties with handset makers to launch low-cost smartphones and providing 5G services.