Global airlines prepare for Omicron volatility, agility will be key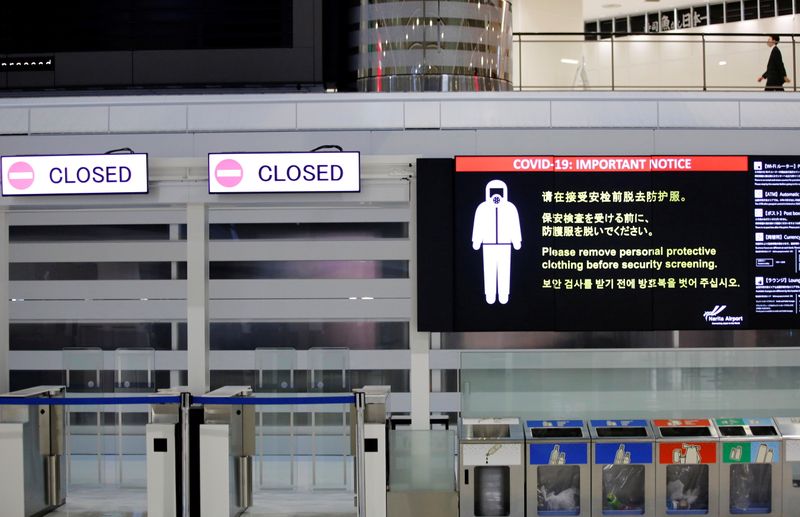 © Reuters. FILE PHOTO: A notice about COVID-19 safety measures is pictured next to closed doors at a departure hall of Narita international airport on the first day of closed borders to prevent the spread of the new coronavirus Omicron variant in Narita, east of Tok
By Jamie Freed and Rajesh Kumar Singh
SYDNEY/CHICAGO (Reuters) -Global airlines are bracing for more volatility due to the Omicron coronavirus variant that could force them to juggle schedules and destinations at short notice and rely more on domestic markets where possible, analysts say.
Many travellers have already booked trips for the Christmas period, a peak season for airlines, but there are growing industry concerns over a pause in future bookings and further delays to the already slow recovery in business travel.
Fitch Ratings said it had lowered its global passenger traffic forecasts for 2021 and 2022, with the emergence of new variants like Omicron highlighting the likelihood that conditions would remain volatile for airlines.
"It feels a little bit like we are back to where we were a year ago and that's not a great prospect for the industry and beyond," Deidre Fulton, a partner at consultancy MIDAS Aviation, said at an industry webinar on Wednesday.
Airlines have been blaming a lack of consistent and stable health protocols as well as border restrictions for depressed international travel demand.
New protocols in the wake of the Omicron variant are expected to add to their headache.
The United States https://www.reuters.com/business/healthcare-pharmaceuticals/us-cdc-urges-americans-avoid-travel-niger-poland-over-covid-19-2021-11-30, for example, is moving to require that all air travellers entering the country show a negative COVID-19 test performed within one day of departure.
All non-EU travellers to mainland France, where the Omicron variant has not been detected yet, will have to show proof of a negative COVID-19 test, regardless of their vaccination status, a government spokesman said on Wednesday. Ireland and Portugal are also demanding that travellers produce a negative test.
Airlines are currently using a range of apps to verify test results. Delta Air Lines (NYSE:) said it would comply with Washington's directives, but did not say if the new testing requirement would need the carrier to make any changes to its verification app.
Omicron's impact will vary by country and region due to each government's response and the diverse nature of global airlines as well as their business models.
Japan Airlines and ANA Holdings on Wednesday suspended new reservations for international flights arriving into Japan until the end of December as the country tightens border controls.
Hong Kong's Cathay Pacific Airways (OTC:), which lacks a domestic market and is operating at only 10% of pre-pandemic capacity, said it was too early to assess Omicron's impact on demand.
Airlines in countries with large, strong domestic markets like the United States, China and Russia are better shielded from the greater uncertainties of international travel.
An analysis by UBS shows U.S. carriers have not yet changed their scheduled capacity, which is running at 87% of 2019 levels in December and is expected to reach 92% of pre-COVID capacity in January.
United Airlines is launching its Newark-Cape Town route on Wednesday despite a U.S. ban on non-citizens entering from South Africa and Delta Air is expecting strong bookings over the Christmas period.
"In the past year, each new variant has brought a decline in bookings, but then an increase once the surge dissipates. We expect the same pattern to emerge," said Helane Becker, an analyst at Cowen and Co.
Travel booking website Kayak said international travel searches from the United States were down only 5% on Sunday – a stark contrast to a 26% fall in searches from Britain, which had tightened testing requirements for arrivals.
Major European airlines are far more dependent on international travel than their U.S. counterparts, placing them more at risk of fallout from the Omicron variant.
In Asia, countries like Australia, Japan, Singapore and Thailand had only begun to cautiously lift border restrictions in recent weeks and passenger numbers remained at fractions of pre-pandemic levels before the Omicron variant was discovered.
John Grant, chief analyst at travel data firm OAG, said moves by Japan and Australia to delay entry to some foreigners due to Omicron were "sad and frustrating" but the proportionate impact on travel was "relatively insignificant."
Airlines globally have been more agile about quickly adjusting their schedules and destinations during the pandemic and that is expected to continue, he said.
Morgan Stanley: bear market rally to continue
One of Wall Street's best-known bears, Michael Wilson, thinks the S&P 500 will rise another 7% before turning down, so the bear market rally will continue for now, writes Market Watch.
After the Dow Jones, S&P 500 and Nasdaq Composite joined their strongest weekly gains since at least May last Friday, Wilson, who is chief strategist and head of U.S. equity markets at Morgan Stanley (NYSE:MS), told clients that there could be another 5% to 7% before the downward trajectory of U.S. stocks resumes during the latest bear market recovery.
Wilson has held a bearish view of the stock market for about 2 years and correctly predicted a sell-off this year.
Wilson explained in a research note sent out to clients on Monday that a pullback in the 38-50% drop in the stock market this year "would not seem like something unnatural, not consistent with the previous bear market rally."
While growth concerns have triggered a sell-off in commodities and lowered inflation expectations, the fact that the U.S. economy is already slowing and heading toward recession means that any market rally is likely to be short-lived, and U.S. stocks are likely to eventually fall.
Wilson mentioned in the note that the bear market is not over yet, although it may appear otherwise in the next few weeks as the market takes the rate cut as a sign that the Fed can still manage a "soft landing" and prevent a meaningful revision to earnings forecasts.
U.S. stocks rose last week as investors now hope the slowing economy and falling commodity prices may inspire the Fed to raise interest rates less sharply. Federal funds futures, a derivative used by investors to bet on the pace of the Fed's monetary policy changes, estimate with a high probability that the Fed will be forced to start cutting interest rates again as soon as next summer.
They also consider the lower peak in the federal funds rate: it will peak around 3.5% at the end of 2022 instead of 3.75% just a couple of weeks ago. Wilson also pointed out the drop in Treasury yields: the 10-year Treasury bond yield went from 3.230% to a low of 3.07% on Friday before rebonding again on Monday.
Wilson expects the S&P 500 index to fall to around 3,400 points if the U.S. Federal Reserve manages to get a "soft landing" for the economy — which Fed Chairman Jerome Powell said last week would be "a very difficult thing to do."
Wilson expects that if the U.S. economy plunges into recession, the S&P 500 index will fall to around 3,000 points. In any case, Wilson believes that U.S. stocks are still highly valued because the risk premium — that is, the measure of compensation that investors receive for the extra risk of owning stocks instead of bonds — remains about 300 basis points higher than the 10-year Treasury bond yield, which is considered a "risk-free rate." 
Easing chip shortages to help Volkswagen in H2 – CEO
© Reuters. FILE PHOTO: Volkswagen logo is pictured at the 2022 New York International Auto Show, in Manhattan, New York City, U.S., April 13, 2022. REUTERS/Brendan McDermid/File Photo
BERLIN (Reuters) – Volkswagen (ETR:VOWG_p) sees a strong second half of 2022 and expects progress in catching up with rival Tesla (NASDAQ:TSLA) as easing chip shortages start to offset supply chain bottlenecks and rising costs, the carmaker's CEO said on Tuesday.
"We are earning more than ever," Chief Executive Herbert Diess said at a works meeting, adding Volkswagen is ramping up electric vehicle volumes in its biggest markets in Germany and China thanks to easing semiconductor shortages.
This should allow the carmaker to narrow the Volkswagen-Tesla gap this year and meet its goal of becoming market leader by 2025 if it seizes the moment while the U.S. electric car maker burns cash on large investments, the CEO said.
"Elon (Musk) has to ramp up two highly complex factories in Austin and Gruenheide at the same time – as well as expand production in Shanghai. That's going to take strength out of him," Diess said.
Reliance Chairman Mukesh Ambani steps down as director of telecom arm
© Reuters. FILE PHOTO: Mukesh Ambani, Chairman and Managing Director of Reliance Industries, arrives to address the company's annual general meeting in Mumbai, India July 5, 2018. REUTERS/Francis Mascarenhas
BENGALURU (Reuters) – Reliance Industries Chairman Mukesh Ambani has stepped down as director of Reliance Jio Infocomm Ltd, the conglomerate's telecom arm said on Tuesday.
Reliance Jio said https://refini.tv/3Nrs773 it has appointed Mukesh's son and non-executive director Akash Ambani as the chairman of its board. Akash has been involved with the telecom unit since its launch in late 2016, where he started as a director.
India's telecoms sector had been upended after the entry of Jio, which triggered a price war that forced some rivals out of the market and turned profits into losses.
Jio, which started out offering mobile teleservices, has been aggressively investing in services like internet broadband and forging ties with handset makers to launch low-cost smartphones and providing 5G services.