In Los Angeles, Tesla's rivals roll out larger, cheaper electric SUVs
2/2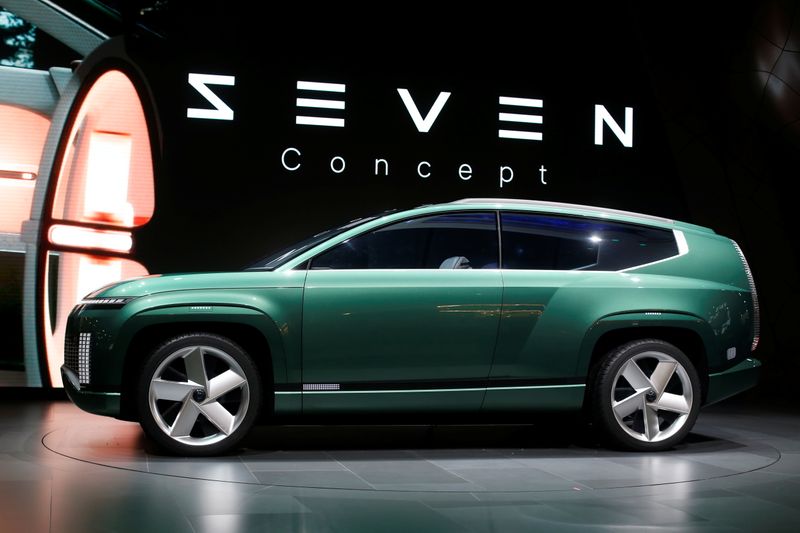 © Reuters. A Hyundai Seven Concept is displayed during the 2021 LA Auto Show in Los Angeles, California, U.S. November, 17, 2021. REUTERS/Ringo Chiu
2/2
By Hyunjoo Jin
LOS ANGELES (Reuters) – Automakers chasing electric vehicle leader Tesla (NASDAQ:) Inc revealed new, more affordable and larger electric sport utility vehicles at the Los Angeles Auto Show, racing into one of the fastest-growing segments of the U.S. market.
Kia Motors called out Tesla by name at the show, announcing that its upcoming electric crossover EV6 beat Tesla's previous record for the shortest charging time, while driving across the United States, by more than five hours.
Kia and affiliate Hyundai Motor also unveiled large, three-row electric sport utility vehicle concepts, EV9 and SEVEN. These models are expected go into production around 2024, two persons familiar with the matter said.
"They (Tesla) have strong sales and they have a very good public awareness. But not everything is for everybody. So there should also always be an alternative," said Michael McHale, Kia's brand experience director.
The focus on electric SUVs reflects the strong preference among U.S. consumers for SUVs, which typically sell for higher prices than similar-sized sedans. Large SUVs account for the top-selling segment in the U.S. market, industry executives and analysts have said.
"EVs are going from econo boxes to aspirational vehicles to the heart of the market," Brett Smith, technology director at Center for Automotive Research.
ROTATING DASHBOARD SCREENS
Tesla challengers are also betting on novel features such as a rotating dashboard screen in Fisker Ocean SUV to differentiate themselves from the pack.
Henrik Fisker, chief executive of Fisker Inc, said the Ocean will be the first production car with a screen switching between its vertical and horizontal orientations.
"We filed a patent on it," he told Reuters, adding the screen will be supplied by Foxconn Technology Co Ltd, which will also produce Fisker's electric SUVs in the United States.
"I think it's going to appeal to a lot of young people who would love to play around on the screen. Also when you're sitting charging."
Fisker and Vinfast also used the show to get on the radar with new models and bold claims that they say will have more affordable, and longer-range vehicles than Tesla's rival offerings.
Tesla has become the world's most valuable automaker, with a market capitalization of more than $1 trillion, as it has redefined the electric vehicle market with sleek, high-tech cars and SUVs such as the Model Y that boasted longer driving ranges between charges than rival models.
Tesla has taken advantage of its perceived technology edge and strong demand to lift prices for its vehicles, especially as prices for raw materials and semiconductors have risen this year.
Rival EV makers see an opening.
Vinfast global Chief Executive Michael Lohscheller, said its vehicles will have "reasonable pricing," which is key to making people switch from gasoline cars to electric cars.
Fisker said outsourcing production of models to Magna International (NYSE:) has enabled the company to shorten development time and thus use the latest, long-range battery technology from supplier CATL.
"The technology is very new. Most other car makers, they choose their technologies three years before the vehicle comes out," he said.
But it would be challenging for legacy automakers and startups to take on Tesla, which is "synonymous with electric vehicles," said Smith.
GM, Nissan (OTC:) have launched electric cars, but none of them have made a dent in Tesla's dominance, said Smith of Automotive Research. Scaling up EVs is another challenge, he added.
"The electric vehicle is opening the opportunity up to a lot of companies, regardless of where they come from," he said.
"Because Tesla did it doesn't mean it's easy, or others are going to do it."
European stock markets mostly closed lower
In yesterday's trading, most European stock markets declined after the release of statistical data, which showed a decline in business activity in the region for the fifth month in a row.
The composite index of the largest companies in the region, Stoxx Europe 600, by market close fell by 0.3% to 441.47 points. Germany's Dax Index fell by 0.56%; France's CAC 40 – by 0.67%; Italy's FTSE MIB – by 0.3% and Spain's IBEX 35 – by 0.15%. Meanwhile, the British FTSE 100 added 0.15%, thanks to growth in shares of some major companies. 
Why are European stock markets falling?
According to final data, the composite purchasing managers' index (PMI) of the euro area, calculated by S & P Global, in November rose to 47.8 points from 47.3 points a month earlier. The dynamics of the indicator coincided with the preliminary estimate and with the expectations of analysts.
The indicator value below 50 points indicates a reduction in business activity in the sector. The index has remained below that mark for five consecutive months amid an energy and geopolitical crisis in Europe, the acceleration of inflation and rising interest rates, says Trading Economics.
PMI in the euro area services sector in November was 48.5 points, down 0.1 points compared with October. Preliminary data indicated that the indicator remained at the October level of 48.6 points.
Retail sales in the euro area fell 1.8 percent in October compared with the previous month, according to a report from the European Union Statistics Office (Eurostat). Analysts polled by Bloomberg expected on average a decline of 1.7 percent.
Sales of food, beverages and tobacco products in the currency bloc fell 1.5% in October compared with the previous month, with non-food products down 2.1%. Motor fuel sales increased by 0.3%.
Meanwhile, some support to the European market was provided by news about the relaxation of anti-coronavirus restrictions in several major cities in China.
The attention of market participants is gradually shifting to the last meetings of the US Federal Reserve System (Fed) and the European Central Bank (ECB) this year, which will be held next week.
The consensus is that both the U.S. and European Central Banks will slow the pace of key interest rate hikes to 50 basis points. The Fed has raised the rate by 75 bps at the previous four meetings, while the ECB has raised the rate at two meetings.
Earlier we reported that the main European stock indices fell during the trading on December 3.
Stats had a positive effect on the European stock market. European growth stocks
West European stock indexes closed Wednesday's trading with a confident growth. Traders evaluated the fresh batch of statistics and bought European growth stocks.
What influenced European stocks to high growth?
GDP volume in France rose 0.2% in the third quarter compared to the previous three months, final data from the national statistics institute Insee showed. The final data coincided with a preliminary estimate. Analysts, on average, had not expected a revision, according to a Trading Economics survey. GDP growth slowed from a 0.5% rebound in the second quarter.
Consumer prices in France, harmonized with European Union standards, rose 7.1% year-over-year in November. Insee also reported. The November rate of increase in consumer prices coincided with that of October, and analysts polled by Trading Economics expected inflation to remain at the same level.
Consumer spending in the country collapsed by 2.8% in October compared with the previous month. Analysts polled by Bloomberg expected a more moderate decline of 1 percent. The consensus forecast of experts polled by Trading Economics envisioned a 0.6% decline. The decrease in consumer spending was the maximum since April 2021.
The number of unemployed in Germany increased by 17 thousand in November, according to the Federal Employment Agency of Germany. The rise in the index was marked at the end of the sixth month in a row. Experts interviewed by Bloomberg agency, on average, predicted an increase of 13.5 thousand. Respondents to Trading Economics expected an increase of 13 thousand.
Additional positives for investors in European markets on Wednesday were messages about easing of coronavirus restrictions in a lot of cities in China. Note that Amazon's stock price is also rising if you are interested in the U.S. stock market.
Earlier, we reported that U.S. stock indices were up 2.2-4.4%.
U.S. stock indices today rose 2.2-4.4%
The U.S. stock indices today closed the trading on Wednesday with the confident growth due to the statements of the Federal Reserve Chairman, Jerome Powell, who confirmed that the U.S. Central Bank could slow down the basic rate rise as early as in December.
Judging by the quotations of futures on the level of the prime rate, U.S. stock market indices expect the Federal Reserve to raise it by 50 basis points (bps) in December – to 4.25-4.5%. The U.S. Central Bank has increased the rate by 75 bps at each of the previous four meetings. Against this background, the current stock price of Facebook also rose.
The report by the industry organization ADP, published on Wednesday, showed a slowdown in job growth in the U.S. private sector. Their number increased by 127,000 in November, the lowest rate since January, said the ADP. Analysts polled by The Wall Street Journal on average had forecast job growth of 190,000 after a jump of 239,000 in October.
Data from the U.S. Commerce Department, also released Nov. 30, showed higher-than-reported growth in the U.S. economy in the third quarter. U.S. GDP grew at an annualized rate of 2.9% in the July-September quarter, rather than the previously reported 2.6%. Experts polled by Trading Economics had expected an average revision of 2.7%.
Also, the Federal Reserve released its regional Beige Book survey Wednesday, showing that economic activity in the United States was little changed in the fall.
Federal Reserve banks in five counties reported a weak increase in activity in October and November, while the other seven reported a stable or slightly declining economy.
The Dow Jones Industrial Average index was up 737.24 points (2.18%) at 34589.77 as of Wednesday's market close.

Standard & Poor's 500 rose 122.48 points (3.09%) to 4,080.11 points.

The Nasdaq Composite added 484.22 points (4.41%) to 1,468.
All three U.S. stock market indices closed November, with the Dow Jones gaining 5.3%; the S&P 500 gaining 4.6%, and the Nasdaq Composite gaining 3.3%.
Earlier we reported that Main European stock indices were rising during trading.