Investors tell Big-4 auditors they risk AGM rebellion over climate accounting
By Simon Jessop and Carolyn Cohn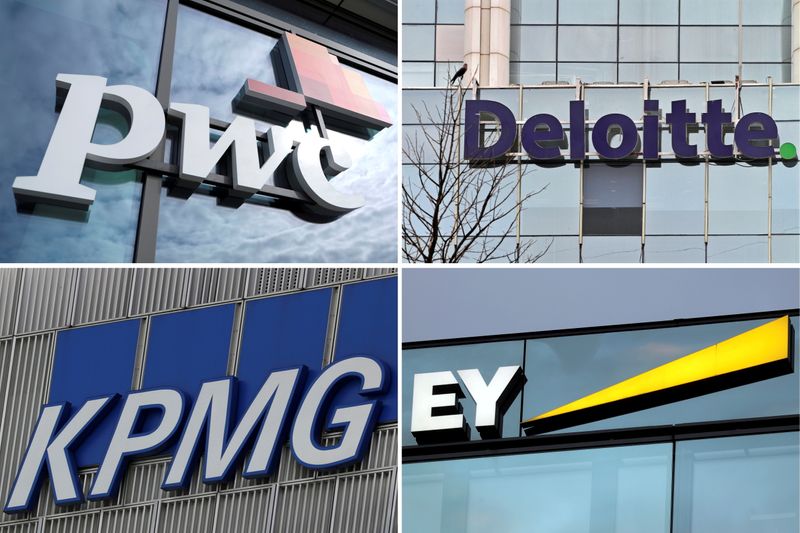 © Reuters. FILE PHOTO: A combination of file pictures shows logos of Price Waterhouse Coopers, Deloitte, KPMG and Ernst & Young. REUTERS/File Photo
By Simon Jessop and Carolyn Cohn
GLASGOW/LONDON (Reuters) – Major investors have warned the world's top four audit firms they will vote to stop the firms working for the companies they invest in at AGMs from next year if audits do not integrate climate risk.
The challenge, laid out in letters from an investor group managing around $4.5 trillion that were seen by Reuters, marks an escalation in the group's efforts to ensure investors were armed with robust information.
The investors have been pushing auditors to improve for several years amid concern they were misrepresenting the true health of companies by not factoring in potential hits from the impact of climate change and associated policy changes.
Ahead of the COP26 climate talks in Scotland, the group had called for governments to force companies and auditors to file accounts in line with the world's goal of limiting global warming by mid-century.
The letters dated Nov. 1 and sent to Deloitte, EY, KPMG and PwC by the investor group pointed to recent research showing more than 70% of assessed 2020 audits had fallen short.
The group includes asset managers Sarasin & Partners, Pictet and Aviva (LON:) Investors and pension schemes including RPMI Railpen. The investors said that after three years of discussions with the firms, they "cannot afford to wait another three years" for audits to improve.
At the next season for corporate annual general meetings, the auditors could "increasingly expect to see" investors vote against their reappointment if they failed to meet expectations, the letters said.
In the letter to Deloitte, for example, the group said the auditor was responsible for 19 of the companies assessed in the research, including oil major BP (NYSE:), miner Glencore (OTC:) and building materials company CRH (NYSE:).
"While we have identified some welcome signs of leadership, notably at BP, based on our analysis overall these audits have not met our expectations," the letter said.
"Outside the UK, the picture is worse. Of the remaining 16 audits undertaken by Deloitte, only three mention climate risk. None provides the visibility we seek on the potential financial implications of a 1.5C pathway, which global leaders have committed to delivering."
Paul Stephenson, managing partner audit & assurance at Deloitte, said the auditor agreed that "climate-related risks should be accounted for and disclosed appropriately in annual reports and financial statements.
"We are clear that along with investors, professional bodies, regulators, standard setters and audited entities we have an important role to play in enhancing confidence in the information provided to markets," he said.
CHALLENGING
Cath Burnet, Head of Audit at KPMG UK, said the firm had trained all its auditors last year on the impact of climate change risk on companies, in addition to the accounting and reporting implications.
"Our role as auditors includes challenging the recognition and measurement that climate has on the financial statements, as well as challenging narrative where it is misleading or inconsistent," she said.
A PwC spokesperson said that "to increase transparency in this area, our future audit opinions on larger UK listed companies will further explain how material climate-related risks have been addressed. 
"We welcome investor engagement in this area which will help drive company disclosure and the setting of clear climate related goals."
EY said in an emailed statement that the firm's audit teams "continue to consider the risks that climate change brings to the companies we audit, where it relates to financial reporting.
"We are actively involved in developing standards and are supportive of ongoing work to establish a framework that companies and auditors can report against which would provide more consistent reporting for investors."
The world's leaders meet in Glasgow this week aiming to accelerate climate action in an effort to cap global warming at no more than 1.5 degrees Celsius above pre-industrial norms by mid-century.
After first writing to the Big Four audit firms in 2019, the investors said structural changes linked to climate change and associated policy action were accelerating, citing a recent United Nations report that issued "code red for humanity" over climate change.
"This is driving a more robust policy response globally," the latest letters said.
"Auditors that fail to test accounting assumptions taking these structural shifts into account are, in our view, failing in their duty to shareholders."
Morgan Stanley: bear market rally to continue
One of Wall Street's best-known bears, Michael Wilson, thinks the S&P 500 will rise another 7% before turning down, so the bear market rally will continue for now, writes Market Watch.
After the Dow Jones, S&P 500 and Nasdaq Composite joined their strongest weekly gains since at least May last Friday, Wilson, who is chief strategist and head of U.S. equity markets at Morgan Stanley (NYSE:MS), told clients that there could be another 5% to 7% before the downward trajectory of U.S. stocks resumes during the latest bear market recovery.
Wilson has held a bearish view of the stock market for about 2 years and correctly predicted a sell-off this year.
Wilson explained in a research note sent out to clients on Monday that a pullback in the 38-50% drop in the stock market this year "would not seem like something unnatural, not consistent with the previous bear market rally."
While growth concerns have triggered a sell-off in commodities and lowered inflation expectations, the fact that the U.S. economy is already slowing and heading toward recession means that any market rally is likely to be short-lived, and U.S. stocks are likely to eventually fall.
Wilson mentioned in the note that the bear market is not over yet, although it may appear otherwise in the next few weeks as the market takes the rate cut as a sign that the Fed can still manage a "soft landing" and prevent a meaningful revision to earnings forecasts.
U.S. stocks rose last week as investors now hope the slowing economy and falling commodity prices may inspire the Fed to raise interest rates less sharply. Federal funds futures, a derivative used by investors to bet on the pace of the Fed's monetary policy changes, estimate with a high probability that the Fed will be forced to start cutting interest rates again as soon as next summer.
They also consider the lower peak in the federal funds rate: it will peak around 3.5% at the end of 2022 instead of 3.75% just a couple of weeks ago. Wilson also pointed out the drop in Treasury yields: the 10-year Treasury bond yield went from 3.230% to a low of 3.07% on Friday before rebonding again on Monday.
Wilson expects the S&P 500 index to fall to around 3,400 points if the U.S. Federal Reserve manages to get a "soft landing" for the economy — which Fed Chairman Jerome Powell said last week would be "a very difficult thing to do."
Wilson expects that if the U.S. economy plunges into recession, the S&P 500 index will fall to around 3,000 points. In any case, Wilson believes that U.S. stocks are still highly valued because the risk premium — that is, the measure of compensation that investors receive for the extra risk of owning stocks instead of bonds — remains about 300 basis points higher than the 10-year Treasury bond yield, which is considered a "risk-free rate." 
Easing chip shortages to help Volkswagen in H2 – CEO
© Reuters. FILE PHOTO: Volkswagen logo is pictured at the 2022 New York International Auto Show, in Manhattan, New York City, U.S., April 13, 2022. REUTERS/Brendan McDermid/File Photo
BERLIN (Reuters) – Volkswagen (ETR:VOWG_p) sees a strong second half of 2022 and expects progress in catching up with rival Tesla (NASDAQ:TSLA) as easing chip shortages start to offset supply chain bottlenecks and rising costs, the carmaker's CEO said on Tuesday.
"We are earning more than ever," Chief Executive Herbert Diess said at a works meeting, adding Volkswagen is ramping up electric vehicle volumes in its biggest markets in Germany and China thanks to easing semiconductor shortages.
This should allow the carmaker to narrow the Volkswagen-Tesla gap this year and meet its goal of becoming market leader by 2025 if it seizes the moment while the U.S. electric car maker burns cash on large investments, the CEO said.
"Elon (Musk) has to ramp up two highly complex factories in Austin and Gruenheide at the same time – as well as expand production in Shanghai. That's going to take strength out of him," Diess said.
Reliance Chairman Mukesh Ambani steps down as director of telecom arm
© Reuters. FILE PHOTO: Mukesh Ambani, Chairman and Managing Director of Reliance Industries, arrives to address the company's annual general meeting in Mumbai, India July 5, 2018. REUTERS/Francis Mascarenhas
BENGALURU (Reuters) – Reliance Industries Chairman Mukesh Ambani has stepped down as director of Reliance Jio Infocomm Ltd, the conglomerate's telecom arm said on Tuesday.
Reliance Jio said https://refini.tv/3Nrs773 it has appointed Mukesh's son and non-executive director Akash Ambani as the chairman of its board. Akash has been involved with the telecom unit since its launch in late 2016, where he started as a director.
India's telecoms sector had been upended after the entry of Jio, which triggered a price war that forced some rivals out of the market and turned profits into losses.
Jio, which started out offering mobile teleservices, has been aggressively investing in services like internet broadband and forging ties with handset makers to launch low-cost smartphones and providing 5G services.